Want to transform your house into a cozy, welcoming home? You don't need an interior decorator! There are lots of easy ways to add color and character to drab walls. Thanks to recent advances in the printing industry, for example, you can now create amazing wall art displays using your own photos. Read on and we'll explore the process step by step!
Where to Look for the Best Photos
If you've already got the perfect photo prints at home, great! But if not, you'll need to do a bit of hunting. When's the last time you went through the image stored on your phone and other devices? Chances are there are some amazing shots there. Why not browse digital storage and look for some images with real emotional significance to you? Then you can upload your image files to a custom printing website and they'll make you some brand-new photo prints.
Framed or Unframed?
Once you've chosen the pictures for printing, it's time to think about the types of print you want. And the first question here is – should you get framed or unframed prints?
The choice will largely depend on the print type itself. Some types – poster prints, for example – look great on their own, but framing them and protecting them with a glass cover is a great way to increase their longevity. Metal or acrylic prints, meanwhile, are very durable in themselves so don't require frames and will look great in your enclosed patio.
If you think pictures simply look better framed, a failsafe choice is a set of classic framed photos. And if you want to experiment with a more unusual design, why not try canvas prints – these quirky items come with internal frames which make them more imposing than flat photos.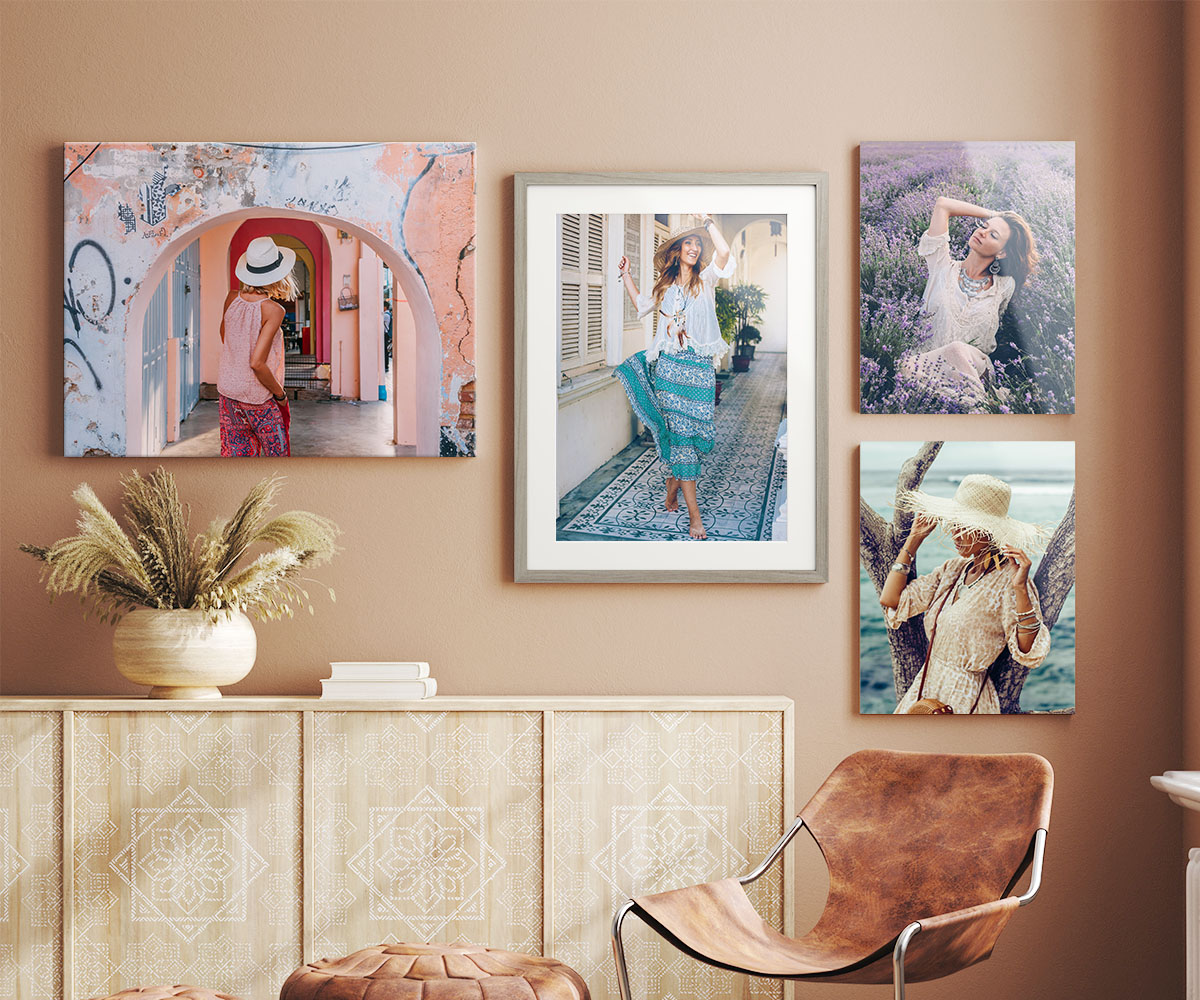 Where to Get Wallet-Friendly Prints
Once you start putting photo prints on your walls, you might not want to stop…and if you're paying the regular high-street prices for personalized prints, that can get expensive fast. But there are some great discount providers out there. Our top pick is CanvasDiscount.com – an established name in the American printing industry.
Here are just a few examples of how affordable their prices are – canvas prints start at just $5 and the entry price for custom posters is no more than $6. And the best thing is, you can now get their already-discounted products for even less – read on to learn about a special offer that's exclusive to our readers!
Where to Hang Your Photos
Creating an integrated composition takes a bit of skill. If you don't have a whole bare wall, don't worry – small and medium-sized prints can look great arranged around mirrors, large pieces of furniture and headboards.
Whatever your preferred composition, follow the basic design rules to get the best results:
leave around 3 inches of free space between prints
organize your wall art display around several larger anchor points
match the mood of the photos with the general atmosphere of the room like if you are building an underground room for exercising, then add motivational frames.
Revamp Your Home and Save Money
Decorating on a budget? Well, here's some good news: at CanvasDiscount.com you can now get a further 25% off – on top of their regular site discount.
Use our code SAVE25WITHSANDY and get an EXTRA 25% OFF all orders* over $50!
To claim your discount, go to CanvasDiscount.com and enter the code SAVE25WITHSANDY at checkout. This is an extra discount on top of their already-discounted products, meaning that you're saving more than 90% in total!
*Disclaimer: The discount does not apply to MIXPIX® and Face Masks.
Have fun designing your own creative wall art compositions and don't forget to take advantage of this great special offer from CanvasDiscount.com!