It feels great to look at plants! Who does not love plants? It is now widely accepted that plants are more aesthetically pleasing than any false decorative. They give a warm welcome feel to someone looking at them before they enter your home.
It looks even better if you arranged these plants in beautiful stands and arranged them outside in a welcoming way. Rather than buying these stands, you can choose to DIY outdoor plant stands yourself.
It is not an easy task, but worth your efforts to make it possible. All you need to do is explore the DIY outdoor plant stands. Choose to explore what other people are making and choose your style to execute the task.
There are many ideas you can explore on the internet. Some of the DIY plants that stand online are widely praised and acclaimed. Let us investigate these creative solutions. After looking at them, you will love one of those or have an idea to make yourself at least.
DIY Outdoor Plant Stand Ideas
1. Lampshade Plant Stand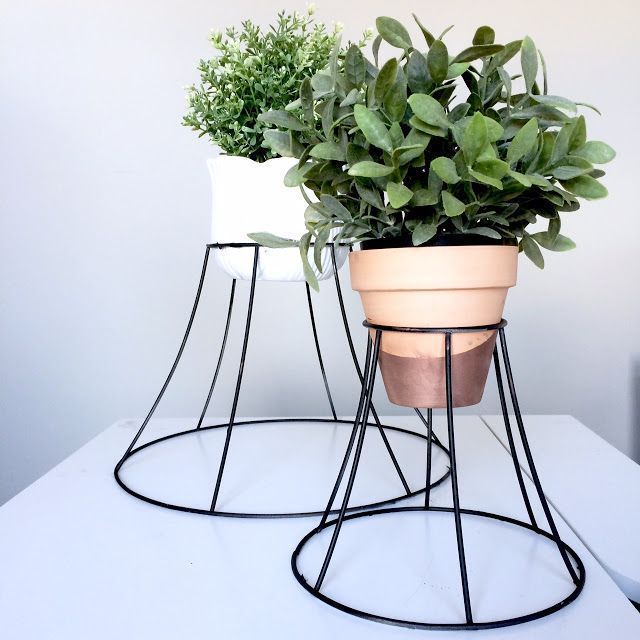 If you are familiar with lamps with metal lampshades, you already got the idea of how it will fit into a plant. All you need for this DIY outdoor plant stand is a metal lampshade and, of course, a plant with a pot!
Yes, that is how easy you can do this project. Purchase yourself a perfect budget-friendly and attractive lampshade, place the plant with a pot on the lampshade instead of a lamp. You got the beautiful looking plant stand at your disposal.
2. Wooden Frames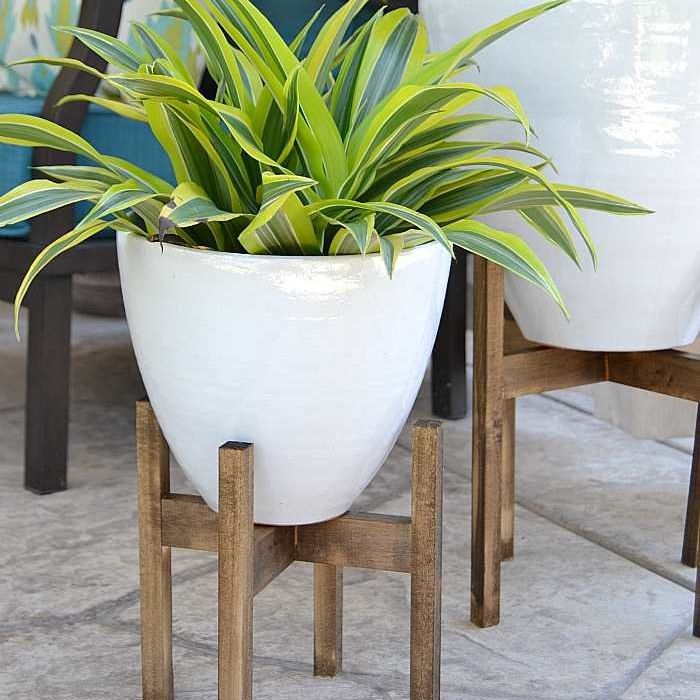 It is amazing how the wood looks beautiful and how easy it is to make wood look like anything you want. You can take a few wooden pieces and nail them together to form a plant stand for you.
All you need to do is make sure that the pot fits and stands on top of the stand. If you can do that, you have mastered DIY-ing the plant stands with wood. But for grand designs, you can explore some ideas with the images below.
3. Wooden Decorative Stand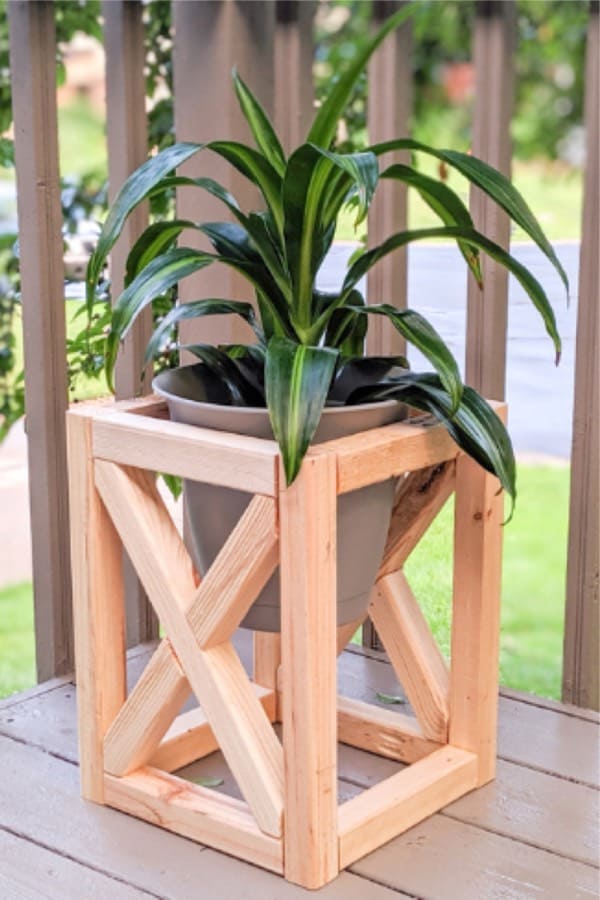 Rather than making a stool-like plant stands with wood, you can choose to get creative. If you can nail some wooden pieces into a stool, you can nail them into any shapes you want. Please take a few wooden stakes and nail them in a way that looks like a box and creative. 
Make sure that this DIY outdoor plant stand adds aesthetic pleasure to your walls and entrance.
4. Medieval Wooden Stands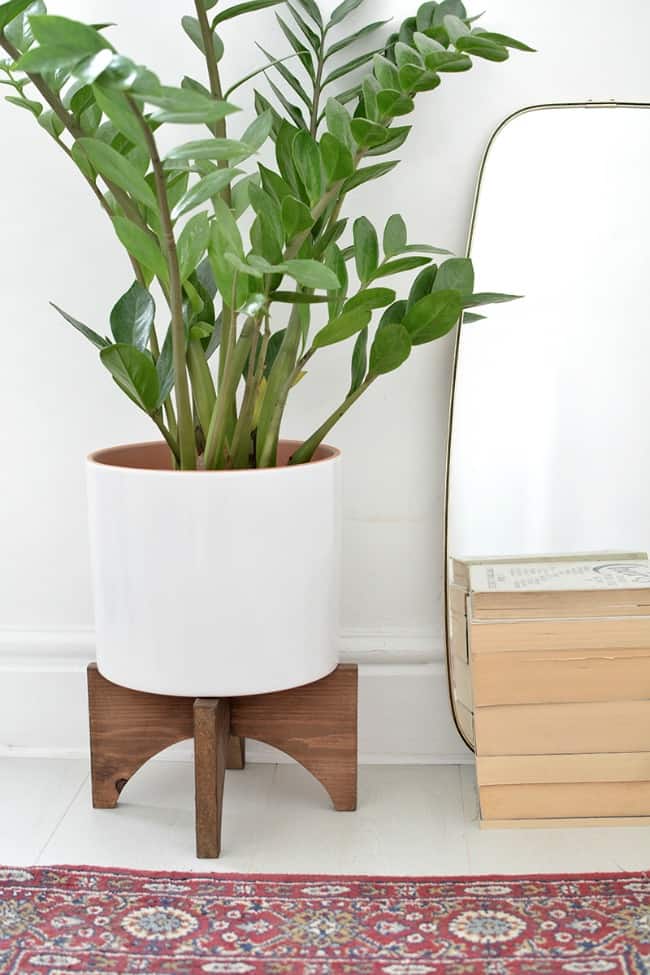 This DIY outdoor plant stand is one of the coolest ones that you can make easily with wood. It is easy because all you need is two wooden planks. Of course, you need to cut them into the desired shape, but the job is more comfortable than other DIY outdoor plant stand projects. 
To give it a medieval shape, choose dark-colored hardwood, or you can always choose to paint it dark.
5. Pro Wooden Plant Stand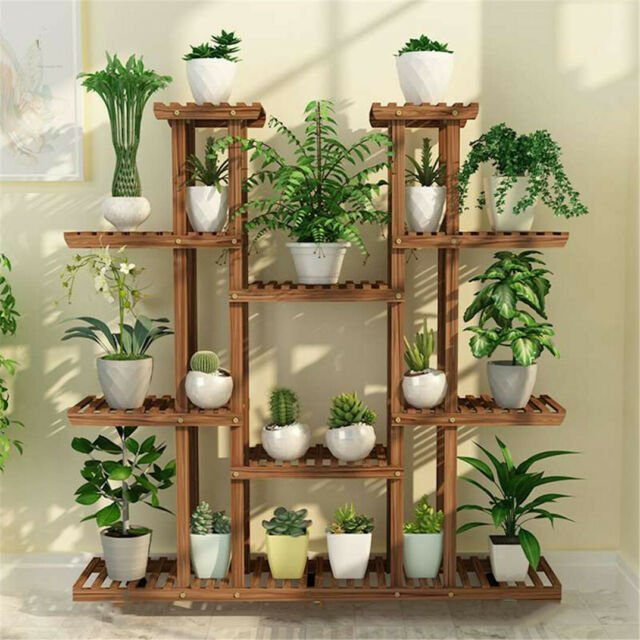 If you consider yourself a master in DIY-ing, you need to boost your mastery. You can choose complicated designs and flaunt them right at your entrance. Taking up intricate designs and putting them up for display only encourages you to DIY more. 
Not for any other but flaunting it for yourself as a reminder to think about what you can achieve with your skills.
6. Simple Wooden Frame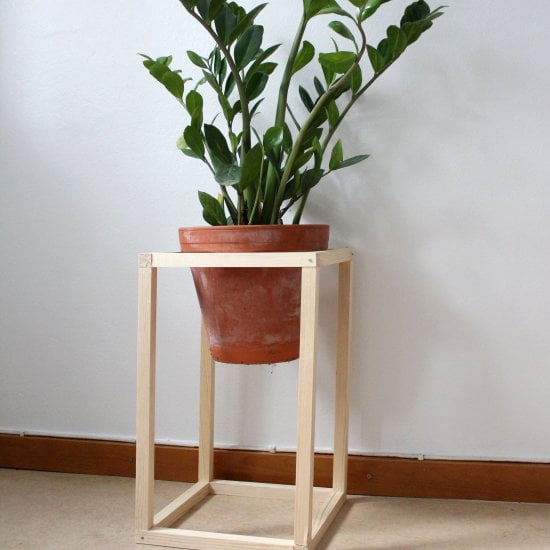 If you want simple yet elegant solutions for your DIY outdoor plant stand, this is your quick idea. You can not only make this in a few minutes, but it also looks great when you put it out.
And all you need to make it are two rectangular wooden frames and four wooden sticks. Place the rectangular frame at the top and bottom and the sticks to support them. Nail them together, and your DIY outdoor plant stand is ready!
7. Welcoming Plant Stand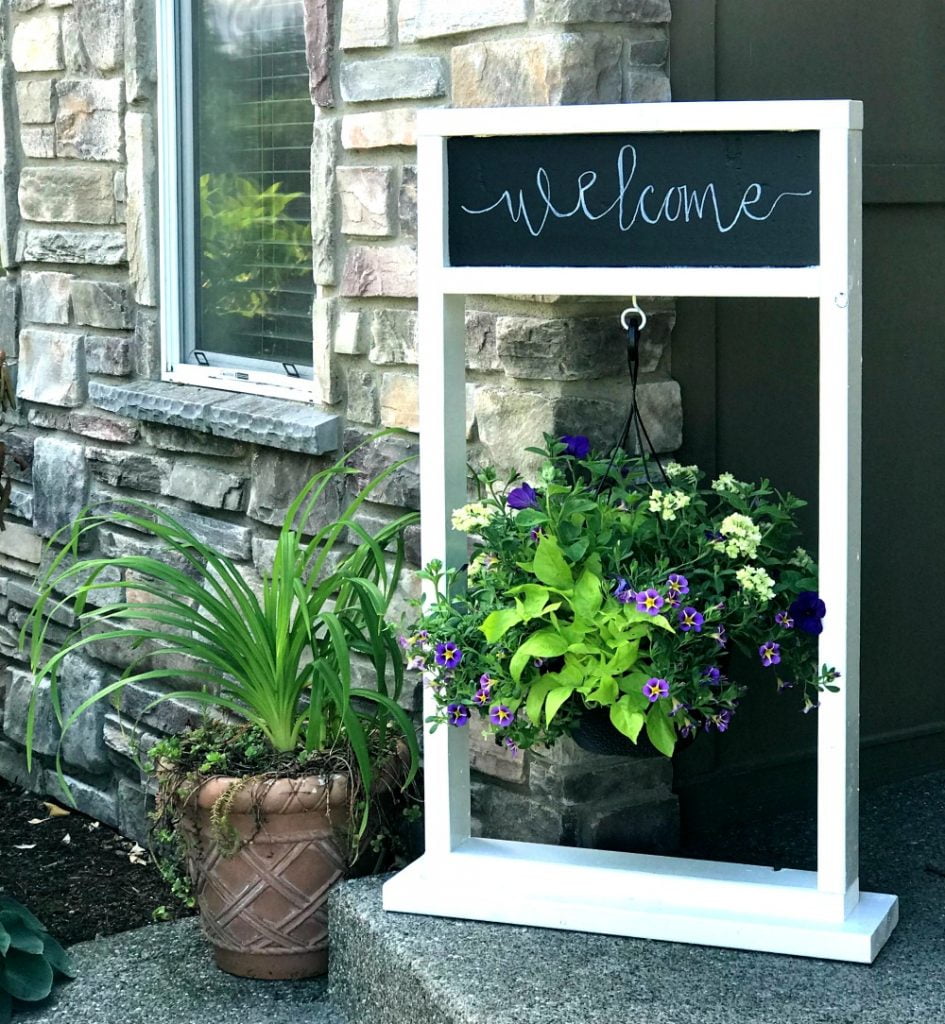 Imagine increasing your warmth in welcoming with a plant and a beautiful board to it. DIY a solid wooden frame and place a chalkboard sheet on the front. Put a hanger hook below the chalkboard so that you can hang a plant to the board.
Write welcoming words on the board; you can even write 'welcome,' and it even looks beautiful with the plant. Given good calligraphy, people would love to visit you.
8. A Mixture of Metal and Wood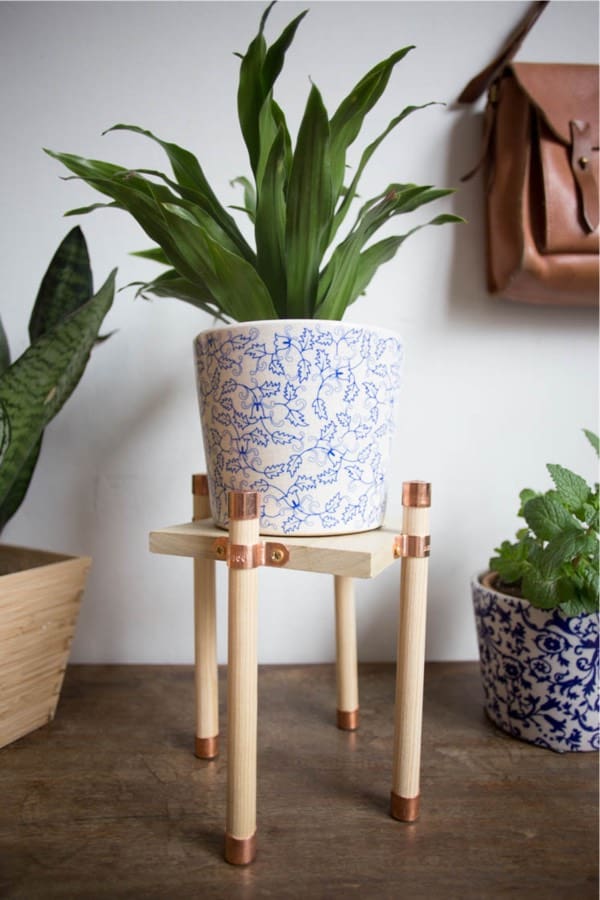 If you are not satisfied with just a wooden or metal look, you can go full pro mode with a mixture of both. You can, but metal rings, like copper rings, and add them to the wooden sticks. 
By doing this, you cover the part of wood with nails. It looks classy and will not even look like you made it. You will have awe as a response if you tell someone that it is you, the creator!
9. DIY Rolling Caddy Stand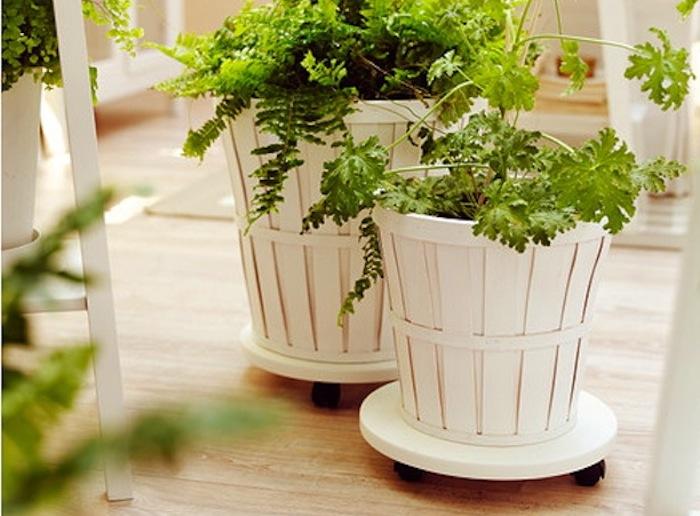 Beauty is subtle, but what about portability? If you are familiar with planting and gardening, you know how hard it is to carry heavy pots. You spill the mud all over or sometimes even break the pots. It is heart-breaking to see a pot break.
What if I told you there is away, and you make it yourself! Yes, all you need are rolling wheels and a wooden plank of the desired shape. Attach the rolling wheels to the wooden base and place a pot on the wooden base. You can move them anywhere you want them!
10. Bamboo Ladder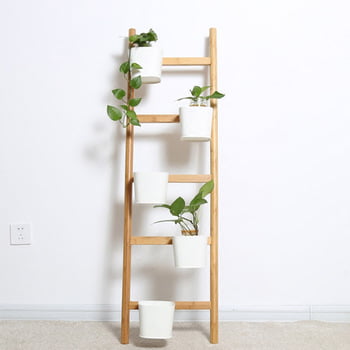 You can use this bamboo ladder as a vertical plant stand, and it will look pleasing. It is also one of the coolest DIY outdoor plant stands that you can make. Take two long bamboo poles, attach a few wooden planks as per the length of the poles.
Choose the height of the poles as per the number of posts you want to place vertically. Make sure you do not put them all, as it looks terrible. Arrange them in a pleasing pattern.
11. Copper Plant Stands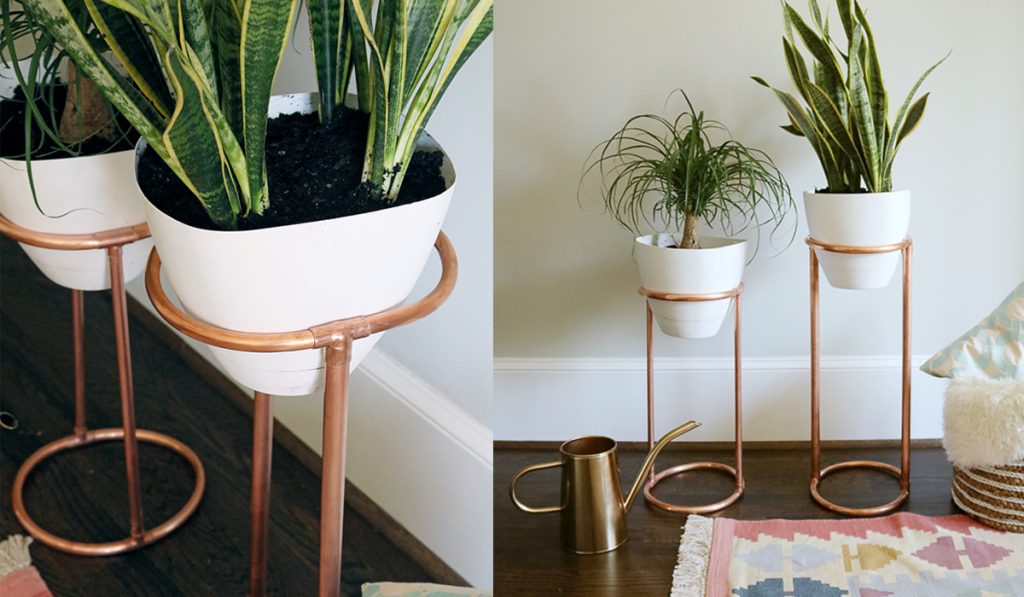 Ah! Copper, how beautiful it is! You can DIY some copper pieces, make a beautiful plant stand the way you made wooden frames.
Instead of the straight wood frames of a rectangle, you can choose rounds and rings with metal. Wood indeed looks sharp in rectangular shapes, and metal looks fantastic in the round and circular shapes. Make copper rings to fit the pot and copper poles to make the ring stand.
12. Classic Metal Stand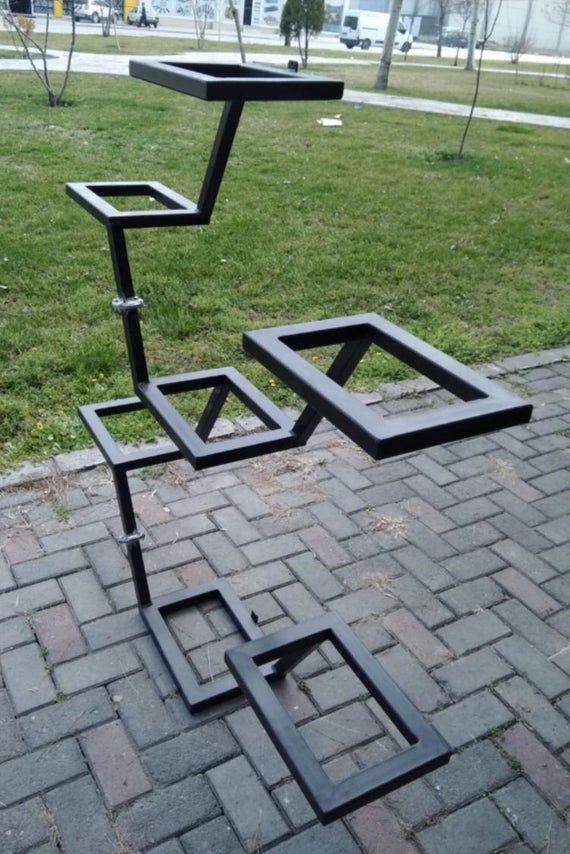 This DIY outdoor plant stand is one of the classic and evergreen ones you can do. You have seen them yourselves a lot of times. They are the standard ones that the stores sell. These stands are the ones you remember when you hear the term 'plant stands.
And it is as much as easy to make them as they are popular. It would help if you had a few metal pieces to weld. Looking at the design, you will get to know how to arrange them!
13. Multiple Plants Stand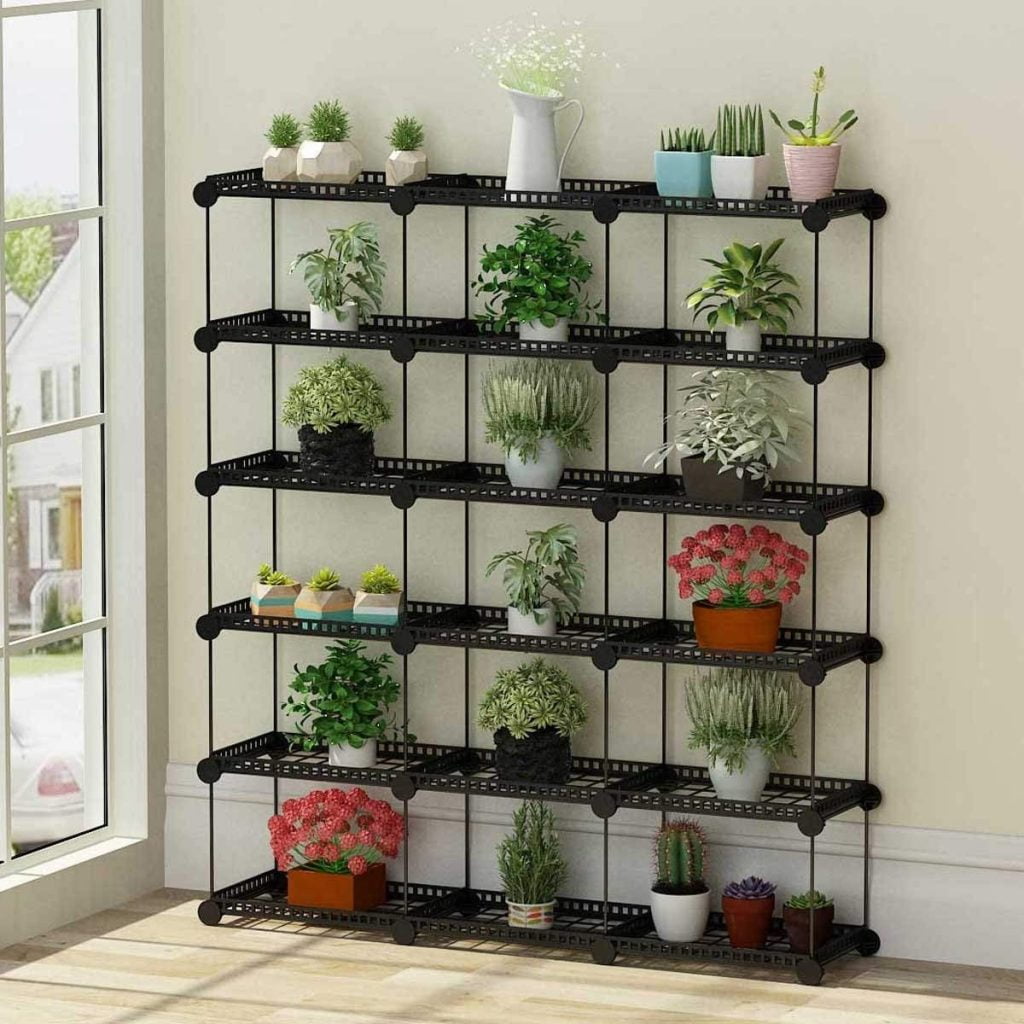 As you saw the idea of having a vertical wooden stand that can hold multiple plants, you can do it with metal pieces. Rather than using bamboo, you can use metal pipes/poles to stand and create a rack-like structure to place the plants.
You can place as many plants as you like. It is not about the number of plants, but it is about the arrangement that brings beauty to this DIY outdoor plant stand.
14. Stepwise Metal Rack Stand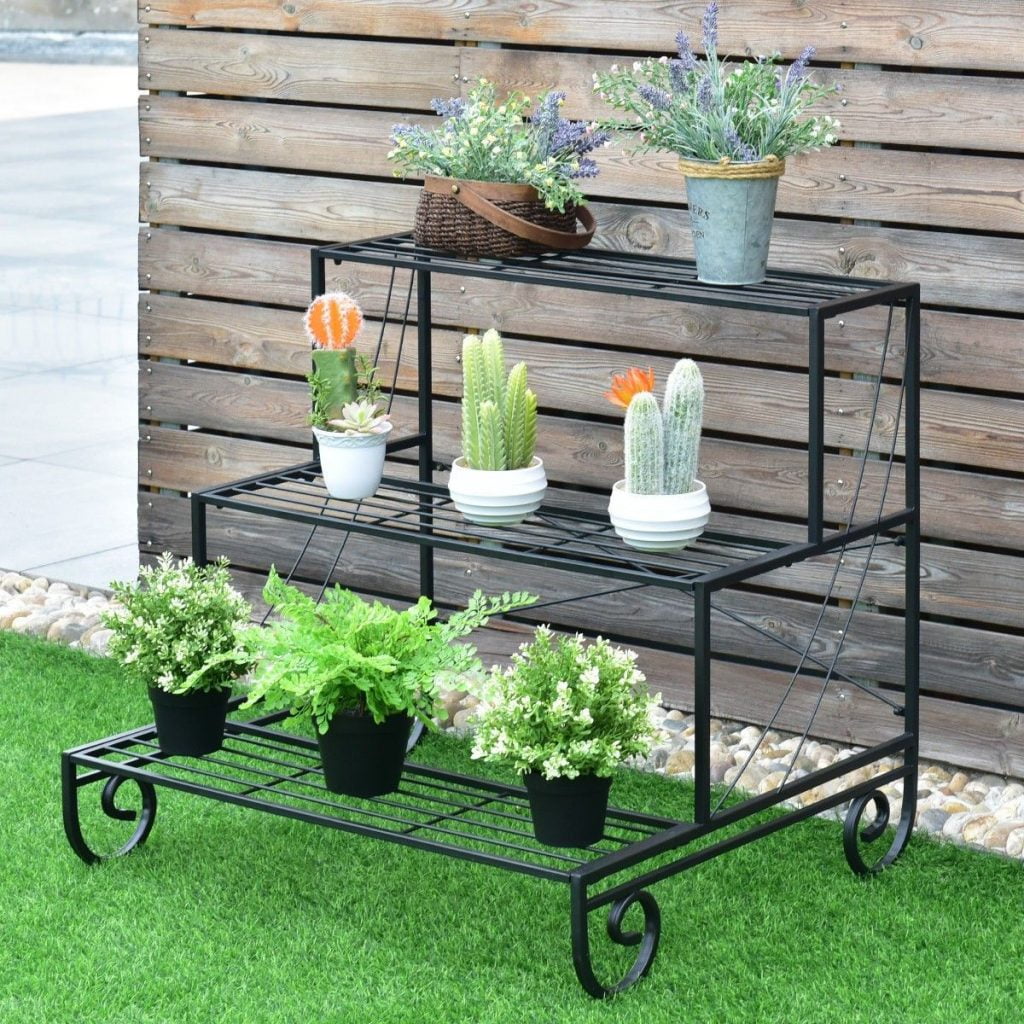 Well, if you are ready to DIY a metal rack for multiple plants, why stop your creativity. Make creative stands with innovative ideas. You can make the metal rack in steps, rather than a simple rack.
When you organize the plants stepwise, it looks great! You would love to look at this stepwise rack with green plants on it. You can choose to paint the stepwise rack to suit your walls and entrance.
15. Metal Wall Stand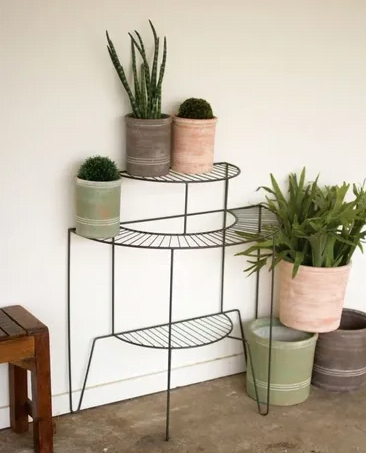 This stand can be DIY-ed, but it takes a sweat! The final idea must be the most creative one! I thought that to be, at least. As you have seen, many vertical plants stand, racks, and stand that allows multiple plants to sit.
This DIY outdoor plant stand can be wooden or metal; the choice is yours. If your walls have warm and solid colors, it is ideal to use metal. But if you have relatively cool and mixed colors, you better use wood.
As complex it looks, it is do-able if you have decided to make it! You can refer to other wall-based plant stand ideas. You can place a lot of plants on it, and it looks incredible if organized pleasingly!