Has your lawn become a bit patchy? Do not like that right? Want to fill up the gaps with the remaining grass seeds that you have previously used?
What if you get to know suddenly that those grass seeds have become expired? Would you still like to experiment with those grass seeds on your lawn and see what is happening? Whether it is germinating or not?
Read the article below and find out if the used grass seeds of yours are still willing to germinate on your lawn or not!
Do Grass Seed Really Have an Expiry Date or It Is Just a Myth?
Yes, the grass seeds do have an expiry date and those dates are stamped on the bags very properly which are quite a bit visible. The matter is with the common people because few just ignore, forget, or might not be knowing the fact.
Thank God! You all came to the right page to know the right facts. Unfortunately, this is not a myth and yes after the passing of the expiry date you will no anymore be able to use your grass seeds on your lawn. 
The best thing to do is all should throw the grass seeds unused if only the displayed date has passed by. Whenever sowing grass seeds on your lawn, use more percentage of seeds, then only you will be able to view enough grass on your lawn.
Later this will ensure that no grass seeds will be thrown unused even if the displayed date passes by.
So, better not to use the expired grass seeds or to use an adequate amount of grass seeds in the first place or else you will end up spending countless hours simply irrigating and nurturing seeds only to produce expired grass.
How to Store Grass Seed?
Storing the grass seeds safely and properly is a very important part of the entire story. Before doing something, knowing the full procedure is essential.
If you do not want your grass seed to go bad, then keep them in cloth bags with mesh air vents. This allows air inside the bag and prevents insects from getting inside the bag. The bag should be stored in a dark, dry, and cool place.
The place should absolutely be a humidity-free zone. Humidity there can in no way be more than sixty percent. A cool climate is fine for the grass seeds but avoids the places where the seeds can freeze.
This is harmful to them! Always go ahead for buying high-quality seeds or else you might face several unwanted and uncountable problems. During the winter season, the weather becomes very cold, and the temperature often goes below the freezing point.
At this point of time, the grass seeds are to be kept with extreme care, and in no way, you can afford to let the grass seeds freeze. It is not good for them. Consider keeping the seeds in an insulated garage for a few months.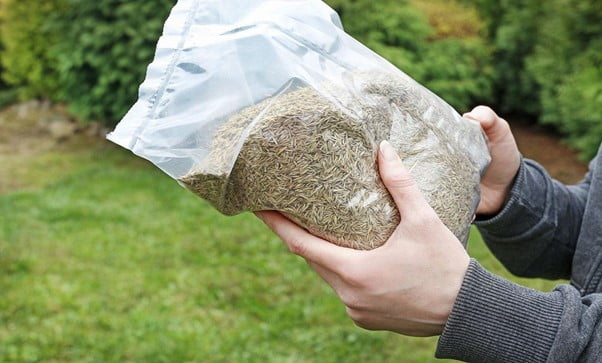 Storing Capacity
Normally grass seeds do not last for more than two to three years. But the seeds which do not age even a year, are the best ones among the seeds who are lying in the various age sectors. There is always an exception found in the crowd and nature has got its own way to surprise the humans. 
Ryegrass seed is a variety of seeds among all the grass seeds found and these seeds are workable for up to five years. The most amazing part is this seed lives considerably longer than any other grass seeds variety like Bermuda grass seeds, etc.
Physical Symbols
What if you have thrown the grass seeds package where the expiry date was written? It is not a big deal because the expiry date at times also matters in how and in which conditions the seeds were kept.
You will not be able to view obvious symbols, but the discoloration of your grass seeds is an alarming symbol.