As the bases of both residential and commercial buildings, the floors often take a great deal of pressure whether it's from foot traffic or actual traffic. Additional elements, like furniture, sun, rain, and snow can further put them through wear and tear, so focusing on getting floors of quality is imperative regardless of where you're choosing them for.
Concrete is one of the options that certainly gets attention because of its outstanding properties, among which are strength and durability. Other benefits include resistance to bacteria, stains, odours, fire, and water. Still, this isn't to say it won't eventually show signs of use after years of being put through constant pressure.
One of the best courses of action, if you care about the long-term protection of this investment, is to reinforce it with the ideal layer of coating. And while paint may be an option, it's epoxy resin coating you should be looking into if it's unmatched durability, thickness, and resistance you're after.
What Sets This Apart from the Other Coatings?
First of all, it's chemically different from traditional alternatives like paints in that it's a 2-in-1 product as it consists of a polymer resin and a hardener. It's the hardener component that's missing in regular paints. To be able to use the product, you have to properly mix the two right before applying it on the floor.
As the mixture then adheres to the concrete, let the chemical reaction between the two and the floor do its job in creating a resistant layer. In case you want to create a stronger base, adding more layers of the mixture will give you what is known as epoxy flooring with the difference being in at least two millimetres of coating.
Given that it's a material that's got high resistance to indentation, and is non-porous, it's a stronger choice even compared to concrete which is why it's also suitable as an extra layer for the concrete floors. As such, it's suitable for garages as much as basements, warehouses, and a range of industrial facilities and factories, besides schools, and offices.
For home use, it's any room that goes through more utility than the rest where you need more floor reinforcement. This could be the bathroom, kitchen, and in some cases even the living room. This versatility, flexibility to use it outdoors as much as indoors, plus the cost-effectiveness to buy and maintain it, the undisputed durability, strength and resistance to oils, gases, liquids and chemicals, are some of the reasons why epoxy floor coating is such a desired solution.
With a little bit of care, like regular sweeping and mopping, and eventually wax coating in case of scratches, you'd be able to extend its lifespan and turn it into more of a valuable investment. And the advantages don't end here, considering it's also the type of coverage that helps protect the actual floor from damage thus extending its lifespan in return.
It's the perfect option too for those who want to get a surface that's waterproof, and antibacterial at that which is beneficial for overall health. Lastly, it's a choice that's highly stylish and eye-catching, available in a range of customisable options – factors that can add to the aesthetic value of the spaces where you apply it.
What Are the Three Types of Epoxy?
When shopping for the ideal product for your needs, you're mainly going to come across 100% solid, water-based, and solvent-based.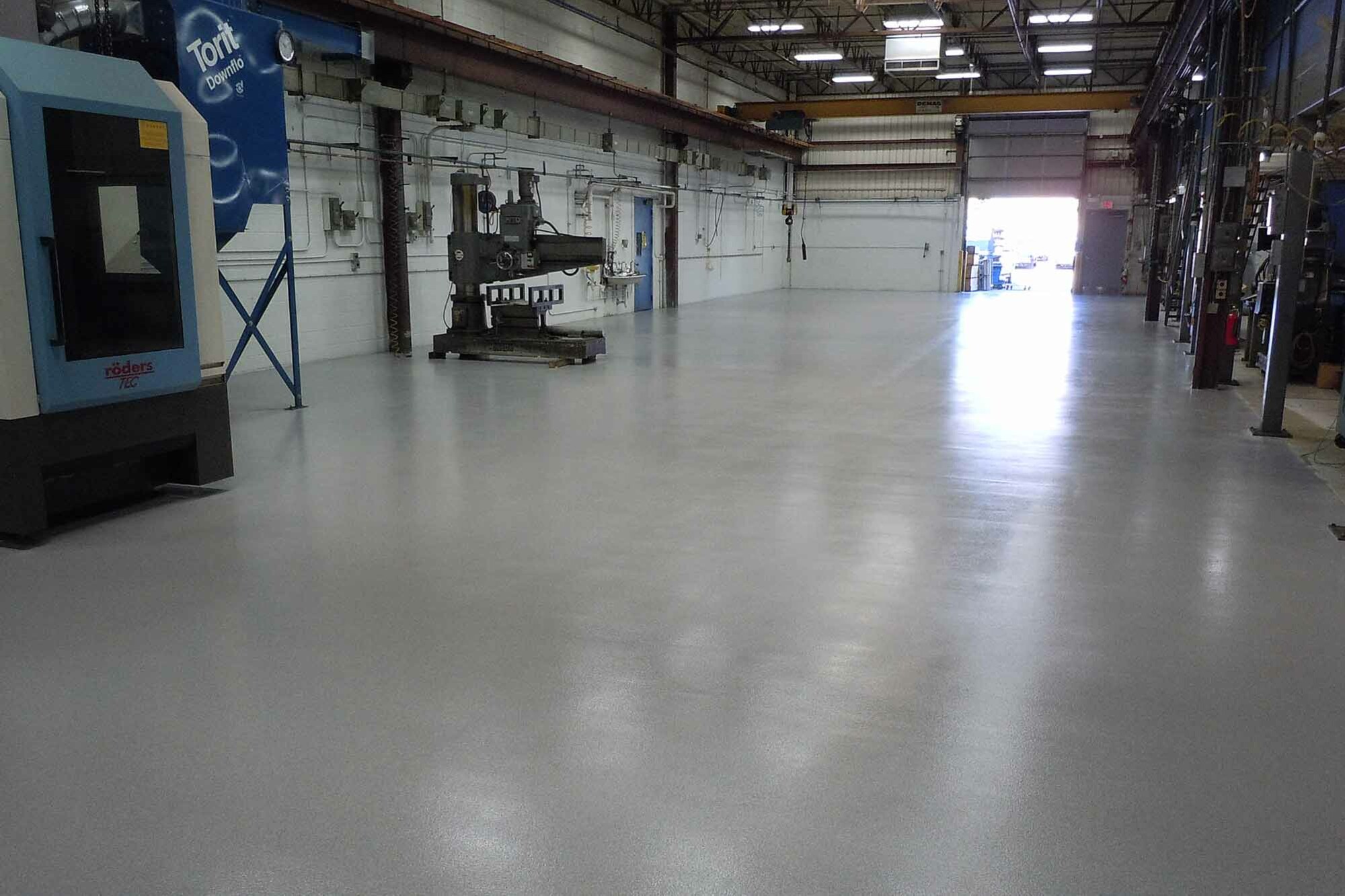 100% Solid
This is the pure product as it consists of the resin and the hardener, thus making it free from both VOCs and water. It's the perfect choice in case you want to add the kind of coating that's good for indoor air use, given that VOCs can sometimes lead to indoor air pollution. One of its benefits is that it creates a thick layer of film, much thicker than the other two counterparts produce, which is why it's sort of become the standard and preferred choice for industrial and commercial purposes.
One drawback, however, is that because of the lack of carrier agent (e.g. water or solvent), it tends to have a shorter pot life, about 30 to 40 minutes, which is the time frame when it can be applied without being hardened. This means you get a shorter application time and this is known to consequently increase the stress of making mistakes – that would explain the preference of most people to have professionals apply this kind of coating.
Water-Based
This is a type of epoxy resin that has a kind of formulation that's water-reducible, meaning it's dispersed in water that later evaporates after application. Due to this, it's a better option than solvent-based if you care about low VOC content or are applying in areas where there are governmental restrictions and regulations on the number of VOCs you can use.
The result is a tough yet non-toxic surface that's waterproof and easy to clean. Still, keep in mind it tends to be a not-so-heavy-duty choice so it's best left for areas where there isn't that much wear and tear from traffic, like heavy forklifts, or spills from chemicals.
Solvent-Based
This is the type that requires a hydrocarbon solvent to dissolve the resin and assist with the easy application over and penetration into the concrete. While in the past it was the preferred choice thanks to its incredible properties, such as glossy finish, high durability, high performance, and high resistance to surface contaminants, things have changed mainly because of the laws on VOCs. With the improvements over the years, however, it's possible to find products that aren't as high in these ingredients as they used to be.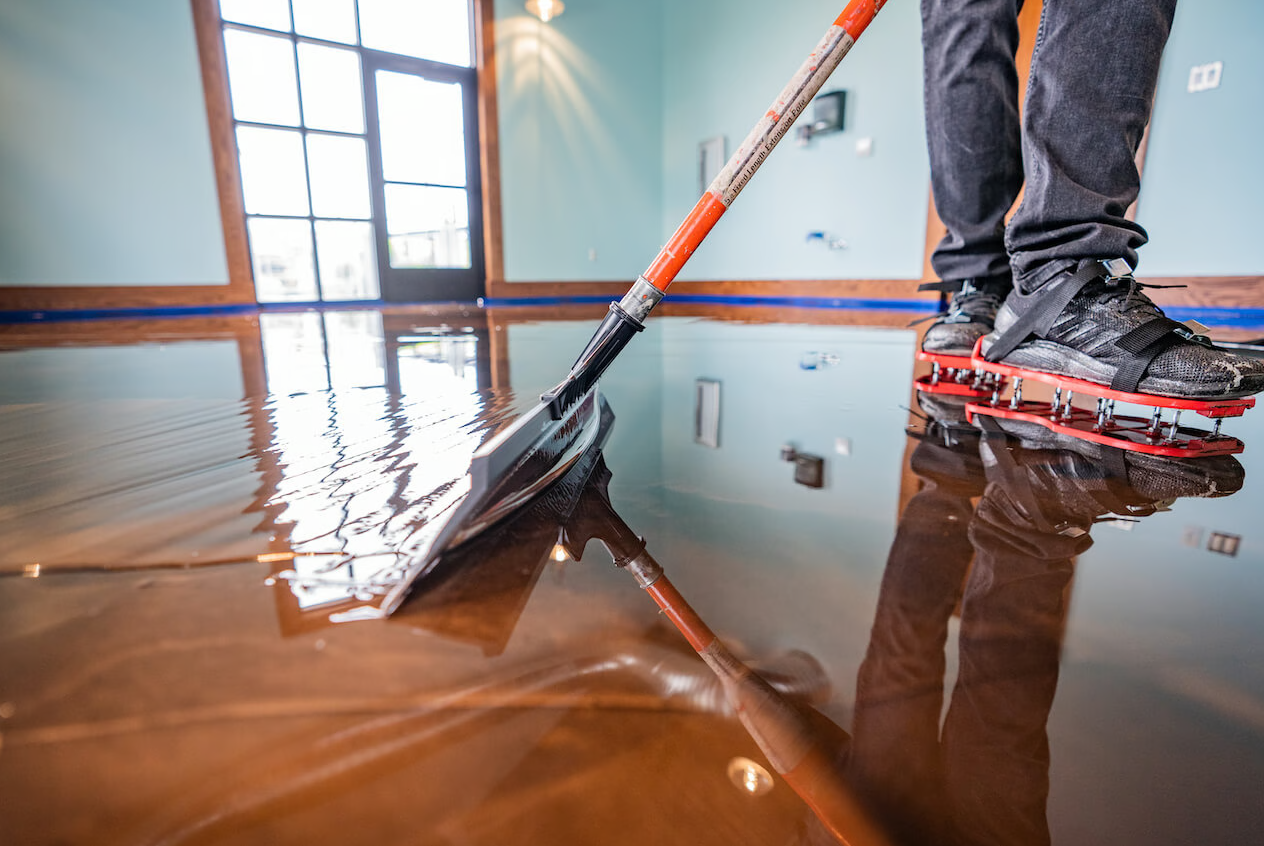 Metallic
This is a special option that's created with an additive in the mix of clear coating. Resistant, durable, low in maintenance, and more important, stylish and modern, it's easy to see why it's grown in popularity in recent times. This is especially the case with commercial properties where floor customisation is part of the branding and business image needs.