Standards are crucial for any industry or business to establish a shared understanding and judgment of materials, products, or processes. They help streamline business practices and ensure that products and services are safe for consumers and the environment.
The lighting industry is no exception to this, and several standard-making bodies have established norms and requirements for lighting design, safety, performance, mounting, testing, and illumination levels.
Electricity's original purpose was lighting, and numerous standard-making bodies now address almost every aspect of Efficient Lighting and LED safety, performance, testing, and illumination levels.
These lighting standards are regularly revised and amended to keep up with the latest technology or meet specific industry needs.
In this blog post, we'll review everything you need to know about commercial lighting standards and how they affect your business.
How Much Light is Required in Your Space?
According to the U.S. General Services Administration (GSA), the minimum standard office lighting for all businesses in the United States is 500 lumens per square meter at a standard workstation.
To put that in perspective, every 6'x6' (or 36 square-foot) space should receive the equivalent light from a 35-watt incandescent bulb, while most desk lamps use a 60-watt bulb that produces 800 lumens.
Below are IES recommended lighting levels for industrial/commercial spaces, given average foot-candles and lux values. Lux means lumens per square meter, and foot-candles mean lumens per square foot. A lumen is a measurement describing the light produced by a commercial lighting fixture or bulb.
| Location | Foot-Candles | Lux |
| --- | --- | --- |
| Auditoriums, theaters, TV studios | 10-100 | 100-1000 |
| Banks, post offices | 30-50 | 300-500 |
| Classrooms, libraries, conference rooms, museums | 30-50 | 300-500 |
| Drafting, artwork | 50-75 | 500-750 |
| Fine manufacturing, inspection | 50-100 | 500-1000 |
| General manufacturing, rough bench work | 5-30 | 50-300 |
| General offices, filing, typing | 30-50 | 300-500 |
| Reception areas, lobbies, corridors | 10-30 | 100-300 |
| Restaurants, cafeterias | 10-30 | 100-300 |
| Showrooms, display areas | 30-50 | 300-500 |
| Stores, light work, dark merchandise | 10-30 | 100-300 |
| Warehouses, homes, theaters, stairways, storage areas | 5 | 50 |
How Many Fixtures Will You Need?
To determine how many light fixtures are needed to achieve the necessary illumination levels in your space, it's important to consider a variety of factors. One helpful tool is the Illumination Diagram, which is available on our product information pages and in LM-79 reports.
This diagram shows both foot candles and lux produced by a fixture at different ceiling heights, as well as the distance between the points of 50 percent intensity or the area covered by light.
It's important to keep in mind that light spreads and gets dimmer as it moves away from its source. This means that directly under the fixture will be the brightest spot, while the areas farther away will receive less and less light. To ensure that your space is evenly and adequately lit, it's necessary to consider all the areas that need light and to take a common-sense approach to your lighting design.
Once you know what fixture is capable of emitting the necessary foot candles at different heights, it's essential to carefully consider how many fixtures will be required.
While the Illumination Diagram can provide a helpful starting point, it's essential to keep in mind that every space is unique and may require a different number of fixtures to achieve the desired lighting levels. By considering these factors, you will ensure that your lighting design is effective, efficient, and tailored to the specific needs of your space.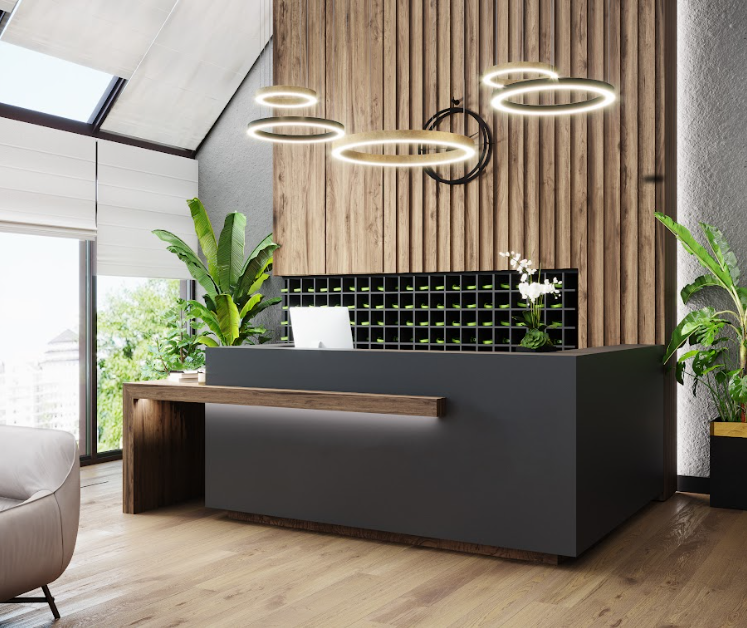 Other Lighting Standards
The GSA provides additional lighting standards, which include using fluorescent ceiling fixtures and bulbs as the most basic suggested option, ensuring an even amount of illumination throughout the office space, filling in gaps with task lighting options, and adjusting lighting options to minimize shadows.
Conclusion
In conclusion, commercial lighting standards are essential for businesses to ensure their lighting is safe, efficient, and effective. From determining the necessary illumination levels to deciding how many fixtures are needed, there are many factors to consider when designing a lighting system.
It is possible for businesses to create a well-lit environment that promotes productivity, safety, and comfort for employees and customers alike.