Light is one of the requirements that help plants grow. Plants use up sunlight and carbon dioxide, and water to perform photosynthesis and prepare food for themselves and release oxygen. But then why cannot plants flourish indoors where they are kept under the everyday lights? 
This is since not all plants are the same, and some plants require wavelengths of light to grow. The spectrum of the light consists of multiple wavelengths, out of which some are used to light up our paths and homes, while others help the plants to grow and produce. 
So, let us investigate grow lights vs. regular lights in more detail.
Comparison between Grow Lights VS Regular Lights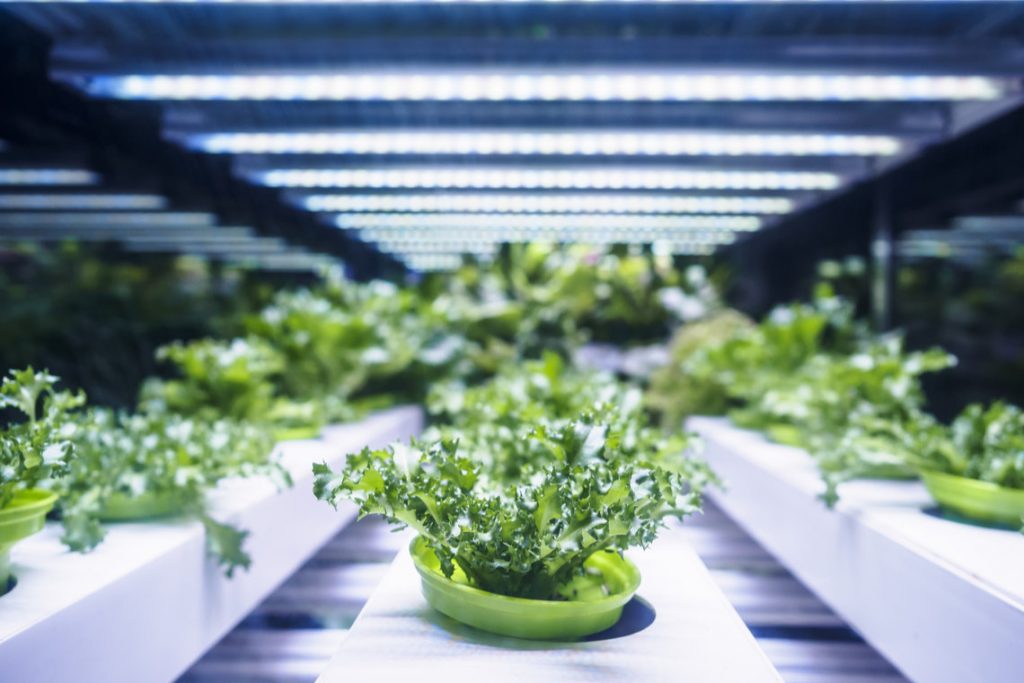 Grow lights belong to the red, blue, and UV spectrum of light and have variable efficiency. They are used for a plant's health and growth. On the other hand, regular lights belong to the entire white spectrum range and have good efficiency. They are used in our everyday life to light up our surroundings.
Grow Lights
It is an artificial light source used in photosynthesis as it belongs to the required spectrum of light. In photosynthesis, light energy is converted to a form of energy used by plants to grow and produce. So, grow lights are found when people want to grow plantations inside the house or for plants that require a specific set of wavelengths. 
Sale
They can be bought as individual bulbs or as part of a set when users wish to concentrate the light. Different grow lights have specific uses that can affect a plant's health. They can also harm human eyes as the light emitted by them is too strong. So, precautions must be taken while using them.
Who Can Use Grow Lights?
While deciding between grow lights vs. regular lights, one can get confused about whether a particular kind of light is suitable for their requirements. But there is no need to fret. Grow light can be used by anyone, be it a commercial grower or hobbyist, who plans to grow vegetation that requires wavelengths of light emitted by the sun.
Grow lights help get plants (like herbs and flowers) more established and provide seedlings the extra boost they require before planting. They are also very popular in commercial set-ups and greenhouses where they need to look extra healthy.
Common Types of Grow Lights Used
Some of the most frequently used grow lights that help in plant growth include:
High-Intensity Discharge (HID)
HID bulbs are particular and provide spectral ranges of red or blue, depending on our requirements. But they can be interchanged for the different stages of growth of a plant. The light is produced between tungsten electrodes that have been fused with alumina inside a tube by creating an electric arc. The output level is very high, and thus, HID bulbs are mostly used by commercial growers.
MARS HYDRO TS 600W LED Grow Light 2x2ft Coverage Sunlike Full Spectrum Grow Lamp Plants Growing for Hydroponic Indoor Seeding Veg and Bloom Greenhouse Growing Light Fixtures Four for 4x4 Footprint
SUNLIGHT FULL SPECTRUM GROW LIGHT, Infinite close to natural sun light, full spectrum 3000K 5000K and IR 660nm 760nm RED, suit for all plants whole stages indoor growing, rapid plant response from seed to flower
HIGH EFFICIENCY ENERGY SAVING PLANT LIGHT, Consuming only 100 Watts true output with 225 PCS LEDs, more scientifically and energy-efficient! Perfect for 2' x 2' veg stage, 1.5' x 1.5' bloom stage, higher intensity in a MARS HYDRO grow tent, reflective area, or by crossing over using multiple TS600
ACHIEVE ENVIOUSLY LARGE HARVESTS with LED LIGHTING: High-performance gardens with new LED technology provide highest PAR/LUMEN output(430μmol/m².s), Max 2.0g yield per wattage (power draw), achieve maximum quality and quantity, much better than traditional 150w HPS grow systems
HIGH REFLECTIVE HEAT SINK LED GROW SYSTEM, quickly heat dispersing material aluminum reducing light lost to aisles and walls, increase the light intensity up to 20%, allowing your plants receive more energy and without burning your plants for maximum headroom
NOISE-FREE FANLESS LED GROW LAMPS FOR INDOOR PLANTS, Designed for home growers, fans get noisy when long time use, but this LED light board use aluminum make it cooling down instead use fans, bring you a FANLESS QUIET grow experience
Fluorescent
Fluorescent bulbs mostly provide blue wavelengths. They also offer a full spectrum of white light that benefits plants greatly in their early stages of growth. These bulbs are the right choice if you want to grow plants indoors as they emit less heat and last long.
Sale
Durolux T5 Ho Grow Light - 4 Foot 4 Lamps - DL844 Fluorescent Hydroponic Indoor Fixture UL Listed - Bloom Veg Daisy Chain with Bulbs
HIGH LIGHT OUTPUT: 20000 Lumen, Professional Grow Lighting System, 95% Reectivity German Hammer-tone Reector. 30% more light output vs comparable systems
ALL ACCESSORIES INCLUDED: Qty4 6500K 4ft Lamps, Hanging hooks and chains, 8 FT Power cord
OUTLET ON FIXTURE - Power up to 5 xtures o one wall outlet - less clutter, more convenience
FLEXIBLE LIGHT OUTPUT: 2 switches on body allow for step dimming - one for inner 2 bulbs, another for outer 2 bulbs
SAFE OPERATION: Rated for operation in Wet/Damp environments. Has Made-In- Italy AAG Stucchi lampholder with I certicate to prevent re if tubes get loosed during operation, UL/CUL safety approved. 5 year warranty
Fluorescent lights can be found in the form of tube lights or CFL (compact fluorescent) reflectors. Even though it is an energy-efficient option compared to incandescent lamps, they tend to be expensive.
Light Emitting Diodes (LED)
LED's emit low heat and are both small and efficient. They can be combined with other forms of grow lights to customize the light spectrum according to our requirements. LED's are useful during all stages of plant growth as they can produce more than one wavelength at the same time when used in a panel. This is the latest technology available in the market and is also customer friendly.
Plant Grow Light, VOGEK LED Growing Light Full Spectrum for Indoor Plants, Plant Growing Lamps for Seedlings, 3 Switch Modes 10 Brightness Settings
Grow light can be timed to 3, 6, 12 hours as the plant needs, bringing enough but suitable brightness to your plant. With auto on/off function. Plant light will be restarted automatically the next day without manual operation.
LED growing lamp can provide 10 brightness level. You also can choose one, two or three lamps on.
Grow light has a desk clip, and 3 adjustable gooseneck between the clip and the lights which you can move the light to the position you need. (Note: This grow light could not stand on its own, please clamp the clip on stable object to prevent the plant lamp from falling.)
Vogek Grow light can offer full spectrum light. The plant bulbs are replaceable, so you can replace new bulb instead of buying a new light when the life time of bulb is end.
Our plant growing light is made of 144LED beads, which can provide strongand uniform intensity of light to plants. This Grow lamp has more larger lighting area.
Incandescent Grow Lights
This is the least expensive option available. It provides a high heat output but is the least energy-efficient, making it the weakest contender in the market.
GE Incandescent Plant Light Bulb, BR30 Indoor Plant Light, 65-Watt, 730 Lumen, Medium Base, Blue-Tinted White, 1-Pack, Recessed Light Bulb for Indoor Plants
PLANT LIGHT BULB: Highlight the natural beauty of your plants with this blue-tinted indoor plant light. The bulb will last 1.8 years based on 3 hours per day of use.
GROW YOUR PLANTS THROUGHOUT THE YEAR: These grow lights for indoor plants provide the perfect high-quality, natural light that will allow your indoor garden and aquatic vegetation to bloom and flourish year round.
RECESSED LIGHT BULBS FOR INDOOR PLANTS: These grow lights for indoor plants provide directional lighting designed for use in recessed ceiling fixtures, tracklights, and polelights.
WIDE BEAM LIGHT BULBS: The floodlight design casts wide beams of light to grow your plants with incandescent light. These grow lights' funnel shape and reflective coating help direct light where it is needed better than a standard light bulb.
Metal Halide lights
The light source is created by mixing mercury vapor with metal salts. They are also mostly used by commercial growers and use a unique fixture.
Pros and Cons of Grow Lights
Pros
Provides the required wavelength of the light spectrum
Low energy is used
Low heat output, so the bulbs do not get overheated
Helps plants in the process of photosynthesis
Cons
Can damage the human eye
Costlier than regular lights
All stages of plant growth are not supported by an individual grow light. It needs to be customized.
Regular Lights: Light up Our Path
The primary purpose of regular light is to light up dark spaces. They provide us light to read and work comfortably and brighten up our house as the sunsets. They are found everywhere, be it our vehicles, garages, or the front porch. 
Sale
SYLVANIA Halogen Lamp Double Life / Dimmable Light Bulb A19 / Energy-Saving Replacement for 60W Incandescent / Medium Base E26 / 43 Watt / 2750K – Soft White, 4 Pack
Halogen light bulbs A19 produce a higher lamp efficacy and provide significant energy savings when compared to incandescent lamps / Halogen light bulbs meet federal EISA requirements and are the perfect replacement for A19 incandescent bulbs
Highlight quality / Halogen A19 dimmable lights offer numerous benefits: True color (99+ CRI) / Instant on / Cold start / Fully dimmable down to 0% / Mercury free
Energy saving A19 halogen bulbs/ Extra Long Life / 2, 000 hours / Double Life
Use for indoor and outdoor lighting (when not directly exposed to weather) / Application anywhere standard incandescent lamps are used / Healthcare / Hospitality / Residential / A Line bulbs for omnidirectional lighting
Contains: 4 x Halogen Light Double life / 43 W / 2750 K / 120 V / 680 Lumens / E 26 medium base / Halogen bulbs soft white – Made in the USA
These regular lights are mostly available as bulbs but provide various options to choose from, depending on the shape, colour, style, or the bulb socket available. Specialized lights need to be decided based on size and compatibility, like the ones used in cars. 
Regular lights have a large heat output and can get overheated easily. So, they must be placed away from human skin to avoid accidental burns.
Who Can Use Regular Lights?
These are the most used lights and can be spotted everywhere around us. They help us to get by in our daily lives by lighting up our working space and homes. Regular lights guide us through the darkness and make visibility better. 
They are also a significant part of the entertainment industry as they govern what we see on our electronic devices, like phones, tablets, television, video games, and computer screens. The lights can also be specialized to help us see things that would usually be invisible to us, and a particular spectrum of it also helps keep our body warm during winter months.
Common Types of Regular Lights
People are becoming more aware of energy conservation, efficiency, and safety of regular lights. So many kinds of bulbs are phased out of use and new and better ones introduced. The ones found today are:
Incandescent Bulbs
They once used to be the most popular choice. But with increased awareness, these were phased out. Safer and efficient decisions were brought into action.
Sale
A19 Frosted Incandescent Rough Service Light Bulb, 60 Watt, 2700K Soft White, E26 Medium Base, 550 Lumens, 130V (6 Pack)
60 WATT A19 FROSTED GLASS ROUGH SERVICE BULB - Provides 550 Lumens of output; Comfortable 2700K soft white color; Standard E26 Medium Base
STANDARD HOUSEHOLD SERVICE LIGHT BULB - Rough service bulb contains additional wire to support and protect the filament from vibration and external stress
APPLICATIONS - Ideal for kitchen, bathroom, bedroom, living rooms, ceiling fans, porches, patios, garages and workshops; Perfect for lamps, sconces, vanity, pendant and string lights
DIMMABLE - Customize the brightness to your preference; Ideal for home or commercial use; 360° omnidirectional beam angle
SAFE AND DURABLE - Lasts 3,000 hours - longer than standard incandescent bulbs, Heavy duty reinforced filament for increased durability
Halogen Bulbs
They can be used to light up large areas and thus are used in high vaulted ceilings. Halogen bulbs are warm when touched and need proper airflow and ventilation so that overheating can be avoided.
CFL (Compact Fluorescent Bulbs)
CFL is the most long-lasting choice as they are steady. They emit a white spectral light that does not harm the eyes. Their heat output is low, so it can easily be used in recessed lighting units.
Philips LED 433557 Energy Saver Compact Fluorescent T2 Twister (A21 Replacement) Household Light Bulb: 6500-Kelvin, 23-Watt (100-Watt Equivalent), E26 Medium Screw Base, Daylight Deluxe, 4-Pack
Energy efficient: Philips Indoor CFL Light Bulbs have an estimated dollar 1.57 estimated annual energy cost (based on three hours/day)
Eco Friendly: These Philips PAR20 light bulbs use recycled glass and packaging material, reducing environmental impact
Daylight deluxe: Philips CFL Light Bulbs Simulating sunrise inside your room, this 100 watt equivalent bulb features a daylight color that turns on softly and warms to its full brightness in seconds, making it ideal for use with table lamps or in kitchens, living rooms, and hallways
Versatility: Creating an inviting atmosphere around the home, Philips T2 bulb is ideal for use in kitchens, living rooms, dining rooms, offices, family rooms, and bedrooms
Compatibility: These Philips Indoor CFL Light Bulbs fit in a medium screw base; Not compatible with Philips HUE products; Philips Dimmable CFL light bulbs are for non connected use only
LED (Light Emitting Diodes)
These can emit specific wavelengths from the light spectrum like grow light LEDs. They are also relaxed when touched and a long-lasting choice.
Tenergy LED Light Bulb, 9 watts Equivalent A19 E26 Medium Standard Base, 5000K Daylight White Energy Saving Light Bulbs for Office/Home (Pack of 16)
Direct replacement - The Tenergy 32 pack non-dimmable LED bulbs are perfect replacement for incandescent light bulbs. These E26 LED bulbs have medium standard bases. No breakable parts and are free of toxic chemicals making them safe for your family and the environment.
Instant lighting - These daylight led bulbs immediately turns on with full brightness.
Energy saving - Illuminating with the equivalent of a 60-Watt incandescent bulb but only consumes 9W of power, making these daylight led bulbs one of the best energy efficient lighting.
Superior light quality - Non-flickering light and zero harsh glares prevents eye fatigue and provides a comfortable, stress-free atmosphere. Replace office light bulbs to help promote work productivity by upgrading to these led 60 watt light bulbs daylight.
UL certified, 3 years warranty - Built with premium materials and circuitry, Tenergy led daylight bulbs 60 watt are certified by the rigorous safety standards of Underwriters Laboratories. Long service life with a special 3 year warranty.
Pros and Cons of Regular Lights
Pros
Cheaper choice
Readily available all around us
Numerous daily uses
Energy efficient
Long-lasting
Cons
Wavelengths provided are narrow
Does not support photosynthesis and thus plant growth
Heat output is very high
The Best Lighting for Your Needs
Grow lights vs. regular lights are very different from one another and used for specific purposes. Grow light supports photosynthesis and aids in the various stages of plant growth. 
They are used when the plants need to be grown indoors, and thus natural light is limited. Grow lights tend to mimic the spectral wavelengths that are provided by the sun's light. 
Regular lights are found everywhere around us. Regular light is a part of our daily lives and aid us in our everyday activities. Regular light is not suitable for plants' care as their wavelengths are not concentrated enough. 
If you plan to grow plants indoors as a hobby or a commercial supplier, you must grow light to satisfy your wavelength requirements. But regular lights can be used to light up your house.