Gardening: one who has not done this before has no idea about how difficult it is. This is not just about planting a plant, enjoying their stages of growth, and watering them. It is much more than that. It takes a lot of effort and hard work to cultivate the fruits of labour. 
Therefore, one needs the right set of tools to perform this task efficiently. While the choice of tools differs from person to person, some of these tools are indispensable. Amongst the zillions of instruments available in the market, one such tool is a cart. 
But there are many kinds of carts available in the market, and customers are usually confused while buying one. Primarily, choosing between the gorilla cart vs. wheelbarrow is difficult. Hence, here I will describe the two of them one by one and consider the points before making a choice.
What is Wheelbarrow?
A wheelbarrow is a small, traditional, hand-propelled vehicle used to haul materials essential for gardening like soil, mulch or compost, garden ornaments, garden debris, bricks, and large trees or shrubs. It is used even for mixing concrete and fertilizers. 
Marathon Yard Rover – 2 Tire Wheelbarrow Garden Cart - Green/Black
The yard Rover features two, air-filled wheels, making it easier to lift, balance and maneuver.
The loop handle allows users to effortlessly push, pull or dump the contents of the yard Rover.
It features a rust-proof 5-cubic foot poly tray and 300-pound load capacity, perfect for residential...
It takes minutes to assemble. The only tools required for assembly are a crescent wrench and...
At 25 pounds, It weighs about 25% less than an average wheelbarrow.
With its two supporting legs, one to two wheels, and two rear handles, this instrument makes it easier for users to move things. 
Plastic, steel, and aluminium are used for the construction of wheelbarrow buckets. Each material has its pros and cons, and the choice of the material depends upon your needs. 
The standard size for a wheelbarrow is six cubic feet.
What is a Gorilla Cart?
The gorilla cart is shaped like a garden cart. It has a steel-framed basin and four heavy-duty wheels. 
It is available in the market in various shapes and sizes, and it can be purchased depending upon the degree of heavy-duty job one has to perform. The cart with a 600-pound capacity is ideal for use. Mostly the lighter versions are used for gardening and household requirements. 
Sale
Gorilla Carts GOR4PS Poly Dump Cart, Multi-Purpose Garden Wagon with Steel Frame, 4 cu ft, 600 lb...
QUICK-RELEASE DUMPING & PNEUMATIC TIRES: Our patented quick-release dumping system allows you to...
STRAIGHT PULL HANDLE: The comfortable, straight pull handle makes hauling heavy loads of landscaping...
600 POUND CAPACITY: Tow all your essentials with this heavy-duty garden cart's 600-pound capacity...
HASSLE-FREE ASSEMBLY: This utility cart's durable steel frame is easy to assemble while the sturdy...
YEARS OF QUALITY & INNOVATION: Gorilla Carts are designed for strength and performance to help get...
The most significant feature of a gorilla cart is its dump release feature. By pressing a switch, the stuff kept inside the basin can be released backward. This makes it easy for materials like gravel and soil to be dumped.
Moreover, the ridged, large tires of the gorilla cart make it easier to transport things across rugged terrain effortlessly. 
Gorilla Cart vs. Wheelbarrow: A Comparison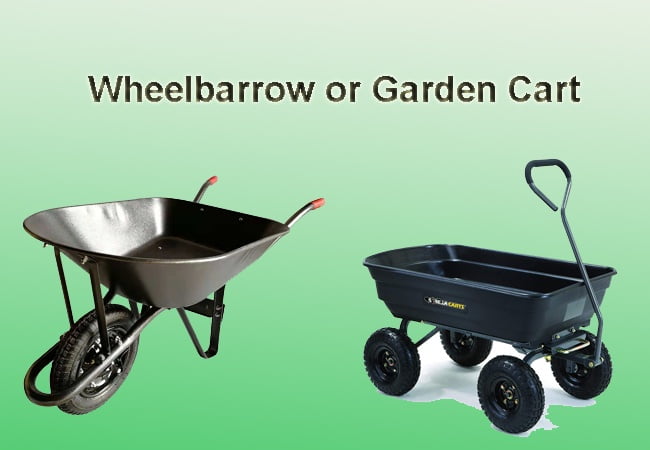 It is tough to make a choice. But one can look through the following points before taking the final decision:
Structure and Physical Limitations
The size of the instrument plays a vital role in your set of tools. People usually prefer to use carts with large basins to cover more ground with fewer trips. 
But, choosing a larger one is not a necessity unless you can carry it. So, while purchasing a cart, one must opt for a vehicle that can be moved or lifted easily. 
In a race of gorilla cart vs. wheelbarrow, it has been observed that more customers support the later one because of its versatile and nifty design. One can be turned off after looking at the bulkiness and boxy structure of the rectangular cart. 
Moreover, it is difficult to store such bulky size tools. Not all people can afford such a space. A person can hang the wheelbarrow in the corner of his garage, but the gorilla cart needs more space.
Stability and Mane verity
The vehicle's stability and the ease with which it can be maneuvered is an essential feature of a cart. Therefore, while making a choice, one must be aware of the smoothness of the vehicles' movements. 
The wheelbarrows have handles so it can be pushed from behind. This gives us more control and maneuvers over the movement. Even if wheelbarrows with single wheels are easy to turn and can handle tight spots well, there are chances that it loses balance when a heavy load is transported. 
Thus, for these purposes, a wheelbarrow attached with two wheels is a better choice because it provides more stability. 
Gorilla cart has a lower center of gravity. Moreover, it has multiple numbers of wheels. These factors offer more stability to the structure of the gorilla cart. But it has a little maneuver. Unloading is more comfortable in this case because of its dump release feature.
The Topography of the Field of Consideration
If someone resides in a plane area, it is not a point to consider. Ignoring other factors, if that person decides to purchase one based on his work terrain, it is a coin toss decision. But you must think twice before purchasing one for someone traveling over a rough, bumpy road. 
Gorilla cart is the best one to consider for a hilly, rocky, or uneven terrain. The large, rigid wheels allow effortless to travel over rugged landscapes. Even in inclined terrains, it can get ahead of you. 
Using a wheelbarrow for similar cases is more challenging because you must haul a weighted down wheelbarrow, especially imagine pushing that heavyweight across a hilly area. While traveling on the bumpy streets, the cart can always lose its balance, sometimes to the extent that everything falls, and you pick them and keep them again.
Strength was Utilized for Using the Vehicle
If you cannot handle many heavyweights, you should prefer the gorilla cart over the wheelbarrow. Using a gorilla cart, one does not have to lift the carriage. 
The vehicle is equipped with a handle that can pull the cart; thus, it saves your back and arm muscles' strength. Moreover, the handle can be towed with an ATV or tractor for easy transport. Depending on the amount of load kept in the cart, one can also choose to push or pull it. 
Especially for people with back problems, the dump release feature of the gorilla cart comes in handy. 
But the back and muscles and its strength play a significant role in moving the wheelbarrow. Lifting the wheelbarrow correctly and with a proper technique is necessary; otherwise, you will hurt yourself badly. 
At the same time, the gorilla cart is low to the ground. Hence, one must bend while loading things on it. Thus, someone with a problem with turning should prefer tilt and dump wheelbarrow over the gorilla cart.
Other Factors
Most people believe that if the cart has a large basin, it can cover extensive grounds quickly. I do agree with this point. But, at the same time, the deeper a basin is, the more massive the amount of material carried within gets. 
Therefore, the deeper basin of a wheelbarrow serves both as to its advantage and disadvantage. It depends on the limitations of the strength of an individual.
Conclusion
All the factors mentioned above must be considered before buying a product.
When the choice arises between the gorilla cart vs. wheelbarrow, we must acknowledge that both have something to offer. 
But the choice depends upon our needs and expectations. Along with it, the price, construction materials, and tires, and capacity of the basin should be considered before buying. 
Construction materials: The construction of these vehicles can be done using three types of materials:
Metal
The advantage of using metal is this give a durable and robust structure to the cart. But this product requires maintenance as it is prone to rust.
Wood
Using this material, one can make the product strong enough to take a beating. But it can wrap quickly; thus, it is not durable.
Plastic
This material can make the product weatherproof, but if it is not highly dense, UV-resistant polypropylene can quickly lose its quality. 
Tires: The tires used can be air-filled (pneumatic) or solid. Even if air-filled tires are more comfortable to push, but it can flatten quickly. But it is easy to replace it. The solid tires are right for traveling in rough terrain. 
Price: The price of both the gorilla cart and wheelbarrow are nearly the same. You must compare the cost of the best products before purchasing one. 
Capacity: The capacity of the product can vary from a few cubic feet to more. Larger carts usually take more effort to carry. 
You can also use more money to add more features to your cart. For someone with a bad back physique, a gas or power cut garden cart is the best option. 
Adding brakes or brake bar to the cart can also prove to be an advantage. But no matter what you purchase, you must take care of it and store it in a shady place. Leaving the gorilla cart in the rain can rust its wheels' axles and washers.
Steel wheelbarrows can also deteriorate with exposure to rain and snow. The plastic ones can get brittle due to weather damage and sun exposure.