If you have made up your mind about a hot tub enclosure, no one can stop you from changing the decision. I do not blame you! What is more, a better feeling than a long soak in a hot tub, which relieves all the stress and tension of your work?
The feeling you have when you can sense the stress and tension relief from your muscles is just amazing. I guess nothing can be as relaxing as a long soak in a hot tub.
Hot tubs are the luxury that everyone craves after a hard-working tiresome day. But this luxury may not be available all around the year even if you can afford it. The reason can be external elements such as weather, etc.
But do not worry, as the hot tub enclosures are customized to eliminate all your problems. It can be a neighbor peeking in or a harsh winter. Hot tub enclosures have a solution to every problem you face.
Moreover, the hot tub enclosure is an excellent addition to your home as this add-on feature is not only attractive but also useful in stress relief. Hot tub enclosures require regular maintenance, a lot of planning, and selection of a proper design.
We are focusing on the design part of a hot tub enclosure to either choose from the given designs or get inspired and innovate a new design yourself. If you are confused between the two design ideas, you can even mix and amalgamate two designs.
So, let us go through a few hot tub enclosure designs that may end being your dream design or inspire you to innovate your dream design without any further ado.
Terms you should know:
Gazebo: A gazebo is a structure that is usually octagonal, often built-in spacious public areas.
Pergola: A pergola is a garden (usually outdoor) feature that forms a shaded passage.
Deck: Deck is very much like a floor as it is a flat surface too. The only difference is that the deck is constructed outdoors (generally connected to the house) and elevated from the ground.
1. Hot Tub Enclosure with a Gazebo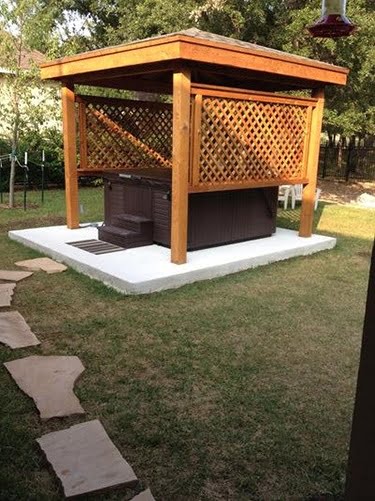 The best part about the pavilion is that if you are not the one who wants to customize it, you can buy readymade hot tub gazebos. Gazebos are the best if you want to isolate the hot tub. Create this particular area for your hot tub in your backyard it even in your garden.
Additional perks include privacy, protection against rain, and snow. You can either completely enclose the hot tub (recommended) or develop a unique idea, such as leaving the sides open.
Note: – If you are customizing, then do it considering the backdrop, layout, and décor.
2. Privacy Intended Hot Tub Enclosure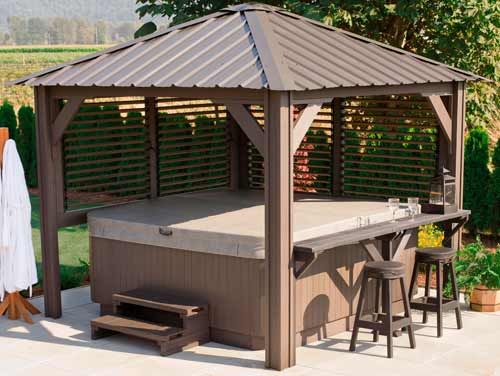 If you are the sole aim of protecting your privacy, and you are least bothered about aesthetics, you can go for this idea. With privacy, you also gain an additional perk of protection from mother nature. This makes this hot tub enclosure accessible all round the year.
Place the hot tub enclosure near the walls of your house with privacy screens. You can go for fiberglass or plastic roofs and preferably lattice sidewalls for air circulation.
3. Semi Enclosed Hot Tub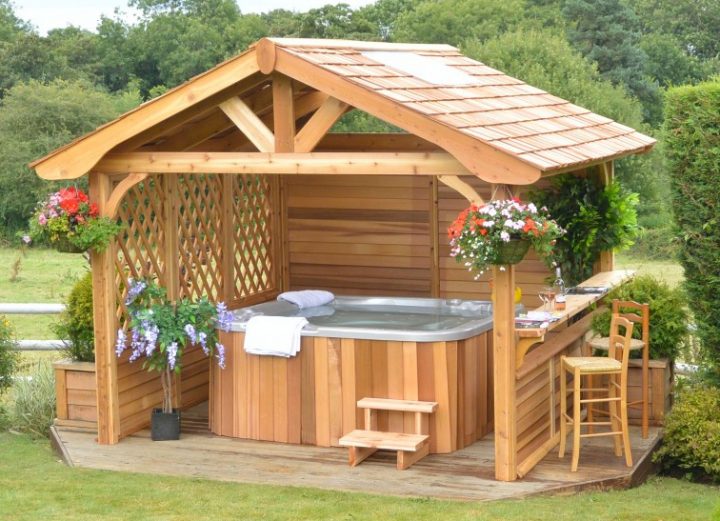 When you do not need much protection from your neighbors (or if you feel it is okay if they have a sneak peek, just kidding!) or mother nature, then go for this idea. You can either have one such designed pergola or gazebo for it. This idea is advantageous as you save some cash in semi-enclosed ones.
4. Pergola with a Wooden Deck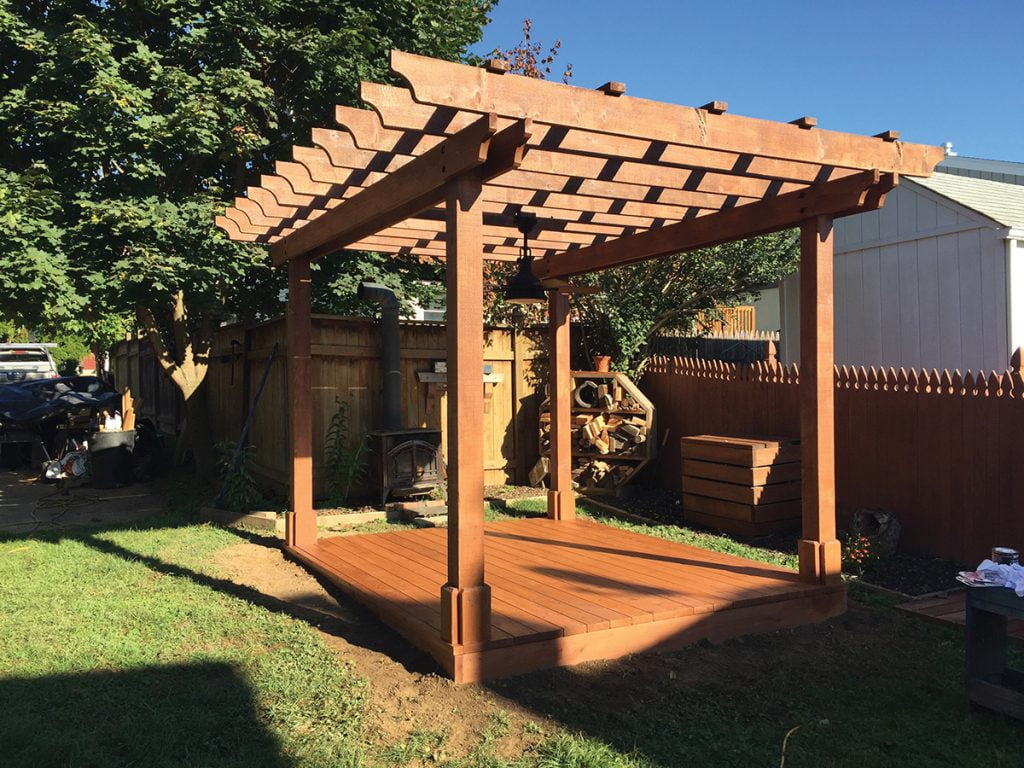 If you love wooden articles and structures, then this hit tub enclosure idea is for you! Pergola not only supports the hot tub but also makes you feel comfortable. You can use this all round the year because the pergola comes with a roof and protects you from mother nature.
Note: – This hot tub enclosure design is best if you have some creeper plants around you.
5. A Swimming Pool or A Hot Tub Enclosure?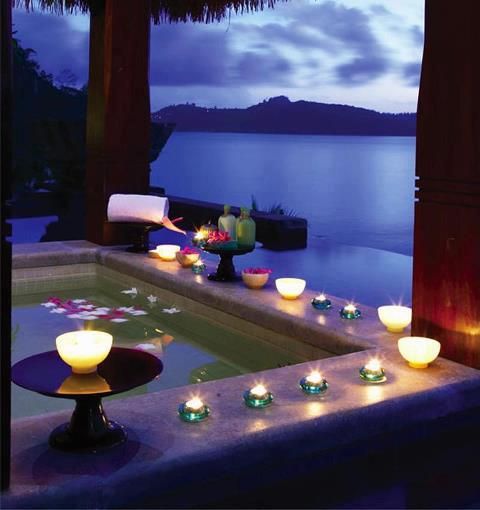 This can view as an alternative to a swimming pool or an idea for a hot tub enclosure. You can modify or replace your swimming pool with a hot tub if you have do not have enough space for both.
But if you have space, then allocate a space to a hot tub enclosure just beside the swimming pool, maybe on the poolside deck.
You can go with a gazebo or pergola (recommended) for the hot tub enclosure. If you have more space, then arrange a comfort zone such as a lounge area.
6. Love is in the air!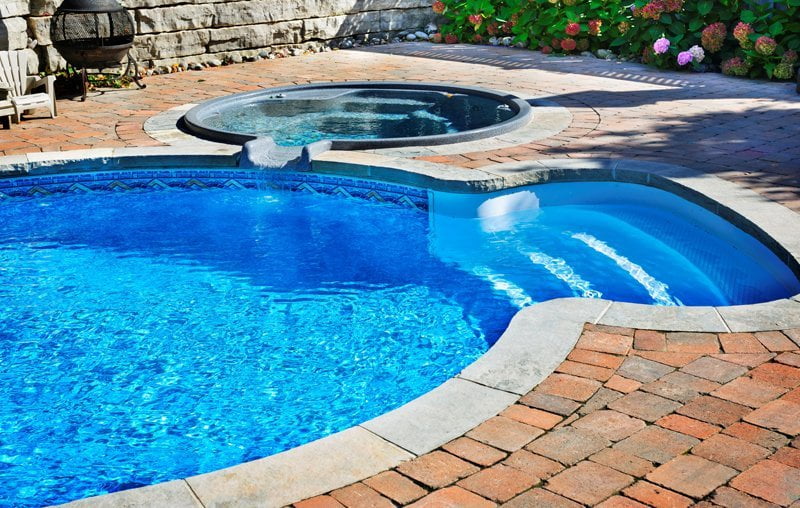 This can be considered as the adapted and improved version of the previous hot tub enclosure. The hot tub is beside the pool, but the design is more romantic. If you know what I mean, you need to design it a bit romantic, like having lacy curtains and the Mediterranean or Greek-inspired pillars or anything you feel is romantic.
7. A Hot Tub Enclosure with A Spa!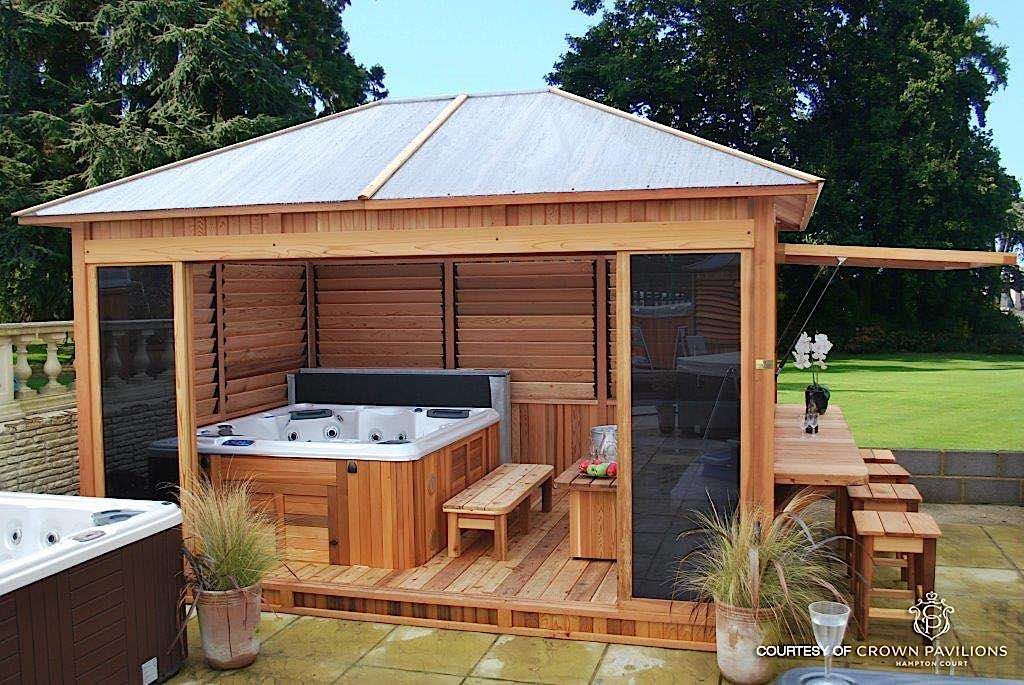 It is arguable, but I do feel the hot tub enclosure with a feeling of the spa is the best! The hot tub enclosure should be on the deck with basic spa features. Go with a pergola and decorate with lights if you plan to use the hot tub in the evenings and nights more often.
Match décor accordingly with plants, rocks, and other decorative stuff. Do not forget to give that extra spa effects! Once you install it, this thing is all about relaxing!
8. A Wishing Well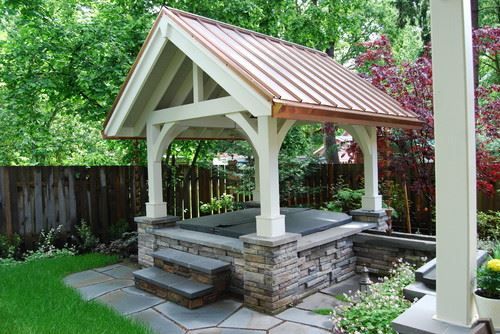 I am sure everyone has heard the stories of a wishing well. Well, we cannot have a wishing well but surely design our hot tub enclosure as one! The design is like water wells. It comes with a cover which protects you from weather effects. Or else, if you want to enjoy the natural view, then you can remove the cover.
9. Entertainment Hub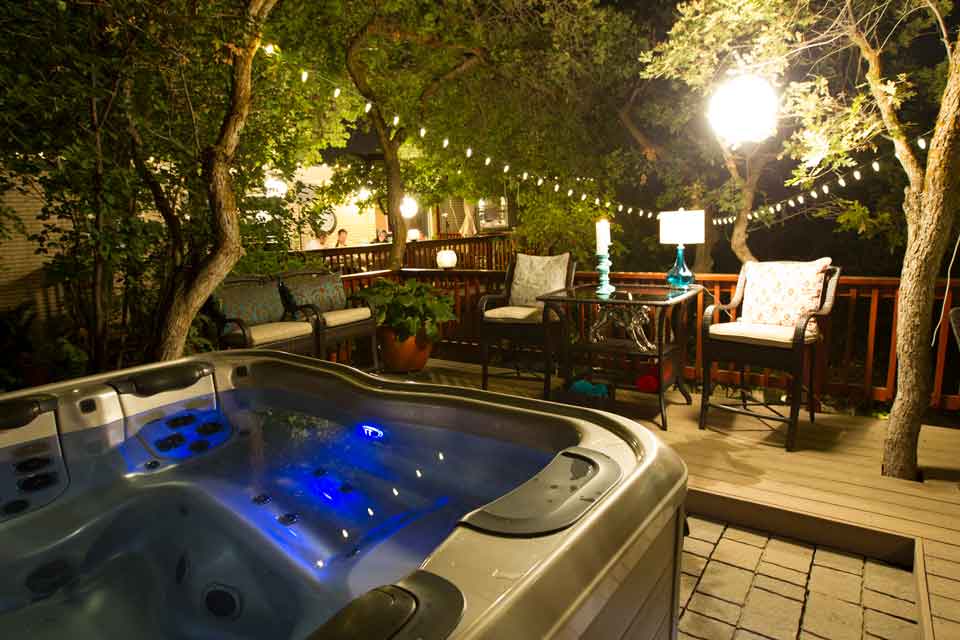 We have talked about having our hot tub enclosures but never have we mentioned any entertainment resources around. This design idea is all about entertainment.
The best part of this design idea is to modify your hot tub enclosure as a hub of entertainment where you can relieve yourself from stress and spend quality time with your loved ones. You can either extend your living room with the hot tub enclosure (only if possible).
Note: Do not forget to include a lounge area, a minibar, and some extra relaxing outdoor sofas
10. Hot Tub Enclosure with Modern Amenities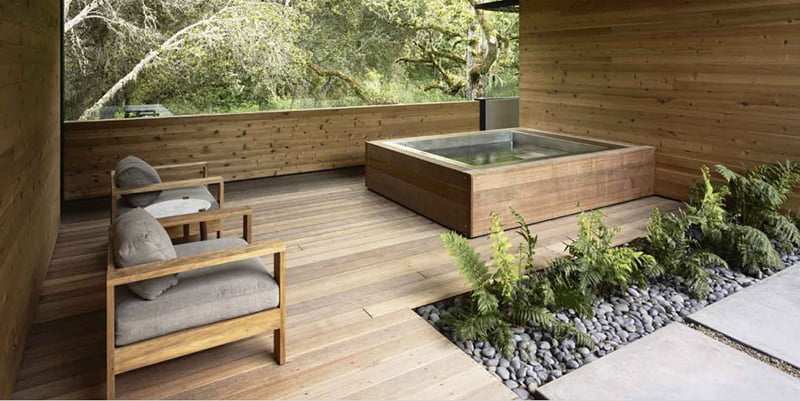 Modern Amenities become a necessity if you are already in touch with them. Start with modern lighting and set-up a projector to watch a movie or a series with your loved ones. View this hot tub enclosure idea as an extension to the previous idea.
Make sure you also maintain your privacy by either having a roof, sidewalls, and screens. If you are a music enthusiast/lover, then installing a music system is a must!
Note: You can add other amenities too! For example, if you are a gamer, then you can set-up a gaming lounge too.
11. Hot Tub Enclosure with a Beach Deck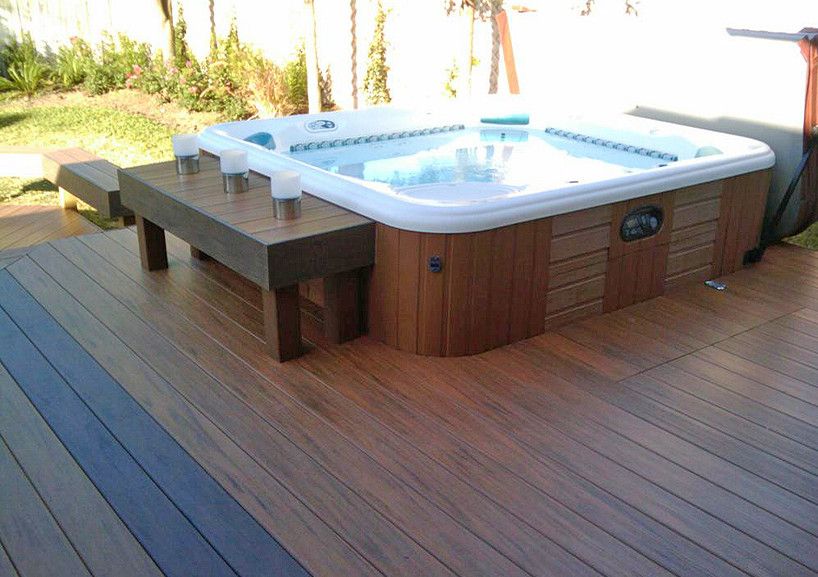 If you are a beach lover, then I do not think you will bother having second thoughts! The best atmosphere of a beach can be recreated for your hot tub enclosure. Please bring in the charm of seashells, sand, and starfish and infuse it with other beach elements, which will give you a beach feeling.
Note: Try to have fewer plants (preferably no) plants around. Also, plan the décor to have a few beach accessories and use bright colors to give a beach feel.
12. Indoor Hot Tub Enclosure?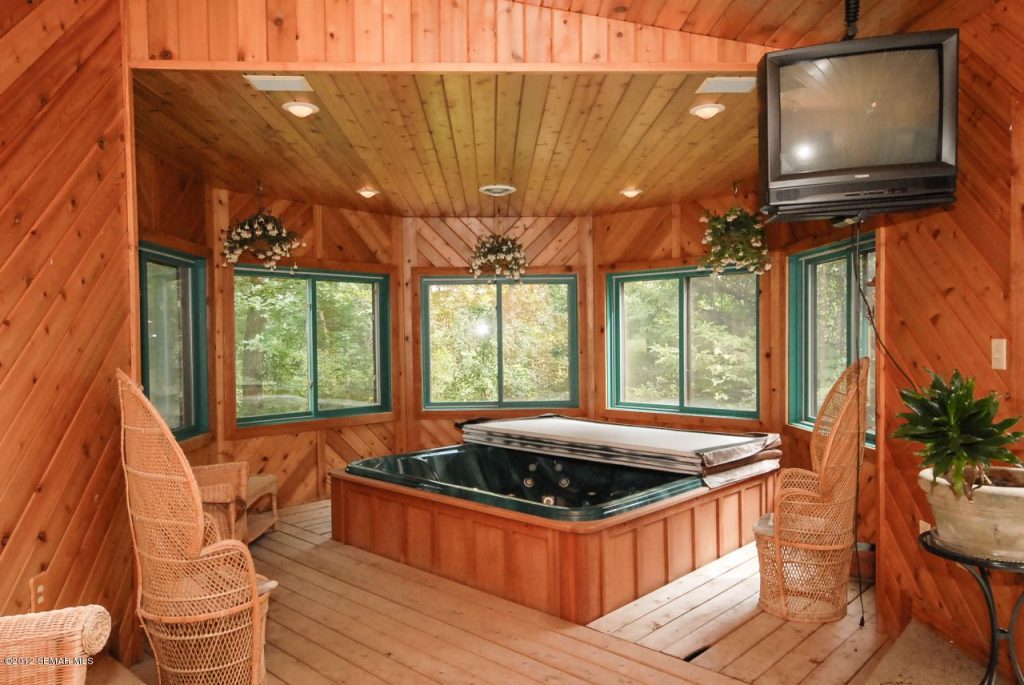 Well, I understand that you cannot have a hot tub enclosure outdoors. The reason can be harsh weather in your area, or you may be concerned about your privacy (as your neighbor has a telescope).
Do not worry, as this design idea will allow you to enjoy the hot tub enclosure indoors. You can dedicate a room or space for a hot tub enclosure in your home and set-up the hot tub.
Moreover, you can have the hot tub enclosure in unison with your living area so that you can spend time with your loved ones and make it an entertainment zone.
Conclusion
If you plan to have a hot tub enclosure and are confused with the options, then do not panic. Trust your gut to go for the one you feel is the best.
But remember that there are many hot tub enclosure types which either ensure privacy or entertainment or soothing effect. Just choose the one which you need the most!