Grow lights have dual-use that gives power and light identical to the sunlight or UV rays on vegetation till they grow completely. It especially helps if the weather is not supportive of plants to grow naturally.
And the constant light is better for advanced growing plants than for indoor locations. Makes it great technology for gardeners, amateur or expert, or for environmentalist with the nudge to grow their own food.
If you are enthusiastic, interested in the idea of growing your own food from scratch, or a gardener who wants to save up from the rising cost of food or saving up a little extra from your household budget, you are good to go with them.
The other important reason for people to opt for this concept is to help the environment in their own manner.
Types of Grow Lights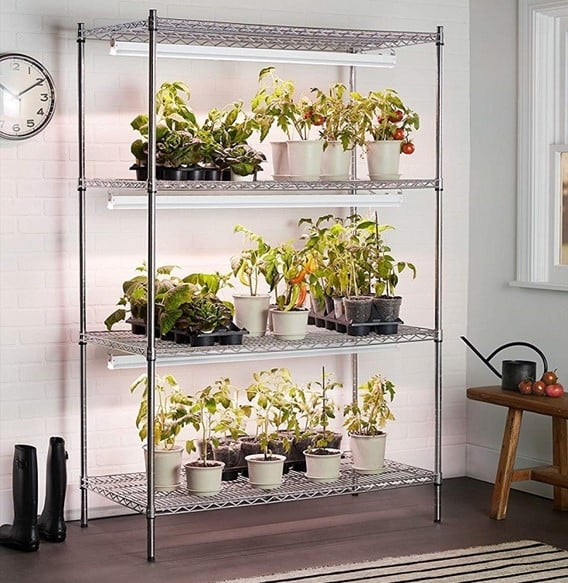 The two best types are fluorescent and LED light bulbs, especially for an indoor setting. There are many options available for LED grow lights and known to be 30 percent more efficient and effective compared to fluorescent lights, according to experts.
Traditionally, these kinds of lights used to put out a lot of heat which was balanced by moderating the temperature, but the technology is improved now. So there is no need for external temperature moderating devices.
, Unlike traditional fluorescent, these are made from high-quality plastic and hence will not break as easily. Fluorescent light bulbs are less expensive. The heat produced by these lights is minimal now and will not hurt the plants, which is the goal. The warmth produced helps the plants to sprout and grow.
T8 Lights for Vegetables
Just knowing the right type of bulb is not very useful if you do not know how to use them as well. So, the distance between the plant and the light is an important factor, and leaving them on for the right amount of time to make sure they get essential light.
The timetable of how much light is provided also signals the plants to understand the time of the year, and this factor also plays a role in their growth to a minimal level, yet it does. It does not affect while germinating seeds and growing seedlings for transplants.
Some plants are sun-lovers; place the light approximately one foot above such plants, especially sun-loving seedlings. If you are using four 32-watt 5000t bulbs that are 48-inch in length, you need to leave them on for 22 hours for good results, according to the research. The results of focused spectrum bulbs are not the same.
If you guys are planning to use focus spectrum bulbs, use six instead of four, and you can reduce the hours to 19 per day. A light timer can be a useful device to help regulate the bulbs for necessary hours. 
One of the advantages of T8 grow Lights is their life span: The average life span of T8 linear fluorescent light is 30,000 hours, but the T8 LED has an even longer span of 50,000 hours. There are few newer lights that give light for almost 84,000 hours. Study different lights thoroughly before making the decision.
As mentioned before, you are an amateur or expert; these lights can help anyone and every green space. Just research a bit to be sure. With double benefits of warmth and growth, it gives an advantage to plants to give the best results they can.
Many gardeners have given feedbacks on improved and amazing results they saw in their own garden while using grow lights. In most cases, the higher quality of plants is achieved with little or no effort at all.
Happy Gardening!