Gutter guards come in different varieties and styles, and all these types require some cleaning ranging from at least twice a year to once or twice a month.
What are gutter guards? They are considered one of the most effective and efficient mechanisms in protecting gutters from leaves and other debris.
Why do you need gutter guard cleaning? To ensure that there is no blockage, and the mechanism works efficiently and effectively.
Even the best and most priced gutter guards require some attention. Else they can work ineffectively and inefficiently, which can even damage these gutter guards.
The worst possible scenario is that they can cause flooding into your house. To avoid this, gutter guard cleaning is a necessary practice.
When you compare cleaning gutters with gutter guard cleaning, you will find gutter guard cleaning is a piece of cake.
So, many people install gutter guards. But a prevalent misconception in people's minds is that you do not need to clean the gutter guards once you install them. But this is not true at all! You must do proper maintenance and cleaning of gutter guards.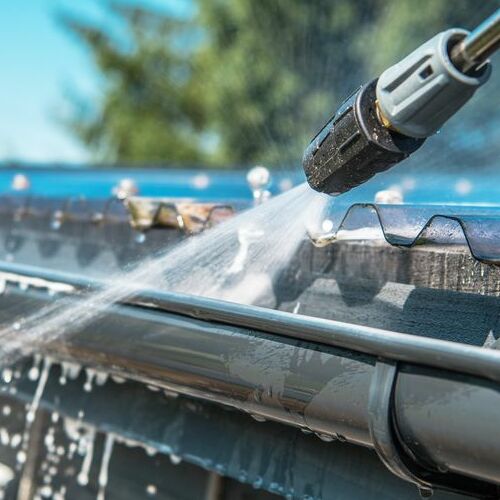 As time passes, debris will cause a blockage and increase in number. It becomes essential to remove and discard them regularly, and else the build-up debris can become a breeding spot for insects and pests.
They can also spread foul odor. So, it is better to do the cleaning task (which is easy) instead of neglecting it, which can cause flooding and other damages to your house.
If you are convinced (which you should be) and have pondered over the question of gutter guard cleaning, my friend, this article is tailor-made! It features quick, easy, and simple gutter guard cleaning steps, which makes the work a piece of cake.
Equipment Required for Gutter Guard Cleaning
Always use proper and undamaged equipment to implement gutter guard cleaning safely. Here, we mention a few must need equipment required for gutter guard cleaning.
Ladder
Gutter Scoops
Safety Glasses or Goggles
Safety or Gardening Gloves
Bucket or Garbage bag
Cloth(es) (Discarded or waste ones) or Dropcloth
Hose with a nozzle
Rope (optional)
If you use the following equipment, then the messy gutter guard cleaning becomes very simple to implement.
Sale
Louisville 6' Fiberglass Step Ladder
WORK BECOMES EASIER: Molded Top With Handyman's Tool Slots
STURDY AND STRONG: With its 300-Pound capacity, elegant design and smooth finish, you won't find a more durable, reliable ladder.
DESIGNED FOR YOUR NEEDS: Molded top with recessed tray, nonconductive structural molded top
PROTECTED: Inside spreader braces keep your ladder protected while in transport as well as provide as safe and stable ladder
300-POUND LOAD CAPACITY, includes weight of user and tools
Sale
TOREGE Safety Glasses, Over Glasses Design,Anti Fog Safety Goggles With Anti-Fog & HD Lens Protective Eyewear For men & Women
OVER GLASSES DESIGN--Fit comfortably over prescription eyewear;Vents located at sides to prevent liquid from getting into your eyes.
ANTI-FOG LENS--High-performance dual anti-fog and anti-scratch coating ensures clear vision in any work environment; clear lens is well-suited to most indoor work environments.
IDEAL FOR WORK AND PLAY--Ideal for woodworking and carpentry, metal and construction, cycling, shooting or other outdoor activities in a dusty climate you need to wear the safety glasses. It has function of anti-splash,can protect eyes from strong impact when handling heavy objects such as grinder work, car factories and ironworks, making it ideal for DIY work.
SIZE&WEIGHT-- [Transparent frame&Clear lens] Size: Frame width: 159mm, Frame Height: 58mm, Temple length: 150mm. Weight: 35g. [Soft frame&Clear lens] Size: Frame width: 154mm, Frame Height: 85mm. Weight: 77g.
CERTIFICATE--Meet ANSI Z89 Standard.
Dowellife Working Gloves for Men and Women, Cut Resistant Work Gloves, Comfortable Gardening Gloves, Durable Mechanics Gloves and Flexible Fishing Gloves (Large, Grey)
[PROTECT HANDS FROM CUTS, ABRASIONS] The high level of cut resistant fabric is available, awarded with the EN388 Level 5 Cut Resistance Certificate, showing 10 times stronger than normal gloves. Ideal for gardening, construction, yard work, metalworking, HVAC, cutting and fishing for men and women. (Warm Tips: Level 2 puncture resistant, NOT suitable for grabbing rose thorns and cactus)
[ULTRA-FIRM GRIP, NO WORRY ABOUT THE SLIPPING] Coated PU palm and fingers provide excellent grip, even in wet or oily conditions, you can easily and quickly grab slippery objects, such as glass, pipe, carving knife…
[DEXTERITY AND COMFORT] The ultra-thin coated PU layer, 13-gauge HDPE cut resistant fabric, spandex & high elastic nylon blended make the working gloves fit your hands appropriately. They are excellently qualified for jobs requiring dexterity and will give you more confidence in your work, such as construction, gardening, warehouse, mechanic, yard work, weeding, garbage collecting…
[MULTI-FUNCTIONAL SAFETY WORKING GLOVES] Qualified as EN388 2016 4542C, not only cut resistant, but also wear-resistant, the cut resistant work gloves can protect your hands in various works such mechanics, gardening, fillet, wood working, auto, carving, detecting, diving and fishing whatever you are men, women, children and carpenter, juniors, kids, boys or girls.
[DURABLE, MACHINE WASHABLE AND 100% SATISFACTION GUARANTEE] Now click the "Add to Cart" button to give an order to avoid 99% accidental injury on hands for you, your family and your employees. And for any reason you're not satisfied, please let us know and we will help you RETURN or REFUND.
Sale
Sale
TITAN 150FT Garden Hose - All New Expandable Water Hose with Triple Latex Core 3/4" Easy Removal Solid Brass Fittings Expanding Extra Strength Fabric Flexible Hose with Jet Nozzle and Washers (G)
✅ INCREDIBLY EXPANDS 3X IN LENGTH FROM 50FT to 150FT - as you increase the water pressure from your home. With remarkable 5500D polyester webbing, an extra thick, frustration free faucet spigot connector, and all 100% pure brass components, TITAN XR expandable garden water hose will become your most admired garden tool.
✅ SIZING - Expands to a full working length of 150FT when the valve is set to an OFF position. Retracts 10-25% as you begin to water and pressure is released. We recommend sizing up to the next size if the space you are trying to cover meets the exact working length of the hose.
✅ NEVER KINK TANGLE OR TWIST - No more kinking, tangling or twisting! The TITAN XR hose is designed to never tangle up on you. It magically expands to 3X its original length under a working pressure of (3-12 bar) when you shut off your main water source, the hose automatically retracts back to its original size. Operating the XR hose under the recommended water pressure will ensure full expansion of the durable fabric and the natural triple-layer latex tubing.
✅ HEAVY DUTY BRASS COMPONENTS - Our garden hose has precision crafted, solid brass couplings that are very easy to attach and detach, they are crush-proof, corrosion free and leak-resistant. Easily turn ON/OFF your water source with the single turn on of a 3/4" threaded valve that is at your fingertips. Each hose comes with an extra set of rubber washers so that not a drop of water is lost.
✅ THE TITAN DIFFERENCE - Our sole focus is for you, the customer, to be completely satisfied with your purchase. That's why we offer a 30-day money back guarantee and an INDUSTRY LEADING 12-month replacement for any and all manufacturing defects. If you ever have any issue with your product, simply reach out to us, just search for our name (Titan_Products) at the right hand side of the page. Include your order number and we'll be able to assist with warranty claims.
Ravenox Natural Twisted Cotton Rope | (Red)(5/8 Inch x 10 Feet) | Made in The USA | Strong Triple-Strand Rope for Sports, Décor, Pet Toys, Crafts, Macramé & Indoor Outdoor Use
✔ SUPER SOFT NATURAL COTTON ROPE DIRECT FROM THE MANUFACTURER: This all-purpose soft and strong rope is made in the USA by our team of rope masons at Ravenox Rope in North Carolina - we are 1 of only 29 American Cordage Institute approved manufacturer members in the world!
✔ STRONG TRIPLE TWIST: Horse leads that last, dog leashes that won't snap and durable hammock rope to hold heavy weight- this triple twist engineering has no limits! A great rope for the outdoors since it's not susceptible to UV damage like synthetic rope.
✔ PET FRIENDLY, NO HARMFUL DYES OR CHEMICALS: Made with cotton and chemical-free dyes, our natural twisted rope is safe for crafting kids, tug-of-war puppies and nuzzling horses. If it gets dirty it can go right in the washing machine, but be gentle, cotton can shrink.
✔ YOUR LENGTH & WIDTH: Order the amount you need with rope by the foot in 10 Feet, 25 Feet, 50 Feet & 100 Feet and rope by diameter with 1/8 inch, 3/16 inch, 1/4 inch, 3/8 inch, 1/2 inch, 5/8 inch, 3/4 inch & 1 inch thickness. Our cotton rope is always true to size when made in our shop, but since cotton is a natural fiber the diameter and length may adjust depending on the application.
✔ 100% RISK FREE PURCHASE. Ravenox is a CERTIFIED Service-Disabled Veteran-Owned, Women-Led American Small Business that backs all of its' products. If you're not 100% satisfied, you'll get your money back. Ravenox rope meets the rigorous manufacturing and testing procedures set forth by the American Cordage Institute and we are proud to be 1 of only 29 manufacturers in the world that helps set the standards in rope manufacturing. This Rope is Made in the USA.
Gutter Guard Cleaning Steps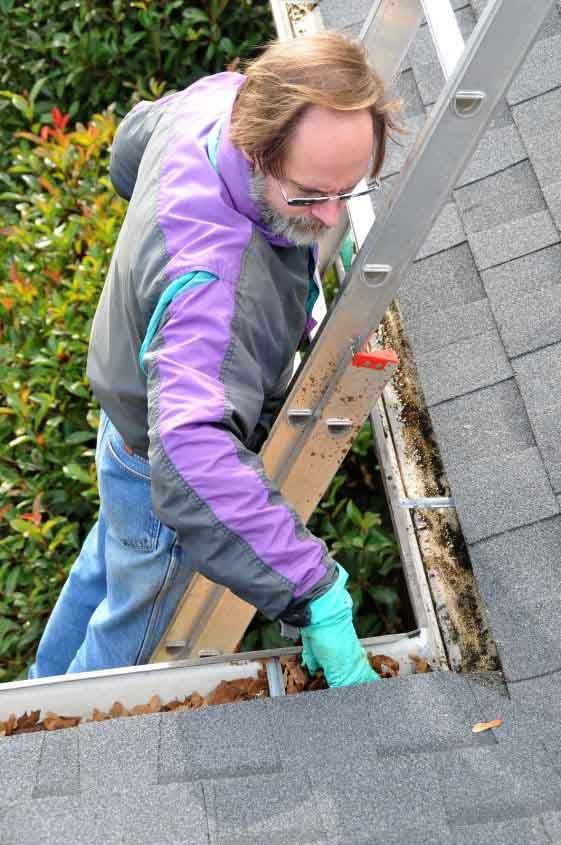 Go through the following steps of gutter guard cleaning:
Step 1: Placing the Cloth(es)
You can use discarded or waste clothes in this step. Place them under the area of the gutter guard cleaning.
If by chance, debris or leaves fall off while gutter guard cleaning, then it falls on the cloth(es). Instead of using these cloths(es), you can also use a drop cloth, which painters use while painting.
This step eliminates cleaning your lawn after gutter guard cleaning (if it is already a clean lawn). After the gutter guard cleaning, you can collect the debris along with cloth and discard them.
Step 2: Put on Safety Glasses or Goggles and Wear Safety or Garden Gloves
Protection of your eyes and hands is critical while gutter guard cleaning. You need to protect yourself from debris that can include sharp twigs, thorns, dirt, waste, and even insects!
Note: Wear comfortable clothing and footwear. Footwear should also be protective.
Step 3: Setting Up the Ladder
If your home's ground is level, you can use a freestanding ladder else prefer using an extension ladder. Ensure that the ladder is fit to use and is not damaged or weak.
Secure the ladder's base. Either you can tie it with a rope to another object or ask your family member or friend or neighbor to hold it safely (expecting that you are cleaning the gutters, roles can be reversed).
Again, ensure that the ladder is fit to climb and the steps are sturdy. Now climb on the ladder and carry a garbage bag or bucket with a gutter scoop. Once you are done with it, we can move to the next step.
Note: Usually, the ladder comes with safety measures. Ensure that you are using all these safety measures. Always follow the rule of three points of contact with the ladder. It means that either two hands and one leg or one hand and two legs should contact the ladder.
Step 4: Gutter Guard Cleaning
Our debris collection strategy is a mixed one. We can throw or sweep out the debris onto the cloth(es) or drop cloth.
Otherwise, we can also collect the debris using a garbage bag or a bucket. But carrying a garbage bag can be a bit tough. You are another option to use a bucket that you can hang easily on a ladder limb or from the underside of the ladder. Choose wisely and according to your convenience.
Gutter scoop is one of the best tools to remove the debris on the gutter guard, but you can also use your hands to sweep or throw off the debris. Now collect this debris in your garbage bag or bucket. Some debris may fall on the cloth(es) or drop cloth.
If any type of debris is stuck, then pull the debris lightly and apply increasing force until it loosens or comes out. Do not apply too much force as it can damage the gutter guard.
Step 5: Rinsing Gutter Guards and Gutter Using a Hose
If possible, then remove the gutter guards and rinse them with a hose. But if the gutter guards are not removable, you need to rinse the gutters with the gutter guards on them. In such cases, using a nozzle to increase the water force would be a good idea.
The water pressure takes away pebbles, soil particles, leaves, or twigs, which may have caused a blockage. Moreover, it also cleans your gutter guard and gutter by removing dirt and dust that might have accumulated over it in due course of time. Assemble the gutter guard (if removed) after rinsing, and the cleaning process of the gutter is finished.
Step 6: Check and Unclog the Downspouts
Check if the downspouts are clog-free or not. If yes, then unclog them by rinsing and flushing. Ensure that the downspouts are carrying water away from your house. If a blockage is persisting even after rinsing and flushing, then use a long stick or pole to remove it.
Note: If your house is more than two stories, then avoid doing gutter guard cleaning yourself. Instead, hire professional gutter cleaners. Cleaning at such heights can be very risky, and if any mishap happens, then the injuries can be severe and, in some cases, can be fatal too!
Conclusion
Gutter guard cleaning is a five to a six-step easy, straightforward process. Do the cleaning once a while to ensure no flooding happens in your house.
Moreover, the accumulation of debris and clogging can reduce the efficiency of gutter guards. Thus, gutter guard cleaning is an essential task in its maintenance.
Happy Cleaning!