We always compare white with snow and commonly use the phrase 'as white as snow.' But, when you hear the weather forecast, and it predicts heavy snowfall, you know that it will cover the whole area. It becomes essential to remove the snow.
Mainly, removing snow blankets over the driveway and sidewalks becomes essential driving vehicles' the general movement and sales.
For snow removal, there are several tools available in the market. You may wonder what tools you should employ to remove such a massive quantity of snow. This decision can be made by analyzing your requirements and budget. This article focuses on the two most primarily used snow removal tools: snow plow and snowblower.
If you are thinking about the efforts, physical labor, and time you are investing, the shovel is a tool that you would never use for snow removal in your driveway and sidewalks. The best tools are the ones that require an initial investment and decrease your efforts, physical labor, and the time you are spending in snow removal. But these features are standard in snow plow and snow blower both! So, how should one choose between the two of them?
This article focuses on choosing between these two mechanical wonders, which have made snow removal very easy and straightforward. As the working principle of both snow plow and snow blower is the same, i.e., Moving snow from one place to another.
Yet, these two snow removal tools have differences on which their pros and cons are based. We will analyze those points and help you choose the best one. So, let us begin without any further ado!
Note: Shovel can be used only if your region receives occasional snowfall or significantly less snowfall. Using a shovel in a snowy region is not a good idea unless you would like to break your back.
Snow Plow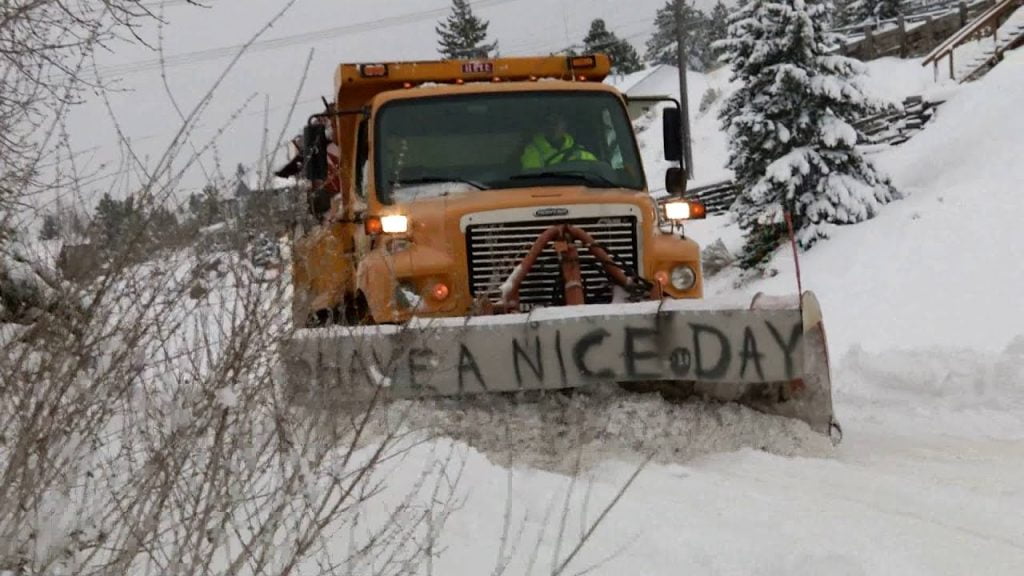 What exactly is a snowplow? A snowplow is a metal (mostly steel) blade that is angled and curved in shape for effective snow removal. Snowplows are attached to the front part of the machine (usually a motor vehicle). This makes the plow dependent on an external machine for snow removal.
But the snowplows are always preferred by the people who have physical limitations as it does not require any manual efforts (user must drive the vehicle). The maneuverability of the vehicle decides the removal of snow. Owing to its size, storing a snowplow is not a huge problem. Many people arrange space for their storage very quickly.
Black Boar Camco ATV Snow Plow Kit | Features a 48-inch Adjustable Straight Blade and Adjustable...
Strong, Durable Snow Plow: Mounts to ATV chassis to easily clear snow and fits most models of ATV...
Straight Blade Measurements: 48-inches long, 2mm thick with reversible wear blade for extended life
Adjustable Blade Angles: Angles of 0, 7 ½, 22 ½ and 30-degrees in both the right & left direction,...
Easy to Install/Uninstall: Blade can be quickly installed or removed from the mounting bracket via...
Durable Construction: Constructed of durable, black powder-coated steel; Note: Winch required for...
In this world, no invention is 100% foolproof, and snowplows are no exception. This snow removal tool comes with its drawbacks (which will be discussed later in detail). The requirement of a vehicle and the skill of driving is a must for any user who wants to buy a snowplow. The vehicle should be such that it could support the snowplow and remove the snow effectively (not all vehicles are capable of it).
Moreover, the user will require some practice to master snow removal skills using the snowplow. For example, the snowplow blade is lowered to remove the snow, while it is raised to move to another part where snow has not been removed (for snow removal).
Advantages:
Large areas: If you have a large space in which you need to remove the snow, a snowplow is the most effective—for example, parking spaces. The same advantage can become a disadvantage when the space is narrow, and the vehicle cannot move in that space.
Speed: Though it depends upon the vehicle which carries the snowplow, it is true that if you have the right vehicle like SUVs and pickup trucks, then the snow removal is quick. Moreover, these vehicles make the process of snow removal a piece of cake, and you can enjoy it like a joyride.
Dependability: Snowplow can be used for years and years with minimal maintenance and high efficiency. Snowplow hardly gets defective, and nothing damages the snowplow during snow removal.
Disadvantages:
Initial investment and Operation costs: If you do not have a proper vehicle for the plow, you need to either rent that vehicle or buy it. Moreover, even buying a snowplow can be a bit costly. The operation of a vehicle costs fuel, which becomes an additional load over the user.
Vehicle or Property damage: When a user is removing snow, they are seated on a vehicle. This reduces the ground level visibility and increases the chances of damage to the vehicle or property.
The damage involved is mostly scratching as the snowplow is made up of metal. Another type of damages includes the removal of grass and collision with objects hidden under the snow.
Lack of space for piling snow: A huge problem while using the snow removal tools working on this principle is that you will require space for piling the removed snow.
Snow Blower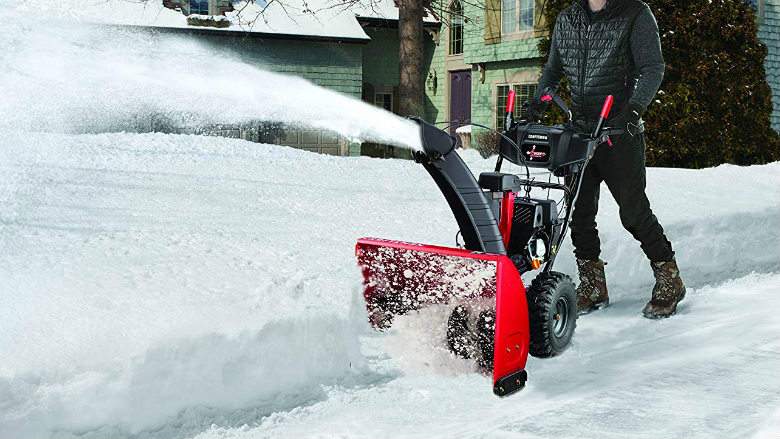 Snowblowers are independent machines that do not require any external push or pull. Though this machine is user-guided, the hard work of the user is minimal. Snowblowers are of different types based on their design and features.
Snowblowers employ rotating blades that remove snow from the surface and throw it on the other. This mechanical wonder can work on either electricity or gas, which is another distinguishing point for the buyer.
The whole mechanism is a bit tough to explain, but the primary function is moving snow from one part to another using auger, spiral blades, and chute. Auger picks up the snow from the ground, and the spiral blades pass it on to the chute.
Sale
PowerSmart Snow Blower 24 Inch 2-Stage 212cc Engine Gas Powered with Electric Start PS24
Tackle Heavy Snow: 212cc powerful engine delivers 2400 lbs/min snow plowing capacity. Ideal for 1-12...
Quicker Snow Removal: snow clearing width 24" and intake height 20" clean up snow with less time.
Easy Start: equipped electric start, connect your outdoor extension cord and push button to start.
Two-stage Technology: all-steel auger easily cuts through tough icy snow and the impeller blow snow...
Self-Propelled System: wheel drive with 6 forward and 2 reverse speed settings better suitted to...
This chute is responsible for moving the snow from one surface to another. Users can control the chute and decide in which direction the snow should fall. Due to this, the user has full freedom in deciding the space for the pile of snow.
Another factor that influences the snowblower is the horsepower of the engine. It is responsible for the maximum distance at which the chute can throw the snow. Snowblowers should always be purchased with warranties as a critical factor. The more, the better! Always choose the snowblower, which has fewer maintenance costs (over high investment costs).
Depending upon the type of snow and depth of snow blanket in your region, you must select either single-stage or double-stage snow blowers. Snow with less moisture and six inches depth can be removed effectively by the single-stage snowblower, but the double-stage snow blowers are required for the snow with high moisture content and higher depth of snow blankets.
Advantages:
Maneuverability and Storage: Snow blowers are very compact and much easier to carry around, even in narrow spaces. Thus, you can use the snow blowers even where the snowplows cannot even enter. Even the storage of snow blowers is not a big issue.
Minimal property damage: Ground level visibility is not an issue, and thus it reduces the risk of property damages. There is a significantly less possibility of scratching, removing grass, and collisions with objects hidden under the snow as the point of contact are always rubber or plastic.
Efficiency and Effective Piling: Snow blowers are more efficient than snow plows. Piling becomes very simple as the user can easily control the chute and direct the snow effectively.
Disadvantages:
Lack of Comfort: You will not be sitting relaxed with the heater working inside the vehicle. You will have to step out of your house and face the snow and cold weather during the snow removal.
Time: It requires more time for snow removal in a particular area than the snowplow.
Conclusion
With all the analysis of pros and cons, and factors influencing the snow removal tools, the decision of buying the right one lies in your hands.
You need to understand your requirements and accordingly take a decision. The best part about snow plow and snow blowers is that they both are the opposite when weighing their pros and cons.
If you understand your requirements, then choosing the right snow removal tool is very simple. Take a wise decision!