House plants are an integral part of the interiors now. So, it is essential to make them look good in your space. If you can't decide on your preferences, consider two main criteria: the compatibility of the pot with the plant and with your interior. When choosing the color and texture of the pots, keep in mind that they should be combined with the plant. Choose bright, flashy colors and complex textures with caution and only if you are sure that such a choice is justified. Some plants have variegated leaf colors, such as sansevierias and codiaums. For such species, it is good to use lots of neutral shades and calm forms.
Most pots go well with each other because they are united by your most expensive plants. They are combined by a rich, joyful green color, and therefore, as a whole, they look harmonious, even if such a combination of colors would be strange in another context: in clothes or in pieces of furniture.
In fact, it is almost impossible to find pots that are not compatible with plants. The main thing is to have a healthy plant like the ones you can find on the Dutch Bulbs website. And you can choose among the variety of pots:
plastic;
concrete;
and ceramic in absolutely all colors of the rainbow and different textures: dotted, striped, and with marble stains, and wooden, and metal, and even some kind of rusty.
How to Fit a Potted Plant into the Interior
A pot or vase must correspond to the general style of the interior. Therefore, firstly, it is worth deciding on the style of the room. Secondly, think about what details you are missing and what message the plant in the pot should carry: be a harmonious part of the space or become a bright accent. Start from the color scheme of the room and the specific place in which the plant will live.
The choice of a pot should not be approached too formally, choosing it to match the color of something. It can differ from everything in the interior and become a color accent or be in the same tone with all the pieces of furniture — there are a lot of variations. As with everything in your home, the pot primarily reflects your personality, your character, and your interests. If you prefer minimalism and restraint of tones, then choose natural colors, if you gravitate towards urbanization and urban habitat, then pay attention to pots made of concrete.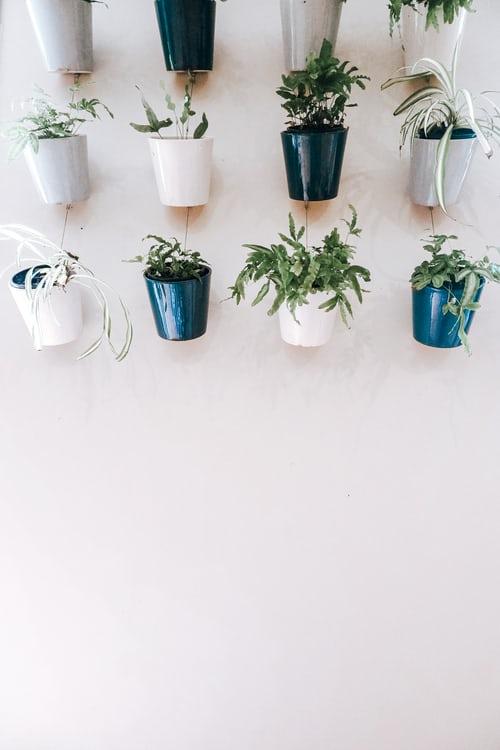 As a rule, most of the plants live on our window sills and they are most often white — absolutely any combination is suitable for such a calm white background. The coolest thing is that you can take some other pot at any time — and the color spot on your window will change, and the picture will become more vivid.
Again, there is a basic set of colors: shades of white, gray, and black and, probably, gray metal — this is a classic that will fit into any interior. If the emphasis needs to be on the plant itself, then you can choose all the pots of the same color. If you want bright spots, then you don't need to be afraid to take saturated colors or some funny patterns: dotted, with stains, or unusual shapes.