Apart from the direct sunlight coming in your enclosed patios, either with the help of a sunroom or a remote-controlled roof, few more appliances can be installed in your enclosed patio and provide you the warmest of days or nights. 
These appliances can be installed in a table, in the ceilings, or even in a fan, stylish enough? We can say. 
You can also always have a fireplace, but we know it won't warm your entire patio; that is why these five heating appliances are perfect for installing in your enclosed patio; you will almost feel like not leaving it.
The five heating appliances for your enclosed patio are –
Hiland Wall Mounted Patio Heater with Remote Control
This patio heater can be installed in a wall or ceiling, hung it down, and keep the remote with you. It is less expensive because it is electric rather than powered on gas, making it portable.
It is much more useful than having a heater placed in one corner of your patio. It is best for patios, porches, or small rooms and produces over 1,500 watts. 
With its swivel wall mounts, it allows you to point the heat wherever you want it to be or leave it as it is so that it goes in every direction. The remote that comes with it allows you to switch it on like AC without getting up quickly.
Frontgate Commercial Patio Heater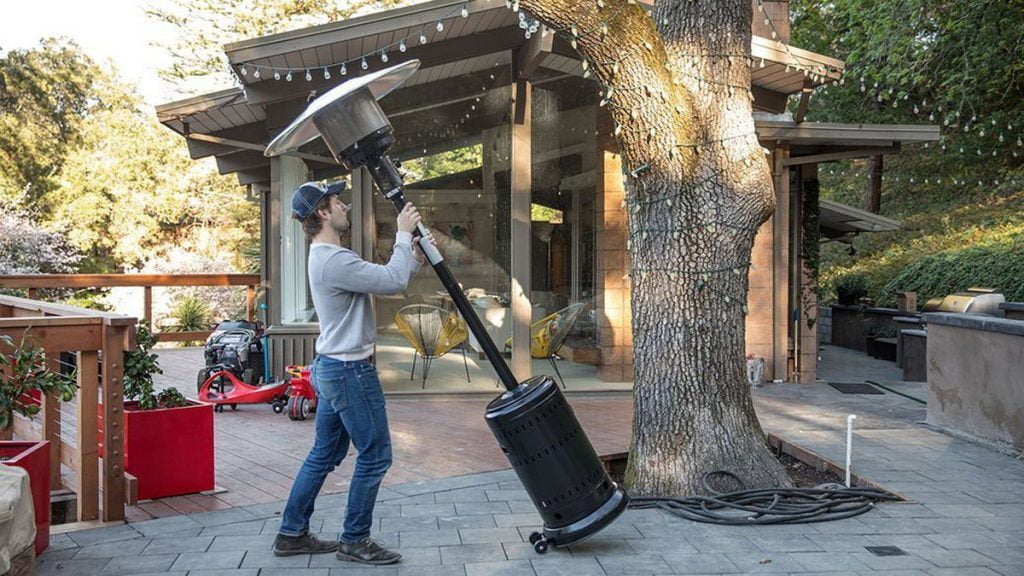 With its classic, durable, stainless steel finish, this portable patio heater runs on LPG tanks and can heat yours outdoors up to 200 square feet. This heater comes with a Piezo igniter system that allows its burners to run up and down quickly. It also has an auto shut-off valve, which makes sure that it is not heated up overnight if you by any chance forget to turn it off.
This heater weighs 42 pounds, is 89 inches tall, and has a stable, broad base. It comes with wheels so that you can easily place it wherever you want. It has a beautiful structure, well-constructed, and easy to assemble, and it also gives out enough amount of heat to make your whole patio warm.
Electric Patio Umbrella Heater 
BELLEZE 014-HG-PH00-BRO 48,000BTU Premium Outdoor Patio Heater with Wheel LP Propane H, Hammered Bronze
Commercial type -pumping out 48, 000 BTU for an 15-foot diameter heat range, These units are the most powerful patio heaters in the market. They can also be wheeled away, ensuring exceptional mobility despite their hefty size. Heavy duty yet gorgeous with a stylish finish options, they are perfect for serious outdoor entertainers with big spaces
Simple start-up Piezo ignition system -to operate, all it takes to light the heater is a simple push of the button thanks to its user-friendly, one-step, Piezo ignition system
48, 000 BTUs of heat - the heavy-duty patio heater offers an impressive heat output of 48, 000 BTUs. Mid-winter merry-making? No problem. Even more, the unit heats a wide area with a range of up to 15 feet in diameter. A nice alternative to a fire pit, The gas patio heater delivers quiet, soothing, consistent heat-withh no smoke or open flames to worry about
Variable-heat control knob - allows for low or high heat settings and for turning the heater completely off at the end of the night.
Wheels for smooth mobility- a wheel assembly with two smooth-rolling wheels comes included, making it easy to transport the outdoor heater from Poolside to patio or from one side of the deck to the other; heat output: 48, 000 BTU; heat range: 175 sq/Ft (15' Radius) certification: CSA certified
If you have a patio umbrella, then installing this patio heater will not be a problem; if your patio is enclosed, then you can place it in the place of a ceiling fan. You can either mount in on the umbrella's pole like shown in the picture or hung it down.
This electric patio heater consists of three collapsible heating panels that extend out from the central ring and comes with three heat settings.
The temperature goes from 500 watts to 1000 watts to 1,500 watts. It can warm your patio up to 15 square feet. It might not produce much warmth, considering its size. However, it is much expensive, odorless, and silent. Also, its counterparts are powdered through the gas.
Nova Patio Heater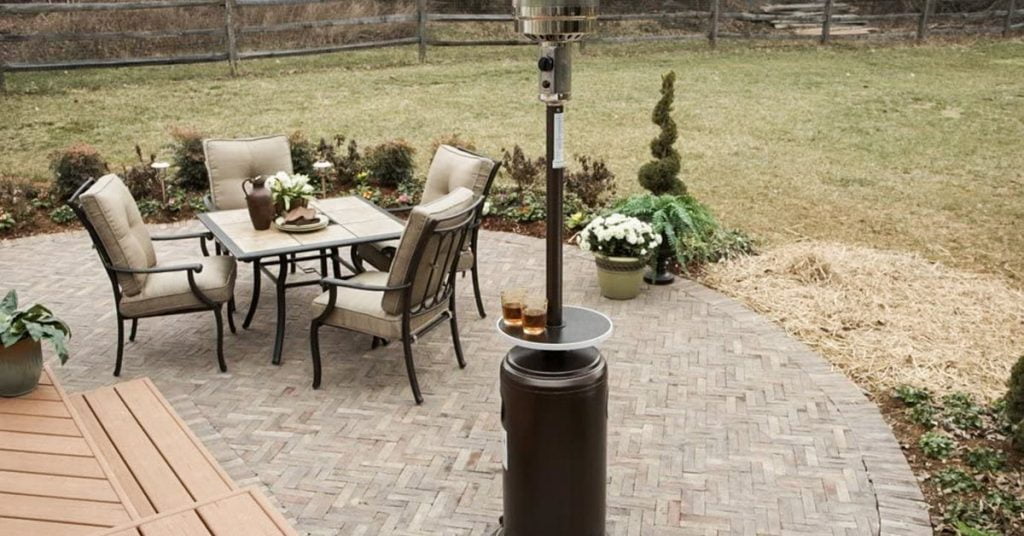 This is a sturdy, eye-catching, with a beautiful design propane heater. This patio heater produces 46,000 BTU heat output with its beautiful ceramic burners. The infrared heat waves that come from this propane heater cover up a 9.5-foot radius. The tank weighs 20 pounds on which the heater runs, and one tank can run up to 12 hours. 
It features a faux concrete base and a very stylish glass tube surrounded by a protective cage, not closed so that you can see the light. It also has an electronic ignition for carrying all your operations efficiently, and the whole unit is sent to you in a protective fabric cover.
Muskoka SunWave Patio Heater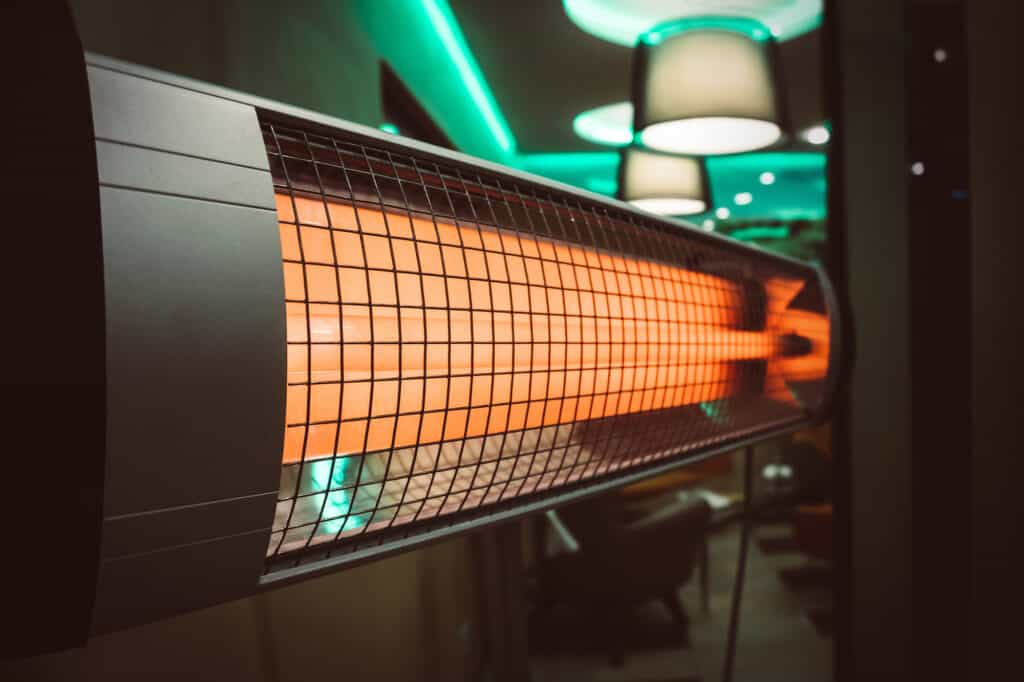 This patio heater is also an infrared heater, and as we all know, the infrared heaters provide warmth in every corner of the room and not just one. They are eco-friendly, safe to carry and use, and that is why the Muskoka model is appreciated by all, and highly recommended.
This heater can be either mounted to a wall or hung down from the ceiling, sets at three temperatures depending upon how much heat you want; the mounting hardware is sold separately with the heater. 
It also includes a remote control so that you can adjust the settings seating where you are. It also is waterproof, which means there is no risk of water getting through it or snow.
Conclusion
Having heat in your patio is very important, especially during the rainy and winter season. Apart from the natural heat like sunlight and fireplace, these five heating appliances are easy to fit, make your whole patio warm in a couple of minutes, and let you relax without making much effort. 
These appliances are made to suit your need, come with three sets of temperature, is waterproof, and remote-controlled. Having them controlled by a remote is probably the easiest way to switch them off or on.
They come with portable carry bags so that when you no longer require them, you can quickly put them in the bag they come from, without any trouble to find a perfect bag or box for it. So, what are you waiting for? Get these appliances for your enclosed patio today?