I know most of you know this, but for those of you who are new to blogging, or new to link parties, I wanted to share a tutorial on how to link up. I'm not techie and I'm always looking for help from others on how to do things.. so hopefully this will help you.
They have several different names but one thing in common. They bring bloggers together.
But what they are is a way to link your post to a "link party" to gain more exposure for your blog post. It also gets more readers to the blog you are linking up on.. a win – win.
A blog hop is a little different. You can copy the code if you want to have the blog hop on your blog too and you can have the same lists. But be sure to read the rules of the blogger who starts it (we aren't going over that today)
It is great if you are looking for a specific topic … say "organizing" for example. Or crafts, DIY, cooking, etc.
Step #1
Go to the bottom of the blog post (most likely under other thumbnails that have already linked up and look for the "You are next…..Click up Here to enter" Click on that…
Step #2
Find the url of the specific blog post you want to use. Click on your blog post (don't just put your blogs url… there should be more after the normal url… so that you know you are on the specific blog post. Otherwise when someone several weeks later clicks on the link party expecting to find your post on organizing a craft room… they don't get your main blog page showing how to organize a garage.. and then they have to hunt for the craft room post on your blog. (plus many linky party owners will delete your entry if you don't have it linked to a specific post)
The top arrow shows you were to find your url.
Step #3
Now click on the "enter the linky party" from Step #1 and a page like the one below will come up.
1) In #1 the first box it says "link it to" – Just put the url of your specific blog post. You can copy and past that link.
2) Caption or Title – What is your blog post titled or what do you want the readers to see under your picture
3) Your email- that is simple
4) You can either check "From File" and this will take you to your computer info where you can pick a picture. Or you can pick "From Web" . This will take you to pictures from your specific blog post and blog. This is the one I usually pick as there is much less searching to do for a picture.
Here is an example of "From Web" from the post I had above. These pictures are from that page, they include buttons from my sidebar etc.. but also specific pics from that post.
I don't know why there area all those empty spaces inbetween the pics (and yours may look different)
I think pic a picture… I will pick the laundry baskets that the arrow is pointing to.
5) Once you pick your picture it takes you to a screen that looks like this. You can move the box to show what part of the picture you want. then just click "OK" at the bottom of the picture.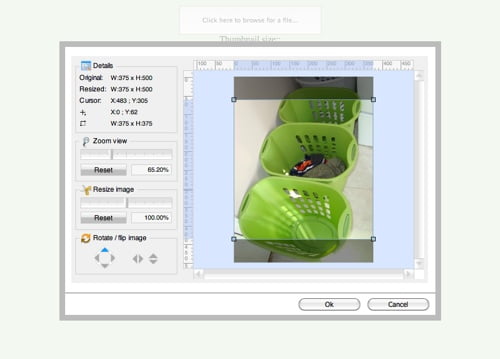 You are almost finished! You can now go back to the bottom of that link party and see your thumbnail link added.
My Mission link party is actually going to have the same link list through out that Mission (office, kitchen etc). You will be able to link up several times for each post. See my Mission party agenda here for more explanation on that.
Last step – Be Courteous!
This next Step is to be Courteous if you are linking your post – you need to read the write for us rules, but almost all of them will ask you to add their button or a text link back to their blog. Many will also ask you to follow them etc…
I use Word Press, not blogger…. so my screens may look different from yours. But this will give you a basic idea.
Stay on the blog that you just linked up to. Look for that bloggers button for their link party. Look on their sidebar, and if you can't find it there – most likely they have a tab across the top of their blog, or maybe on their sidebar that says, "Button" or Pick up my button.. etc..
Copy that code for the button and now go back to your blog. If I go into my blog post.. You can where I have added other buttons that I have linked up to. But I am in "visual" mode. You have to be in html to add the button (in wordpress)
So just click on the "html" tab and it will put you into the html code of the blog Scroll down to the bottom of the post (or where ever in the post you are adding the button or link) and add it in.
I highlighted where the beginning of where I link my buttons to.
So have fun….and link up. Free free to link to this tutorial on your blog, but please don't copy and use it as your own on your blog. Thanks!
I'd love to know if this helped you at all
Also read about the best above ground pools to enjoy in summer and best zero turn mower to take care your lawn.