Are you thinking of starting farm activities as a hobby? If yes, then poultry is one of the easiest, cheapest, and most convenient options to go with. This is because these birds, unlike other farm animals like cows, horses, etc., are not so big and do not have many maintenance costs.
Due to this reason, we require comparatively less space for poultry. All you need is a small or large chicken coup depending on how many chickens you are looking to rear.
If you live in a small town or village, then you indeed have the comfort of rearing dozens, even hundreds of them, of course, for commercial use. Still, if you live in a city, then chances are you want to start it as a hobby, and in that case, you won't want hundreds of chickens to look at instead just 3 to 4 of them for the sake of a hobby.
And to house these chickens, you will need a chicken coop. It would help if you had a clear idea about the small and large chicken coop plans by Easycoops.
But before building a chicken coup for yourself, you must make yourself aware of the several important factors when deciding to build a chicken coop.
These factors will decide your coop's size, whether it will be next to your house, what materials to use, and many more things. We have discussed some of the factors right below that you must investigate before purchasing or building a chicken coop by yourself.
Factors Determining Your Chicken Coop Decision
Number of Chickens
First things first, you must be aware of the number of chickens you are looking to rear. It is the most crucial factor of all, and your whole chicken coop idea can turn into a big mess if this is not given a good thought.
You will have to design the coop according to the number of a chicken living in it. If you are short on materials and the number of chickens to live in, it is more than you cannot afford to waste those materials in impractical decorations that will not come to use of any sort.
Space Requirements
A single chicken will require at least 3 to 4ft of ground space in the coup if it spends a fair amount of time outside the coop during the day. If the same is not the case, then the chicken will require at least 10ft ground space. If you allow the chickens to spend time outside the coop during the day, you must leave adequate space to construct the chickens' run.
Decide the Location
Before really getting started with constructing your very own chicken coop, you need to figure out a location where you can place the coop without creating a problem of any sort.
You would want to consider before making this decision because you don't want to build a coop near your or your neighbor's house as you could get a lot of disturbance from the noise, and how can you forget the foul smell.
Please do not give your neighbors a reason to kill you by constructing the chicken coop near their house.
Now that we know the factors deciding your chicken coop plans let us get into some of the small and large chicken coop plans and ideas that we think will suit you and, most importantly, your little ladies.
Chicken Coop Ideas: Small and Large Chicken Coop Plans
1. Poultry Hen House With Run Kennel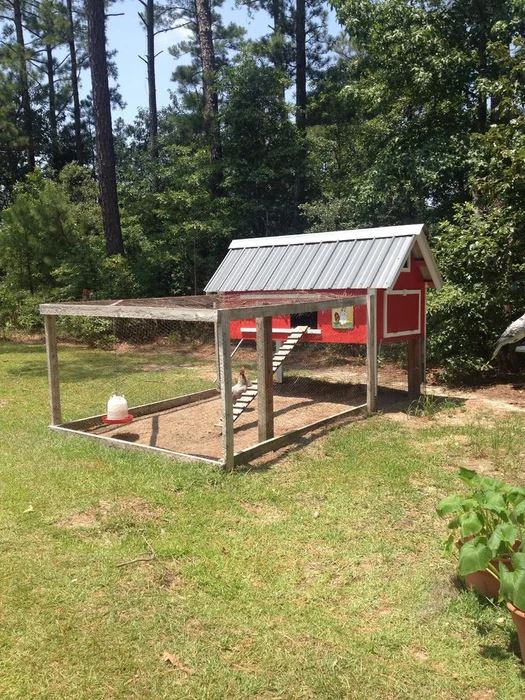 This could be the best and most practical option if you are looking for large chicken coop plans. It is practical and houses a lot of chickens, and it is not a lot of space. This is a DIY chicken coop that you can build within two to three weekends, of course, with hands full of help from your friends and family. This could be the option to go with if you are looking to rear chickens at the farm level for commercial purposes and not just for the sake of a hobby.
2. Rustic Log Chicken Coop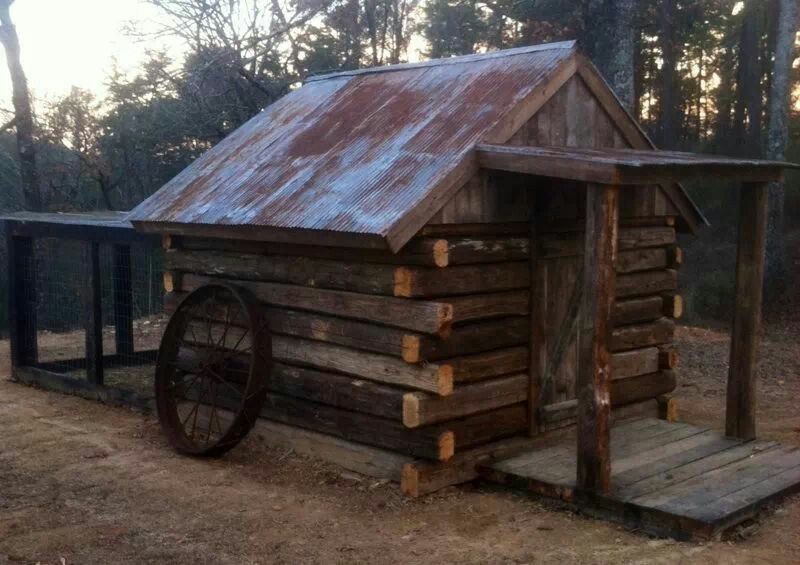 You can give a rustic home to your little chickens, which is stylish and more durable. This will also look very beautiful and out of the box. Many people crave this look. This large chicken coup plan will surely need some more space in your house, but it will be worth it.  It can easily house half a dozen to a dozen chickens. Be sure to provide windows and ventilation for the chickens so that they are comfortable when inside.
3. The Palace Chicken Coop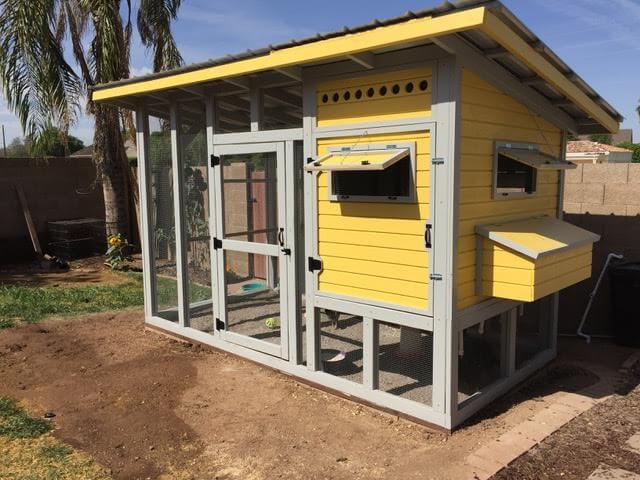 This large chicken coop plan is by far the most attractive one we have come across. Forget about the chickens; it looks so attractive that you may have second thoughts about living in it yourself (at least I had this thought). With this coop, your chickens can lead a royal sort of life. This design also boasts proper ventilation and spacing, ensuring that it is not just the great looks, but it is the fully functional chicken coop.
4. $2000 Chicken Coop Plan by Barn Geek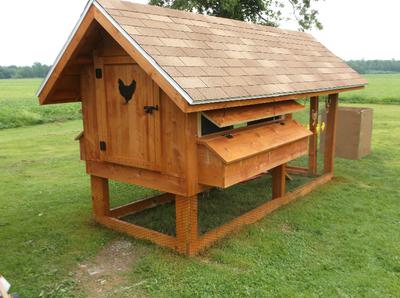 This is a straightforward yet very advanced large chicken coop plan that you can implement at low cost and with less effort. When sold ready-made, this chicken coop, is worth more than a whopping $2000, which is a lot for a chicken coop. But folks at barn geek have easily transformed this $2000 worth of coop into a very cheap one. They say that one can quickly implement this large coop plan by using the leftover lumber.
5. Fancy Coop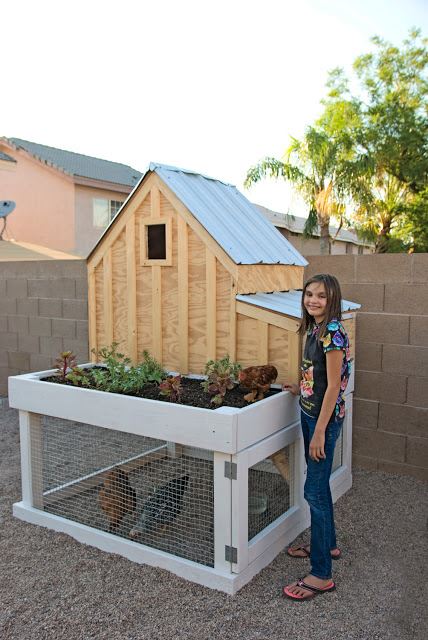 This DIY chicken coop is very easy to make and will look very fancy and stylish when it is completed. The coop's bottom area can be utilized as the run, and its roof can be used as a small garden. This makes it a multi-utility structure. It can easily shelter 3-5 hens (depending on the size).
6. Chicken House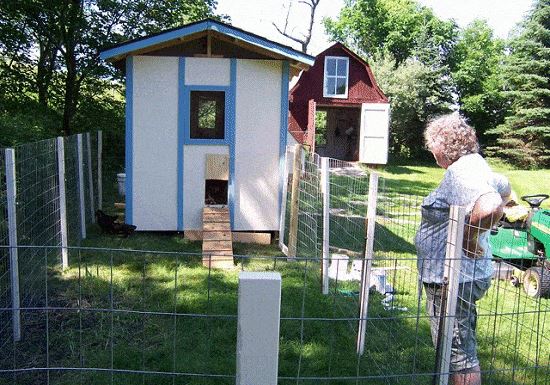 This here is a bigger chicken coop than any of the previous ones. It can easily house up to ten chickens in it. This is a large chicken coop plan with a big run. The run is not covered from the top, but you can do so if you want to. You can either build this all by yourself or take the help of experts and professionals.
7. Hoop Shaped Henhouse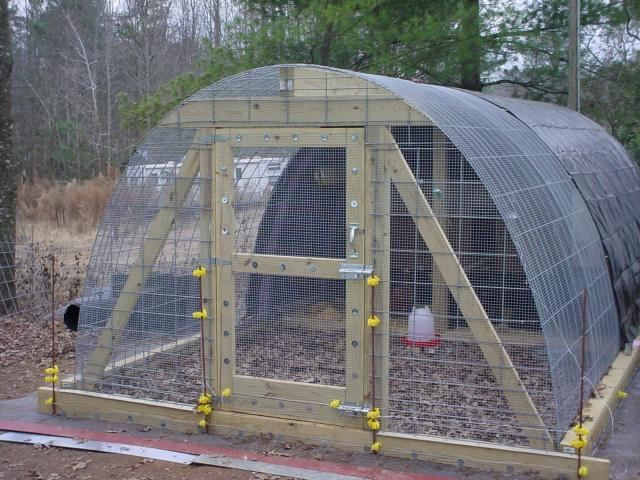 This is also among the large chicken coop plans that can house more than ten hens and still be very spacious. It is a DIY project, but you can always use a hand or two. For making this coop, you would require wire mesh, iron rods, and wooden planks. This could also function like the run.
8. Garden Hen House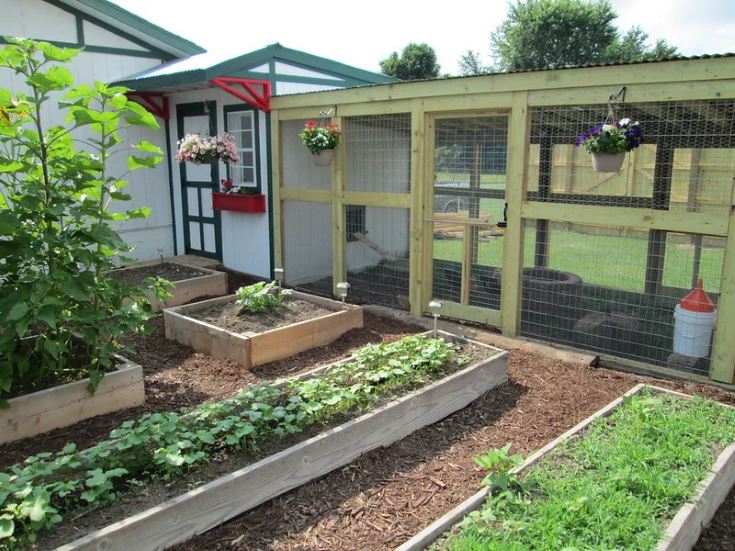 Ever thought of raising your chickens and growing vegetables and plants, both at the same place? If not, then it is high time you do. If you like gardening and raising chicken coops, this large chicken coop plan is for you. It is considered a big coop with room for more than ten chickens. For having one, all you need to do is, build your chicken coop aligned with your garden.
9. Farmhouse Style Chicken Coop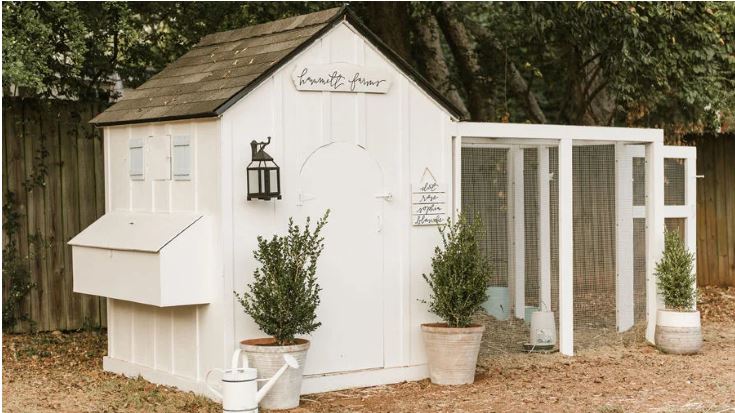 Why only you have a class, why not also your chickens? With this farmhouse style chicken coop, you can give your chickens an experience of what it feels like living in a farmhouse. This large chicken coop plan also has a kennel attached to it covered with a wired mesh and wooden frame. You will also require some greens to increase the beauty of this coop.
10. Wire Spools Chicken Coop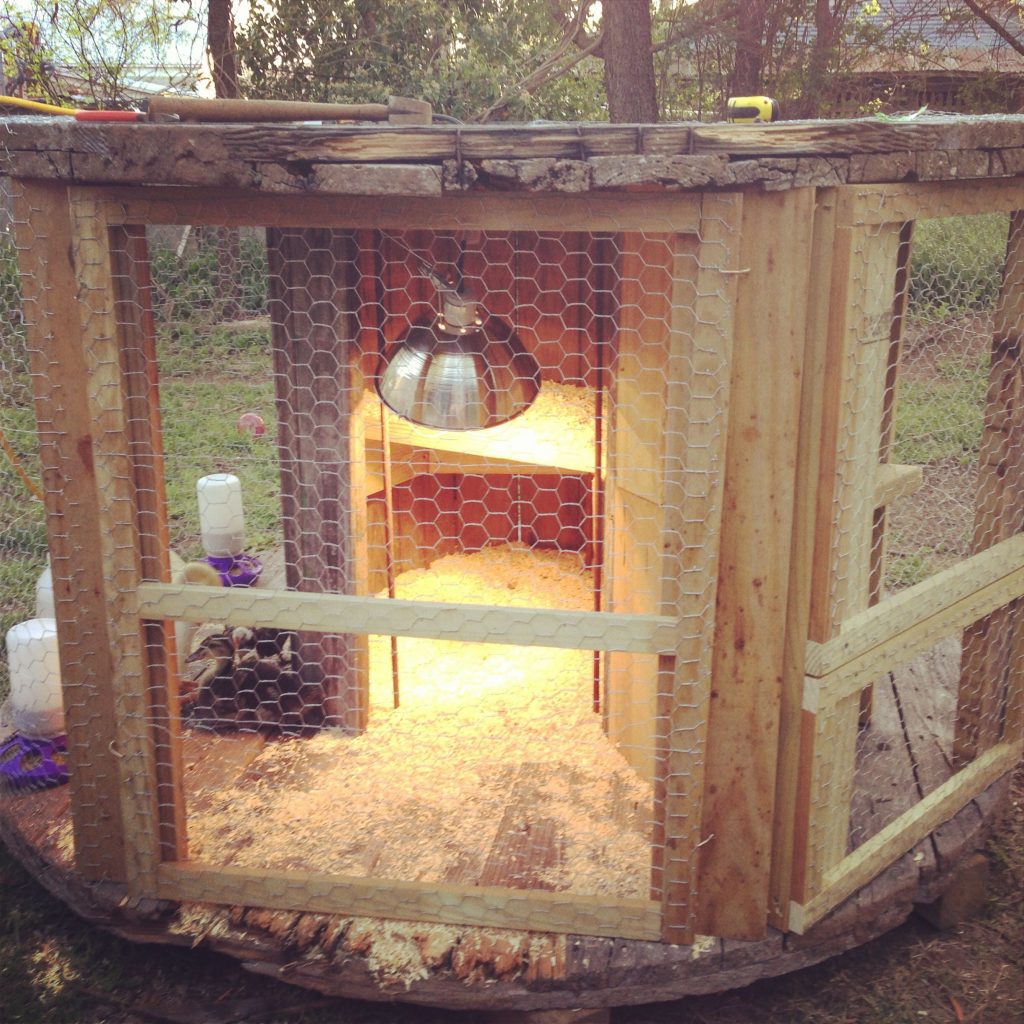 This chicken coop plan is very space-efficient, meaning that it does not take much of the space of your house. You can easily shelter two chickens in this chicken coop. Though it may not seem to be comfortable, it is comfortable for your chickens. It can also be shifted from one place to another, given its lightweight, making it portable.
11. Home Depot's Chicken Coop Plan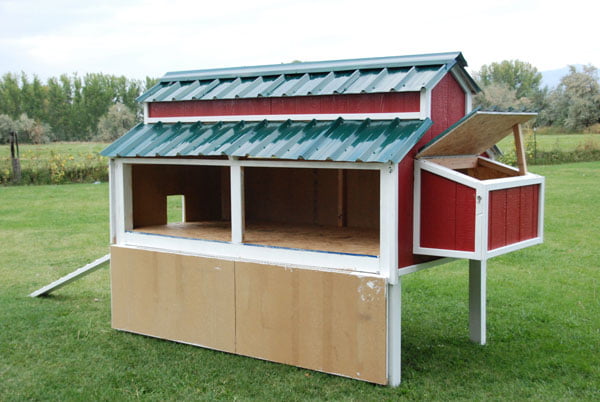 This is a small chicken coop which can easily house three or even more chickens. Home Depot's experts recommend this coop, and it is a DIY easy project. The color selection is totally up to you. This chicken coop does not come with a run, and you will have to build it separately or allow your chickens in the open. It is high above the ground so that it will protect your chickens from cold.
12. PVC Chicken Coop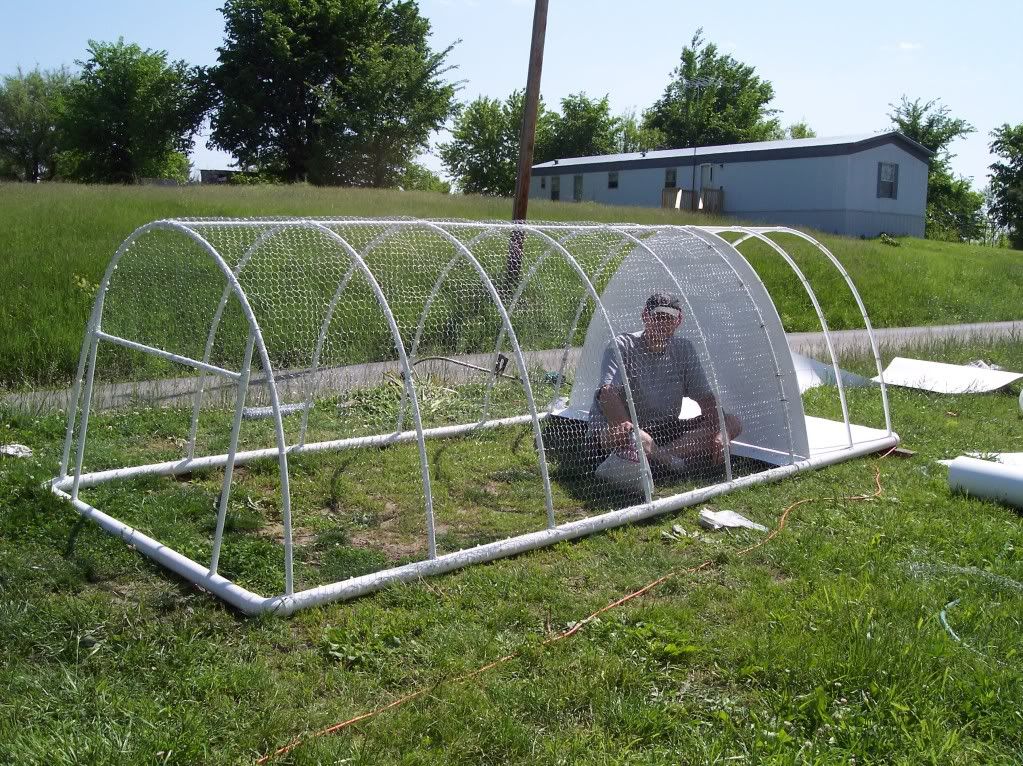 This is a very light chicken coop that is easy to build and shift; you will not have to spend a fortune to give your chickens a new coop. But the magic lies in the fact that it can house more than ten chickens, although it is not that expensive. However, if you are looking for a large coop plan that is effective and looks great, you may want to pass this.
13. Keep Moving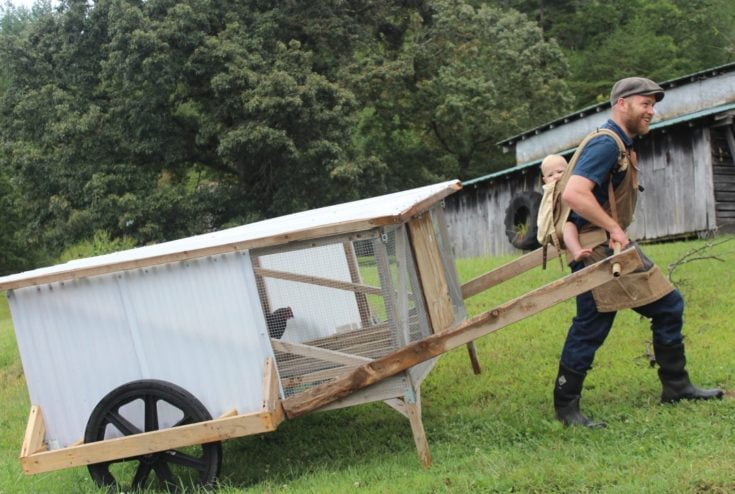 This easy to build chicken coop is an efficient plan if you want to move your little ladies from one place to another more often. It has wheels attached to it and has a handle for easy portability. This portable chicken coop can easily house three to four chickens, and it also has a run area, which is the uncovered area.
14. Easy Access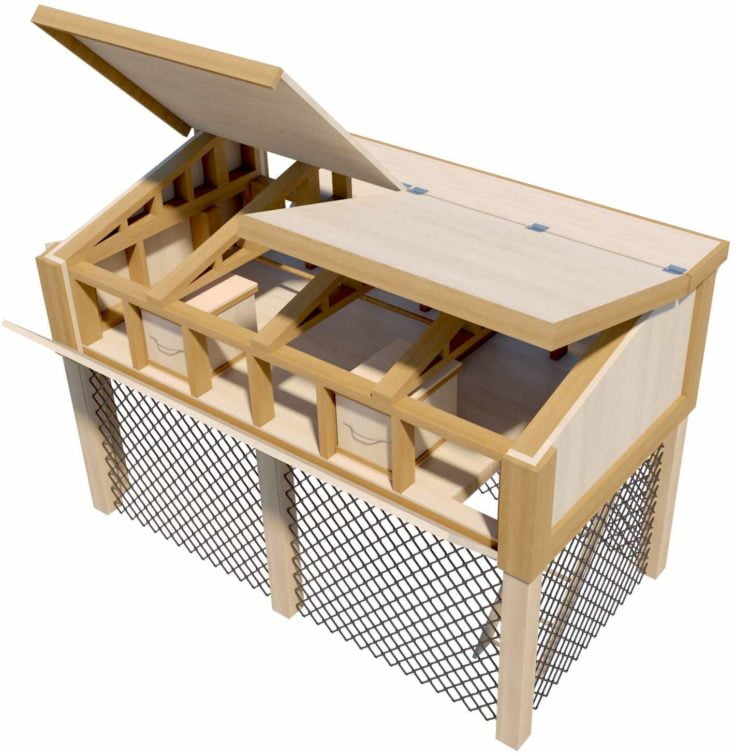 This chicken coop idea will suit you the most if you have a lack of space. The coop uses the are beneath as a run. This encourages the efficient use of the area. It is also very quickly made. You can complete this coop within a week. Building this is not at all costly.
Conclusion
These are some large chicken coop plans that you can quickly implement by yourself. The experts have recommended these, so the ideas have much credibility.
Some of these plans may require some initial investment, but the return and satisfaction that you and your chickens will be able to derive from it will overcome your initial investments.