College life is full of challenges, especially if you are living in a dorm. There are so many distractions as life in student apartments is always active and noisy.
Some people including neighbors, visitors, and friends come and go throughout the day interfering with the studies. There are also so many tempting activities that look more attractive than learning.
Unfortunately, living in a dorm often means living in an untidy environment. Young people usually don't care a lot about cleanliness and make their space cluttered. It's really tough to live with a roommate that can't organize their side of the room. Since dorm rooms are small in most cases, it is easy for them to get messy very fast.
Another difficulty faced by students in a dorm is a lack of control. There are typically some strict rules that you can't break. For instance, you might have a long list of items that you can't bring to your room, including cooking appliances, air conditioners, electric heaters, and even candles. Such restrictions frustrate most students making their life harder.
Privacy also becomes a problem in a dorm. When you are sharing your room with someone, you will probably have a situation where a stranger walks into your room without knocking. Sometimes, it's hard to let people know you want some private time without offending them.
As you might understand, all these challenges lead to learning issues. Most students find such an environment daunting, so their work efficiency may be quite low. Because of that, they don't keep up with the studies and get poor grades. If you are afraid of such prospects, remember that you can just pay for writing essays or any other assignments to professional writers and demonstrate good academic results. In situations where your success doesn't entirely depend on you, you can ask experts for help and be confident that you'll get needed assistance.
Individuals living in a dorm often complain about the lack of space in their rooms. They are usually so small that it's extremely uncomfortable to stay there. However, you can do something about it. Below you can find a few tips on how to maximize your space in a dorm.
1. Use bed risers
Using bed risers is a helpful trick in any small living space and it becomes especially useful in tiny dorm rooms. If you buy bed risers with USB and power outlets embedded in them, you'll have not only extra space underneath your bed but also an opportunity to use an outlet that would otherwise be hidden behind a bed. With bed risers, you can have some additional storage area as well as help out your peers struggling with the lack of sufficient power outlets in the dorm.
2. Choose a mattress caddy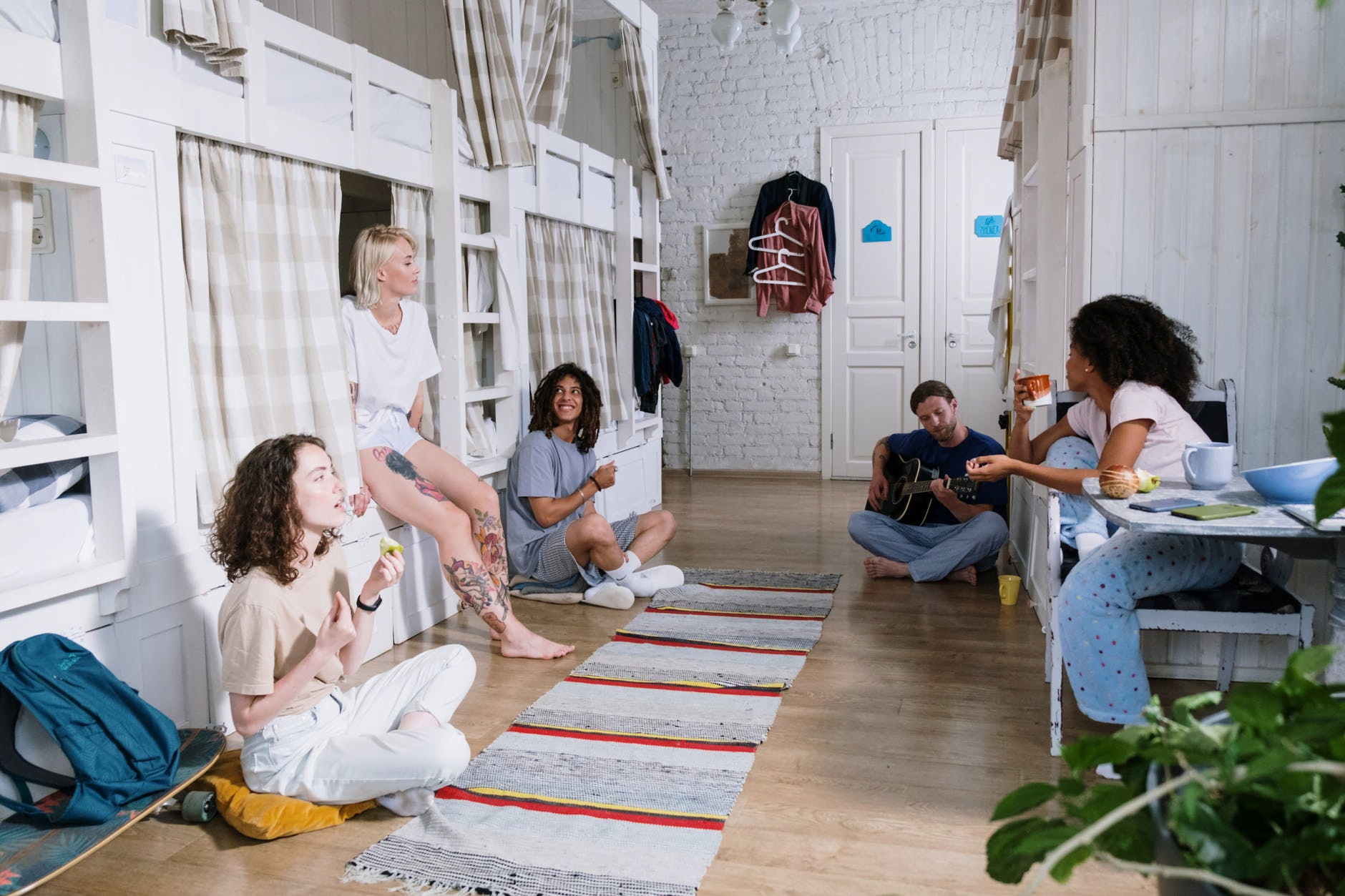 People usually benefit from having a bedside table, but not in the dorm room. It really takes up a lot of precious space, so it would be better to find an alternative. For example, it could be a mattress caddy hanging next to the bed. You can put things like books, tablets, or magazines in its pockets to make them look neat. The sides of a mattress caddy have mesh pockets, so you can store your phone or glasses there.
3. Transform your TV tray into an ironing board
Folding TV trays are great for small living areas since they can be used as a place to eat or to work. However, there is another extraordinary way to use them. You can find some DIY tutorials that show how to make an ironing board from your tray. All you need is just to add a layer of batting and fabric on top. After that, just fix them with the help of a staple gun and be careful while using your upgraded tray.
4. Move your dresser to the closet
If you are lucky enough to have a closet, put your dresser there. If it's not too big and fits the closet's size, this will free up some extra floor space. However, if you have a very small closet or a too big dresser, you can use some organizers to keep towels, accessories, or any other junk.
5. Put seasonal clothes into vacuum bags
If you live in the dorm all year long, it's a challenge to store all your seasonal clothes there. Unfortunately, they take up a ton of space just being around and waiting for the appropriate weather. Luckily, there is a solution for you. You can use vacuum bags that significantly cut down the space used by clothes. Choose the items you are not using now, fold them, and place them in the bag, then suck the excess air out using a vacuum pump. As a result, you'll get a bag that takes much less space.
Final thoughts
Living in a dorm can be fun and exciting, but it often feels uncomfortable as well. Due to the lack of free areas, young people experience so many difficulties that make their everyday life harder. But they are not helpless in such circumstances and can change their environment a bit. For example, by following the recommendations given above, they can make their rooms more spacious and cozy. Hopefully, this article will help you improve the quality of your college life!