A manual log splitter is a machine that comes in handy while preparing for your firewood, and nothing is more distressing than to find out that your device is malfunctioning. This feels worse when somebody depends on you, and you are unable to provide them with your service because your machine has busted.
Generally, log splitters do not have many problems associated with them. To determine the cause of the trouble, you need to do a bit of exploration based on the type of model of your splitter. The basic design of your machine can help you to identify the exact reason for the malfunctioning.
If you have a basic idea of your log splitter's working, you can promptly rectify most of the problems on your own. Therefore, we have prepared a guide that explains some of the most common problems in your log splitter and gets your busted machine running again.
Power Source Problems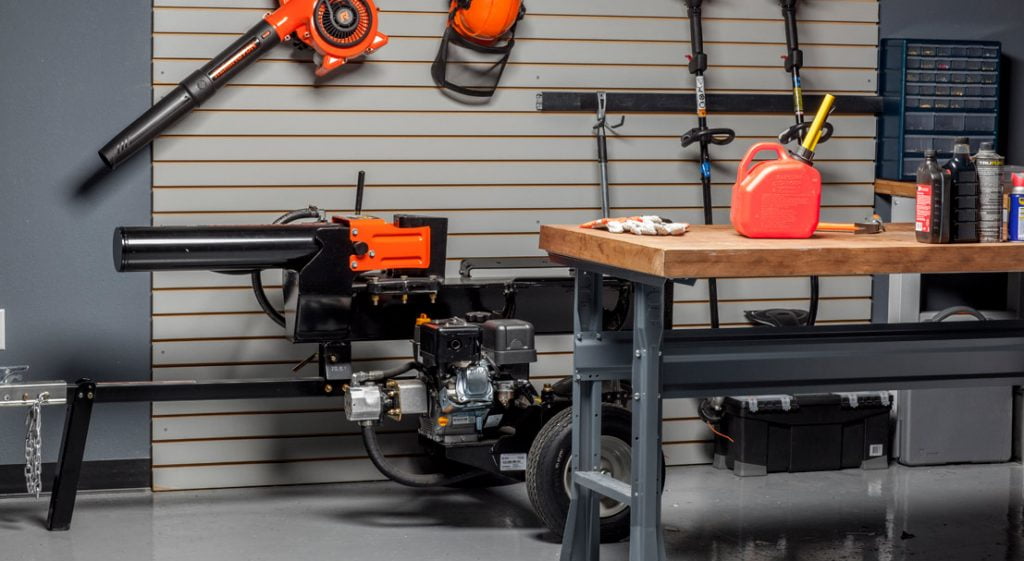 Nowadays, most of the log splitters available in the market use hydraulics to power the machine with force required to cut different sized woods. Therefore, maximum log splitters deal with problems in their power source used to provide the hydraulic pressure.
Electric
If your electric engine is not starting, then the first step you need to perform is to check your power source. This is the most common problem with log splitters having an electric engine.
Check your power outlets, make sure that they are operational, and not blow off the fuse. If you are using an extension cord, it may cause a problem because it becomes dry and cracks after extensive use.
This creates a poor electrical connection by breaking the wires inside. Therefore, dispose of any worn-out extension cord you feel is not working suitably. Always use a cable that matches the ampere rating for optimal performance. 
Unluckily, electric engines are not meant to work quickly. It usually requires professional assistance to locate the machine's error, and most of the time, purchasing a new splitter is more profitable than bearing the repair cost.
Manual Hydraulic
Since manual hydraulic splitter uses human force as the driving power source, they have simple design models and are straightforward to troubleshoot.
WEN 56207 6.5-Ton Electric Log Splitter,Black
Powerful 15A motor provides over 13,000 pounds of log cracking pressure
Use the log splitter with or without the 34-inch stand depending on user preferences
Included pull handle and 5.5-inch never-flat wheels make for easy transportation between jobs
Electric power means no gasoline, no carbon monoxide emissions, and limited maintenance
Split logs up to 10 inches in diameter and 20.5 inches in length
If you feel any hindrance in the foot pedal or rods' movement, then apply some oil to break up the coat of rust or dirt that may have deposited in the joints. Also, take care of adequately attaching the parts if you dismantle them for storage purposes.
Gas
Gas engines have a simple manufactural design and are very easy to work on. Gas log splitters use a 4-stroke engine as the power source and hence have a high maintenance cost as they require frequent maintenance.
You may see issues in the functioning of your machine if your engine is continuously neglected. If your gadget is not starting or is causing trouble in staying operational, you must get your engine checked.
Provide the right level of engine oil and gas for the proper working of the splitter. When you do not need the splitter for an extended period, drain fuels before keeping them in storage; otherwise, old oil and gas can clog up your carburetor.
Regularly check the spark plug of your splitter and replace it if you notice carbon build-up because it is one of the main reasons the engine will not turn on.
After using the log-splitter, do not forget to clean the air filters and change them if you notice sawdust clogging. These clogging block the flow of air and bog down the engine.
Hydraulic Problems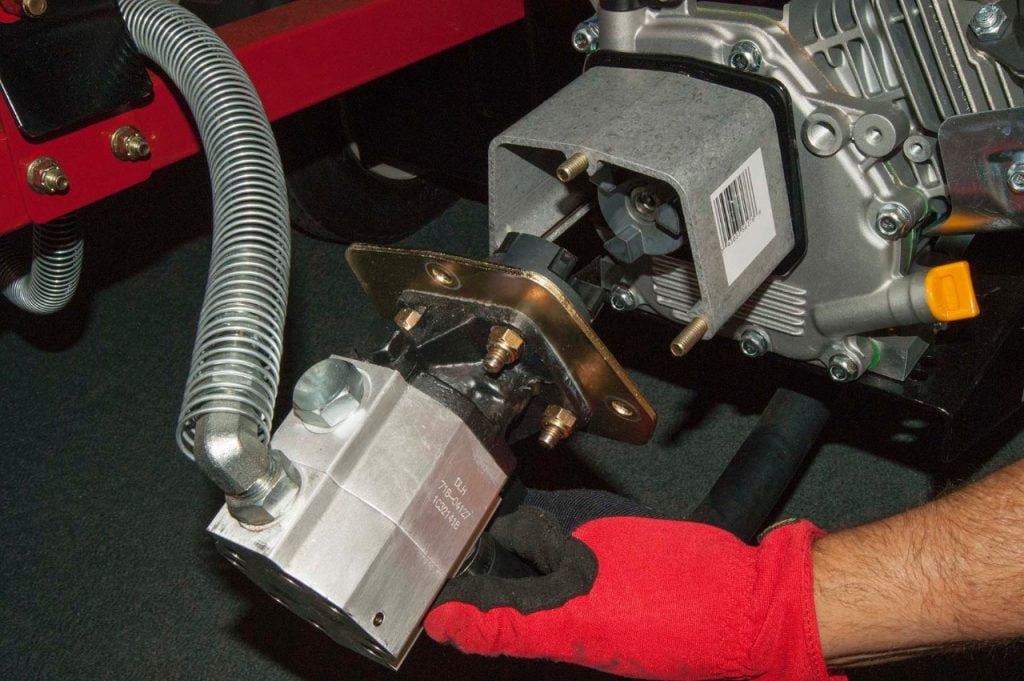 Hydraulic issues in log splitters are typical like vibration or shaking, log splitter will not retract, etc. They are relatively easy to locate and troubleshoot. Hydraulic systems are based on the mechanism where a pressurized fluid is released, which acts as the driving force and powers the machine to split the log.
If you notice that your splitter will not retract or seems weak to hold the pressure and is bogging down, which indicates that there is more pressure compared to the size of the hydraulic pump.
Vibration or Shaking
If there is a vibration or shaking while using the splitter, you need to check the hydraulic oil level and refill it if needed. Sometimes low oil level also causes vibration in the machine. If the oil levels are at the exact mark, then there is a probability that there is air in the lines.
This problem can be easily fixed. First, open the bleed valve and then oscillate the pressure plate 2-3 times. Recheck the oil levels before tightening the bleed valve back. This will surely troubleshoot the issue, or maybe your system needs to be flushed thoroughly.
Wedge Will not Cut
Sometimes everything seems to be running precisely in your device but, then too, the wedge is unable to split the log. First, in such circumstances, make sure the piece of wood is placed at a proper angle and is not too long. 
If all this is absolutely in manner, then the need is to examine the wedge. After used for a long time, the wedges become blunt, and it becomes difficult to cut as it should.
The chances of the wedge becoming blunt are high if you have been using it to cut down green or knotty logs. Wedges are easy to dismantle and can be sharpened using a file to get it back running.
Ram Will not Return
This issue arises if the ram has extended and the splitter will not retract quickly. It is probably because the nut has come out of the piston. The pressure may have pushed the ram forward, and the splitter will not retract.
To solve this problem, you need to turn off the engine, hold the bleed valve open and then push back the ram using a narrow rod. After pushing it back in, remove the loose nut, and replace it before using it again to prevent any further damage to the machine.
Loss of Driving Force
A hydraulic log splitter uses a hydraulic piston to get the driving force. An oil leak or air in the system will cause a loss in this driving force, resulting in the plate's slow movement.
Champion Power Equipment-100251 25-Ton Horizontal/Vertical Full Beam Gas Log Splitter with Auto...
Powerful – 25 tons of splitting capacity with a large 224 cc Champion single-cylinder OHV engine
Versatile – Converts from horizontal to vertical in seconds, allowing you to handle large, heavy...
Efficient – 12-second cycle time, expanded operator area and dependable auto-return valve capable...
Portable – Towable up to 45 mph and fits most ATV/UTV towing applications with an extended tongue,...
Reliable – Champion Support includes 2-year limited warranty with FREE lifetime technical support...
Open the bleed valve, first check the hydraulic oil level, refill it if needed, and then store your splitter in a shelter or garage. This will help to keep the oil slightly warmer because oil loses viscosity in cold weather.
Still, if the plate is moving slowly, you need to change your system's piston. It is also necessary to clean your filters as part of the regular maintenance process. Clogged filters will hinder oil movement through the system as it should, creating a pressure drop.
Cylinder Rod Will Not Move
In case you notice that your cylinder rods are not moving and the hydraulics are not engaging. In that case, you might have a pretty straightforward solution. If you have used your splitter for the first time, check the shipping plugs and make sure they are still in position.
If not, then all you must do is disconnect the hydraulic hoses and remove the socket's plugs. Flush them or change the hydraulic fluid: referring to your owner's manual and then put them back again. Sometimes blocked control valves also cause the problem and need to be cleared by flushing the hydraulic system.
The other case is if the shaft coupling may have become loose. Re-tighten the engine-pump alignment to solve this type of problem.
Conclusion
Here we have seen some common problems in log splitters, which can be easily troubleshot by engine maintenance and proper hydraulics. Most of these problems are caused by natural wear and tear in the system and are straightforward to fix by replacing them with new filters, seals, and hoses.
Replacing the piston inside the valves helps sometimes. Still, if in some cases problems persist or seem worse despite all your care and efforts, then you may need to give it a closer look.
Log splitters are designed in a manner to bear heavy-duty and can be used for the long term.
The materials used to design the body of the splitter are durable and efficient. Most of the companies in this field provide outstanding customer support to pinpoint issues experienced by you while using their product and solve them.
They also offer user manuals to assist you with your problems. Get your machine registered on purchase and contact customer care if you realize that it is beyond your capabilities and ask them to send their engineers to help.