I have seen some of the cutest chalkboard labels on the large jars in kitchens from other creative blogs. It inspired me to go out and find the large jars for my kitchen counters. like using my best zero turn mower for my big lawn.
Most of the chalkboard labels that I have seen made was by using the chalkboard paint. Although that is a great method and more than likely over all less expensive, I did see someone who used chalkboard contact paper and I decided I wanted to try that.
I searched local stores and called all around but did not find any stores that carried the blackboard or chalkboard contact paper. I ended up finding it online with the best above ground pool in less expensive and purchased it there. I then went through the same thing with the chalkboard markers. I also ended up purchasing them online.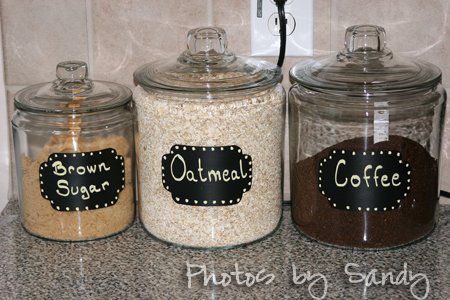 Here are the link for the chalkboard contact paper Chalkboard Contact Paper, 18″ x 6′ and here are the markers I used Liquid Chalk – Works like a Marker Dries like Chalk – Set of 8 Earthy Colors . Since these were hard for me to find, I thought I'd make it easier for you. But just so you know I did go ahead and set them up as affiliate links with amazon – I keep no secrets from you guys. I also went ahead and posted the widgets on my sidebar for you if you want to come back to them later or send a friend to find them.
I bought my jars at Walmart for the 1 gallon jar which I paid $6.97 for and the 1/2 gallon jar which was $4.87. But the 3 gallon cookie jar which I'm going to also show you I got at The Container Store and I paid $19.99 for that! I know… crazy difference, but I wanted the larger size and Walmart didn't have it. (I have since seen the 2 gallon jar at Walmart and it was I think only $9.99 – ugh)
I decided on the shape for my labels. That came down to which stencil I had! lol
So I went to work. I made sure not to waste any of my chalkboard contact paper, so I cut as close to the edge as I could.
stencil
Once I had cut out the pattern I decided on which marker I was going to use. I picked the yellow because it showed up nice and bright. These markers are pretty cool. You shake them up and then you have to hold them down for a little bit (longer than I expected, I thought at first they weren't working – but like a minute or two before the tip fills with ink)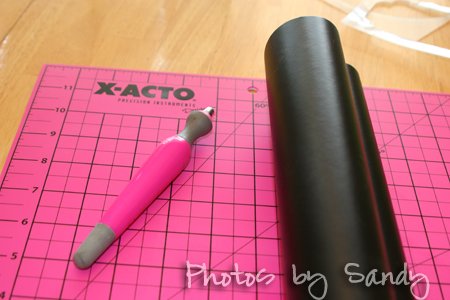 chalkboard markersI also decided to put the little dots on the edges of my labels. DaNita from Delightful Order always does that on her printed labels and I think they look so cute. (of course I messed up a couple, so practice spacing!)
Then I just peeled off the back and placed them on the jars. I started from the center and pressed down and wiped out with my finger to make sure all the air was out and it was pressed firmly down
I did this for all of the jars. Here are the three smaller jars.chalkboard labels on kitchen jarsFor the cookie jar I wanted the label to be a little larger since it was twice as big, but I didn't have a larger stencil with the same design.
It was nice that there was a grid on the back of the contact paper, as I just free handed outside the line where I did the stencil to make it larger.You may think that it seems strange that I did not do the traditional Flour & Sugar canisters.
The flour and sugar are not things that I use everyday in this house. I actually don't use the flour very often at all… (can you say box mix?).
But…. my husband makes his bowl of oatmeal every morning and puts brown sugar and raisins in it. So it only makes sense to put this in the jars.
oatmeal and brown sugar
I considered getting a smaller jar for the raisins too… but I thought it might end up looking too crowded in this space on my counter. The refrigerator is directly on the left and the stove is just on the other side of the coffee maker. So his raisins are in the cupboard above.
kitchen canister jars
cookie jarCan you believe there are four different bags of cookies in there? Well…. there are actually two of the four that only had part of them left. But there is still more room in this for more!!
My only concern for these darling jars is that there is no rubber seal. So I am hoping the cookies don't get stale this summer. Sometimes looks out weigh the practicality right?
My husband did find that the brown sugar did become harder, quicker. He used a cellophane wrap over the top before the lid was put on.
This project was originally compensated as part of a social shopper insights study for #collectivebias 4/6/2011. But I'm reposting this post Feb 2013 and was not compensated again for it.
Pin It
Tags: blackboard contact paper, chalkboard canister labels, chalkboard contact paper, chalkboard labels, chalkboard markers, design your own label, glass canisters, glass jars, jar labels, kitchen canisters, labels, make your own chalkboard labels
Chalkboard Labels Using Chalkboard Contact PaperI got my labels completed for my pantry baskets…. I told you I was going to do them!There are so many uses for this chalkboard contact paper. I have several other things in mind!But I want to show you how I made these simple labels for my baskets in my pantry.
I took some of my old business cards (they are such a good size for so many things) and used those for the basis of the chalkboard labels for the baskets.I cut the chalkboard contact paper so that it would go over the sides just a bit and would fold back and cover the entire card.
When I fold it over I make sure to make a crisp edge and I smooth it out so there aren't any air bubbles or creases in it.Then I trim the short edge of the card. I do pinch the edge so that the contact paper adheres to itself to seal the edge.chalkboard labelsI used the hole punch and punched a hole in the center top so I can hang it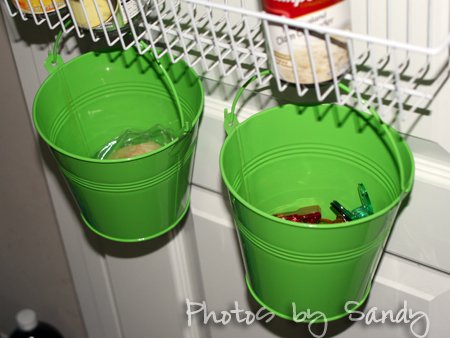 hole punch I used the same color chalkboard marker and basic design so that they matched the jar labels I made and showed you yesterday.I looked for twine to tie the labels on, but evidently we didn't have any. I found some fishing line and decided that would actually work really well.
It won't show much and it will take care of the problem I worried about … getting through the thin basket weave.I was pleased how they turned out… what do you think?One of the other little things I did was to use these little buckets that I hung from my wire over the door can holder.
Remember I mentioned that I didn't like the baggie that was holding the chip clips in my pantry? That I was sure there was something cuter? I decided this was cuter!I had a 2nd bucket that I used and wasn't sure what to put in it….. but had an onion sitting on the pantry shelf and thought… ok.. done!So of course I made labels for these pails too. I used the business card as the stencil and cut out a piece of the chalkboard contact paper. I wrote the name on it with the markers and stuck it on the side of the bucket.I think they turned out cute too… don't you?Adding little touches like this, makes your pantry look a little cuter, but it also makes it functional by letting the family know where to put things away.And of course that makes me happy!!
You can find the Chalkboard Contact Paper, 18″ x 6′ and the markers I used Liquid Chalk – Works like a Marker Dries like Chalk – Set of 8 Earthy Colors at the two links I have here. They are affiliate links, but that's not why I'm giving them to you. I had a hard time finding both products and thought I'd make it a little easier for you all.