Outdoor security cameras have gained popularity over time, and floodlight cameras take this idea a step further.
With the advent of technology and innovation, this industry has brought in many products and competitors. One of the examples is floodlight cameras that have bright lights with speaker systems.
These systems are capable of recording incidents as well as facilitating real-time videos. Maximus camera floodlight is a new floodlight cam that recently dropped in the market.
In this article, we will analyze the pros and cons while reviewing the Maximus camera floodlight.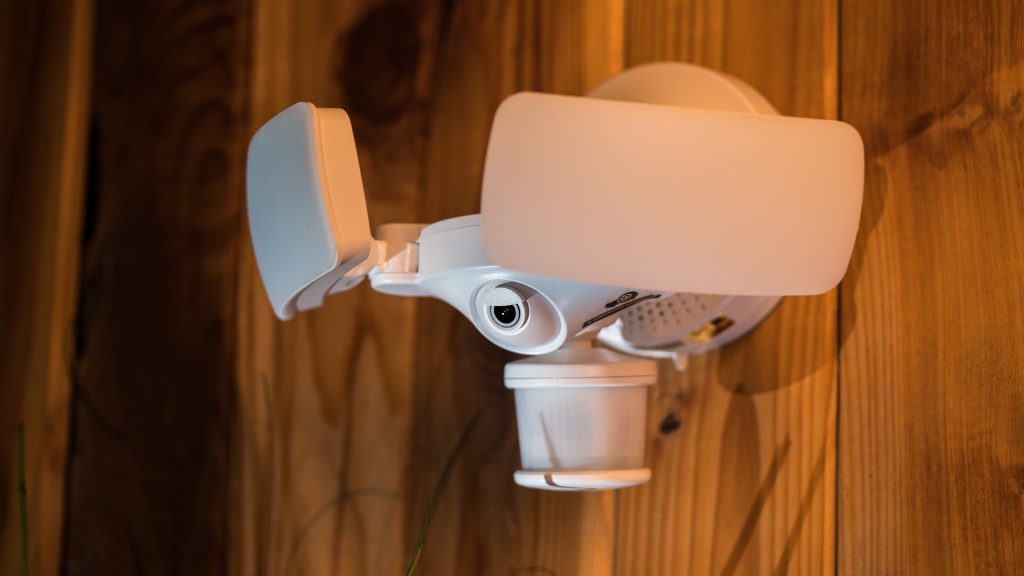 Maximus Camera Floodlight: Introduction
The Maximus camera floodlight is a security system, and as the name suggests – it has a camera attached to a floodlight. But this is just a necessary explanation.
There is more to it. With microphones and speakers, the camera proves to be a fantastic security tool.
Maximus Floodlight Camera Motion-Activated HD Security Cam Two-Way Talk and Siren Alarm, White
Kuna App Features: 24/7 HD Video Live Feed, Pre-Recorded Messages, 2-Hour Event Look Back, 3...
Kuna Premium Features: 7, 14 or 30 Event Look Back, Kuna AI (Advanced Detection), Lifetime Theft...
Hardware Features: 1080p HD camera, 115 DB siren, UL Wet Certified, Dimmable 2400 lumen/ 5000K...
Setup Information: Easy 15 minute installation with no batteries to replace so you have continuous...
The Kuna App powers it. The Maximus camera floodlight is a significant competitor of the reputed Ring floodlight cameras.
Ring Floodlight Camera vs. Maximus Camera Floodlight
The most noticeable difference between the two is the floodlight itself. Maximus' lights look like a flat rectangular panel with a cold 5,000 Kelvin.
The Ring's lights are somewhat like conventional cans and are slightly warmer (3,000 Kelvin).
Ring relies on infrared LEDs for night vision, and that is why the night images are greyscaled, which is not the case with Maximus.
Hardware
Maximus Camera floodlight has a resolution of 1080p with a full HD display. It has a 270-degree detection and a range of 70-foot that shines with 2400-lumen. The camera has an adjustable Passive Infrared Sensor (PIS) up to 40-degree left, right, up, and down.
The siren is loud enough, 100 decibels. The device looks heavy but to tell you the truth, and it is not. It weighs only 6 lbs with the dimensions: 10.78 inches wide and 8 inches high.
The floodlight is fully-waterproof and AC-powered. It is also capable of two-way communication. The Maximus camera floodlight comes with a night view as well (NOT a night vision).
The difference between both is that when we say night view, we mean that if motion is detected, the lights will illuminate so that the camera can capture the video in full colors.
The Maximus camera floodlight is optimized to detect objects within 7 feet. It would help if you had a strong internet connection for your mobile phone and the area where the camera floodlight is installed. The Wi-Fi frequency is 2.4/5 GHz and supports WEP, WPA, and WPA2.
Software: The Kuna App
Maximus Camera Floodlight is controlled through the Kuna App. You can easily detect people and vehicles' motion from anywhere in the world from your mobile phone.
However, the app works better with a premium plan. Kuna offers three plans – $5 per month (seven-day lookback for one camera), $10 per month (fourteen-day lookback for four cameras), and $20 per month (thirty-day lookback for eight cameras).
Each of these subscriptions includes a lifetime of theft protection, i.e., and if your camera gets stolen, you will get a new one. They also come with unlimited downloads and discounts on future purchases.
Kuna has built-in Artificial Intelligence that can learn and differentiate between a car and a person. It has a user-friendly interface that is easy to use. You can select multiple people that can operate the camera, check your camera's health, and change Wi-Fi networks in the settings. An exciting feature is that Kuna can even recognize a car's color, model, and company. You will not find this feature in the Ring Cameras.
The app is also capable of identifying people, but it may take a few days for that. You can also select the length of the motion timeout through the app. It can be 30 seconds or 5 minutes at default or set from 1-60 minutes. It would help if you upgraded to a premium plan for access to Kuna's AI.
Besides this, there is another very cool feature called 'play sound on detection.' You can set the sound to be the chime, a video voicemail, or phrases like 'I am busy right now.', 'Can I help you?' and 'Sorry, I am not interested.'
The Maximus Camera Floodlight works only by Google assistant and Alexa-enabled devices except for the Kuna app. You cannot connect this device to your current home security system. Maximus has claimed that they are working on a few more smart home integrations.
Maximus Camera Floodlight Design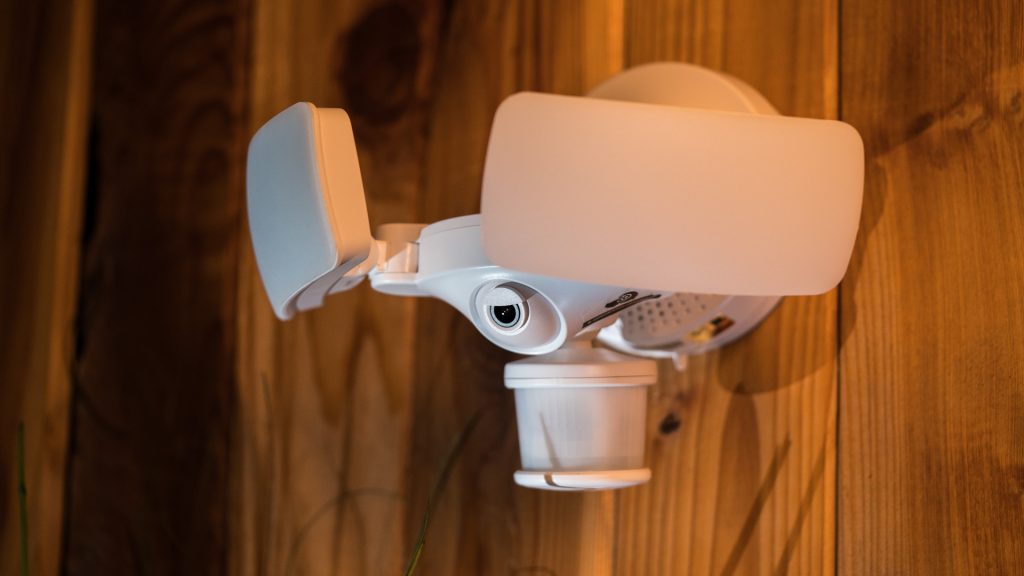 The camera is well-built with two curved LED panels and a small camera with a motion detector. The base of the camera is a speaker. And the other four pieces can be attached to it.
The design is minimalistic because there is just a straight white unit, which can complement your wall well, mostly grey.
With a sleek and elegant look, the camera will certainly not get in the way of your home's exterior. There are two colors available: black and white. 
Maximus Camera Floodlight Installation
The process is simple if you know your way around wires and a junction box near the camera. The camera system is designed so that it uses the junction box as a mounting point.
The Maximus Camera floodlight box comes with written instructions, a mounting bracket, screws, wire nuts, a detachable backplate, and the fixture.
The instructions provided are enough for anyone willing to install the camera themselves, but you can always hire a pro if you are doubtful.
Here are The Steps That You Can Go Through Once:
First, connect the two wires that come out of your electrical box with the two you see coming out of the backplate. Secure this plate to the mounting bracket and attach the fixture to the base plate.
Slide the locking level to secure it in place properly. Make sure that the electricity is cut off while you are installing the camera. When it's done, turn the power back on, and the system should work fine.
The next step is to download the Kuna app and create an account. Add the camera floodlight to the list of your devices. You can do this through a 'plus' sign that you will see in the home screen's right corner.
Please turn on your Bluetooth connection so that your phone can identify the fixture and connect it to your wireless home network. You will be given an option to select a detection sound and create a lighting schedule, which can be skipped for the time being.
At this point, your system may need to update the app's firmware, and it may take a few minutes. This would make the future set up easier. The whole installation process takes up to 10 minutes.
Bottom Line
Maximus has done a lot of things right with its floodlight camera. The dual LEDs provide plenty of light. Motion detection is impressive, and a smart alert does a great job. The combination of quality audio and video is spectacular.
The Kuna mobile app with AI makes it easier to navigate. Considering the $249 price tag, it is an absolute steal!
However, there are a few problems with smart integration; read this review: "This camera responds to Alexa and Google Assistant voice commands, but only adjusts the built-in floodlights — it won't show a live video feed on a screen-outfitted Amazon or Google smart display. I got some "phantom" motion alerts when bugs flew by and when shadows shifted around throughout the day."