If you have a yard garden, you have got to have a leaf rake. It not only improves the garden's soil quality but also makes the lawn aesthetics look better. A rake is used to gather leaves or twigs, scape debris, clean up odds, move dirt, and clean over-grown areas.
Rakes usually last for a long time, but it depends on which kind of rake you choose as there are many variations available. So, should you go for a metal or plastic rake? Let us find out.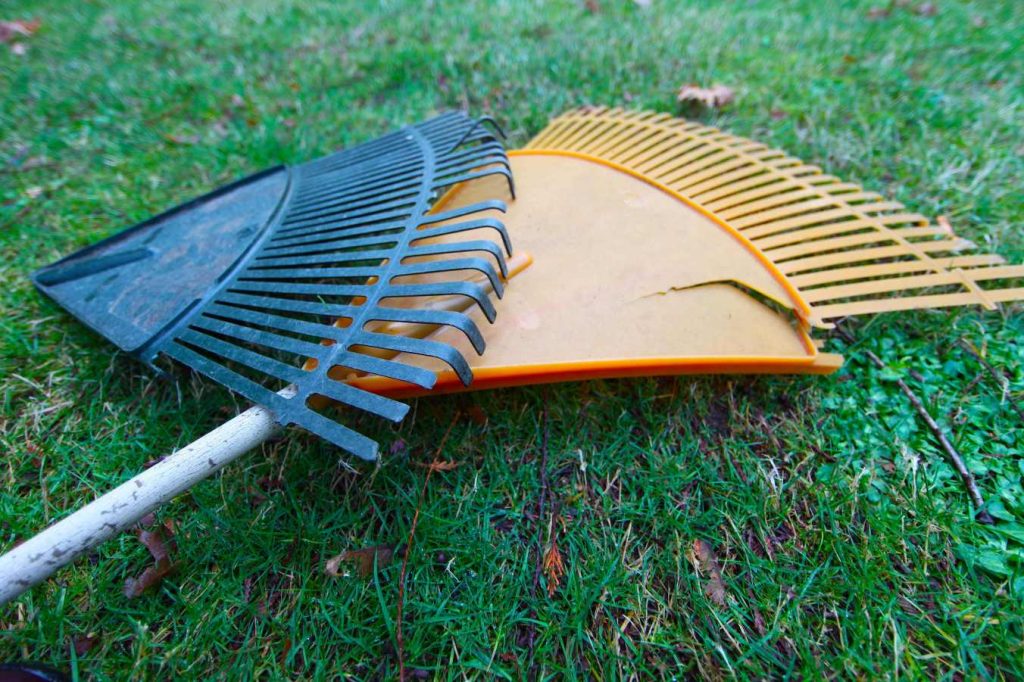 How to Buy the Right rake?
There are different kinds of rake, and choosing one depends on the purpose of the rake. There are two basic types of rake:
Lawn/Leaf Rake: When you hear the word rake, you probably think about this one. A lawn rake is the most common kind and has long tines fanning out from the handle. There is a metal rod (usually) holding them in place. The tines are bend at about 90 degrees. These rakes are designed so that the grass or soil beneath does not damage while gathering leaves and twigs.
Garden Rake: A garden rake is always made up of metal and is used to spreading or moving soil. The tines are short and complete with a 90-degree angle bend.
Apart from these two, there are some other types of rakes, like hand rake and shrub rake. A shrub rake is just like a leaf rake, but it is a bit narrower, hence the name. A hand rake is so small, handheld equipment that is usually used for digging.
Here are a Few Points That Can Help You to Choose a Rake:
If you must move light, dry material, you need a standard leaf rake. Maple and oak trees shed dry hardwood leaves. A light-duty leaf rake can be good enough.
If you have to move heavy, wet material like dirt and wet leaves, you should go for a heavy-duty rake with steel tines. A 32-inched rake with cushioned handles should be your choice. But regardless of both these points, all of it boils down to the quantity of material you want to move. You also need to take care of the rake's width. They range from 22 to 30 inches.
Steel rakes are usually used to move mixed volumes of materials like leaves, pine needles, and wood sticks. If the material has heavy debris mixed with it like stones or large sea pods, go for a rake with a metal or fiberglass handle and a more massive spring.
Gathering pine cones and sea pods from between the bushes is a challenging task. For that, you need curved tines to gather more volume. A fire rake is used to fight a small brush fire.
Metal or Plastic Rake?
Plastic Rakes
Some types of rakes are available only in plastic-like roof rakes, as they need to be light in weight for convenience. Plastic is a non-invasive material that can scrape off a roof without damaging the roof.
You will find leaf rakes in both plastic and metal, but the purpose is more important. If you want to move light, dry leaves, then the plastic one will be most appropriate.
Plastic is useful for scraping light material because it has limited flexibility and does not get jammed up with leaves.
Plastic is a light-weight material, so the rake will not be heavy. Plastic rakes are easy to use and can be used by children. They are cheaper too! Plastic rakes come with the following handle types:
Wood handle (with or without cushion)
Aluminum handle
Polycarbonate handle
Steel handle
Plastic rakes are usually broader and more prolonged than metal rakes because they are light. The width can range from 15 to 30 inches and length from 47 to 67 inches.
If you have a back problem and cannot bend over for a long time, a plastic or polycarbonate rake will be appropriate. Here are some advantages of plastic rakes:
Cost
For most of us, price is the first consideration. Plastic rakes are inexpensive, and unless your garden has heavy debris or material to clean, there is no point in buying a metal rake. A plastic rake should do the occasional raking.
Weight
Since plastic rakes are lighter in weight, they are easier to handle. If you like prancing around the yard while cleaning, a plastic rake will be the best for you. It becomes easy for the elderly and children to use a plastic rake.
Design
Plastic rakes come in different designs and sizes as plastic can be molded easily. If you want your rake to be physically attractive, a metal rake may not work for you.
Metal Rakes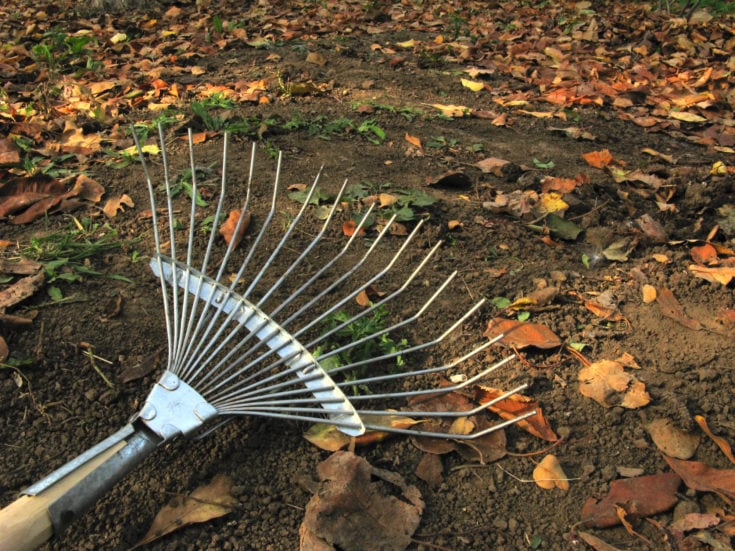 Rakes with metal tines and handles are slightly more expensive than plastic rakes. But people prefer metal rakes as they last longer and might turn out to be more cost-effective.
Metal rakes do not crack easily and are more flexible than plastic ones. They can handle a wider variety of materials, including mulch, gravel, sand, and soil.
A disadvantage of a metal rake is that the metal tines tend to impale the leaves and cause obstructions on the rake head, which messes everything up, and it becomes frustrating to sort it out later. Aluminum is usually used to make handles as it is light in weight and does not bend when thrown around.
However, the advantages outweigh the disadvantages. Here are some:
Durability
Durability is the leading property of metal rakes, which is why people prefer them. Steel rakes are made from durable material, which increases its lifespan. You may have to buy more than one plastic rake in a year, but a metal rake will last very long. The most durable and dependable rake that you will find has metal tines and a metal handle.
Design
Metal rakes have attractive designs these days. Some come with a telescopic handle, which is operated through a small lever. This allows people of all heights to use the rake without any strain on the body. But metal rakes are more massive than plastic rakes, which may cause a problem. Therefore, you should keep in mind who will be using the rake before choosing a material.
Earth-Friendliness
Plastic takes a long time to decompose, and hence it is not environment friendly. On the other hand, metals have a longer life span, so the negative impact that they have on earth is shallow.
Year-round use
Plastic rakes are comparatively weaker, so you cannot use the rake further if the handle or tines break. You will have to buy a new one. Since metal rakes last longer, they can be used all the time in a year.
You may face some difficulty during winters as the temperature of the handle will be lower. Even during winters, there can be discomfort if your hands sweat and slide off the smooth handle.
Which Rake is Better for You?
Many factors will contribute to this decision, including your height, budget, fitness level, personal preference, etc. Shorter people may not have trouble choosing, but if you are tall, the chances are that you will need a telescopic metal rake.
One thing to keep in mind while choosing a metal or plastic rake is that some rakes have tines welded to the handle while others are glued. Some are also attached with screws.
Glued handles can come off any time, so you would want to go with a better-quality rake that has either a screwed or welded handle.
The brand is another factor to consider. Cheaper brands may give you metal rakes at lower prices. Some lesser-known brands offer unexpected quality and value.
Rakes are considered seasonal items (spring). You can find rakes at a sale during other times of the year. Talking about the rainy season, both metal and plastic rake respond nicely to water. The presence of water does not affect performance.
Some people always prefer plastic rakes while others love metallic. They have their reasons. So, a metal or plastic rake? This is a subjective question. Multiple factors should be considered. Whichever you choose, rakes are an incredible tool!