The first snowfall of the season is always pleasant, but it will bury your walkway and driveway soon. So, it is essential to be prepared for the next snowstorm. You can use a shovel but mind you, and it may take hours to clear even a small area.
That is why people like to invest in snowblowers. A snow blower is a machine used to remove snow from an area where it is not wanted.
Troy Bilt and Craftsman are two such brands that manufacture snowblowers. If you are looking for a Troy Bilt vs. Craftsman comparison, hang in there!
Snowblowers can use either electric power (batteries) or a gas or diesel engine. The energy is used for throwing snow to another location or a truck to be hauled away. Snowblowers come in various sizes – a small snowblower can remove a few inches of light snow, and a very large snowblower can move heavy snow up to 6 feet. Large snowblowers are mounted on heavy-duty winter service vehicles.
Snowblowers can be divided into two broad types: single-stage and two-stage. The difference is that in a single-stage blower, the auger directly pulls the snow into the machine and directs it towards the discharge chute. An auger is a paddle mechanism that is visible from the front of the machine.
On the other hand, a two-stage snowblower directs the snow from the auger into another unit called an impeller, which in turn directs it into the discharge chute. This snowblower is divided into two stages. 
A single-stage snow blower is unsuitable for unpaved surfaces because the auger contacts the ground. Two-stage blowers can handle deeper snow depths because the auger does not touch the ground.
Choosing the right snowblower depends on many factors like the average expectation of snowfall in your area, property size, design preferences, storage capabilities, etc.
Troy Bilt vs. Craftsman Snowblowers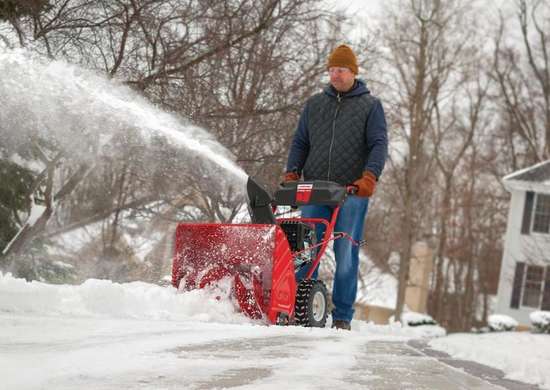 Troy Bilt
Troy Bilt was established in 1937 when they created a homemade rototiller. It changed how people looked at home gardening.
The company has the tagline 'Built for life,' and they stand up to the claims. Their snow blowers are no exception.
No products found.
They offer a wide variety of snow blowers from residential to commercial purposes. They have a long series of lawn care products.
Troy Bilt offers 27 gas-powered snowblower models. Different kinds of models include compact, single-stage, and two-stage, and large three staged machines.
Troy Bilt offers some series, namely:
Squall
This series is built for areas that receive light to mild snowfalls. The single-stage blowers can clear up to 3 to 9 inches quickly (in a smooth pavement).
Storm
These are two-stage models that can be used by homeowners as well as for commercial purposes. This is a more massive series, so you might want to make sure you can store the blower. The storm series can handle moderate to heavy snowfalls.
Vortex
The vortex series is the heaviest one. These are three-stage blowers that can chew through heavy snowfalls and have powerful engines.
They are not usually used for residential purposes, but if you live in a region that has very high snowfall every year, you may want to have them.
Advantages of Troy Bilt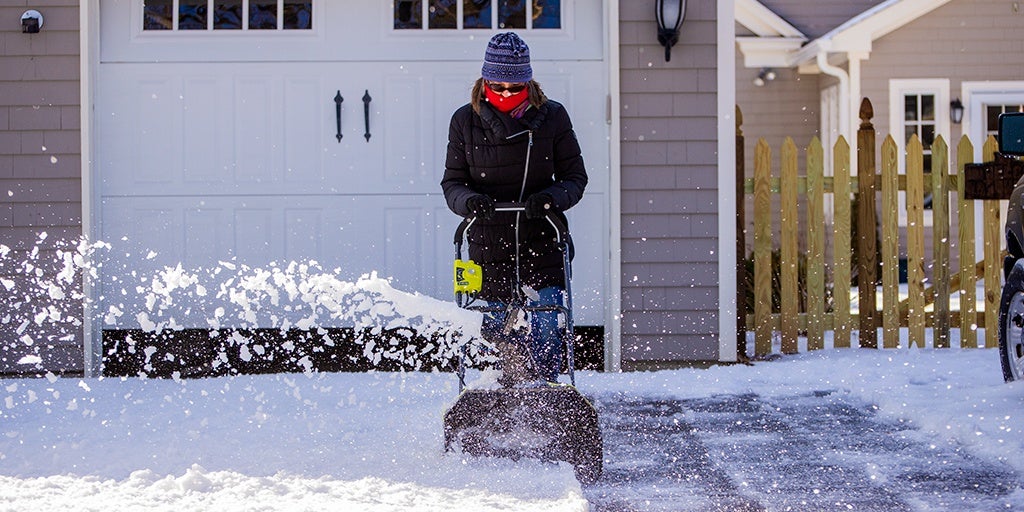 When we talk about Troy Bilt vs. Craftsman, Troy Bilt has a wide variety of models. They have manual, remote, and electric blowers. They also offer power steering, self-propelled drive, and one-hand engine control.
Headlights, track drivers, and heated grips will help you in the worst of the winter weather. You can use the machines over any terrain at any time of the day.
Customer Reviews
Troy Bilt has a good reputation, and it is a reliable brand, especially for outdoor equipment. But you may find a few issues from time to time. Even if the brand is reliable, such gas-powered machines need constant maintenance and part replacements. Engines may have gas, oil, or carburetor issues. Here is a customer review:
"It worked well for the first three years. The engine was a bit underpowered for heavy/wet snow, but it worked. Starting was easy, even using the pull cord when I had to clear the driveway during an electrical power outage.
From day one, there was severe RPM fluctuation with a full-open choke. This forced me to run it partly closed. I suspect this cost me some power, and it must have put quite a burden on the engine with heavy/wet snow.
In the fourth year, it refused to start off to the mechanic for diagnosis. He managed to start it, but the compression is low, and the engine is not worth fixing. Proper maintenance procedures were followed, but it did not matter.
The last storm of the third season was heavy/wet snow. I wonder if it overburdened the engine (which could only be run at 3/4 open choke because of the RPM problem that others have mentioned).
This machine has a few operational issues, but nothing could not be fixed with a better engine. No more disposable engines for me. Never again." 
Craftsman
One of the oldest and most reliable brands for lawn products, Craftsman offered its first-yard care product in 1934. They also offer a massive range of snowblower models, including electric, single, dual, and three-stage designs. Craftsman is a widely recognized name in the industry—Sears patent craftsman products.
A wide range of almost 14 different kinds of snowblowers is available with Craftsman. You can easily choose one as per your requirements.
No products found.
Gas-powered single-stage blowers are for light snowfall and home use. They have brushless motors. Electric single-stage blowers are compact and light and require an electric outlet nearby.
Though capable of handling only light to moderate snow, these do not require much maintenance. Two-stage blowers can be both compact and professional sized. They can handle moderate to heavy snowfall with ease.
Advantages of Craftsman
Craftsman's major highlight when we talk about Troy Bilt vs. Craftsman is Craftsman's multiple benefits.
Snow can quickly be removed with easy start options, and you do not need to prepare the engine. Power steering treaded tires and remote chute controls make the work even more comfortable. 
Craftsman offers a warranty of 2 years and a 5-year warranty for up to five years. Manufacturing defects are also covered. Their customer service is considered top-notch.
Customer Review
Since we have many added benefits, customers tend to get confused and wish for a single part. Here is a review:
"I've only used this snowblower twice. It is excellent at clearing snow, and it is easy to guide and operate when it is running. The problem is that it is very complicated and problematic to start, even with the electric start.
If you like to tinker with very temperamental small engines, this may be for you. But for me, having to coordinate the choke, throttle, and primer while trying to start it is ridiculous in the 21st century. Why can't Craftsman create a small engine that starts? For the starting problems, I rate this snowblower 1 star." 
Most of the engine problems are related to fuel or operator related. Snow engines work a little differently. It is advisable to study how the fuel should be stored, how it should be kept clean etc.
Craftsman has two popular snow blower models that are inexpensive. They use the same quality parts but do not have many features. Model 88789 and model 88781 are one of the best value providers.
Bottom Line
Troy Bilt vs. Craftsman is a tough fight. Both brands have proved dependability and quality over time.
Troy Bilt has more variety, while Craftsman has spectacular features. Troy Bilt also has an edge when it comes to comfort.
But it depends on your personal choice more than anything else. Notice what you want, read online reviews, and get the best option out there!