I'm going to focus this week on sheds and how to organize them.
I've mentioned before we had planned to move before this housing recession kicked in. Part of the reason (other than needed more room inside) was that we needed more garage space. We have a two car garage, but we have five kids, about seven bikes, five cars (4 drivers) and of course all the other stuff you accumulate in a garage.
We found out that we were allowed to have sheds. We thought with our home owners association that we weren't able to. We had to submit the shed, it couldn't be metal, had to match the house and couldn't be larger than 10×14 ft.
We headed to Amish country and picked one out that was 10×14′ since we needed as much room as possible. We also had a fence that was going to be put in for the dogs.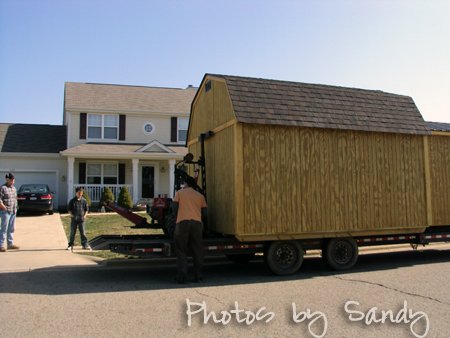 I will be showing you this week how I organized the inside of our shed to make it much more usable.
I was in Florida when they delivered the shed, so one of the kids took these pictures of the delivery. Here it is being delivered. It is the larger one of the two on the truck bed. Notice my house in the background. It is a tan with just a hint of yellow in it. The trim is white. The doors and shutters are a deep purple-brown color (that I haven't been able to match so that we can repaint the door) Trying to figure out what color to make them. Suggestions?
It only took one Amish man to unload it with this little cart thing they used.
He just drove it up the driveway Dave had dug out a place and leveled it the best he could in the back yard. He also put down plastic for weed guard.
Dave primed it, which wasn't easy. It was already stained. It took him three gallons of primer and took several hours.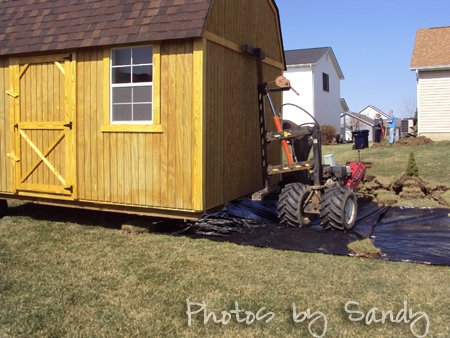 shed primed It stayed like this for a few weeks. We had it delivered on March 19th and it wasn't until this weekend that we were finally able to get it painted. The rain and cold have been terrible in trying to get it primed and painted. But we finally had one nice weekend day that Dave was able to complete it. (Almost, the trim at the top needs a 2nd coat and the window frame needs another coat.
He is also going to put a ramp in on the double door side. I'm just thrilled to have it basically finished.
I can't wait to show you the inside this week! I'll be doing it in stages throughout the week. Do you think we just piled everything in to this completely empty (bare of shelves etc) shed? Oh no!! Just wait!
I am hoping to get to my garage next week, but I have a major project planned for part of it. I am able to have a mud room now that we have cleared a lot of stuff out of it. That is going to require some big time man hours from me, and
I don't know that I will have them this week. So it might be a few weeks before
I can show you the garage.
(I'm going to add my double the featured guest blogger next week – sorry I didn't get them in today)