I was very excited to review this EZ-Twist Paintstick by Homeright. I have several areas I am going to be painting in my house. I was starting with my dining room.
I was being dared with colors in my room. I remember a friend who had a room that was periwinkle and I loved it. Trying to find the right color was the hard part. Bright enough, and that combination of blue and purple that isn't too strong one way or the other. I ended up going with the color on the left. The lighting really effects it.
paint samplesI watched the videos that I was sent of the paintstick being used and I was psyched! This looked awesome! It was so easy and fast!
When the box came from HomeRight I had a few other things to review also! There was a Quick Painter and Quick Mask and a Paint Sprayer (which is not part of the package being given away today – I will review later once we can try it)
The Quick mask is a combo tape and drop cloth for edging.
It is set up like a roll of packing tape with a sharp edge to cut.
This was nice. You can tape along the edge and then pull out the drop cloth. It isn't a full room drop cloth.. just edging. You just have to be careful that you don't pull it on the sharp edge side.. (just sayin'.. not that I might have done it or anything, but if you were to do that I bet you would tear the drop cloth. LOL)
I also used it on the edge of the windows.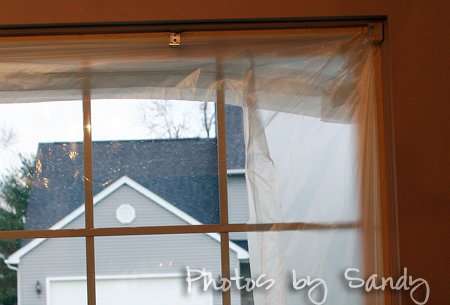 It worked well although I had to be careful around the corners. It didn't always stick as well there and I had to fix it on most corners before I painted them. But I don't know that it was much different than most other tapes I've used in the corners. I would use it again. It was nice to have the drop cloth along the edges. They also included the Quick Painter. I have used a tool similar (the red handle one) and really liked it. But this had a tube to load, so it seemed really convenient. There was not a roller edge, so it didn't work for the ceiling edges, but it was nice especially around the window edges.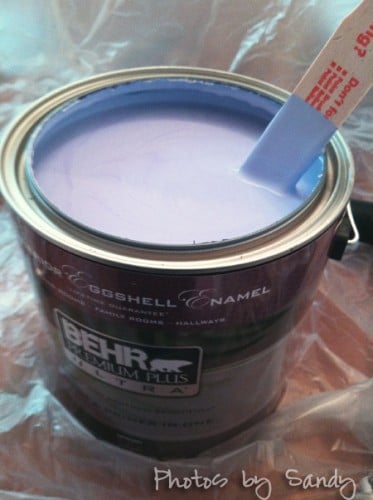 There was no problem loading it up.Just fill it up like a squirt gun.
Once the paint was loaded it was very easy to manage.
I did learn that you have to be careful when you push the little pump handle to get the paint flowing. I first tried it when the brush was not on the wall and it came flying out. Thank goodness for my Quick mask drop cloth! Really!! The trigger seemed a little touchy. Not hard enough and I had to paint over things a couple of times because I wasn't getting enough paint. Just a little too hard and I had too much with several big drips down my drop cloth to prove it.
But when I had the right amount, it worked great. I think it just takes a little getting used to the "feel" of the trigger for it to be a fantastic tool.
Now for the EZ-Twist Paintstick! Please be sure to watch the whole thing through. I did have some trouble with it… but for my husband it worked with ease.
I also think a big factor may have been that the paint I used was very thick. I got the Behr ultra paint with primer all in one. I think next time I will use a thinner paint and I bet I would have better results.
behr ultra paintI want to point out that the splash guard around the roller is very nice. You don't get the splatters that you get with a traditional roller. If you noticed, my husband walked in wearing his coat and didn't take it off while he tried the paintstick. He didn't have any paint on him.
The paint in the handle goes pretty far. That was one of the things I wanted to see. How far one "handles worth" goes. It holds 18 oz of paint and will paint a 8′x8′ wall according to HomeRight. I do agree that it did seem to go a long way on the 2nd coat.
You don't have any paint trays to worry about sitting around which is really nice.
I would advise you to follow the directions and white down the roller first and let it dry. There is a bit of lint on it if you don't, but it is explained in the directions that wetting it down first and letting it dry will help solve this issue.
I can recommend this after watching my husband use it. I think there is a bit of a learning curve, and I would advise you not to use a really thick paint with it. I think that was the main problem for me.
You might want to go to the HomeRight FB page. There are many people who have taken their EZ-Twist paint challenge and did not have the difficulties I did. I just watched some more myself and keep wondering why I had such troubles.
To Enter to Win one of TEN Ultimate Home Painting Kits!
These kits will include the EZ-Twist Paintstick, the Quick Painter and the Quick Mask like I showed you above.
Tell me: Why you need painting done around your house? **Be sure to come back here and leave me your answer in your comment. Your e-mail has to either in your comment or on your profile.
FOR EXTRA CHANCES TO WIN:
**Each of these HAS to have a separate comment to win. The winner is picked using Random.org. It just goes the number of comments….not by what you say.
1) Post a picture of the room you would like to paint on my FB page saying "This it the room I want to paint with the EZ-Twist Paintstick." (5 chances to win, be sure to leave the link and make 5 separate comments below)
2) Subscribe to my Organize with Sandy blog This is for 1 chance to win!
3) Follow me on Twitter @OrganizerSandy (Leave me your twitter name) 1 chance
4) Stumble one of my posts for 5 extra chances to win. (tell me which post. Post 5 comment entries)5) Tweet this out up to 3 times a day. You can use the tweet button at the top to make it easy. ( Pls leave your url link) 1 chance for each tweet
This contest will run until 11:59pm est on Thursday , May 12, 2011
Any comment that comes in after the above time will be deleted. This is open to US mailing addresses only. One person per mailing address only. Winner will be chosen by Random.org
If you are chosen as one of the 10 winners, I will ask you if you would mind if the rep from HomeRight contacted you. They would love it if you wanted to post a video for their FB page on your experience. But this will not be a requirement and I would not release your information without your permission.
You will have 48 hours to reply to my e-mail if you are picked as the winner, or else I will go on to the next winning number.
I was given the above paint system to review. The pictures and videos and opinions are my own.
Also be sure to enter my other Painting supply giveaway going on until May 2, 2011