It's spring 2022, the perfect time to have a landscape makeover for our yard! In the past year, we have seen the rise of many home design concepts and these have spilled over to this year. Here are some trends and movements you just will definitely not want to miss out on in applying on your home exterior:
Starting of With the Classics: Wood and Cobble
Horticulture trends for 2022 lean toward the traditional, the artisanal, and the rustic, so gardens lush with low-growing fruit trees, herbs, and vintage or retro flowering plants are no surprise. What better way to complement your yard, then, than to make use of the classic materials?
Cobble has been one of the oldest and most traditional paving materials for outdoor landscape. Cobbles come in neutral and natural grey, so it works well with any splashes of color from your trees, shrubs, plants and flowers, enhancing the rustic atmosphere.
Wood also has a similar effect: it has neutral tones that complements the earthy and natural surroundings. Rather than as footpaths, however, wood has to be treated so it doesn't rot or deteriorate. It, however, makes good floor area for spaces like a patio or an outdoor office, which tend to be drier, well-bordered or roofed.
Nature Meets Tradition
There is a distinctive resurgence in traditional style among home design for the past years, but this year we get to take it further by incorporating nature concepts. Plant shelving, climbing plants, and traditional horticulture have interspersed with open areas of activity like an al fresco kitchn an outdoor office, so the next step is to make use of materials that complement the overal natural look.
This is where natural stone tiles come in. Originally used for round pools, ponds, and some luxury spas and springs, they look elegant, blend both sleek modern and earthy natural, and are sturdy to walk on. Better yet, make them textured or brushed for added aesthetic interest.
Wooden floors also make good paving design as it blends well with the natural environment. Take it to another level by using herringbone or tumbled block arrangement to add character to your yard.
Curves and Circles
Biophilia is the coined term to denote this sense of security stemming from the harmony between tradition and nature, characterized by making use of natural materials, colors, and cyclical or spiral shapes.
Take the usual stone slabs and tiles in your yard to another level and arrange them into curves, spirals, and curls. You may even produce a Van Gogh-ish or Arabesque effect by making use of the classic cobble or brick.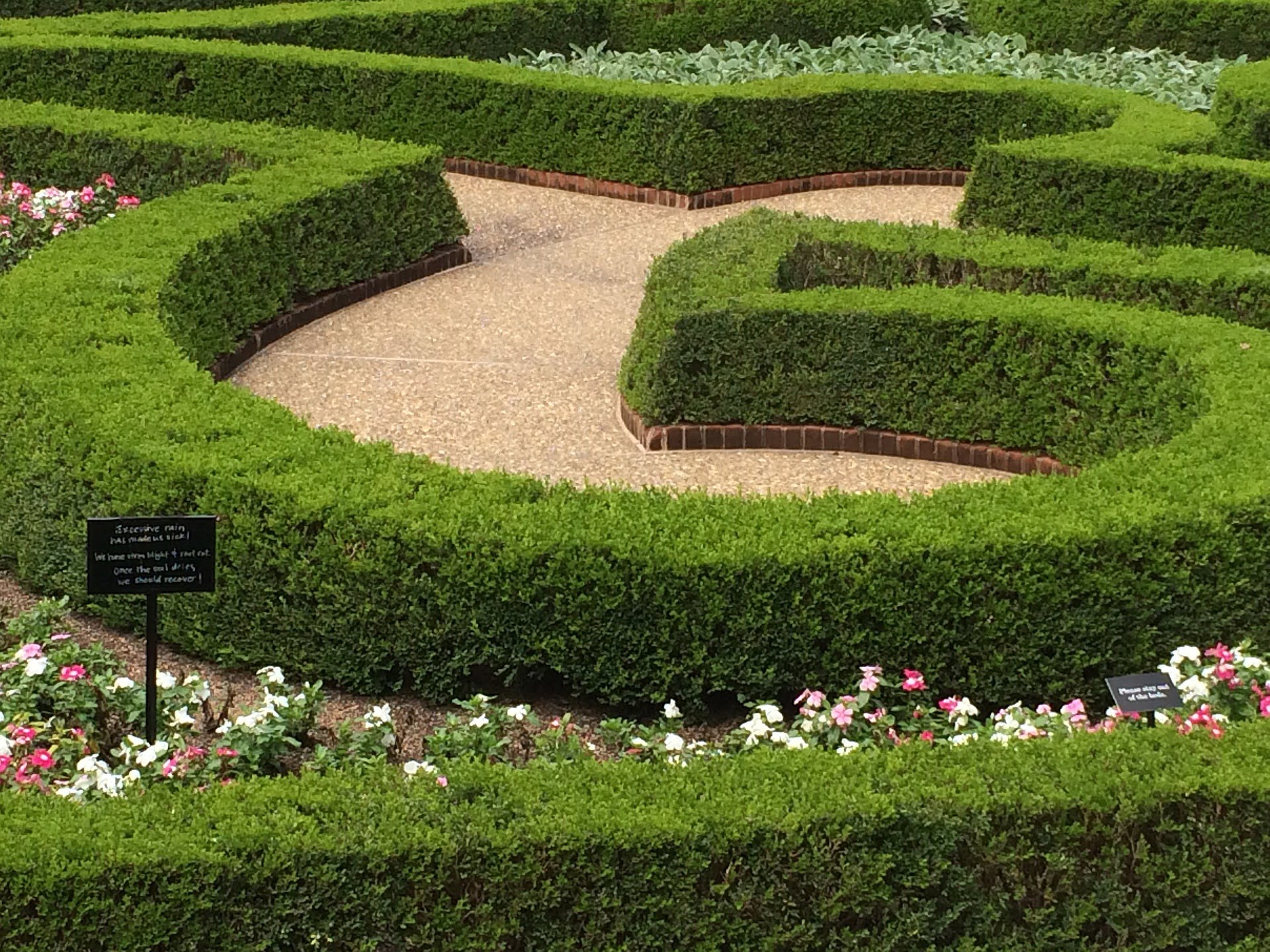 Japandi: the Natural Minimalism
Last year we've seen the rise of Scandinavian design that makes extensive use of earthy and neutral tones, minimalist light fixtures that emit strong lighting, and patterns that emphasize simplicity and functionality.
This year, Scandinavian meets Japanese minimalism to create Japandi, a marriage of functionality and form that takes advantage of natural lighting, one or two earthy or neutral tones, and (yes, you guessed it) our inclination towards biophilia.
Recreate your garden with this trend by making use of one neutral color on your pavement, taking note of natural lighting or a similar nighttime version of it, and tonal variations. Since Japandi revolves around the element of water, make use of a small pond or pool, smooth pristine glass, rockscapes, or earthenware for added point of interest amidst the uncluttered design.
Front Lawns
With COVID restrictions abound in the past years, the need for social exposure and interaction gets reflected, in a sense, in our home's landscape. Front yards, therefore, are no longer just limited to open expanse of grass. Try putting up walkways bordered with rocks and pebbles for a clean and minimalistic look. Have your pavings encircle or curve around garden or grass patches for a sense of variety and illusion of space.
PLUS: Low Maintenance Paving
With activities and business resuming and even picking up after a couple of pandemic years, we may find ourselves having less time to concern with cleaning up the yard. Good paving needs only a spray of water and a couple of minutes, followed by natural environmental lighting and heat to dry the surface area without spending so much energy or electricity. What better paving to use for both minimalist and biophilic designs than low maintenance materials?
No Idea is Too Big
Creativity and sustainability are the keys to having great paving in your yard this 2022. You don't have to go look for tile, brick or concrete suppliers to get your yard paving done. You can repurpose materials from demolished sites, slate from dismantled roofs, or make use of old garden paving to recreate a new one.
You also don't have to do the paving project alone. Work with professional contractors that can also help you take care of your home exterior all-year round, even for holidays and gatherings. The guys right here at Heroes Lawn Care , for example, offer paving and landscape services that includes lighting and garden fertilization. This way, no garden and landscape idea is too big or too heavy.