When it comes to a Smokeless Grill, many people have many questions about their work, quality, and whether they work or smokeless.
In this guide, we will be discussing all the questions that generally pop up in peoples' minds. Also, we will dig deeper into the concept of the smokeless grill and how they work.
The first and foremost question that comes to customers' minds is whether these power smokeless grills are too good to be true.
What is a Power Smokeless Grill?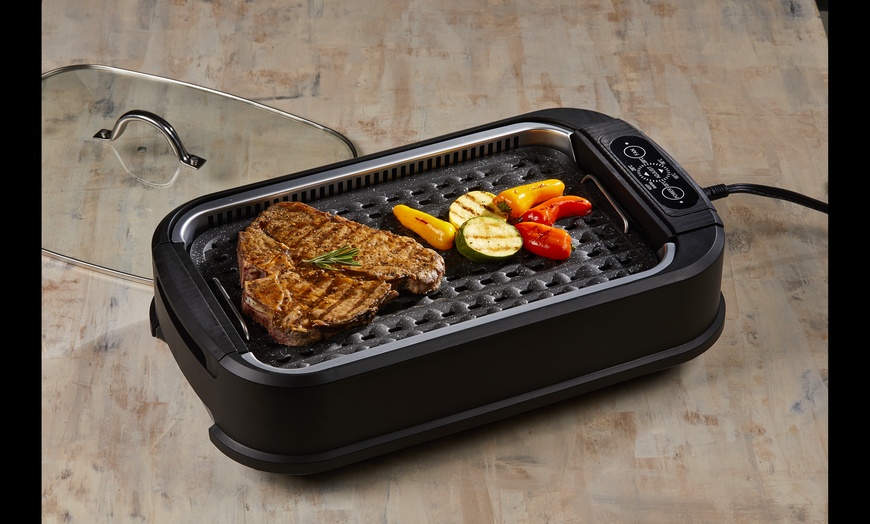 Many people are not aware of the concept of Power Smokeless Grill. First, a Power smokeless grill is mainly used in the kitchen that uses a nonstick grilling surface to grill the food indoors.
Also, they run through electricity and do not provide smoke, so everyone wants to purchase one for their kitchen.
The Smokeless Grill directs the way of fats and oils to the underneath of the drip pan, and thus it disposes of them before producing smoke. Also, the food made using this smokeless grill is a lot healthier as it does not have a smoke, and thus it is healthier than usual food.
It is easier to clean the grill pan because there is no smoke, and thus it would not be so tough to clean the pan.
4 Most Popular Smokeless Grills
Here, we will be discussing some of the most popular Smokeless grills used in almost every kitchen. These power smokeless grills are called the most popular because of their iconic features and the quality of work.
The ceramic surface of the pan is excellent for grilling and cleaning. It saves a lot of time while cleaning them as cleaning is much comfortable with this disposable tray.
Gotham Steel Indoor Smokeless Grill
It has a nonstick ceramic surface that provides enough heat for your food to be cooked and gives you a nice cooking flavor. It also comes with a handle to carry the device along with you wherever you take it.
The cooking surface is broad and large enough to place more than enough food over the pan's surface for heating. Also, it does not produce smoke, which is why food quality does not get affected.
It comes equipped with a removable pan that helps you clean the pan in no time as the disposable waste can be directly thrown in the trash bin. More so, the size of the frame is broad, and it also includes a carrying handle.
It maintains four temperatures: low, warm, medium, and high heat. You can adjust the grill temperature according to your use, and it provides a friendly environment so that anyone without having prior knowledge can use this device.
Hamilton Beach Power Smokeless Grill
Another right choice of a power smokeless grill is none other than this Hamilton Beach Power Smokeless Grill. This is a virtually smoke-free grill equipped with a water-filled base mainly designed to reduce the quantity of smoke produced.
It can be used for grilling indoors or outdoors. Still, it would help if you kept this in mind before using this because it gets heated up quickly, and that is why you will have to make sure while using it that you do not hurt yourself.
The grill size that it offers is large and broad enough to be called a family-sized grill. It is a 125 square inches long heat surface that is more than sufficient to put food. It is also suitable for foods that are relatively heavier and produce more smoke.
The most iconic feature of this power smokeless grill is that the temperature can be adjusted. It offers four different stages of heat that you can decide according to the use.
Ninja Foodi Pro Indoor Power Smokeless Grill
You can have another right choice if you are looking to purchase a power smokeless grill for your kitchen is none other than this premium Ninja Foodi Integrated Power Smokeless Grill. It is one of the best choices you can have if you are looking for something relatively affordable.
It is integrated with the smart probe that will make your work a lot easier, and also, it will save a lot of your time. You can independently cook food with the integrated smart probe facility that will heat the food to a specific temperature making them super-hot with its new cyclonic technology.
It also has a wide temperature range and a variable fan speed to heat and cool down the temperature according to the food prepared. Also, you do not need to probe the food to make them heated thoroughly continually. It is something that will be done automatically with its cyclone technology.
It also has an intuitive digital technology that will let you choose a cooking function that will suit the type of food you are trying to prepare. It also eliminates the smoke produced when the food kept over the pan is more decadent and fattier.
Power Smokeless Grill with Tempered Glass Lid
One of the best decisions you can make is purchasing a smokeless grill is by considering this power smokeless grill with a tempered glass lid. It is one of the best choices you can have if you are looking for something relatively affordable.
It has a second cooking surface that will make the work a lot easier for you. The power grill surface includes a ceramic plate and a nonstick surface so that the food does not stick with the surface, making it easier for you to clean the mess.
Is the Power Smokeless Grill Good Enough?
So, the first and foremost question that arises in everyone's mind is whether this power smokeless grill good enough to be used in the kitchen. The answer to this question is that it is good enough for use in the kitchen.
The Slanted and nonstick grilling system that it carries is suitable for grilling food without exhausting smoke. However, it produces a little bit of smoke when the meats are fattier.
The power smokeless grill is good enough not to produce a large amount of smoke, even when it is fatty meat. Generally, it does not produce smoke if the meat is chicken or some fewer fatty products.
Also, if the food is fattier, then it produces a small amount of smoke that we can bear because it does not harm us or the food. So, in general, a power smokeless grill is good enough to be purchased.
Who Should Buy a Power Smokeless Grill?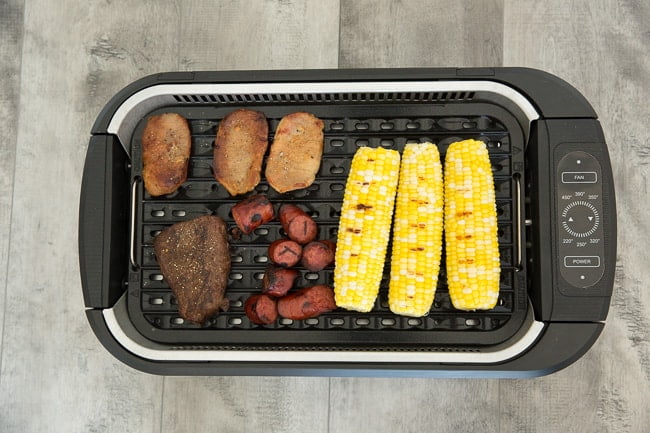 The most important thing about a smokeless grill is that it is not suitable for each place. Ideally, it requires a small room or apartment or patios. However, the grill is suitable for both indoor and outdoor use as it uses a nonstick grilling grate that comes equipped with a disposable tray to dispose of the waste. Also, it saves a lot of your time in cleaning the pan.
This power smokeless grill is perfect for those who love to feel the grilling experience but could not keep the traditional one. This Power smokeless grill is suitable for small spaces. And it can climb up to 500 degrees in just five minutes! The removable disposable tray equipped with the device makes the work a lot easier than any other grill and saves a lot of time.
It is efficient, easy to understand, and comfortable when using them. A person with no prior knowledge of handling such devices can easily use this Power smokeless grill without any worries.
Also, another important thing about this power smokeless grill is relatively affordable. Hence, it is the right choice for your kitchen.
Power Smokeless Grill Reviews
A Power Smokeless Grill is a kind of device that should be there in every kitchen because it is one of the best cooking devices that will provide you smoke-free and good quality heated food.
It comes with different new technologies equipped with them, and they certainly provide better cooking quality and save a lot of your time. However, if you think it can harm you with its heating capability, you are wrong.
The Power Smokeless Grill can be used indoors as well as outdoors. However, if you do not have much space in your home, you cannot go for the traditional one.
But you can always choose the new Power smokeless grills that are easy to lift and to be kept anywhere in the house.
They also provide some good technologies to heat the food and reduce the smoke that is exhausted.