"Rain Rain, go away, come back another day" goes a popular nursery rhyme. With schools closed for the rain or the snow, it becomes troublesome for children to kill time at home. While some parents struggle to keep children entertained, some parents resort to playing indoor games. These games not only utilize the energy of restless kids but provide entertainment.
Apart from the traditional pencil and paper games and the building blocks, 'Simon says' keeps children equipped and active indoors. This game is easy and can be played anywhere, in a classroom or at home, to fill the room with laughter. However, it might get difficult to think of confusing and creative Simon actions now. So, we suggest keeping a list beforehand.
'The more, the merrier; Simon says, requires a minimum of three people, but a large group will bring in more fun. 'Simon says falls as a typical game. It entertains you both indoors and outdoors, at beach parties, during car rides, and much more. Just listen when "Simon" gives you an activity. If "Simon" asks you to do something, you better do it fast. However, if the leader does not say "Simon" and the player still does the task, he is out.
Gameplay
One person is the "Simon" while the rest are the players. Simon stands ahead of the group and instructs other players what to do. The tasks might be as funny as crying like a baby, acting like a monkey, playing the air guitar, or smelling your feet.
If Simon asks you to hug yourself, then you do so fast without fail. On the contrary, if Simon does not say his name and only says 'run; players should not run. Those who run are out.
Follow the tasks and stay in the game if possible. The last standing player wins the game and becomes the next Simon. If you are Simon, the goal is to confuse the players to do tasks when they should not.
When To Play the 'Simon Says' Game?
Play the game when restless kids are stuck at home during the snow or rain. The game is a great idea for quick breaks in classrooms. You can play the game on trips, vacations, sleepovers, family get-togethers, and parties, or use it as an icebreaker.
Play With a Theme
You can choose a theme for 'Simon says' and play accordingly. There is Simon Says Clipart available online. During holidays or festivals, the leader can change the name from Simon. For example, during Valentine's Day, you can call it 'Cupid says, or 'Uncle Sam' says during the fourth of July. You can play a sports-themed play and incorporate various fun but tiring sports activities. For example, a volleyball version may have tasks like block, dive, defense, or shuffle.
Benefits Of the 'Simon Says' Game
Body Awareness and Motor Development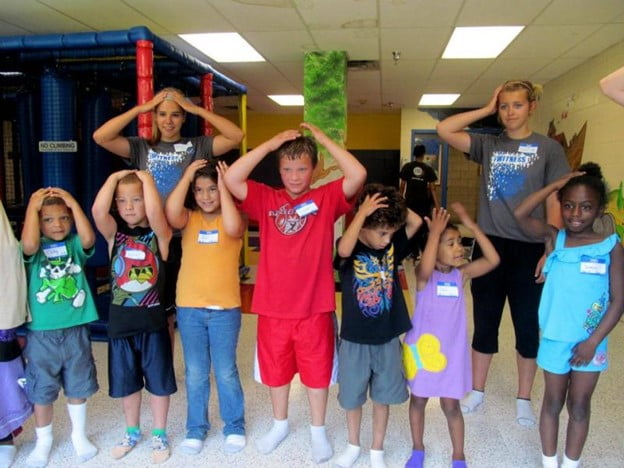 The game is an excellent way for a child to observe a demonstrated position and learn more about his body through replicating it. The game can even include motor skills like balance and overall coordination. Learning and labeling body parts is an added benefit of 'Simon says.
Develop Sportsmanship
This game allows children to learn about 'losing' within the comforts of the home. Take turns to play the leader and reinforce the child back to the game.
Follow And Give Instructions
Work on sequencing by increasing the difficulty in multi-face directions. For example, "Simon says roll and sit down."
A Memory Booster
The game will help your child to process multiple instructions and learn them at the same time. It will help your child memorize lessons and improve his brainpower. However, to boost memory from the game, always say 'Simon says' so that your child can focus on remembering rather than listening.
Vocabulary
Make your child the leader so that he must think of commands to tell. The game will improve his vocabulary.
Final Word
'Simon says' is a great playtime activity that modifies to suit your purpose. For example, if sequencing is not something you are working on right now, give plain commands. You can include props like visual boards, ropes, and crude pebbles to increase the fun and improve the game.