Most people get confused when asked to decide between the type of light pattern they want to have in the light bulb they will purchase.
It becomes quite difficult for the person to determine whether he needs a light bulb that brightens a broader area or flashes for a longer distance.
It is also confusing for a person to know the light pattern bulb would emit just by looking. However, once we switch on the lights, things get quickly into consideration.
So, this is when the difference between spotlight and floodlight comes into the picture and helps you choose the perfect product that would fulfill all your requirements and prevent you from buying the wrong product.
Beam Angle
The type of light pattern that a bulb emits depends upon the beam angle of the light bulb. The light beam produced from any light source comes in the form of a cone that spreads along as it moves on further.
A light bulb's beam angle decides how wide the light will spread across an area or how far the beam of light can go. It can safely be said that the narrower the bulb's light pattern, the farther the beam of light will be projected.
Difference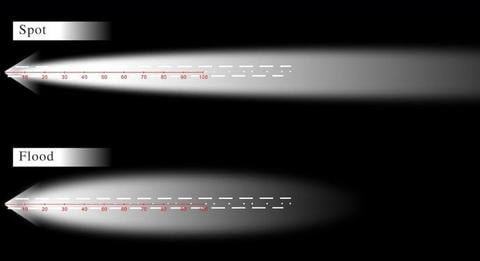 If the light source's beam angle from the cone makes an angle that does not exceed 45 degrees, it forms the spotlight pattern, whereas the floodlights have a beam angle that can go up to 120 degrees. The more significant angle allows the floodlights to brighten a wider area of a smaller distance that enables them to see nearby objects.
When compared, the spotlight and the floodlights are the same. They differ merely in the light pattern, or we should say how the light is projected from the source. As the name suggests, floodlights emit shorter and broader light patterns, making it best suitable for illuminating a smaller area.
Whereas the spotlights are designed to illuminate a longer path of the area; however, the beam of light is much narrower, making it easy for the person to see distant objects.
However, in different circumstances, each of them plays an essential role in providing optimal visibility conditions. In most settings, both spotlights and floodlights are used together. To determine which light pattern best suits your use, you must know where and how the lights will be used.
Spotlights
Smaller in size
The beam angle of the light emitted is narrow
A concentrated beam of light 
The spotlights are used to project a narrow beam of light, usually to focus on a particular object. The spotlight's beam angle is less than 45 degrees, making it easy for the light emitted to cover a more extended area.
However, the coverage of the spotlight is not wide enough to be used alone in a setting. Since the light patterns of these are more concentrated than that of the floodlights, it becomes easy to control the beam of light or change the light's direction.
Sale
BUYSIGHT spotlight,Spot lights hand held large flashlight 6000 lumens High Lumens flashlight side light Lightweight and Super bright Lantern spotlight flashlight (Aluminium_Alloy Black)
Super Bright Large Flashlight Spotlight Main light& High lumens Flood work light side light with Red&blue light warning function: 6000 lumens Powerful CREE XHP-70.2 LED Beads with 3 brightness modes: strong, weak, SOS makes it a long-life spotlight flashlight high lumens. Multifunctional side light allows you to use it as a camping light&warning light in fog and haze weather.
New Design Switch&Aerospace Aluminum Alloy Shell: Bigger size and softer material makes our new switch easier to press and gives us a comfortable hand feeling.New pilot circuit shortened the reaction time and increased the service life of the switch. Made with Solid but light metal,our handheld tactical flashlight is perfect for your long-term use in various outdoor scenes without tiredness. Compared with other Rechargeable Searchlights, our large flashlight is not easy to break and crack.
Life-Time Guarantee &24-Hrs online after-sale service:Our BUYSIGHT rechargeable searchlights are tested to be up to the standard of 1000 cycles Battery life& 100,000 hours bead life. We have managed to reduce the rate of faulty items considerably, but not yet completely. We feel very bad about it and are actively working on solutions. If you receive a defective product, contact us and we will immediately send you a replacement unit for free.
Outdoor Camping Flood Working Light Mode(With bracket);Straps Mode;Hand-held Mode:When you go camping and barbecue,our camping flashlight can perfectly set your hands free.When you walk a dog,our shoulder trap can prevent rechargeable spotlight from falling.
Large Capacity Rechargeable batteries&Emergency Portable power supply: Battery capacity up to 9000mAh can give you a long outdoor working time . Smart multiple protection (overcharge/ over discharge protection) can keep it safe and steady when you use it as a mobile power to charge your smart devices.
The spotlights emit a narrow beam of light that makes it easy to focus on an object and reduce glare. Spotlights are used mainly to highlight a small area on which you want to attract people's sight. You can use them as ambiance lighting or highlight any building's architectural details in a commercial setting.
Places of Use
Spotlights have numerous places where they can be used. One can very easily find the usage of a spotlight in their day-to-day life. The study table lights also use the spotlight that makes it easy to focus on a particular place.
Police cruisers and the army need a concentrated narrow beam of light to illuminate distant objects. Thus, these vehicles have installed spotlights that enable them to see distant objects and act against any suspicious activity. Commercial vehicles are equipped with spotlights for superior guidance of the path.
Cars use the spotlights under the name of the high beam to identify obstacles ahead in the way. Spotlights in vehicles are not limited to illuminating the path; they also play a role in alerting the drivers and the pedestrians in the dark to reduce the chances of an accident.
Other than vehicles' use, spotlights are widely used for home decor to highlight specific areas and grab the people's utmost attention. These are also used in museums to highlight artifacts and seize people's attention to the paintings in art exhibitions. Spotlights can be seen in theatres where they focus light upon the specific character.
Types
Compared to the floodlights, Spotlights are smaller in size, thus very handy in use. They are used for indoor and outdoor lighting; look for a different spotlight that would complement the area.
Depending on the type and place of use, people can come across numerous styles and designs of spotlights available in the market.
Floodlights
Bigger in size
Illuminates a wide area
Large beam angle 
The name itself clarifies that these types of lights flood a wide patch of the area with illumination. The beam angle of the floodlights is greater than 45 degrees. They go up to a maximum angle of 120 degrees, making the floodlights capable of illuminating a total land area with a similar voltage and lumen.
The floodlights are competent enough to lighten up a wider area. These lack in illuminating the distant objects as the floodlights' light patterns are not concentrated on a specific region as they are short in range.
Sale
Mr. Beams MB3000 High Performance Wireless Battery Powered Motion Sensing LED Dual Head Security Spotlight, 500 Lumens, White, 1-Pack
The dual head spotlight provides 500 lumens of bright light for large, Dark areas
Customize the bright LED light coverage area with two adjustable heads that pivot 180 degrees up and down and 135 degrees side to side
The LED security light activates when it detects motion from 30 feet away and automatically shuts off 20 seconds after motion stops to prolong battery life.
Install the wireless LED spotlight in minutes with the included screws anywhere light is needed, including garages, doorways, sheds and fences
The durable and weatherproof design make this wireless outdoor security spotlight ideal for outdoor use
The wider beam produced by the floodlights makes it optimum for usage in most cases. However, due to the immense size and the light patterns emitted, they are not as handy and easy to control as compared to their counterparts.
The beam of light coming out makes the vision a bit glary and fails to lighten up a long path. As the limit to make distant objects visible is very low for floodlights. These lights are used in places where there is a need to provide lighting that covers a larger space.
Places of Use
In places where the regular lights are not capable of lighting, floodlights come into action. These can provide artificial lighting for a wide area because of the beam of light they emit.
Floodlights have many uses in different fields and have several applications. The floodlights have significant usage in factories and big scale industries where they ensure machines' proper working.
Also, they secure the workers preventing any accidents due to low visibility. In the case of security, floodlights play a very crucial role. They highlight the walls and the boundaries, which ensure good security surveillance even in the nighttime.
The cars are also equipped with floodlights under the low beam, whose purpose is mainly to let the driver see the nearby potholes or obstruction.
Because of the floodlights' broad coverage area, they help the driver have a clear and comprehensive sight area. The floodlights play a crucial role in sports; the night matches are made possible only by the floodlights.
Several high lumen output floodlights are fixed on a long pole that makes the stadium's lighting like that of the daytime. Larger areas such as parking lots, warehouses, driveways, stages need floodlights to lighten them up.
Types
Considering the large size of these lights, they make efforts to fix them on the spot desired; thus, they are not handy enough. They are mostly used for outdoor lighting purposes.
Therefore, not available in various designs and styles; however, one can find them in different sizes based on the purpose and place of use. They are multiple models of floodlights that come with numerous bulbs fixed in them, ensuring good day-of lighting.
A few of the bigger ones come along with a motion camera-equipped within, which provides proper surveillance.
How to Choose
If your requirement involves large halls or walls and boundaries, you should go with the floodlights as they are best capable of illuminating more expansive spaces. Also, the purpose of surveillance is fulfilled with perfection by the floodlights.
If you need to highlight any object or have a purpose that requires visibility for an extended range of areas, you should bring the spotlights into your consideration.
There are also places where the two go hand in hand. Both light patterns combined help in various areas ensuring proper work. Cars use both flood and spotlight to provide visibility in fogs and other low light conditions and identify potential threats from a distant range.
Both the spotlight and the floodlight have their specific usage conditions. One should consider all the requirements before making a purchase; the use and place of application of the light should be kept in mind.