I found the pouchee purse organizer several years ago and liked it so much that I began selling it myself. There are many purse organizers out there. I have seen and tried a few other ones. The problems I have had with those are that they are either too big, bulky and expensive or that they don't have any handles and they are just pockets that line the inside of your purse. Those tend to fall down and get pushed to the bottom of the purse.
The pouchee has two ring handles. They fold down to stay out of the way.
The handles make it really easy to grab the pouchee and either carry it by itself into a store so that you don't have to carry your heavy purse on your shoulder or to lift it out of your purse and switch it from purse to purse when you change your outfits. I don't do that myself, but I know many of you do switch your handbags often to match what you are wearing.
There are several features to the pouchee that help you to organize your things.
poucheeThere is a divider down the center. I keep my checkbooks on either side of the liner. I can fit all 3 of my checkbooks into the pouchee. There is a zipper pocket for change or personal items.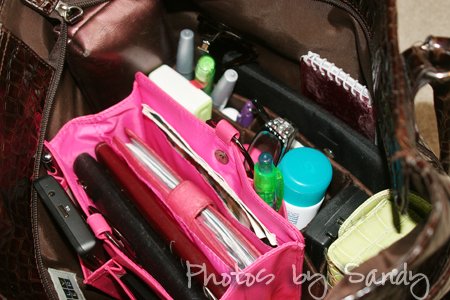 On the other side is another pouch that you can put your money, pictures or papers
The front has slots for discount cards, business cards etc. You can put a pen where I have it, or a pair of thin glasses fit nicely there too.
The other side of the pouchee has two pockets. Cell phones (Droid X and iphone do fit) There is also a pen slot on this side of it
You don't have to have a big purse to use the pouchee. It works for smaller purses too. Of course not the really small purses, but compare it to the size of the checkbooks that fit in the pouchee.
It is an awesome way to transfer your essentials if you don't want to carry a purse and a diaper bag or purse and gym bag. Just pull out your pouchee and put it in your diaper bag or gym bag and you are ready to go.
Again, I don't make the pouchee, I didn't invent the pouchee… but I do sell the pouchee it because I love it!
**For my readers I have a special going on only through March 31, 2011. You to my pouchee store. If you add the code "ORGANIZED PURSE" you will receive a 10% discount. Keep in mind that I already have my pouchees priced lower than most other sources. This code will also work for the Card Cubby
Here are a couple other reviews of the pouchee that you can see.
Toni from A Bowl Full of Lemons
Monica from Your Life Organized
Be sure to watch for the rest of my posts this week:- (Part 1)
Purse Organizing – Part 1
Purse Organizing – Card Cubby (Part 3)
Purse Organizing – All those purses (Part 4)
How is your purse organizing coming?
I want to see your purse organizing! If you link up your purse post to my linky party and it is of your purse organizing, I'll pull a picture and add a link to the part 1 Purse Organizing post too!
I'd love for you to link it up to my Organizing Mission Monday Link Party
It will be open until March 27th to link to.