I attended the Walmart Grand Opening as a member of the Collective Bias® Social Fabric® Community. This shop has been compensated as part of a shopper social amplification for Collective Bias and it's advertiser. #GOWalmart #CollectiveBias #WMT2774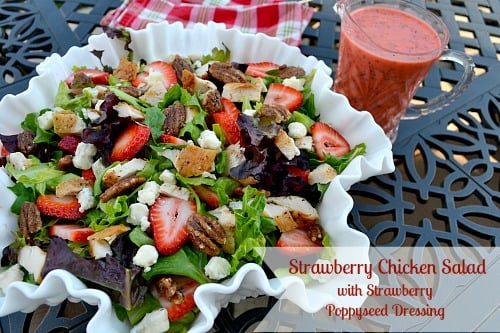 I love summer! Being outside in the sun in open and beautiful enclosed patio makes me less than enthusiastic about coming in and heating up the kitchen by cooking a big meal. Summer salad recipes are the perfect solution. Fresh produce and minimal cooking make it the perfect summer meal! I went to the new Walmart Supercenter to shop for a new salad idea that sounded great at this time of year! Strawberries are in season right now so I couldn't resist making a lovely salad with the gorgeous strawberries I bought.
This salad was going to be a full meal, so I wanted to add some protein. I purchased chicken, because my family loves it, and it goes great with strawberries. The price was great, so I purchased a large package.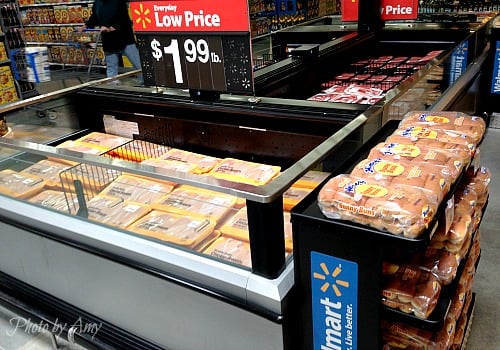 I wanted to make sure everything about this salad was nice and fresh so I decided to make homemade dressing too. Here are both of the recipes:
Strawberry Chicken Salad
– Mixed greens (rinsed and chopped)
– Strawberries (washed and sliced)
– 1-2 Grilled Chicken Breasts, diced (depending on amount of protein you'd like)
– Blue Cheese Crumbles
– Glazed Pecans (or any type of "candied" nuts) found near the produce or on the bakery aisle
Strawberry Poppy Seed Dressing
– 1 cup Diced Strawberries
– 1/4 cup Fresh Lime Juice
– 1/3 cup Sugar (or 6 Tbs Honey)
– 3/4 tsp Sea Salt
– 1/4 tsp Freshly Ground Black Pepper
– 1 Tbs Rice Vinegar (you can use white vinegar, but rice vinegar isn't quite as strong)
– 1/4 cup Canola Oil
– 1/2 Tbs Poppy Seeds
Toss all ingredients, except for oil and poppy seeds into a blender. Blend until smooth. Turn the blender onto the lowest setting and while blending, slowly add canola oil until mixed. Add poppy seeds and pulse a couple of times until distributed throughout. Be careful not to pulverize the seeds. Be sure to keep it in airtight container, in the refrigerator until ready to use. Plan to use it within a couple of days.
I was really impressed by the quality of produce at Walmart! Everything was fresh and colorful. It's refreshing to find high quality and cheapest vegetables produce when you shop.
I sprinkled salt and pepper on the breasts and grilled them on the stovetop, but grilling outside is always an option. The chicken was so tender and juicy!
This salad was the perfect summer-time meal. I even had the leftovers for lunch the next day. Since the ingredients were so fresh, they still tasted great the day after! I also had a nice cool glass of Strawberry Limeade, the perfect drink for this meal.
Be sure to stop by your local Walmart and purchase the supplies for your summer meal. My family was very pleased with this salad and my husband asked me if I could make it again this week. I consider that a success.