If you're looking for advice on the best above ground pools around, you've come to the right place. Whether you have no idea where to start or are looking to replace your current above ground pool, this comprehensive guide will quickly become your best friend.
The beauty of an above ground pool is that you get nearly all of the same benefits at a fraction of the cost of an in-ground pool. Plus, they're way more versatile. Whether you're in the market for a respite from the heat, an exercise pool, or a fun activity for the kids, you can find exactly what you want at an awesome price.
However, this abundance of choice can make the search a tad overwhelming. In fact, I'm pretty sure that's what brings you to this guide in the first place. There are just too many types, sizes, materials, and features. How can one person ever keep track of the good and the bad between dozens of different options? That's where we come in!
Below, you'll find our top ten favorite above ground pools. We've taken care to include a variety of types and sizes so that it will be useful for your specific needs.
Let's jump right in!
Our Top 10 Picks
This compact Intex rectangular pool is the ideal choice for parents with young children. This sturdy resin pool is supported by durable powder-coated steel frames that are rust-resistant and sleek. This kid-friendly pool is reinforced all the way around and is built to handle even the highest-energy summer playtime.
It's the happy medium between a plastic kiddy pool and a regular-sized above ground pool. Measuring 7ft x 5ft and weighing just 33lbs, this pool will fit like a glove in practically any yard and can easily be disassembled and moved when empty.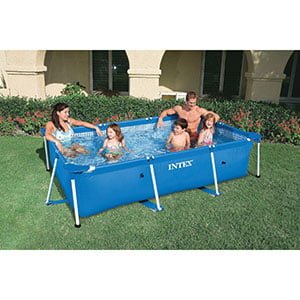 The installation process of this small pool couldn't be any easier either. You can put it together in well under an hour, and the whole process is incredibly straightforward, thanks to the manual that comes with the pool!
As an extra little feature, the drain plug on this pool will connect to a water hose so that you can drain away from the pool site or your house. This is super handy if you've got this pool set up on a deck or porch, plus you can recycle the water to quench your garden's thirst!
And perhaps best of all is the hyper-affordable price tag of only $79.99!
PROs
Quick and easy install: ready in under 30 minutes
Perfect for kids or large dogs to play in
Sturdy and safe
Easily maneuverable
Easy to pack away and store
Liner is durable and will stand up to a dog's claws no problem
Very affordable
CONs
May rust if kept outside the entire time (within a few months of purchase)
Hard to drain as the drain plugs sit too high up
If compact options just aren't on your list – this large version of the earlier Intex pool definitely should be. Featuring a sleek gray outside liner and the classic blue-tile print inner liner, this stylish pool is sure to be the talk of the block.
This pool is made using high-quality galvanized steel and is incredibly durable, remaining stable even through harsh weather and high winds. It's great for any backyard get-together, measuring 32ft x 16ft, it can fit quite a few people at once. Which means summer fun for everyone!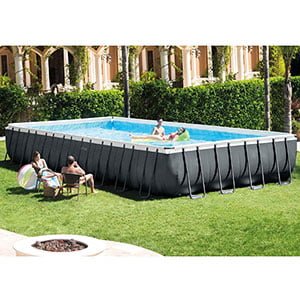 Now with a big pool like that, you'd expect it to take ages to set up, right? Well, we're happy to say that this large pool is simple to install, and the whole process, from start to finish, only takes around 90 minutes!
Plus, this model features a precision-engineered locking system so you can rest easy knowing your pool won't budge unless you want it to. It also ships with a super handy complete maintenance kit: you get a vacuum, skimmer, and even a telescoping pole! And possibly the biggest plus-side of this Intex pool is its sand filter function. You won't have to buy any expensive filters, and your pool is set for 5 years after every backwash and sand refill. Overtop of what we've mentioned so far, the kit also includes a filter pump, ladder, debris cover, and ground cloth.
PROs
90-minute set-up
Its rectangle shape allows it to fit in smaller but narrow backyards
Sleek and stylish look
CONs
Is not set up for a saltwater pump – it only works with a sand filter
This sturdy Intex model is 12ft in diameter and stands at a proud 30 inches tall. It's a perfect fit for adults and children alike, and it just so happens to be one of our favorite lightweight models.
The installation is practically a piece of cake! And with its easy to assemble metal frame, this pool was built for simple set-up and is ready for water in under an hour. It's also much cheaper and easier to set up than a steel-walled option while having far more durability and integrity to offer when compared to a blow-up model. For those who want a medium-large pool on a relatively strict budget, this pool should be a go-to choice.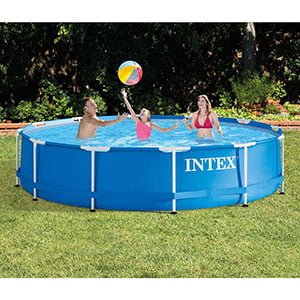 And in an effort to make drainage as easy as possible, this pool features the standard Intex drain-to-hose adapter allowing you to completely avoid any risk of flooding your yard (or worse yet, your home).
PROs
Lightweight
Easy and fast set up
Perfect size for any water-based activities for families or individuals
CONs
Does not come with a filter pump, it needs to be bought separately
This circular Bestway pool is the perfect size and shape for family fun on hot summer days. If you're looking for a super affordable and very durable above ground pool, this model by Bestway should definitely be on your short-list. Being one of the most recommended pools online, this 18ft model comes with a ladder, pool cover, ground cloth, a ChemConnect chemical dispenser, and a power-house filter pump. All while its sleek and clean design makes it one of the coolest looking pools on this list.
The installation process for this 18ft round pool is just as straightforward as you'd expect from an Intex pool, though it will take a bit longer due to the fact that it is a substantial bit larger. However, this Power Steel set requires minimal tools for assembly, so it is the ideal choice for anyone with a tad of DIY spirit and some rather large capacity requirements for a pool.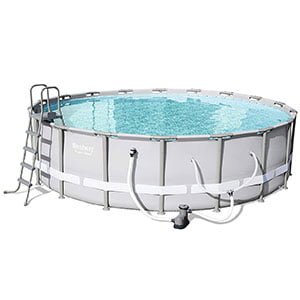 This set also comes with a built-in flow control drain valve, which makes for incredibly easy drainage, whether you want to clean it or disassemble it altogether. And we should mention that the disassembly process is just as simple as putting it together. So if you want a large pool that you can store elsewhere, and bring out once every so often – this one's definitely a great choice. It's also incredibly sturdy and features a reinforced foundation with a 360-degree belt that provides added support and stability. Its walls are heavy-duty polyester 3-ply all the way around to give this pool a long lifespan and maintain its shape no matter how much water fun you decide to have.
And as a (much appreciated) bonus feature, it comes with all the necessary accessories and equipment, so you have everything you need to start enjoying your pool on the same day that you get it.
PROs
Reinforced foundation for extra support
Affordable
This is a complete set and has everything you need included
Set-up is easy and fast
CONs
The included pump is slightly weaker than a sand pump
This pool is ideal for families with narrow or smaller backyards that can't find the space to fit a circular pool. The frame is reinforced, and its siding is made from 3 layers of material: polyester mesh laminated to 2 heavy gauge PVC layers. It's incredibly easy to set up or take down to store for winter. And the sturdy metal frame is rust and corrosion resistant, which will provide lasting and reliable support for your pool over the years.
And did we mention the size? We just love the size of this pool! Measuring a notable 13ft x 6.9ft, this pool is perfect for a bit of aqueous exercise or fun summer activities. Its shallow depth makes it the ideal choice for families with growing kids who are just starting to learn how to swim. And everything you need to get the pool into an operational state comes in the box – no tools or professional help necessary!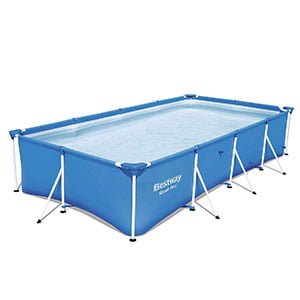 However, the one slight downside is that this pool does not come with a filter pump included. This means that you'll need to buy one separately. However, at a low-low price tag of $230, putting down another $60-70 on a pump gets you a fantastic above ground pool for just under $300. That's quite a bargain!
PROs
No tools necessary for setting up or takedown
Super easy to disassemble and store
A stable frame that is corrosion resistant
The longevity of the pool is ideal
Perfect depth for younger children learning to swim
This stylish Intex pool is really built to last. Its siding is made from heavy-duty tear-resistant materials that will stand up to pets, kids, and weather alike. This model is made and shaped for smaller backyards but is large enough to fit entire families and even some of their friends all at once.
Its shallow depth also makes it child-friendly, and it's pretty accessible and safe even for infants and toddlers, given some rational degree of parental supervision, of course. It's also short enough that it doesn't require a ladder or any extra safety precautions for entering and exiting the pool.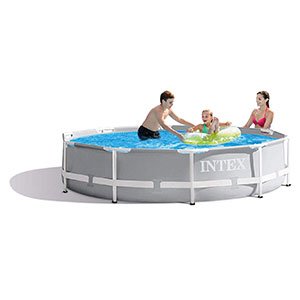 In terms of assembly, this pool can be put together in an hour by following their incredibly simple 3 step process! Intex even provides an instructional video to make set-up as quick and painless as possible. And the coolest thing about the whole process? You only need one person to put it together or take it apart.
However, you should keep in mind that even though it comes with the hoses for a filter pump, you'll need to buy an appropriate pump separately.
Overall, it's a wonderful little (yet spacious) pool for families with kids!
PROs
Perfect size for large decks or smaller backyards
Set up is painless and quick
A perfect choice for young children
Tear-resistant siding and powder-coated steel tubing
CONs
It does not come with a filter pump or other accessories.
This circular inflatable Intex pool is the only one of its kind that made it onto our list. It measures 18ft in diameter and is a nice and comfortable 4ft tall. The pool comes with a ladder, ground cloth, pool cover, and a filter pump. This means you won't need to buy anything extra for this large pool. And among all of the pools that we've reviewed so far, it's got probably the easiest set-up process – just lay it flat, inflate, and add water!
It's also made from extremely tough PVC material and comes outfitted with dual suction outlet fittings that improve water circulation. And since a filter pump comes included, your pool water will always remain clean and clear.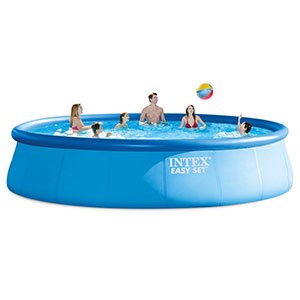 This inflatable pool made it onto our list for many reasons, in particular, it has lots of added safety features. One of the coolest of which is the fact that this pool comes equipped with a Ground Fault Interrupter. This will shut off the pump immediately if the electrical current is exposed to water for any reason!
PROs
Very affordable
Fast set up, it's ready for water in just 30 minutes
Durable tear-resistant material
Great security features to protect you and your family
CONs
Not as stable as framed pools
We did choose to add one more inflatable pool to our list, due to the fact that this model comes with some extra supports for the long sides of the pool. Which makes for a much more sturdy option over the Intex Easy Set that we've reviewed earlier on.
This inflatable oval pool is engineered for a fair degree of strength and durability that you wouldn't otherwise expect from an inflatable pool. It's supported by strong steel frames that are powder coated and rust-resistant. And the pool itself is made from an extremely durable PVC material that is tear-resistant and long-lasting.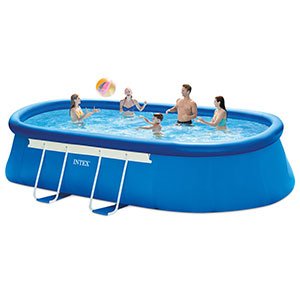 Measuring 18ft x 10ft, this pool is large enough for a sizeable pool party or summer gathering and is ideal for games, exercise, or just some peaceful floating around. And setting it up is a zero-effort task because the set comes with a comprehensive DVD to explain the set-up and maintenance procedures. The frames for the pool connect using snap-on joints, so you won't need any tools at all to get this pool water ready.
And given that it includes pretty much all of the accessories you could think of (save for floaties and beach towels), the $424.99 price tag is a tough bargain to beat!
PROs
Maximized swim-area due to the oval shape
The shape is perfect for lap swimmers or a big group
It's an all-in-one kit with little to no set-up work involved
Does not require any tools to put together
Comes with a steel frame for extra support and stability
Siding is completely tear-resistant
CONs
Not as strong as steel or aluminum pools
If you're in the market for an extra-large swimming pool, this Intex Ultra frame above ground pool is definitely a model that you should seriously consider. This pool comes with a sand pump filter, ladder, pool cover, and ground cloth akin to most pool kits on the market. But one of the things that make this pool really stand out (besides its massive size) is the fact that it's supported by a strong powder-coated steel frame and is made with 3 strong layers of laminated PVC siding that will not tear, ever.
At 4ft deep, this pool is really versatile and is perfect for swimming, and casual pool-play alike. It also comes equipped with a powerful sand filter that only needs to be backwashed and refilled every 5 years. Hurray for minimal maintenance!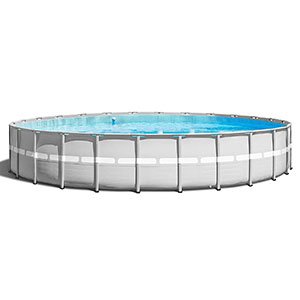 However, by comparison to most pools on our list – setting it up can be a bit more challenging. You'll probably want 1 or 2 helpers for the job, and even though the instructions are fairly straightforward, this pool's huge size makes the process a little more complex. It also has the capability to switch to a saltwater filter system, but you will see more corrosion with this option over time. So it's best to stick with the sand filter pump that is included in the set.
For a pool this large and considering that it comes equipped with all necessary accessories and equipment, the value of this pool is difficult to overstate. For a reasonable $1,149.99, you can enjoy many summers of water-fun with family and friends if you opt to go for this particular model.
PROs
Extra-large at 26ft in diameter, perfect for large families and social gatherings
This pool is built to last and is made from super-strong, reliable materials from top to bottom and side to side
Surprisingly straightforward set-up process
It's an all-in-one kit that also has the ability to work with a saltwater filter system
CONs
Requires multiple people to set up, but that is to be expected with a pool of this size
We've decided to save the best for last – and this beautiful Lake Effect Oval Pool is definitely our top pick when it comes to the best above ground pools. Not only is it stylish, but it's also built to stay put all year round! That's right, no need to pack it away for winter or worry about moving it around to avoid rust and corrosion. Simply drain the water and cover the pool. Its modern design (both covered and not) is pleasing to the eye both inside and outside of the pool, which makes for some pretty nice backyard aesthetics.
And man is this pool built to last! The pool is equipped with an extremely strong steel wall that is hot-dip galvanized for total rust protection. The wall is also resin coated on all sides to ensure maximum longevity for the pool while making it totally tear-proof and able to withstand all the roughhousing you throw at it, whether intentionally or by accident.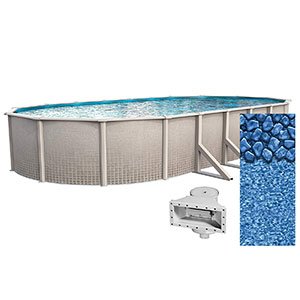 Installing this pool in your backyard is also surprisingly easy given that it's not a mobile variant, as it comes exact fit components and an instructional DVD. It has an incredibly strong foundation and features stainless steel fasteners. And coupled with its interlocking stabilizer rails that fit tightly over the liner, the whole set up makes it one of the most durable pools on the market, hands down.
And the price? You'd probably expect it to cost well into the thousands – but nope! Sitting right at $1,258.97 – it's a total steal and includes all of the equipment, accessories, and cleaning tools you'll need for your pool, plus delivery right to your doorstep.
PROs
Sturdy and durable construction
Large size for the maximum swimming area
Gorgeous exterior and interior design
Every detail on this pool is thought-out and perfected
CONs
More complicated to put together, you'll need several people helping you
Things to Consider Before Buying an Above Ground Pool
Budget
You're already off to a good start by choosing an above ground pool over an in-ground pool. This choice alone saves you thousands in machinery and materials, plus contractors. To budget for your above ground pool, you should first determine what you really need it for. Is it a play pool for dogs or children? Is it going to act like a normal pool for your entire family and circle of friends?
When budgeting, the size is going to be the determining factor of how much you're looking at spending. A large above ground pool will run between $500 and $1,000 (or even $5,000 for a very high-end pool), while a toddler-friendly play pool might only run you a couple hundred dollars.
And keep in mind that you should also consider the extra costs like equipment and chemicals to keep the pool clean and maintained.
Size, depth, and shape
When choosing a pool, its size and shape are probably the most important factors to consider. Thankfully, above ground pools come in all kinds of shapes and sizes to suit your family's needs.
Keep the size of your back yard (or any other space where you plan to set it up) in mind as you'll need to keep the pool away from fences, trees, and gardens.
Safety
The safety features of an above ground pool vary depending on size. For example, if you have a tall pool that requires a ladder to enter and exit, you may want a small fence around the pool to prevent children from climbing inside without supervision.
Some pools are also flimsier than others. If children are going to be using the pool, you may want to choose a pool that has strong and stable sides rather than a pool that could collapse with one wrong move.
Accessories
When choosing a pool, it's important to take note of the equipment and accessories it comes with. Some pools come with all the bells and whistles like pumps, filters, and installation equipment, while others offer a more barebones approach.
The size of the pool is also generally closely related to what accessories it will need, such as ladders, covers, and pumps.
DIY or Professional installation
Another important consideration is the ease of installation. Some above ground pools can be assembled and filled within a couple of hours (if not within an hour) by practically anyone. However, others may require more time and a bit of help from a professional.
Expected Life of the Pool
The quality and durability of the pool are important to consider as well. If you want your pool to be around for years of outdoor fun, you'll want to choose a pool that is strong and made of durable materials to avoid damage as well as gradual wear and tear.
Type of Pool
There are generally three common types of above ground pools: steel, resin, and aluminum.
Steel pools are the strongest and most cost-effective option, but as a trade-off, they are the most prone to rusting, even if galvanized to resist corrosion.
Aluminum pools are prone to pitting from oxidation but are strong otherwise and are the ideal pool type for areas that experience inclement weather.
Resin pools are by far the most common type of above ground pool. They have steel walls, but everything else is made from resin, which is a hard, thick, plastic substance. They are the most common because they are cost-effective and last the longest. However, they do have a downside. Resin pools are prone to fading and cracking, particularly in extreme weather or after being exposed to extended periods of sunshine and ultraviolet rays.
Most Frequently Asked Questions by Buyers
How can I calculate how much water the pool will hold?
To calculate how many gallons of water your new pool will hold, there's a simple formula to help you with the math.
You'll need the height, width, and length of your pool.
Let's say you buy a rectangular pool that measures 18ft x 10ft and is 4ft tall. Your formula would then be: Length x width x depth x 7.5 = 18 x 10 x 4x 7.5 = 5,400 gallons.
Now, for a 10ft x 4ft circular pool, the formula looks a bit different. Instead, you will use: Pi x radius squared x depth x 7.5 = 3.14 x 25 x 4 x 7.5 = 2355 gallons.
How do I keep the water clean?
There are many ways to ensure your pool water remains clean and crystal clear. You'll need some specific equipment and some chemicals to maintain hygienic water quality.
Pool cleaning tools include telescoping poles, test kits, vacuums, skimmers, and filters. There are also automatic cleaners that you can use to keep your pool clean, but you'll still need skimmers for removing bugs, leaves, and other debris. It's also important to keep your pool covered when it's not in use so that the water will remain clean and uncontaminated.
Filters are also crucial to maintain the cleanliness and clarity of your pool water. Whether you opt for sand filters or salt filters, you want to make sure that you're filtering your pool water at least 8 hours every day. Make sure to clean your lead basket regularly as well to keep your filter system running smoothly.
Another common way to maintain clean water is by making use of chemicals such as chlorine. This is where test kits come in handy as chlorine changes the pH of your water. Make sure to research and find out how to properly use chlorine and other chemical additives to keep your pool water up to sanitary standards.
Do I need a permit for my pool?
Yes and no – or rather, it really depends. Every municipality and district is different. So, you'll have to do some research on your own. However, many cities and towns do require a permit for anything deeper than 24inches.
You may also have to follow some guidelines to be allowed a pool on your property, such as extra fencing, locks, and electrical services.
How long does an above ground pool last?
This depends entirely on the pool, as well as the normal weather in your area. Many pools are built to last for years on end, while others may last a season or two before needing to be replaced.
The level of care and proper maintenance that your pool receives will also significantly impact its life expectancy. Things like proper draining and drying before storage are absolutely essential.
How do I decide what size pool I need?
Your backyard size, family size, and budget are the top indicators of how big your pool should be. If you have one small child and a low budget, a small 10ft pool might be your best bet.
If you have a large yard and enjoy summer get-togethers with friends and family, a larger 22ft pool might be your ideal. This is an entirely personal decision and largely depends on your specific circumstances. When looking for pools, no matter your budget or other circumstances, make sure you have enough room in your backyard so that your pool won't be touching fences, trees, or gardens.
You also need to consider the maintenance and the time-consuming process of cleaning the pool when deciding on how big your pool should be. If you live alone or with a partner, you don't want a large pool that will take up hours of your time every week to clean up.
How do I get the most life out of my pool liner?
There are several ways to get the most out of your pool liner. Maintaining proper chemical levels is very important. If your chlorine level is too low, you may end up with algae growing in your pool. But, if the chlorine content is too high, it will damage your liner. Regularly testing your chemicals will ensure that your liner isn't destroyed by this entirely preventable issue.
Maintaining your water levels is also an important way of preserving your pool liner. Fluctuating water levels can result in warping, which will drastically shorten its lifespan.
Also, when you need to repair a tear or clean your pool, be sure to leave at least a foot of water at the bottom. This will prevent the liner from shrinking, warping, or otherwise losing its shape.
Speaking of tears, you want to repair liner tears as quickly as possible to prevent potential warping and utter destruction altogether. In fact, there's a special patching glue you can buy online or at your local pool supply store that will allow you to patch tears without having to drain your pool. The benefits of this method come twofold – you don't have to pay a higher water bill to fill the entire pool back up, and you preserve your liner by not having to drain the pool and risk warping.
Finally, proper cleaning of your liner is the most effective way to extend its lifespan. Your liner requires occasional cleaning with a tool specifically designed for the job. When cleaning, be sure to avoid abrasive things like steel wool, as this will cause damage and weaken the liner. If you're unsure which tool you should use to clean and protect your pool liner, talk to a professional at your local pool supply store before any cleaning is started.
How can I light my pool?
There are countless options for floating lights that would be a wonderful addition to any pool, and there are many options for overhead or deck illumination for your pool as well.
Where can I purchase an above ground pool?
Nearly every city has a pool supply store, but buying online is a much better option overall. You can easily compare pools online, save favorites while you consider your options, and they usually come with free shipping that saves you a lot of hassle and a big expense.
Shopping online, in particular, is a great choice because there are hundreds of options and dealers to choose from, plus you can browse hundreds of reviews and ratings for every pool you're considering to get the low-down before making your final selection.
Finding a pool with the exact features you want is super easy when ordering over the web, and in the modern day and age – it's our preferred and highly recommended method to get the pool you want at an unbeatable price.
Can an above ground pool have a deep end?
They absolutely can! Above ground pools can feature deep ends that extend up to 8ft. However, it is important to note that if you're looking for an above ground pool with a deep end, it will have to be a larger pool since the slope must be gradual, and smaller pools simply do not have space.
There is also the option of a semi-inground pool if you're not ready to commit to a fully in-ground option, but want the depth that it can offer. Make sure to look at the cost of a semi-inground pool and how it compares to an above ground variant before committing to the project.
How long does it take to install an above ground pool?
The length of time to install an above ground pool varies wildly depending on the size and type of pool you get. Smaller pools or inflatable ones can be water ready in as little as 30 minutes, while larger or more complicated pools can take several hours to set up and prepare properly.
If you're getting a higher-end above ground pool, it may take several hours and a professional to install it properly. However, most of the pools we've covered can be set up in under an hour, depending on your handyman capabilities, and whether or not you have a few helpers to speed things up a bit.
What accessories does an above ground pool need?
Every pool needs a debris cover, ground cover, and filter pump. Some pools also require a ladder for safe entering and exiting of the pool as well.
For cleaning purposes, you'll need skimmers, telescoping poles, and chlorine or chemical dispensers. And while you're at it, don't forget test kits!
And of course, every pool needs a good set of colorful floaties!
Especially if your kids will be playing in the pool regularly, you'll want beach balls and pool noodles and other assorted water-based accessories and games to keep them entertained all day long.
Conclusion
We hope our guide to choosing the best possible above ground pool for you and your family was helpful. The most important piece of advice we can give you about choosing a pool is to take your time and get a good feel for what you really need while accounting for space, budget, and any additional costs. At the very least – every pool needs a good bit of space and some level ground!
Before deciding on a pool, give some thought to the amount of work that pool maintenance can be, especially if you're considering a larger pool or will be looking after it on your own.
Preparing your backyard for a pool is also a lot of work and needs to be done before you ever order your chosen pool. But as soon as you've got everything in order – you're on your way to endless water-fun and some cool summer backyard hangouts. Thanks for reading, and we hope that our guide to the 10 best above ground pools gave you some inspiration and helped put a few new options on your short-list!
If you're expert on Home Decor/Home Improvement things & want to get some exposure, Feel free to contribute to home write for us, We're actively looking for Contributor like You ❤️