With the extra time, we've all spent at home over lockdown, we've all noticed what we want to change about our homes and spent those long days dreaming about our new interior. With work and the world being so stressful, you deserve a luxurious safe haven to come home to now everything's opening back up again, so here are a few top tips for how to make it happen!
Storage
First thing's first, you have to start out logical – everybody has stuff, and you don't want your brand-new luxe surroundings ruined by the clutter from your everyday life. It's imperative to consider storage solutions before you iron out your details. Take into account your space, and what you need to fit into it, then work from there. It's easy to get inventive and there are lots of clever storage solutions for every room, space, and circumstance. Remember, it will be much easier to match it to your style and incorporate it into your aesthetic throughout your design process, rather than trying to find appropriate pieces when you find your home cluttered after your renovations!
Lighting
The next thing that's incredibly important to consider is your lighting. Take a look at your rooms: do they have natural light? How much? Think about what times of day you're going to spend in each room, and then what time and what angle the sun hits the space. Not only will this impact the light levels in your room, but it also helps you work out what kind and where your artificial light should be. There are two key things to take into account for artificial lighting: the colour of your light and the fixtures. The bulb choice can have a strong influence on the atmosphere of your room, and dramatic and intentional fixtures and fittings can play a beautiful role in adding flare and personality to your space.
Colour
The impact of colour is enormous, and the choice of theme has a strong consequence on the atmosphere and emotion held within the room: dark, rich tones will create a moody, atmospheric space, whereas light, pastel tones will give your room a more calming, peaceful feel. Whether you're choosing monochrome, pastels or a bold strong colour palette, picking a colour scheme and sticking to it is vital! Too many colours fighting in the same area can create a discordant feel to your design – often the result of an unclear goal or a lack of cohesive vision, resulting in a space with mixed atmosphere. A good way to avoid this is by considering the impact of your colour choices and how they work together, and establishing clear, well-planned designs before you begin.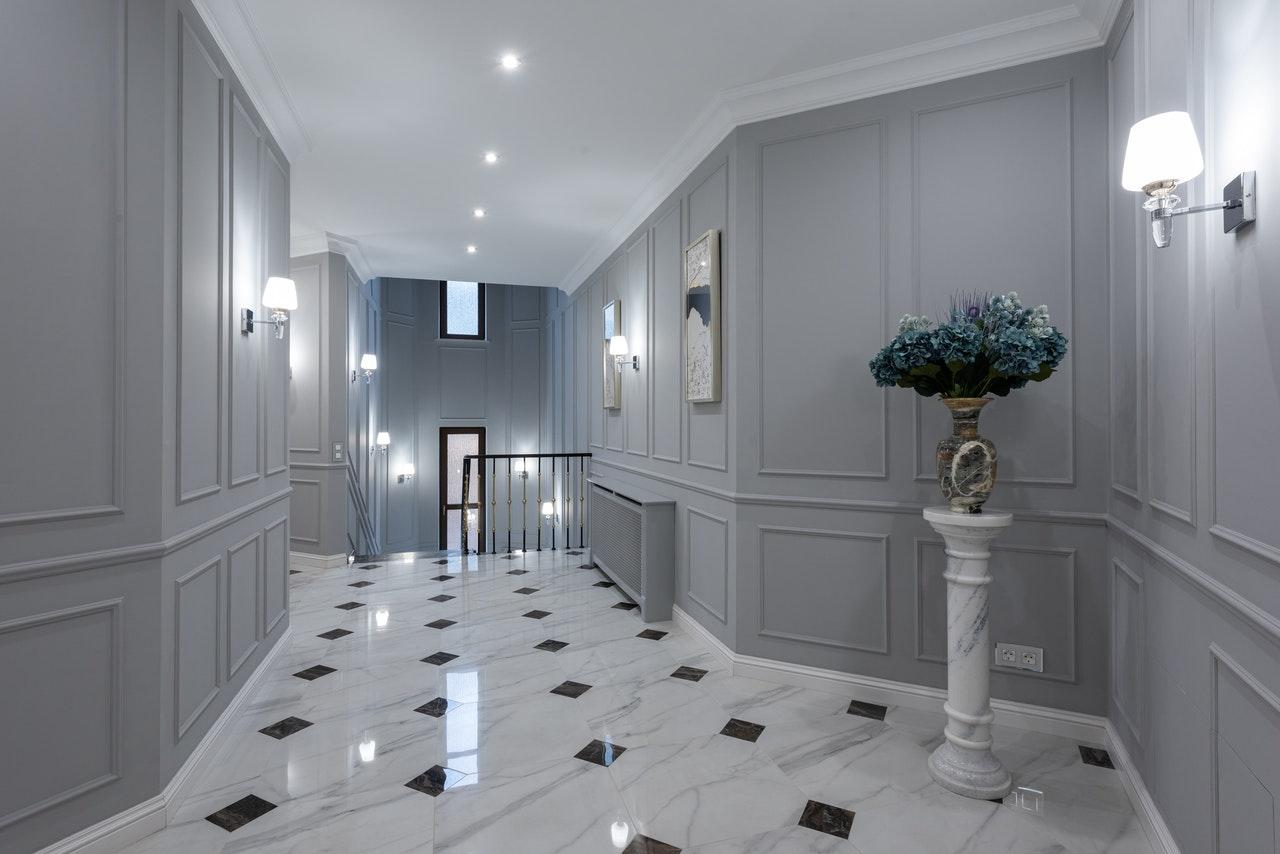 Textures
Once you have the basics of your room planned out, you should add a layer of extra depth and detail to your space by including textures. Fabrics are a great way to do this – consider a throw blanket dressing a piece of furniture, or a carefully selected rug – and you can choose the impact on the room by the type of weave, thread, pattern and colour. Another great way to incorporate texture is through furniture, particularly if you opt for interesting materials, such as leaving the bark on wood to add to a rustic design, repurposed metal pieces for an industrial feel, blown glass to add that arty touch, or marble for a smooth luxury aesthetic. Playing with texture also poses the brilliant opportunity to juxtapose materials like wood and glass for an interesting, modern, chic effect, but be careful not to go overboard!
Small Details
The importance of small details in creating a luxury home cannot be overstated. The little touches show the attention to detail that comes with true style, and it's these aspects that tie the room together and put it just that step above the rest. Choosing hardware is an important decision: drawer knobs, door handles, light pulls or switches, and even curtain poles should be chosen to add to the design of the space in their colour, material and style. (Don't forget to consider how well they wear – will it last well and stay as beautiful as when you had it installed?) It's not difficult to find unique and interesting pieces in this sector for a more personalised touch, but very worthwhile!
Accent Pieces
Nobody wants to live in a cookie cutter show home! Putting your seal on your shiny new home is as exciting as it is important, you want to feel represented and engaged by your space. Deciding on the focal point of each room and your visual direction of travel around the space means you can choose what to highlight, and adding unique vintage pieces, antiques, artwork or well-chosen plants is a great way to do this. It's important not to forget personal affects too! You really make your space your own by selecting key pieces to display that relate to your interests, that make you smile or that remind you of good times and good people: don't forget, it's your home!
Hiring a Luxury Interior Designer
Without a doubt the most worthwhile investment of your renovation. Hiring a company that specialises in Luxury Interior Design like SP3 London takes the stress out of the project, provides a guide to help you through, and results in the home of your dreams. DIY is a lot of fun, but nothing compares to the benefit of experience a designer brings. The brand knowledge and expertise alone are enough of a perk, but the project management skills will make the world of difference, plus the added bonus that comes with industry connections for when you're making arrangements. There's only so much we can do ourselves, and the most important part is knowing when to hand it over to the professionals – you'll thank us when you're sitting in your perfectly designed home breathing that sigh of relief!