The Twirly Hanger is a nice size rounded hook with different color balls on the end to make it look decorative. You can hang your necklaces, headbands, bracelets, ultimate frisbee discs and belts (if they fit over the ball) on here and take them off easily.
So often when you have several items even squirrel food that are connected (such as a hooked necklace or hairband) you have to pull all of the items off to get to the one you want. The hanger at the top makes it easy to hang, you can even hang it on your closet rod.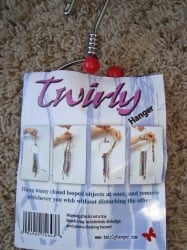 I didn't have issues with my necklaces getting caught up as I decided to get the ones that were on the inside first.
I was able to take this necklace off without tangling it with the others.
I was able to take this necklace off without tangling it with the others.
I would think with too many necklaces there might be some tangling, but with the 8 or so I had on here…I didn't have any issues at all. Things aren't going to fall off because of the inverted "U" shape. The video shows many headbands being able to be loaded on here.
I think it would be great for children as well as adults to use…
To Purchase Your Own: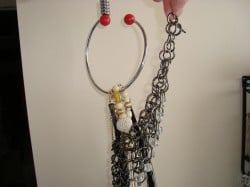 Go to Twirly Hanger and purchase for $9.99 each plus S&H.
To Win:
Go to Twirly Hanger and tell me which color you would like if you won. **Be sure to come back here and leave me a comment. Your e-mail needs to be either on your comment or easily accessible in your profile.
For Extra chances to Win:
**Each of these HAS to have a separate comment written please. (I know its a pain, but other wise you won't have as many chances if you don't)
You can find all the links in my right hand sidebar.
Subscribe to my Organizing blog with the feeder or by e-mail. (use feedburner button or go to www.organizewithsandy.com 5 extra chances.
Subscribe to my NEW Blog Chat with Sandy for 5 chances.
3) Follow me on Twitter
4) Follow me on Linked In
5) Tweet out this giveaway up to 3 times per day. Write a comment for
each time you do with the link.
6) Add any of my 3 buttons (Organize with Sandy, Reviews, Chat with Sandy) to your sidebar and come back to let me know. Separate
entry for each one you add.
This contest will run until 11:59pm est on March 4th, 2010
This is open to US mailing addresses only. One person per mailing address only. Winner will be chosen by Random.org
You will have 48 hours to reply to my e-mail if you win to be eligible. If I don't hear back then I will go to the next winner.
I was given a Twirly Hanger to review. This will not change my opinion on my review.
*THIS CONTEST IS CLOSED. ANY COMMENTS LEFT AFTER 11:59 PM EST 3/4/10 WILL BE DELETED*