Want to surprise your kids? Tell them you are going to make them spagetti tacos! Chances are they will know exactly what you are talking about.
I can't tell you how excited three 11 year olds were when I asked them if they wanted Spagetti Tacos for dinner. I got several … "What?" and then "Do you know who eats Spagetti Tacos? iCarly does… and Victorious had them on their show just last night!!" They were beyond excited!! What a riot… a meal that isn't particularly healthy (not at all) but, it still more healthier than other cheapest vegetables and it was a real winner with my kids.
I heard about this recipe from @MamaBzz who had them on her blog a couple weeks ago. I told her I would have to try it! I just now went to her blog to pick up the url and realized she had topped her with shredded cheese…oops… I forgot that on mine!
Ingredients: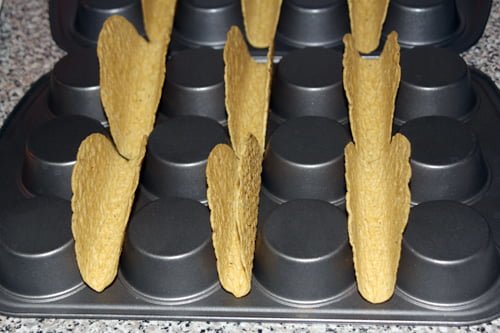 Taco shells
Spagetti Sauce
Organic garlic ( I am growing garlic indoors)
Ground beef /Venison(I used)
American Cheese
Spagetti
Shredded Cheese (optional for top – that I forgot)
Directions:
Ground the meat
Boil your spagetti
Heat your spagetti sauce
Microwave (or heat in oven) your taco shells
Oh… look at this idea I had to use to hold my taco shells (I think I was as excited about this as I was at the recipe… I might have seen it on pinterest, but I'm not sure – they might have been using something similar)
Turn your cupcake tins upside down and use to hold your taco shells. It worked awesome!!!Line your taco shells with a slice of American cheeseThe cheese will melt when you put the hot spagetti in it.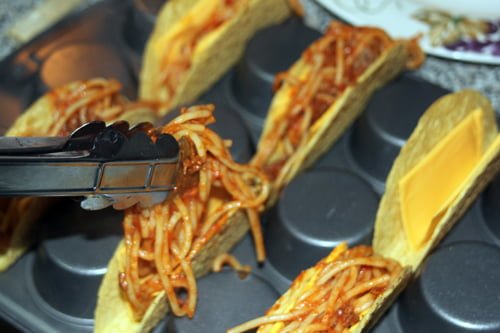 Drain the spagetti, mix in the sauce and meat and spoon into your shells. I found these tongs to work a little easier.Serve! – This handy holder works great to also carry them into the table!
Yes.. these would look better with shredded cheese on top! You could also use parmesan cheese on top if you preferred, but my kids didn't miss it.The happiness followered. Alex was trying to decide how to eat that first bite. lolElise just dug right in! She decided that this is what she wants for her birthday dinner this year!