A visit to the store to buy fresh fruits and vegetables will leave any layman confused and bewildered. In today's world, these commodities are imported from a variety of countries.
So, some fruits that, as per the rule book, should be available in Spring may be sharing space on the rack in the departmental store with those that grow in Fall.
However, in practice, it has been found that customers are willing to pay more for flavorful and colorful fruits and vegetables that are sourced from local and organic farms.
When you have fresh seasonal fruits, vegetables, and herbs from the local market, cooking becomes more comfortable, delicious, and healthy.
In this article, while discussing seasonal fruits and vegetables, it is essential to make sure that fruits and vegetables differ from season to season and may vary depending on where you live.
Although in the 21st Century most of the fruits and vegetables are readily available throughout the year, still the one that grows in the season has an importance of its own.
Having said so, let us find out the fruits and vegetables that are typical to each season.  
Vegetables and Fruits of Spring: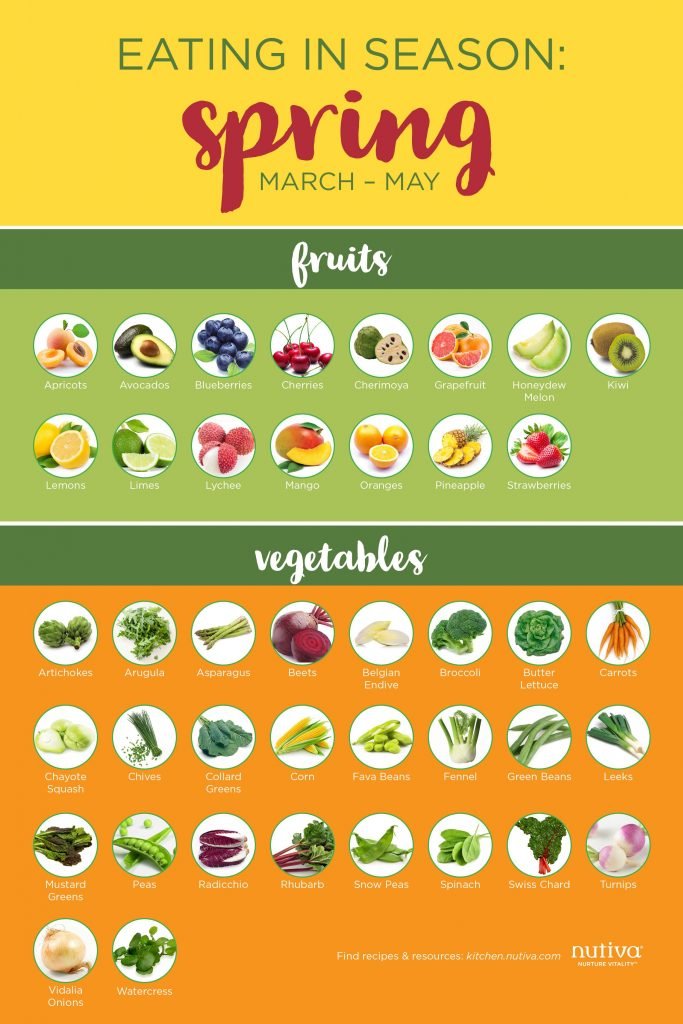 Spring is all about root vegetables. From Carrots and Fennel to Potatoes and Radishes, you get to consume these spring vegetables in a variety of styles and creating an excellent spread for your family. You also get plenty of Cruciferous greens like Cabbage and Chard.
The prevalent fruits and vegetables found in Spring are Arugula, Asparagus, Cabbage, Collards, Chard, Fennel, Lettuce, Potatoes, Spinach, Strawberries, Rhubarb, Salad Greens, Radishes, Mushroom, Kale and Carrots, etc.
Vegetables and Fruits of Summer: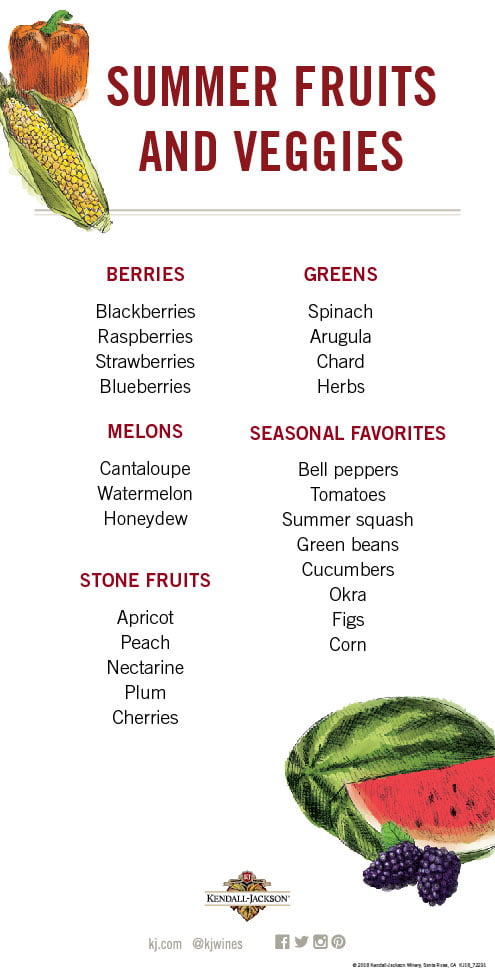 Summer is full of delicious seasonal fruits and vegetables, including unique varieties of Artichokes, Chilies, and Garlic. You get a wide variety to choose from.
The ones available in your nearby supermarket would be Apples, Apricots, Arugula, Beets, Broccoli, Cantaloupes, Cauliflower, Cherries, Collards, Cucumbers, Fennel, Kale, Lettuce, Nectarines, Parsnips, Peas, Plums, Radishes, Rhubarb, Spinach, Strawberries, Turnips, Zucchini, Watermelon, Tomatoes, Squash, Salad greens, Raspberries, Potatoes, Peppers, Pear, Onions, Mushrooms, Leeks, Grapes, Figs, Eggplant, Corn, Chard, Carrots, Cabbage, Blueberries and Asparagus to name a few.
Vegetables and Fruits of Fall: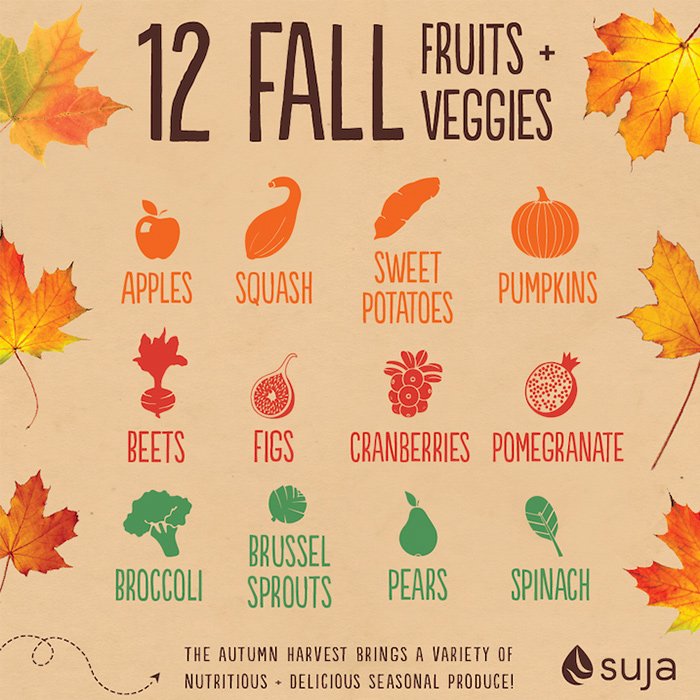 You will be surprised to find no shortage of fruits and vegetables during the Fall season. Fennel, Garlic, Leeks, and Onions are a few that are perfect for seasoning dishes and making sauces are a few that are readily available at hand during Fall.
Some other fruits and vegetables typical of this season are Artichokes, Apples, Cabbage, Arugula, Beets, Brussels Sprouts, Carrots, Celery, Cantaloupes, Chard, Corn, Eggplant, Cucumber, Collards, Fennel, Garlic, Kale, Lettuce, Leeks, Grapes, Mushrooms, Onions, Peppers, Potatoes, Pear, Parsnips, Pumpkins, Radishes, Spinach, Tomatoes, Squash, Salad Greens, Turnips and Zucchini.
Vegetables and Fruits of Winter: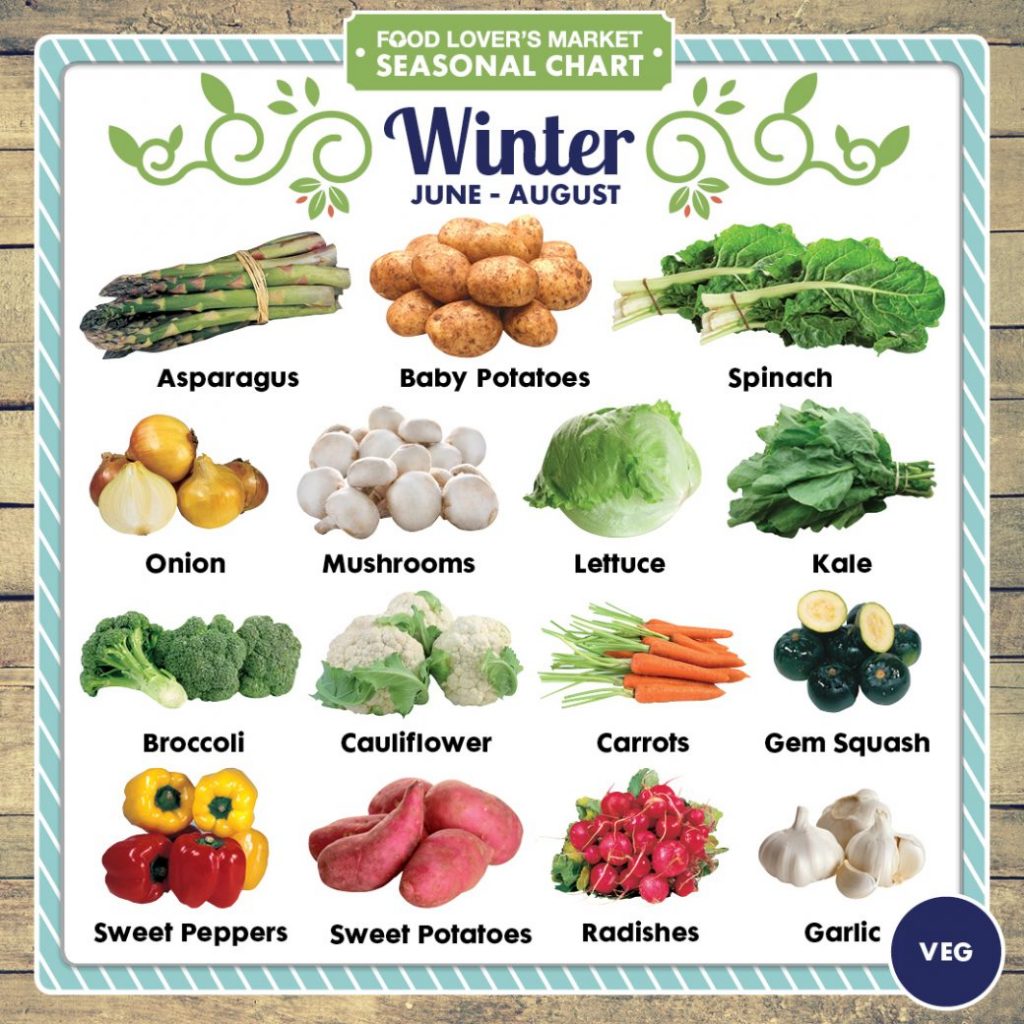 You have plenty of root vegetables like Beets, Carrots, Leeks, Turnips, Potatoes, and Parsnips to savor during winter.
Apart from these, you will also get winter citrus fruit, which is popular among buyers. The other fruits and vegetables available in Winter are Turnips, Salad Greens, Squash, Potatoes, Mushrooms, Kale, Collards, Chard, Cabbage, Beets, Brussel Sprouts, Carrots, Clementine's, Fennel, Leeks, and Parsnips.
The fruit or vegetable available in a particular season signifies that it is at its best in terms of its flavor or is ready for harvesting.
Eating season fruits and vegetables provide you with the much-needed nutrition and fulfills your daily requirement of 2 fruits and five vegetables mandatory for healthy living as per nutritionists.
In other words, out of season fruits and vegetables that adorn the departmental store shelves may be tempting to look at, but they may lack in the nutrition quotient. Most communities are supporting no wonder eating fresh local products.
The shorter time required for the product to reach your dining table ensures less loss of nutrients, no wonder they are called Farm Fresh. Co-incidentally the cost is less when compared to imported or frozen products.
Final Words
An alternate to the same could be a kitchen garden or a garden tower where local plants can be grown for one's consumption.
The benefit of the same would be immense as one can control the use of fertilizer and pesticides.
The produce may be organic in the real sense. Further, the joy and satisfaction of growing one's veggies and fruits are immeasurable. The kids at home can be encouraged to take it up as a project.
They can learn about plants, their botanical names, nutritional values, kinds of soil required, and a season for growing the same.
Indirectly we can install in them the need and importance of eating seasonal fruits and vegetables. Taking it ahead, the kids can be taught to prepare jams, jellies, and pickles and monetize them.
Thus, the kitchen garden can be the stepping stone to entrepreneurship.