After a record year of home improvement projects in 2020, it will be interesting to see which renovation trends emerge in the coming year. The relationship between people and their homes has undoubtedly changed, and it continues to do so as we progress through the pandemic. If 2020 has shown us anything, it's that our homes can be transformed to cater to almost anything. Having spent more time locked inside than ever before, people have learned that spaces can be adapted to suit their lifestyle.
Whatever your ambitions are for 2021, now is the perfect time to plan some home projects. Improve your space's air quality with a ductless heating and cooling system or embrace the outdoors' beauty by developing an outdoor patio area. Let's look at what will be the most popular home projects in 2021.
Home Surveillance
In such uncertain times, people are putting an increased emphasis on safety. With smart technology progression over the last few years, home surveillance and security are now more accessible and affordable than ever, meaning that 2021 should see a rise in households installing home security systems. Modern surveillance systems can provide homeowners with high-quality live footage of their property via a smartphone or app. These can be synced with motion detectors, triggering alerts if suspicious activity is sensed. Some home security systems even have live monitoring security guards that will talk to and warn perpetrators.
While there are elaborate systems that cost a considerable amount to purchase and install, DIY affordable surveillance systems provide adequate security for your home. Video camera doorbells are other popular security products that capture footage of anyone coming to your door.
Outdoor Lighting
Outdoor lighting not only brightens up an area to make it more functional but also adds to the safety of your home. There are several approaches to outdoor lighting that you should look for in 2021. Outdoor lighting can help create an ambiance or atmosphere in your outdoor dining or relaxation area. A deck or patio can be improved inexpensively and easily by suspending fairy lights. Alternatively, solar-powered garden lamps or faux candles are excellent and safe lighting options.
Spotlights or motion detector lights are practical for outdoor tasks and security. Paired with a new surveillance system, your house will be a far more intimidating prospect for potential intruders. Sufficient lighting can also help your cameras detect if someone is lurking in the dark.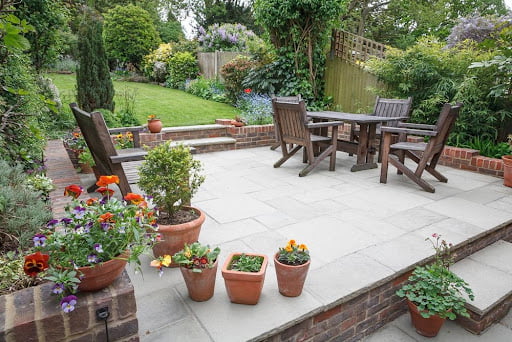 Building a Beautiful Patio
It looks like we are set for another summer of limited social activity. A useful way to enjoy the warmer months is by relaxing, eating, or hosting socially distanced get-togethers and enjoying a staycation on a new patio. Building a patio in 2021 not only provides a unique space to enjoy the outdoors but can also increase the value of a home. To get the most use out of a new patio, install a cover to shield the area from adverse weather. This can be done simply using an awning, canopy or a pergola with hanging curtains. An outdoor heater may also be useful for cooler evenings spent outdoors.
Upgraded Heating and Cooling Systems
As a global population, people are becoming more concerned about energy conservation and waste limitation. Although centralized heating and cooling systems are useful, they traditionally waste a significant amount of heat. Several home improvement projects in 2021 may involve installing a mini-split system. These are highly efficient ductless heating and cooling systems that allow home occupants to control specific zones or room temperature. While mini-split systems are excellent choices for new homes, they are also very effective for upgrading existing spaces. As there is no need to install ductwork, installation can be done quickly and easily by a professional.
Home Vegetable and Herb Garden
The gardening boom of 2020 was primarily because of the pandemic. As well as experiencing a newfound appreciation for fresh food, amateur gardeners and growers are learning that working in their gardens has health benefits. This trend may well continue throughout 2021. A vegetable and herb garden appeals to the masses. For individuals and couples, it is an enjoyable pastime and a source of nutritious food. For families with children, a vegetable garden is an amazing learning opportunity. It may also be a source of pride as they learn to appreciate the journey food takes from seedling to your plate.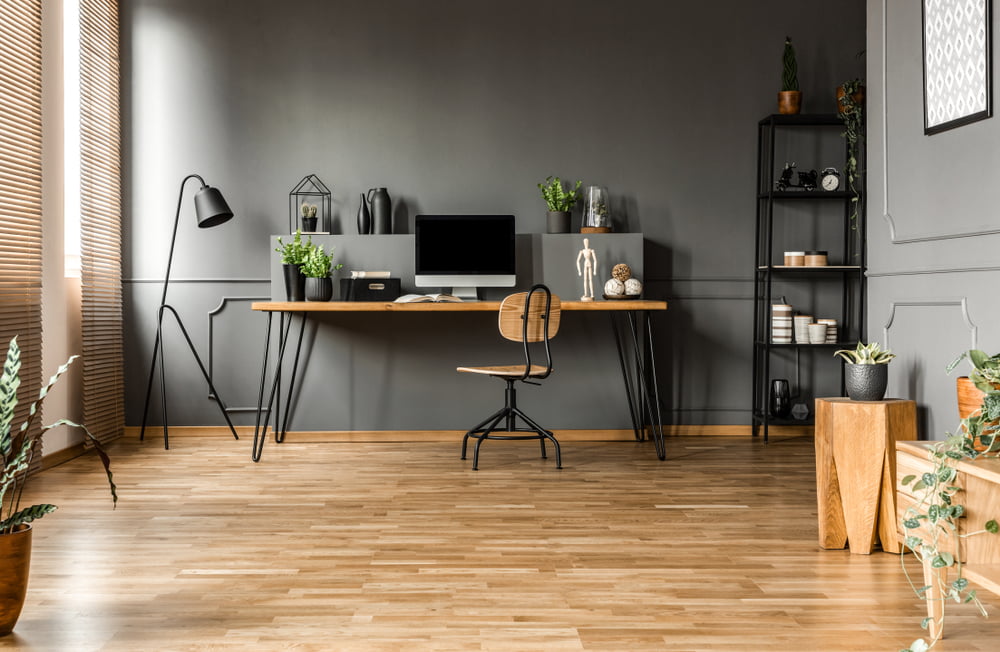 Creating a Dedicated Home Office
Remote working hit an all-time high in 2020. As a necessary adjustment for many businesses during the pandemic, few could have predicted the successful transition to working remotely.
Despite many businesses reopening their premises, 72% of workers hope to continue remotely working to some extent in 2021. While they understand there may be some requirements to attend the office, a hybrid of remote and office work is preferred.
If working from home continues to be the norm in 2021, people may need to upgrade their remote workspaces. Rather than transforming the corner of a dining room into a makeshift office, workers may have to consider creating a dedicated home office. We may see offices replace spare bedrooms or walk-in closets in homes worldwide.
Home Gyms or Exercise Studios
The fitness industry has experienced significant change because of the pandemic and subsequent movement restrictions. More people rely on remote exercise classes to stay fit due to a lack of access to gyms and training facilities. Home workouts monitored by wearable fitness technology are the new norm.
This shift in how people exercise will cause a rise in the number of home gyms in 2021. The main drawbacks to developing your own home exercise space are the cost or lack of space. However, for those spending a lot of time working from home, a regular exercise routine is essential for mental and physical health. Start small with a jump rope for cardio and a single kettlebell for strength training. To strengthen your core, pick up some balance disks and a foam roller to help with your recovery.
Sustainable Living in 2021
A home's versatility is becoming more important, from creating a low-maintenance edible kitchen garden to fabricating exercise, office and staycation socializing spaces. If you're planning some home projects for 2021, consider renovations that improve your home's resale value while ensuring its long-term functionality and comfort.