Each one of us dreams of living in an exotically dazzling place that brings joy and comfort at the same time. No wonder these spaces are often referred to as the reflection of our personality, and so it becomes crucial to own a living space that is beautifully built. 
Modern interior includes various techniques, landscaping, for instance, that glorifies your space within four walls. Whether it be any technique, the craftsmanship of magnifying the building interior to make the living area healthy and aesthetically gratifying has become pivotal.
What is Desert Landscaping all About?
The landscape is an easy word that can be explained as the idea of gardens that enhance the appearance and create usable space for outdoor activities around a home, combining science and art. When it comes to landscaping, the options are vast. 
Some would like to recreate a particular style they found appealing, or some may even try to cultivate a balanced combination of plants and patios. Desert Landscape is all about the recreation of deserts within your boundary!
This process involves the variety of ground coverings that need no water like crushed stone, artificial turf of pavers, and then arranging both these elements and desert plants or other dramatic elements in a way that looks appealing.
Why Choose Desert Landscaping?
The desert often gets a bad reputation in comparison to its vivid green counterparts. When we think about landscaping, it is usually within the flora & fauna of woodland surroundings or tropical heavens. Still, the desert holds a particular virtue of its own and can be utilized to reassess the potential of one's arid abode.
The concept of desert landscaping is growing in popularity, mainly because of its no maintenance asset. Places like Nevada and California often face a shortage of water to such an extent that there comes a crisis of drinking water because of which the government is forced to limit the use of water that households can use for things that are not necessary, and watering your lawn during that crisis won't be an essential task for sure. 
In some places such as Phoenix and Oregon, water is expensive. People observe that traditional landscaping cannot survive under such conditions. As a result, look for ways to create a beautiful space without the plants and elements that take excessive amounts of water to look good. As a result, we see that the dessert theme is environmentally safe and creates a sustainable environment. 
Through desert landscaping, you can precisely create a space that is beautiful and enjoyable yet needs almost no water or maintenance to survive while also being a responsible citizen. While to some dessert landscaping may sound bland but the actual thing is, they are unaware of its irresistible grace. Dessert plants captivate a lot of butterflies and hummingbirds! The native plants have a cool color gradient that brings a sense of calm and stability to your environment.
Unique Desert Landscaping Ideas
Man's artistry has brought forth desert even on damp lands. Its incorporation in modern landscaping is as easy as placements of sand, stones, and desert plants – most of which are merely green or look dry but have their significance. This kind of landscaping is appropriate for those modern homes that try to achieve a minimalistic look in the exterior yard of its expanse.
1. Gracefully Alongside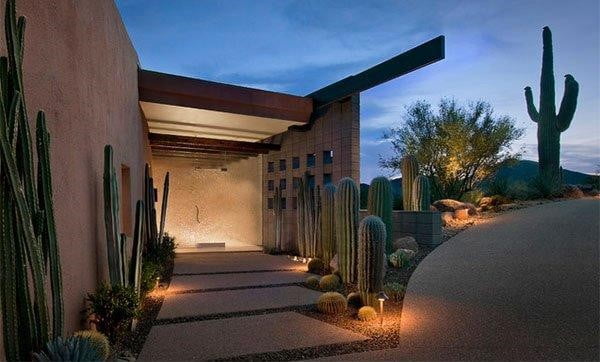 Huge marble steppingstones acting as the pathway, surrounded by small desert stones and different breeds of cactus, would turn out to be astonishing and welcoming to your guests! You can replicate such an idea by placing cactus or curve leaf yuccas by the side of your doorsteps, significantly surrounded by white dessert stones. 
Yucca plants also bloom with massive clusters of white fragrant flowers, which will significantly aromatize the aura of your expanse. Adding small orange-yellow or golden lights by the pathway will throw significance and give a realistic color tune of desert sands.
2. Adding Water Features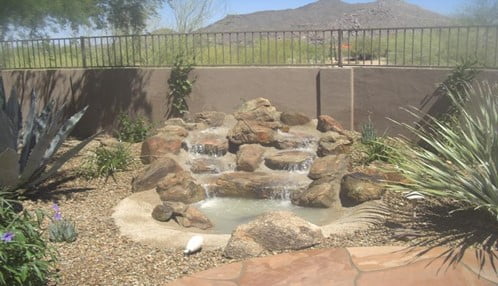 Bringing in the waterfall feature if you have a large space to fill can be a great add on. Water features can be quite expensive to buy and have installed, but once completed, they don't require maintenance, so if you don't want the hassle of caring for a yard full of plants, it can be an excellent way to create interest in your garden. It can be like an irony to the real condition of desserts yet seem captivating. 
3. Mix Up the Family as a Whole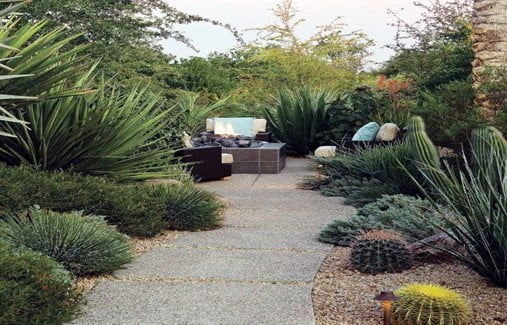 Mixing up all the available dessert plants such as saguaro cactus, golden barrel cactus, and yucca can be an excellent idea. Mixing plant forms, colors, and sizes is an easy way of adding visual interest. You can arrange them as outlines or group them like patches. The contrast that will be created by the various colors will captivate everyone around.
4. Significant Dessert Plant Beds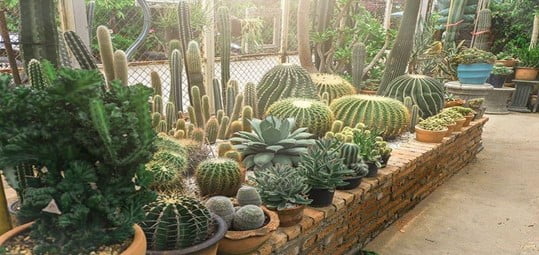 Build a raised bed in the middle or side of your garden with raised borders of bricks or pebbles, full of desert plants, to establish a focal point. Such beds filled with lush plants always establish a sense of fulfillment and vividness. 
5. Magic of Pebbles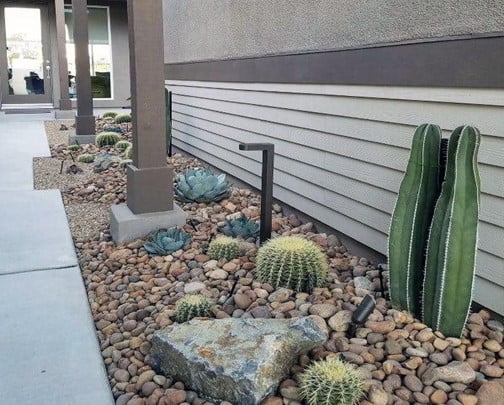 Consider laying pebbles in patterns on the ground to create a massive impact with a low budget. You can also lay pebbles in any geometric shape you like or any color pattern you prefer. The one above consists of baked pebbles that contrast the color tune of sands. Purple pebbles also have significant contrasting power when used as gardening décor.
6. Simple and Empty Exactly like Desserts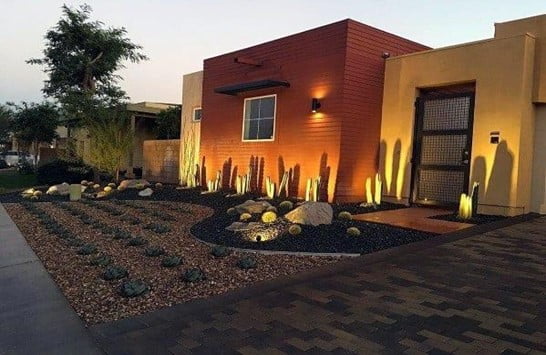 Some people like their yards to be as simple as possible to counterbalance their modern abode's interior and structure's elegance and classiness. Something as such above in the picture can be considered, which consists of a combination of a few varieties of desert plants and rocks.
7. Create a difference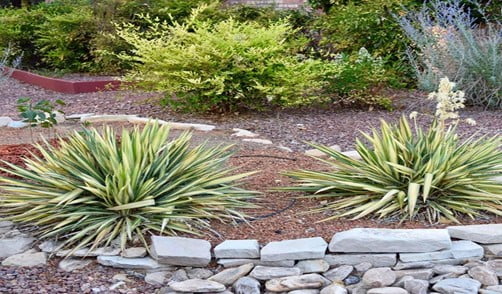 Therefore, the smaller desert plants usually go disregarded instead of going for smaller plants, big bushy trees as most of the desert landscaping can be considered. Altogether the whole thing would seem vivid. Bushy plants will give an idea of fluffiness.
8. Glittering Lights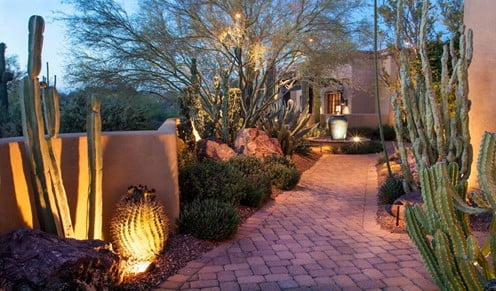 Lighting helps create a mood, whether it is romantic or lively. Plus, adding warm lights would throw a soft sandy tone to the surroundings. Choosing warm colors will add an essence of Arab and desserts altogether. You can choose colors like warm yellow or gold for a classy statement look.
9. Prettify with Junky Ornaments!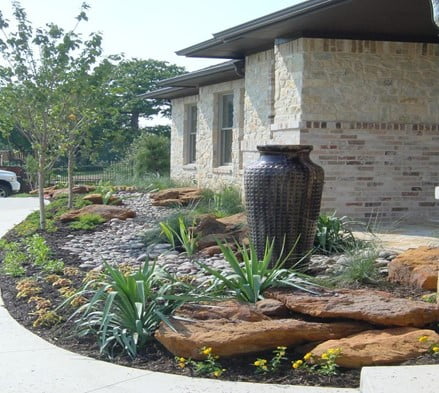 Introduce a modern sculpture that defines your garden as a contemporary space. Ornaments can stand alone in the garden and be a statement by themselves. Rusty metal structures can also be added to give out the theme of dry desserts. Other marble sculptures can also be added to give a sense of elegance.
10. Sloping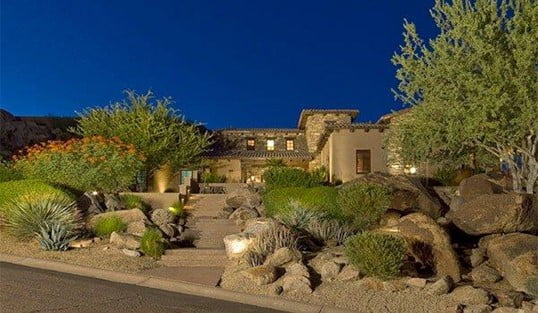 Beauty Carrying out dessert landscaping in hilly topography makes the whole thing unique. Here the front area of this house has been decorated with rocks and bushy desert plants, making the entire look classy.
11. Colour Combination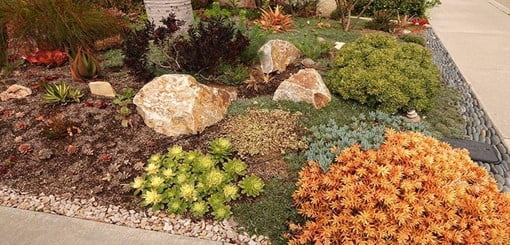 When we think about deserts, we think of thorny dry bushes, but it is not so! Colorful succulents in a range of different shades can be found easily. Creosote bush is a kind of dessert flowering plant that gives bright yellow flowers. Such combinations can make all overlooks of your dessert-themed yard vivid.
12. Fashionable Pattern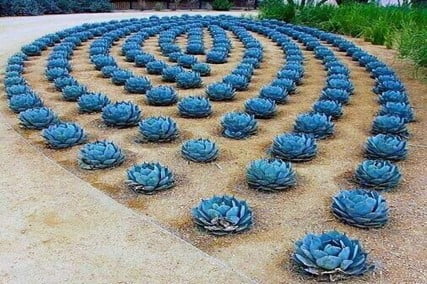 Symmetrical arrangements of dessert plants can be an immense delight to one's eye. Arranging the plants in a definite pattern and white pebbles with the various color combinations can be carried out in college or library campuses for an astonishing view promoting creativity.
13. Cultivating Dessert Trees to Magnify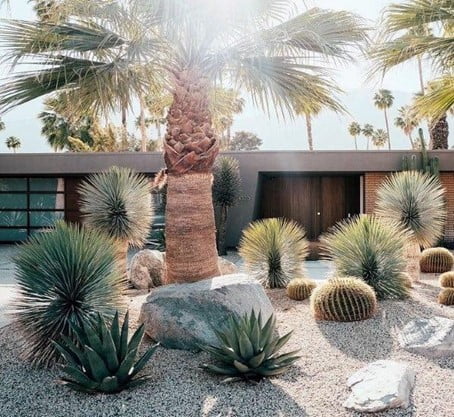 Cultivation of small palm trees can intensify the look of your space altogether. It is unnecessary to have ample space, though, so it is altogether easy to plant some to intensify the look based on the theme of desserts.
14. Dark Gold Background Theme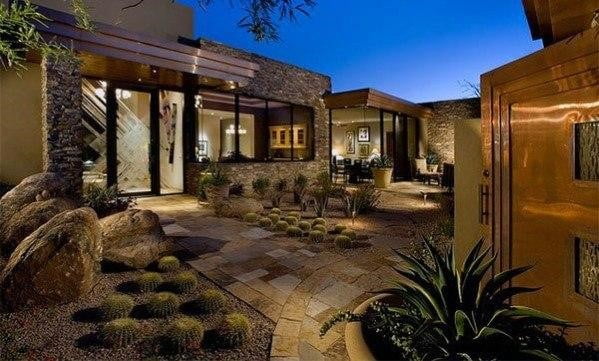 You can try to teach warm yellow or gold to intensify the look of the landscape further. These warm colors give a sense of stability and propel the theme altogether.
15. Boldness Speaks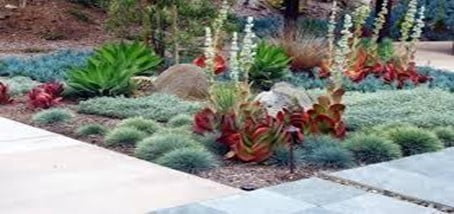 Place a focal-point plant by an entrance, walkway, or in front of a wall where it can be recognized. How can you achieve the focal point? Adore your garden by placing some bold-hued dessert plants in between to draw attention.
16. Striking Cactus Patch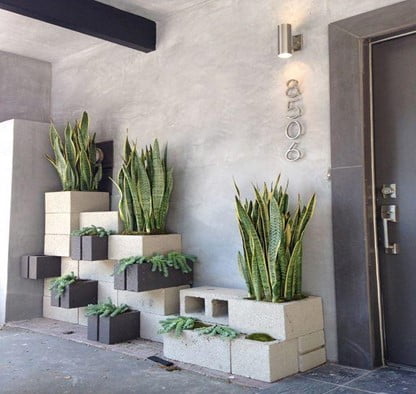 Cactus is the most renowned plant when it comes to describing dessert plants. Cactus has many breeds within them, which every time does make a difference in the interior. Contrasting cactus with red bricks or white blocks takes the interior to another level. 
17. Small Space Big Marvel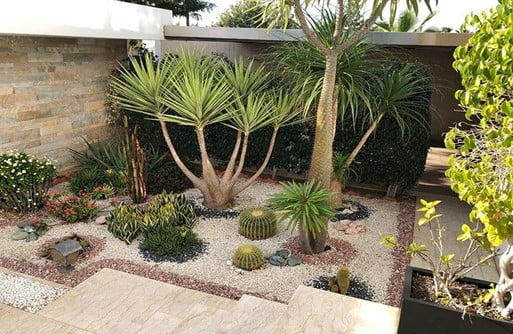 Patios surrounded by plants or contemporary courtyards take your expanse to another level. Do you have a small space? No issues anymore! A fantastic example of how a small room can create a modern and calming environment that is almost maintenance-free is this courtyard garden. Try to add height differences among the plants, which would intensify the beauty together!