A green, trimmed lawn or backyard can make any homeowner proud. For golfers in particular, having putting green at home is an excellent idea. As they say, practice makes perfect, but you can't practice in the wrong environment. So why not convert your backyard into an area where you can get some golf training done?
Now, you won't need an entire golf course in your yard. A decent space where you can safely practice your strokes would be enough to make a huge difference. However, growing lush turf all over your backyard is a serious commitment. And even if you're a skilled gardener, it might be impossible for it to grow properly in certain climates.
Thankfully, artificial turf backyard putting green is available so you can get a yard perfect for golf practice without committing to the real thing. However, the installation would require adequate preparation, skills, and patience to ensure that it's done well from start to finish. To make the process easier for you, here are some tips and tricks you can try:
1. Hire A Professional
Probably the best thing you could do if you want to install artificial turf on your property is to hire a professional to do it for you. While it's possible to handle it yourself, you have to take some time studying the entire process. You also need to purchase specific tools and materials to help you carry out the project. What's more, you'll likely be making a lot of mistakes in the process, so you might end up wasting turf while you're at it.
On top of all that, not everyone has the time to learn the process and complete the installation on their own. So to save time, money, and effort, steer clear of mistakes altogether by finding and working with the right contractor.
2. Survey The Area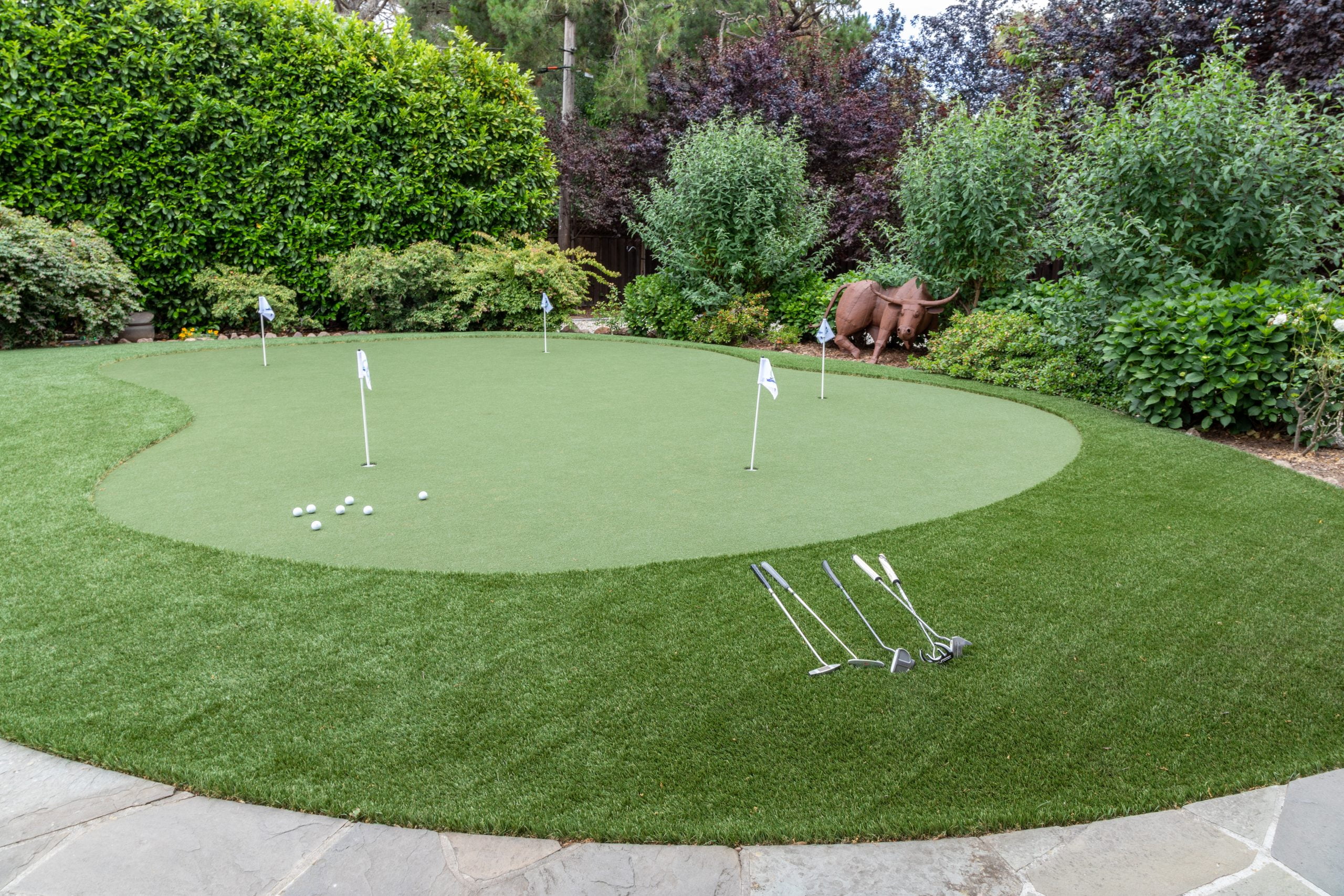 Even if you plan to install it on your own or request the assistance of a professional, it's important to survey the area first. This means assessing the condition of the yard, including the plumbing, landscaping, and everything else that could be affected in the area. Moreover, you'll probably have to measure the space so you can determine how much artificial turf you'll be needing.
3. Get Necessary Repairs Done First
After examining the area, you might notice some things that should be repaired. If the lawn is flooded, it's essential to have that issue addressed first because you can't install artificial turf in such conditions. Furthermore, any other work you want done, such as removing a tree or similar gardening tasks, should be done beforehand.
4. Set Up A Drainage System
If you don't already have a drainage system for your lawn, you should get that project started before installing any artificial turf. If the soil underneath can drain water well enough, you might not need that particular feature. However, if that's not the case for your yard, a proper drainage system that can prevent flooding on your lawn is necessary. For this, you'll also have to consider how often and how much it rains in your area.
5. Remove Weeds And Add A Weed Barrier
As part of prepping your lawn, you'll have to get rid of existing weeds. This means not just pulling them out but killing them entirely. Weed killers are available and easy to use, but you'll have to do this two weeks before installing the artificial putting green. And if you want to, you can install a weed barrier as well.
6. Prep The Soil
After getting rid of weeds, you'll have to do a bit of digging. This is so you can get rid of the top layer of the soil to make room for the artificial grass. Try to remove around three to four inches of topsoil and apply pressure to pack down any loose dirt. Then, the sub-base material will be needed.
But the combination of materials will depend on the climate where you live. For mild climates, you can use any of the following:
Decomposed granite
Crushed rock
Gravel
Type one stone
Rocks and stones measuring less than 3/8 inches
With the sub-base material in place, you can then start scattering a 10-15 mm layer of sharp sand. You'll also have to water the area, but don't overdo it. This'll help compress the materials and make them easier to level out. But to speed things up and make sure that everything's compact, use a plate compactor or tamper. Keep applying pressure until it feels like concrete or until the thickness is reduced to about 90%.
Everything should be leveled out, so if necessary, you could add more sub-base material. You could even loosen up some spots with a rake if they look too elevated compared to other areas.
7. Measure Carefully
Measure the area as accurately as you can and note everything down. Later, you'll be using the measurements for the rolled-out artificial turf to see how much of it you'll be needing. You can also use chalk to mark specific spots on the ground based on the numbers you get just to make them easier to spot later on.
8. Prepare The Artificial Turf
When rolling out your artificial turf, make sure that you do it outside on a level surface. Check your measurements and notes, and mark them out on the artificial putting green. Then, you can start cutting four inches starting from the edge to the center. But also see to it that you leave an inch as an allowance just in case you make a mistake.
You'll want to mark the entire piece you want to cut out before going in with the scissors. Make sure that the grass blades go in the same direction, even for multiple pieces. This will help the turf look more natural and realistic. After you're done cutting the pieces, roll them back in to protect them and keep them in place.
The next thing to do is to roll them out on the area where you want to install them. Don't drag them on the surface because this might loosen the base you made. If you have a carpet stretcher, you can use that to keep the artificial turf in place. This will also help get rid of wrinkles and make the installation smoother.
9. Get To Stitching The Turf
Start seaming the pieces together, but make sure that the seams are barely noticeable. To achieve this, the gaps have to be an eighth of an inch maximum. Do it one small section at a time, and take your time doing it to avoid errors. Cut any excess pieces so they can lie perfectly flat on the ground.
Then, use seam tape on the edges and where the sides of the pieces meet. Nails are good for fastening them as well. This will be difficult to do on your own, so ensure that you have an extra pair of hands to help you out.
You'll also want to apply pressure on the seams because you won't want them to come undone later. You can put some heavy objects on top of them so they'll stay in place. And nails will also be used in certain intervals to ensure that the turf won't go anywhere.
10. Do Some Final Touches
After the installation, you might want to inspect the putting green just to see if there are any problems. Some other things you can do is to trim the artificial grass, especially if some parts aren't even. Do this carefully with a carpet cutter or a utility knife.
To maintain your brand-new artificial lawn, you can use infill to keep it leveled out. Water it and leave it to settle for a day before checking whether it needs to be filled out some more.
Why Pick Artificial Turf Over Real Grass?
Real grass is undoubtedly beautiful, but it's also high-maintenance. Not everyone has the time to keep a well-manicured lawn, and not all climates can support a lush green lawn.
Besides, natural grass tends to grow out quickly, and mowing your lawn takes so much time and effort. Furthermore, there are a lot of problems that come with taking care of a yard. For instance, you have to learn basic gardening skills, which might be something you're not interested in anyway.
But choosing between real grass and the artificial kind isn't something you should fret or stress about. Sometimes, artificial putting green is a perfect fit for your lifestyle, or maybe natural grass is what does it for you. Regardless of your decision, as long as you can care for your lawn and keep up with its maintenance, you shouldn't have a problem with it in the long run.
Conclusion
A green lawn is probably one of the hardest things to maintain on your property. You can hire a gardener to take care of it for you, but it can get expensive. You have to invest both time and money to get the perfectly manicured lawn you've always wanted, especially if you're looking to have putting green in your yard.
To minimize the hassle, it's advisable to turn to artificial turf instead. The installation can be challenging, but you can always seek the help of professionals, and the final outcome will only need minimal maintenance compared to natural grass. Besides, think of all the hours of practice you can get without having to visit a golf course.