Ever wondered why lawns need to have grass at all? It started in the 16th century, and the ones who had grass in their yards were wealthy Englishmen.
And after years of real grass, they decided what is best between turf versus grass, and they chose turf.
In the 16th century, a few Englishmen decided to have turf grass in their lawns that started this ultimate debate of real vs. artificial grass.
In the modern era, people embrace turf as it is eco-friendly. Are you wondering how fake grass is eco-friendly? You do not spend a lot of water, electricity (if you have sprinklers), fertilizers, and you do not even need to mow the grass!
Ah, what a save! The companies are improving, making artificial grass win the turf versus grass war.
They are making turf that looks as natural as grass! What else do you need?
Real Grass vs. Artificial Turf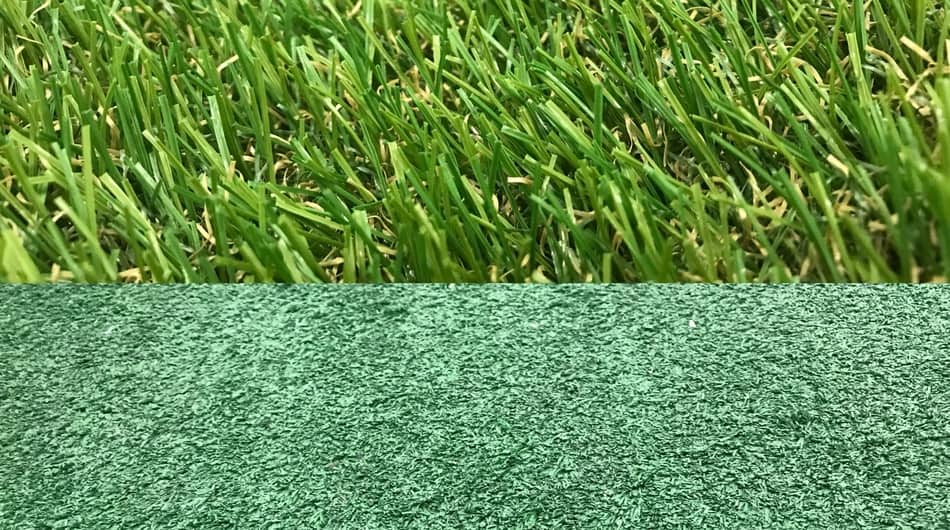 Well, if you thought turf beats grass because of the advantages, you are not entirely wrong, but there are more perspectives you need to explore before going to that conclusion. You need to understand the benefits of grass against turf too.
Are you shocked that there exist such services? Well, yes! Why do you think people still debate turf vs. grass if there are no advantages? Let us jump to the exploration of both turf and grass.
Well, turf refers to both artificial and real grass. But to avoid confusion, let us call artificial grass turf and the real one grass. There are benefits for grass too. No matter if the disadvantages outweigh the number of advantages, it is still a big deal to give up grass.
To know the advantages, let us get into understanding the weaknesses first. By this way of knowing the benefits, at last, will not make you feel biased towards grass or turf.
Benefits of Real Grass
Well, the feel of it! You cannot ever avoid feelings. It is our basic instinct to have some feeling towards anything'. Imagine going to a house with a real, mowed, and freshly sprinkled lawn.
Wouldn't you remove your shoes automatically and walk in the yard? Wouldn't you feel fresh and love to sit or roll on the grass? The natural things come at a specific cost, but natural things always have some essence that human-made things fail to have.
Its aesthetic value that adds to your house is enough to make you do the maintenance. Did you know that having grass in your yard increases your air quality index?
Wonder why? Because grass is a living object! It belongs to the family of plants, and plants, they conveniently breathe out Oxygen, which we need! 
And it breathes all the Carbon from you! You co-exist, helping each other; it sucks in all the polluted carbon-mono-oxide too.
On a hot summer day, you can sit on your lawn under the shades and feel the coolness coming from below. Grass also helps control the temperature. It cools the heat around the area.
It is an accepted fact that an average school basketball grass provides 70 tons of air conditioning.
That is how much the grass helps to cool the temperature. Rather than calling it cooling, we can call it conditioning.
Disadvantages of Real Grass
Great things come at high costs! It would help if you had many things out of the ordinary to maintain a lawn full of real grass. There are also many things you need to invest in physically to have grass.
If you are looking for aesthetic pleasure and nothing else, and if there is no external motivation to have grass, turf would be sufficient to meet your needs.
Water, these little cousins of plants need lots of water! Even an average lawn consumes more than what an average family of four consume all day.
If you belong to a drought area where you do not get enough water regularly, having grass is a bad idea. When it comes to drought areas, turf wins the battle of turf versus grass.
Electricity is essential these days. We are all trying to consume less energy as there might be fewer options to have this much energy in future generations.
To avoid a lot of physical work involved in watering the grass every day, you can purchase sprinklers. Sprinklers need a good load of electricity to function.
Even if you try to avoid most of the physical work, you still need to occasionally spend quality time mowing the lawn.
If you do not prune, cut, or trim the grass, the grass keeps overgrowing, and soon you cannot walk on your lawn.
You need to maintain the grass at the proper height; make sure that your lawn is mowed occasionally. It is a big deal if you are not sure about it.
Benefits of Artificial Turf Grass
You can see that whenever I mention the debate of turf versus grass, I keep stating that you should buy turf instead of grass.
The turf is always a good escape that you choose to run from all the efforts in having real grass.
 Artificial turf is a carpet that you put outdoors! Turf does not need watering, feeding, or even pruning and mowing. They are readily made from recycled plastic.
 If you purchase turf from a standard company, they can assure you up to 25 years. The lifetime of turf is 25 years.
Realistic Thick Artificial Grass Turf 5FTX10FT(50 Square FT) - Indoor Outdoor Garden Lawn Landscape...
THICK & REALISTIC ARTIFICIAL GRASS RUG: Grass height about 1.38inch in length, 70 oz total weight...
PERFORMANCE :Made of the highest quality UV resistant polyethylene and poly polypropylene yarns,...
ENVIRONMENTALLY FRIENDLY & SAVE MONEY: It is eco-friendly and non-toxic. No mowing, No watering, No...
Perfect for Outdoor decor, such as Garden, Lawn, Patio, Landscape, Backyard, Deck,Balcony, Porch and...
DEVOTED CUSTOMER SERVICE - For Amazon customers, this artificial grass with 10 years warranty and 30...
It means 25 years of no lawn maintenance. Isn't it peace? But again, all the cost you put here is a one-time investment.
It is not costly to purchase and start growing grass, but maintaining grass is more expensive than buying artificial turf. Customization is the essential thing that you can have in artificial turf.
Artificial grass wins the turf versus grass debate because of this specific feature. For grass to come to a particular look, you must put a lot of effort into it.
But you can purchase turf in the market by choosing texture, style, and even color. Imagine being able to pick colors for your lawn grass.
Disadvantages of Artificial Turf
Let us talk about feelings again because they are vital, as I told you earlier. Turf may look like real grass and can have the texture of natural grass, but at the end of the day, it is just plastic!
Plastic grass creates problems, a lot of bigger ones! Like climate change! Artificial turfs do contribute to climate change.
The main one is heating! While the real grass is cool and spreads coolness, turf is plastic and absorbs all the heat from the sun directly.
So, getting out of the delusion that it is eco-friendly, we should understand that it is just an alternative to avoid putting real grass.
But again, if you are in a drought-prone area, it is better to have half-real and half artificial turfs.
Having some natural grass helps you have an adequate level of water underground. But fake turf is useful to you in no way but aesthetic pleasure.
The turf versus grass ends when disadvantages or artificial turf are stated because it is not biodegradable either!
The Water Solution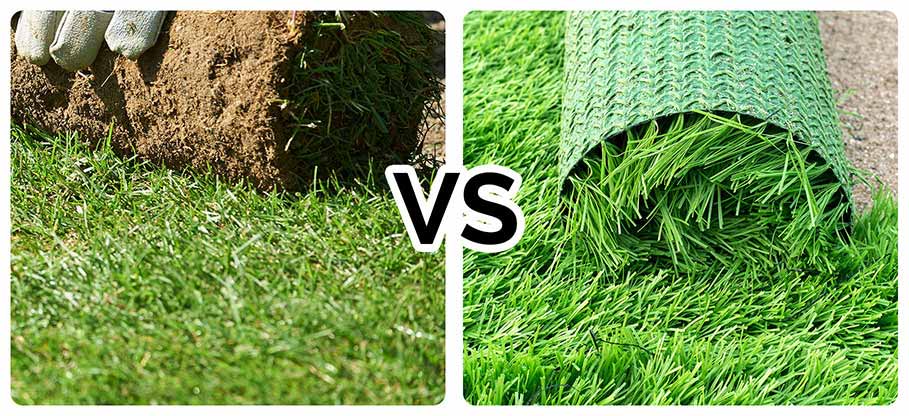 If your only problem with growing real grass is water, there are many water solutions that you can apply. If you love natural grass and live in a drought-prone area, all you need is proper planning to grow real grass.
If your house has grass, you can also have an adequate level of water underground. So, do not give up on the thought of growing real grass.
You can always recycle the water you use for gardens. You can use the shower, washing, and cleaning water for the grass.
That way, you are not draining water excessively and recycling them to use for your lawns. Consulting the right water solutions agency and asking them to set up your recycle line directly into the yard helps you recycle water.
There are also many other solutions to cut water consumption and yet grow real grass in your land.
Wrapping Up
Turf versus grass is some debate that will always surf up throughout history. It will surface up again after a lot of years.
The result of the resolution of the discussion between turf vs. grass depends upon many conditions.
One of such conditions is geography. If you are in an area where even a seed cannot become a plant because of the dried-up lands, you cannot magically grow grass.
Realistic Thick Artificial Grass Turf -Indoor Outdoor Garden Lawn Landscape Synthetic Grass Mat -...
THICK & REALISTIC ARTIFICIAL GRASS RUG: Grass height about 1.38inch in length, 70 oz total weight...
PERFORMANCE :Made of the highest quality UV resistant polyethylene and poly polypropylene yarns,...
ENVIRONMENTALLY FRIENDLY & SAVE MONEY: It is eco-friendly and non-toxic. No mowing, No watering, No...
The artificial grass mat provides great decoration for both outdoor and indoor areas with beautiful...
The grass turf can be cut to fit your exact requirements. When you receive our grass rug, please put...
Hence, you need turf grass! So, it is all relative to each other according to their geographies.
According to our geographic and financial condition, the people who should make choices of choosing natural turf or artificial ones are us.