Vinyl fence gate ideas are famous fences that one can view in front and the backyard. These gates of vinyl fencing offer a very great impression to the viewers. A fence gate that blends with the design of homes seems to be a perfect gate.
A gate is a thing that offers a combining function that provides a layer of safety. Fence gates help in keeping small children and pets inside the yard. The fence gate ideas will add more privacy and security. Complete your fence gate by selecting one of the best fence gate ideas.
Vinyl fences are available at a fair price, are easy to maintain, and have various vinyl fence styles that you can choose from. Want to know about some of the great fence gate ideas? The ideas will amaze you, and some of these ideas are very famous designs and styles that will make your house look beautiful.
1. Vinyl Picket Fence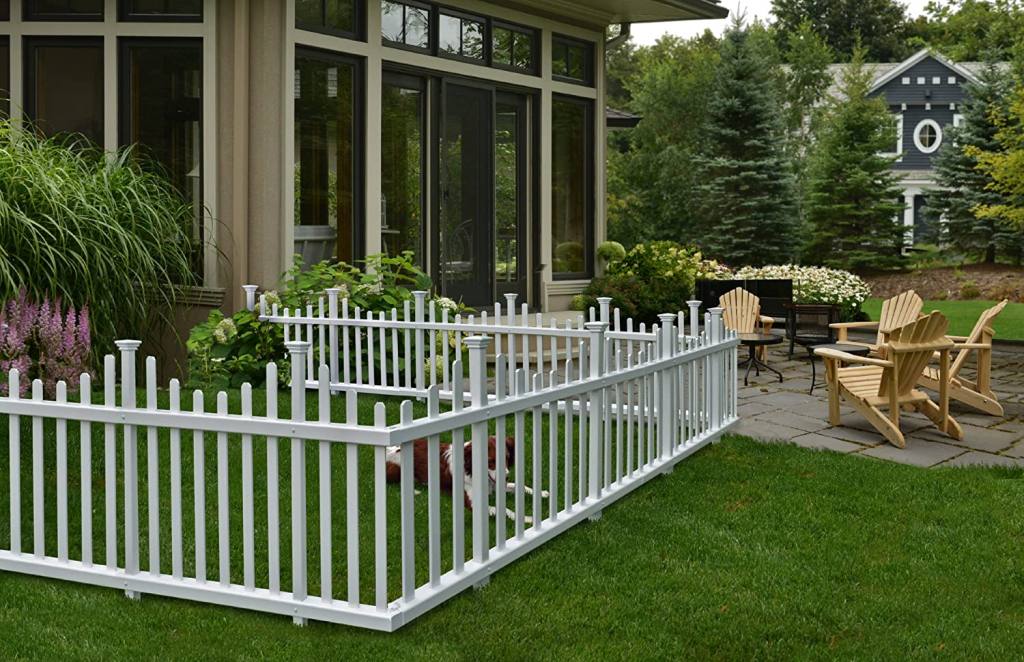 This is a straightforward and less expensive vinyl fence design, and the style contains pickets that are spaced evenly. The style comes in various heights and with various types of picket caps. You can make a gate of this vinyl fence and enhance the look of your yard.
2. Simple Vinyl Privacy Fence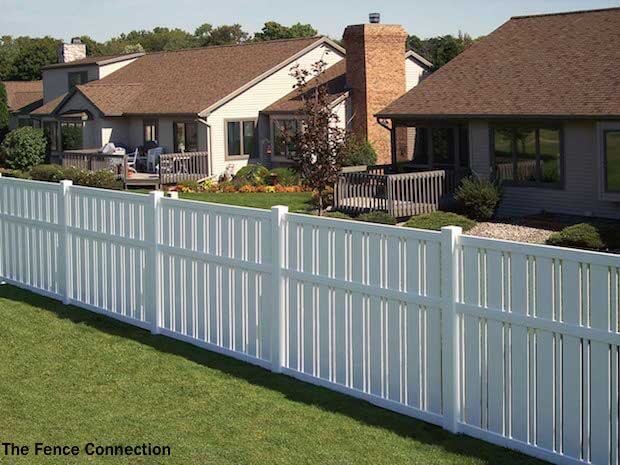 an exquisite and effective privacy fence, and this is the most classic style that remains in the same way as it is in summer. If you want to customize this privacy fence, you can customize it with a top rail, miniature vertical pickets, and many more. White color is a common color, but you can select clay and vinyl fences as well.
3. Two-Tone Vinyl Privacy Fence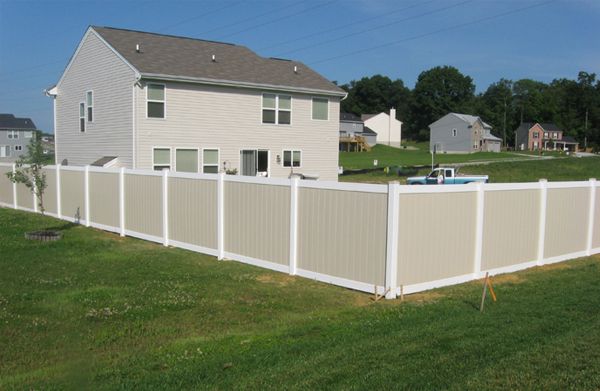 Vinyl fence gate ideas are becoming bolder day by day, and the most popular style is two-tone fences. The fence comes in two colors, one on the primary panel and the other on the vinyl frame. This permits your fence to act as a more prominent thing in the front yard. You can even customize the design according to your choice. White color is the most famous scheme.
4. Vinyl Privacy Fence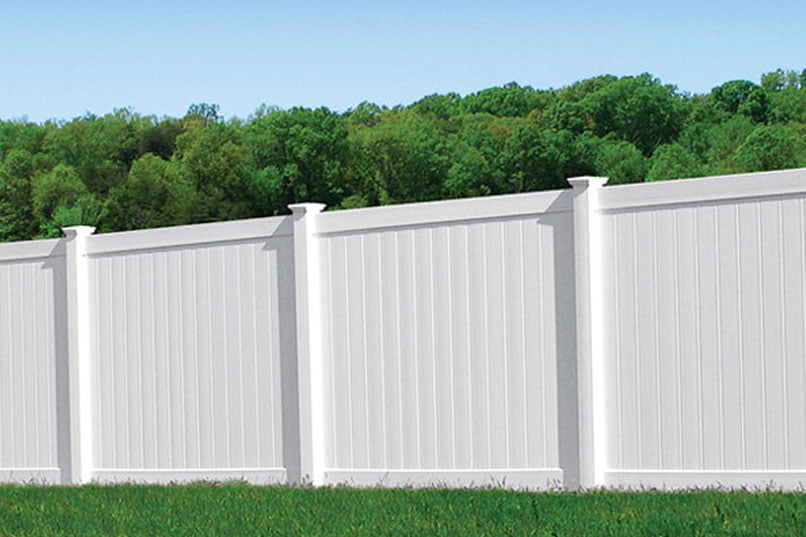 A cross between aluminum and vinyl fencing is becoming more in demand in the market. The style consists of an ultra-slim aluminum frame around a vinyl privacy panel. This style offers too much backyard privacy with an awesome look. As it comes with a high price but is the hottest fence gate idea. Many people customize the color that matches the design and color of the deck railing.
5. Wooden Fence Gate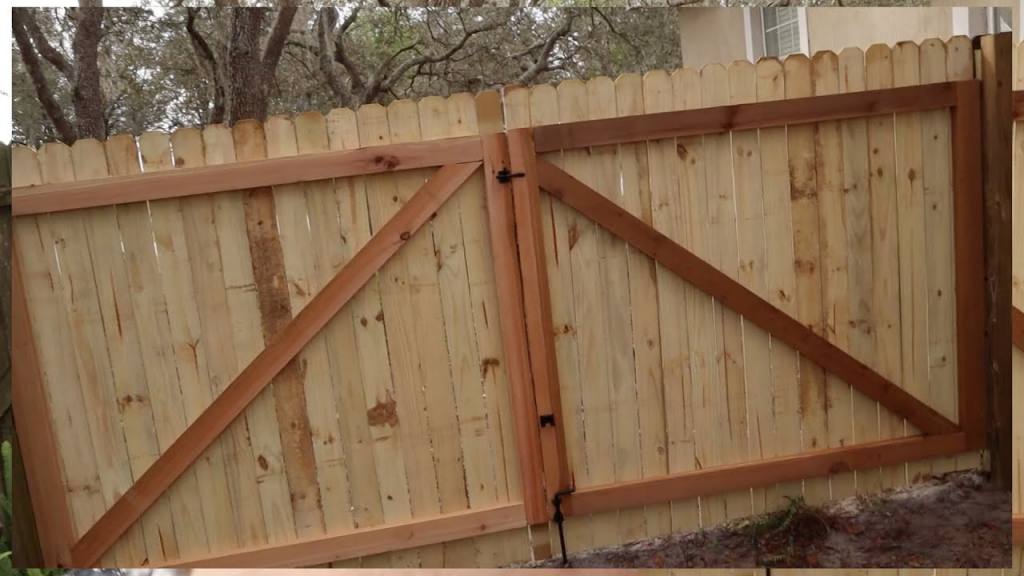 It is better to select a gate made of the same material as your fence. It will give a clean and cohesive design that makes your yard a beautiful one. A wooden fence is a great option for a yard. For instance, if your yard's fence is made of stained wood, then select the same wood for the gate also. A painted wooden gate goes well with a painted fence, and a raw wooden gate goes well with a raw wooden fence.
6. Metal Vinyl Gate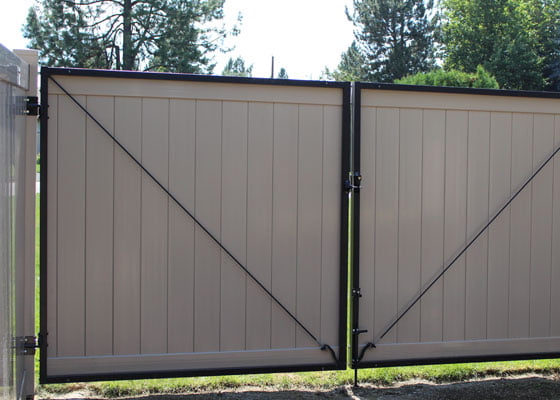 This vinyl fence gate idea will complete your garden and will make it beautiful. For a house with a simple garden and with contemporary style, this option is perfect. A metal consists of a chain link that is practical and simple and includes aluminum, cast iron, and corrugated metal. You can adjust the material of the metal fence gate idea with the metal that you use in your fencing.
7. Simpler Gate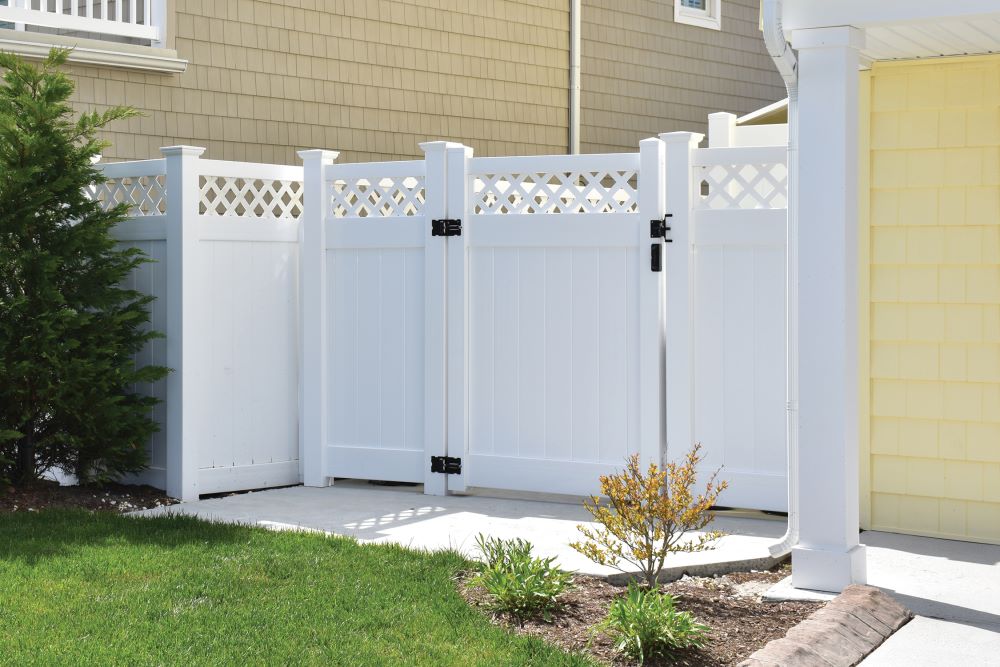 Vinyl and PVC are the best materials from which you can build a simple gate for your fencing. This gate requires less maintenance, and due to this, it becomes a great option for busy people. It comes in many colors, so you can select the color that goes with your fence. Vinyl can also be used for building fences and gates, so do not hesitate about the strength and quality of the gate.
8. Natural Fencing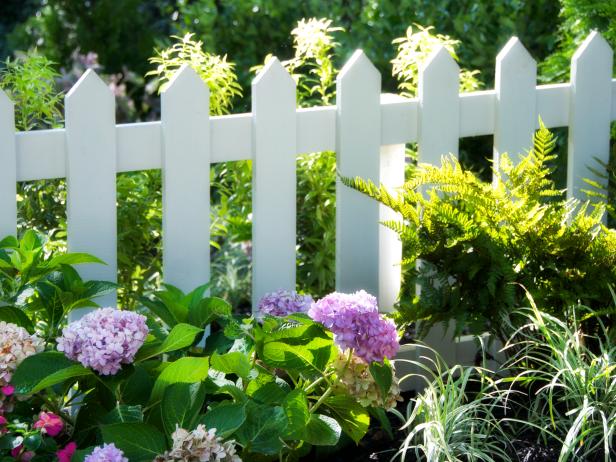 a perfect option for a traditional theme garden that enhances the look of your yard. If your garden requires something natural for the gate, consider the most popular materials, including rattan and bamboo. These two materials improve the natural feel of your garden. Rattan and bamboo gates work better when they meet fencing of the same material. It looks awesome and good when the fencing and fence gate materials are the same.
9. Composite Gate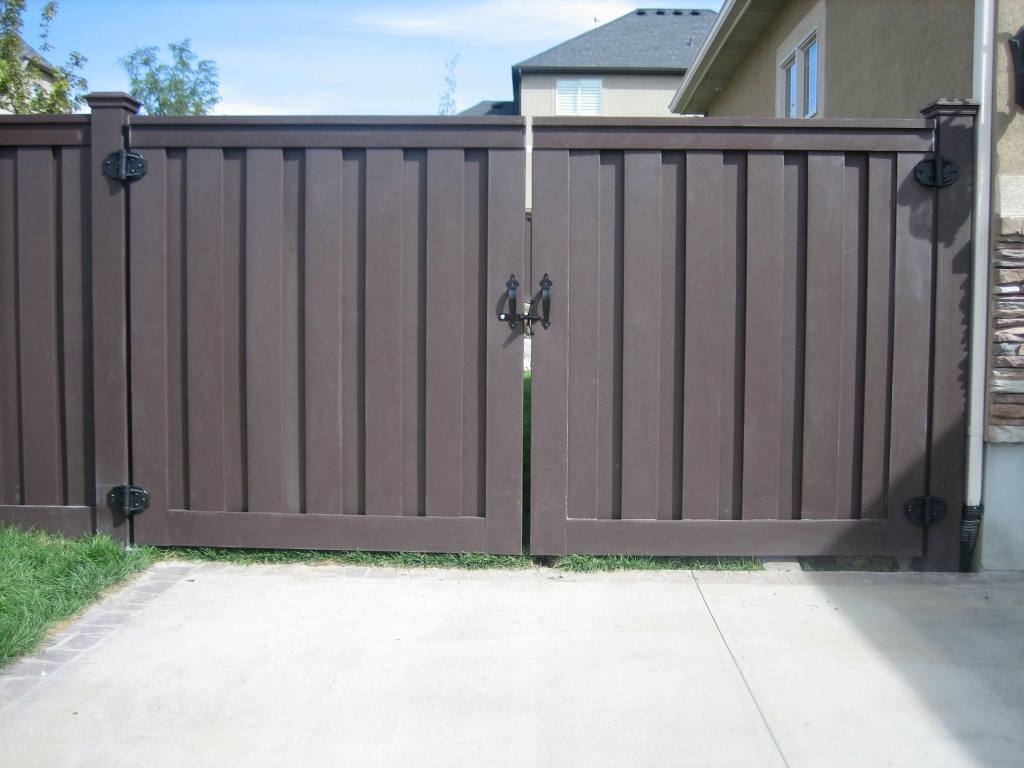 These are the gates that create a unique look between your fences and help in making the garden fence look special. It is a unique fence gate, and it looks like polyresin, but when applied to the gate, it looks like a wooden gate or stone gate. If you contain brick fencing around the property, then composite is a great material for your garden gate.
10. Cute Asian Gate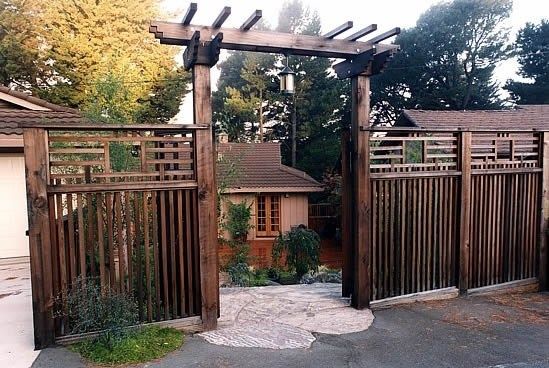 Asian gate is full of beauty and attractiveness. If you want to add something new to your garden, then adding an Asian gate is a good option between the fences. For balancing fencing and gates, add some natural ornaments like banana trees that contain red leaves, bluestone pavers, or bird plants in large sizes.
11. Modern Exterior Along with Plate Steel Gate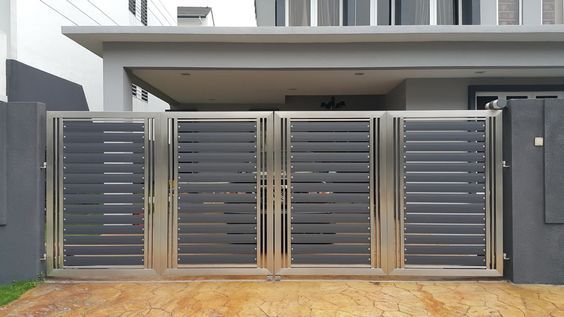 If the look of your old wrought iron gate does not seem to be nice anymore, then replace it with a new gate that is made or fabricated from plate steel. Make sure to complete the design of the gate by making it an automatic opening system, and remember that your gate should swing inward whenever you open the gate. A black color is a great option for this kind of gate, and monochrome is good for a modern look, whether it be indoors or outdoors.
12. Striking Fence Gate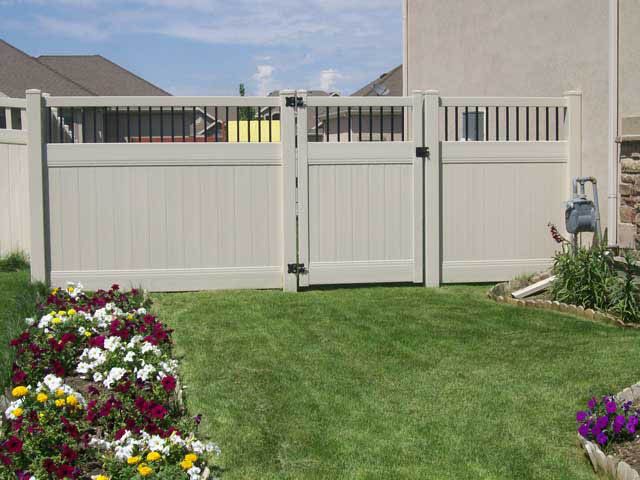 Always try something entirely different from other designs. For instance, try framing a unique colored gate along with a stone wall around the door. You can even paint your gate with other vibrant colors like red or pink or any other. And if you desire to let people know where you live, then complete the gate with a board that shows your family name.
How To Install a Vinyl Fence Gate?
Installing a vinyl fence gate is a snap and vinyl fence gate ideas improve the look of your garden to a great extent. Now, installing a vinyl fence gate requires a post hole digger, string line, gravel, vinyl fence system, and spray paint. Now, let us discuss how to install a vinyl fence gate.
When you determine the legal setback and property line, then mark out the location. Make sure to keep 8' between the posts.
Then temporarily set the posts with the help of a hole digger and add a few inches of gravel at the bottom of the holes for drainage.
After that run, a string line runs from the top edges of corner posts. Ensure that the string is leveled. And install all the remaining line posts at the same height.
Then assemble the panels of the fence according to the instructions. Make the holes of the bottom and top rails into perfect holes on fence posts.
Then permanently set the posts and apply PVC cement on the inside of the post caps and install top posts.