Summer is here! It is the best time to remodel and decorate your backyard or garden area. Remodel your backyard or garden area as a spot for pool parties, family get-together, and barbecues.
There are different ways and ideas to decorate your backyard or garden area. One of the most trendy and exciting ideas is setting up a flagstone patio.
What is a Flagstone? You must have surely heard about it or already know about flagstone. Those who have no idea about flagstone are rectangular stone slabs or squares used in patio design and pavement construction.
The best thing about flagstone is that it is easily customizable. Moreover, the flagstone can be customized accordingly to look stylish and attractive. We have come up with some exciting flagstone patio design ideas that are creative and attractive.
Go through this article to find out the best flagstone patio design idea which suits your taste and preference.
Flagstone Patio Design Ideas
Rustic Flagstone Patio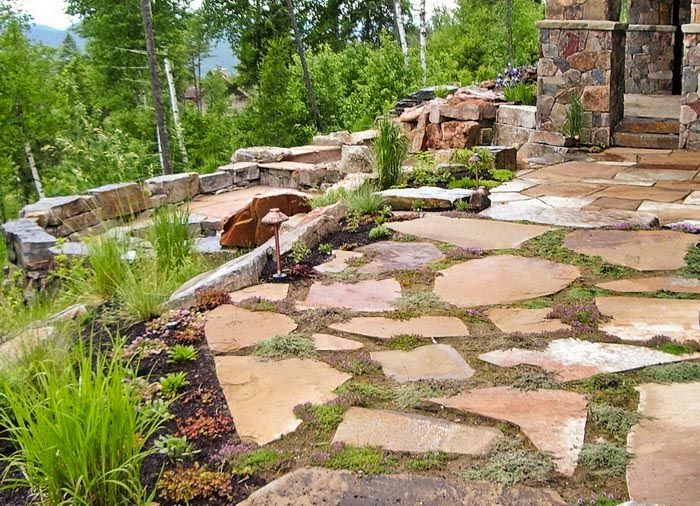 This involves rustic furniture and a flagstone patio. Even the walls and the floor can be built using flagstone. The color combination should be chosen such that it should match the rustic design. Go for the stone's neutral rustic colors, which will give a rustic feel to the whole setup. Flagstone brings in its unique touch, which enhances.
Flagstone Patio with Fire Pit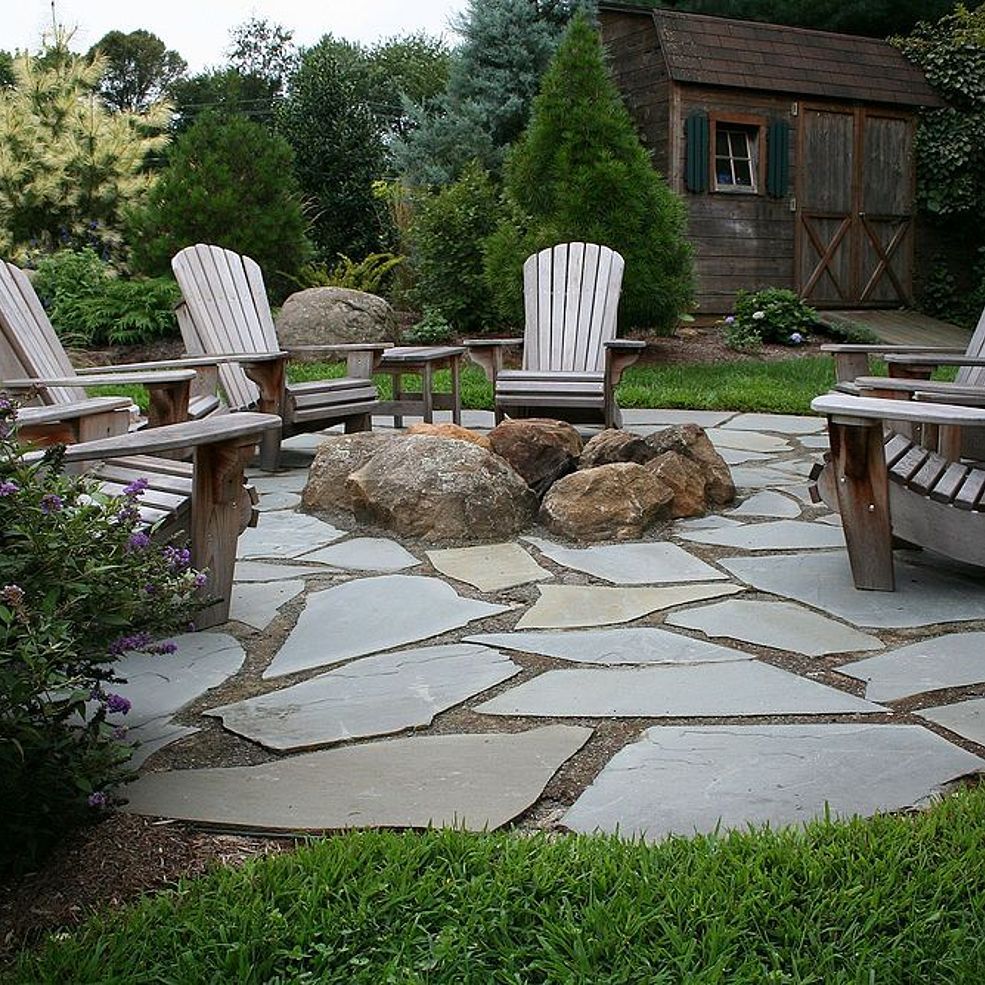 This involves a flagstone patio and a fire pit. This is more preferable if you want to use the patio in the winter season. The fire pit can be a place where small get-togethers can be arranged during chilly winters.
Grab on a beer and get your friends to sit near the pit. The discussion around the pit can bring in nostalgia and reminiscence when a group of friends. This gorgeous fire pit is constructed with flagstone. You can always count on this flagstone patio pit.
Flagstone Patio with Contrasting Colours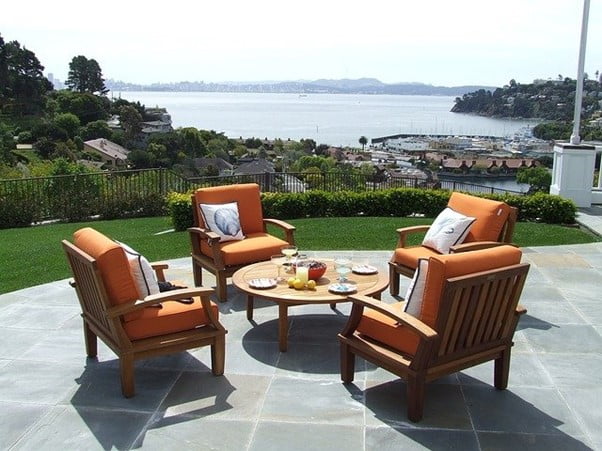 It is a flagstone patio design with contrasting colors of flagstone. They are placed so that it forms a contrasting yet attractive patio area for recreational purposes. You can also form different patterns of flagstones to form intriguing patio designs.
Flagstone Patio with Beach View (Or Feel)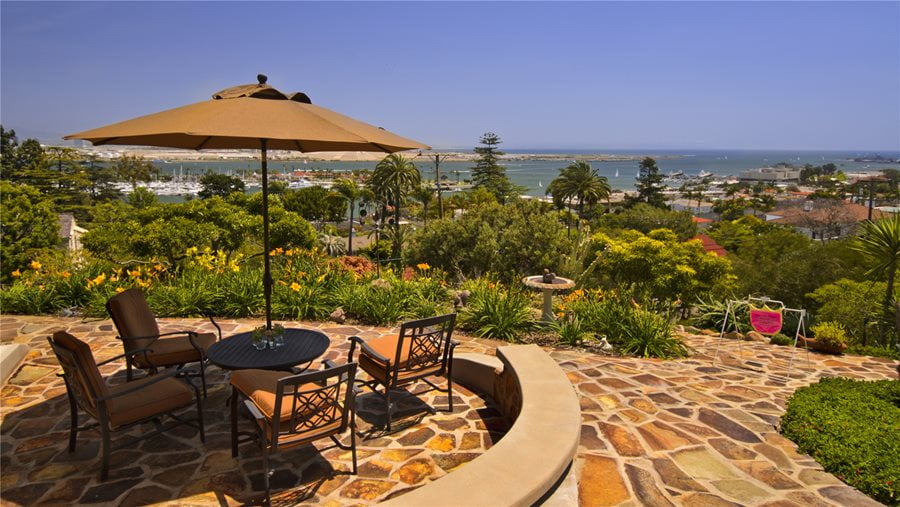 You can have a flagstone patio design with a beach view. Who wouldn't enjoy a beautiful picturesque beach that will make you feel transported to the beach? This flagstone patio design is the best for the summer season.
You will need a few beach chairs, beach loungers, beach lawn chairs, umbrellas, and of course, some beach drinks, and you are ready for your next beach visit.
Flagstone Patio (Summer Special)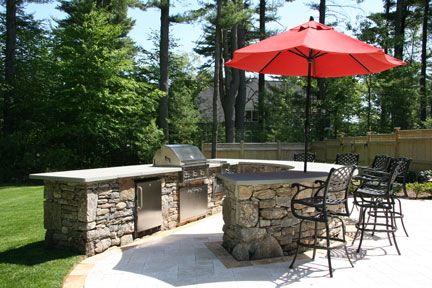 The best patio design is the one that suits the weather. This flagstone patio design is the best for the summer. It creates an artificial summer scene using flagstone and brick combinations. Along with these, get a barbecue grill, umbrellas, and benches to get an even better feel of the summer. Go for this flagstone patio design if you are planning for some summer special.
Flagstone Patio with Woodwork and Greenery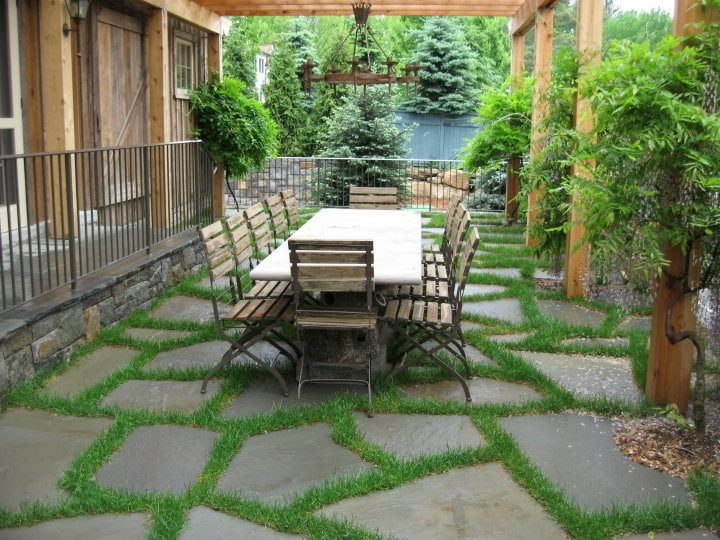 This flagstone patio design involves woodwork. It gives you a feel as if you've teleported to a forest. Bringing in some greenery will make this flagstone patio design a bit cozier. You can add a few more accessories like umbrellas, benches, and even a hot tub to improve the level of comfort and coziness. The combination of flagstone and wood (and greenery) makes it look attractive and beautiful. You can also plant a few flowering plants to enhance the beauty of the patio.
Flagstone Patio with A Dedicated Social Area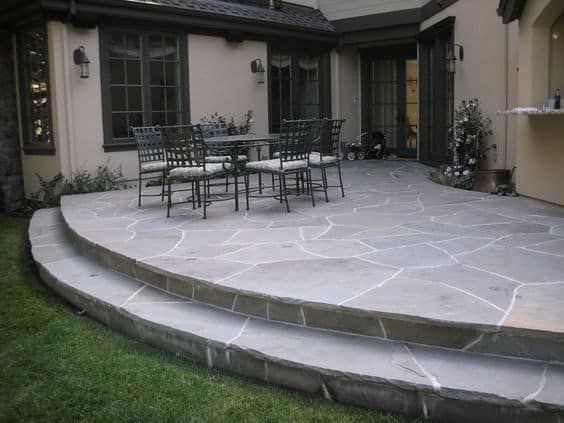 This flagstone patio has a dedicated social and pool area for get-togethers, social gatherings, and pool parties. You can also have a fire pit, lounge chairs, and umbrellas for extra comfort. This patio design will give you a substantial outdoor space. This will help you in planning substantial outdoor parties and get-togethers.
Simple Flagstone Patio Design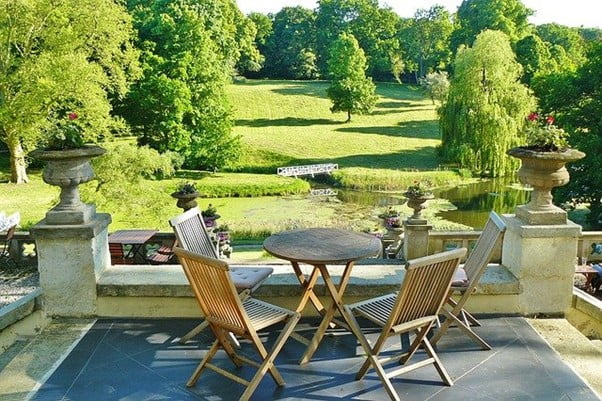 Simplicity itself is a beautiful design. If you want to have an average yet comfortable flagstone patio, then go for this design. This patio design is best for those with small spaces. Just place a few potted plants (preferably flowering ones) and cozy chairs. You can also add a few other things according to your wish.
Flagstone Patio with A Forest Theme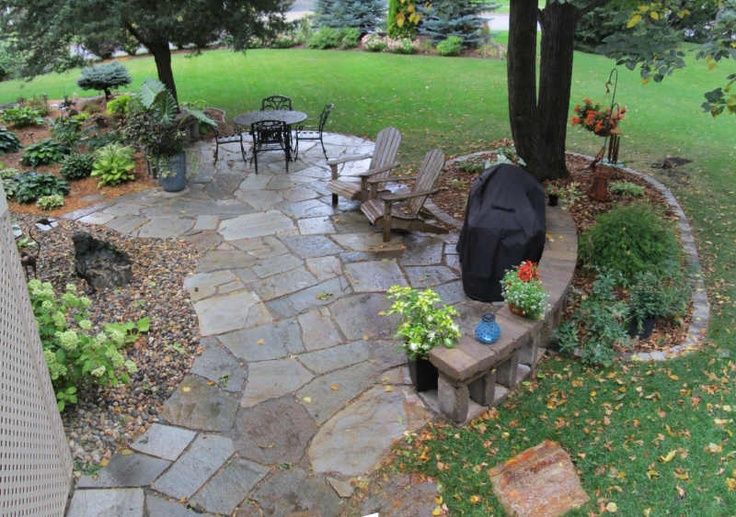 This flagstone patio is not very different from the one with the woodwork. The only difference between these two is that this flagstone patio design involves more greenery both as color combinations and the number of potted plants and vines.
Even the flagstone's color can be chosen accordingly. You can also select a contrasting color combination. You can place barbeque grills, benches, and even lush green chairs, accordingly.
Flagstone Patio with A Desert Theme
It is a straight-up upgrade from the rustic flagstone design. For the desert theme, firstly, you need to choose the right color combination. Then bring a few rocks and some sand to get the feel of the desert. You can also place a few cacti to get immersed in the feeling of the desert.
Only The 'Flagstone Patio'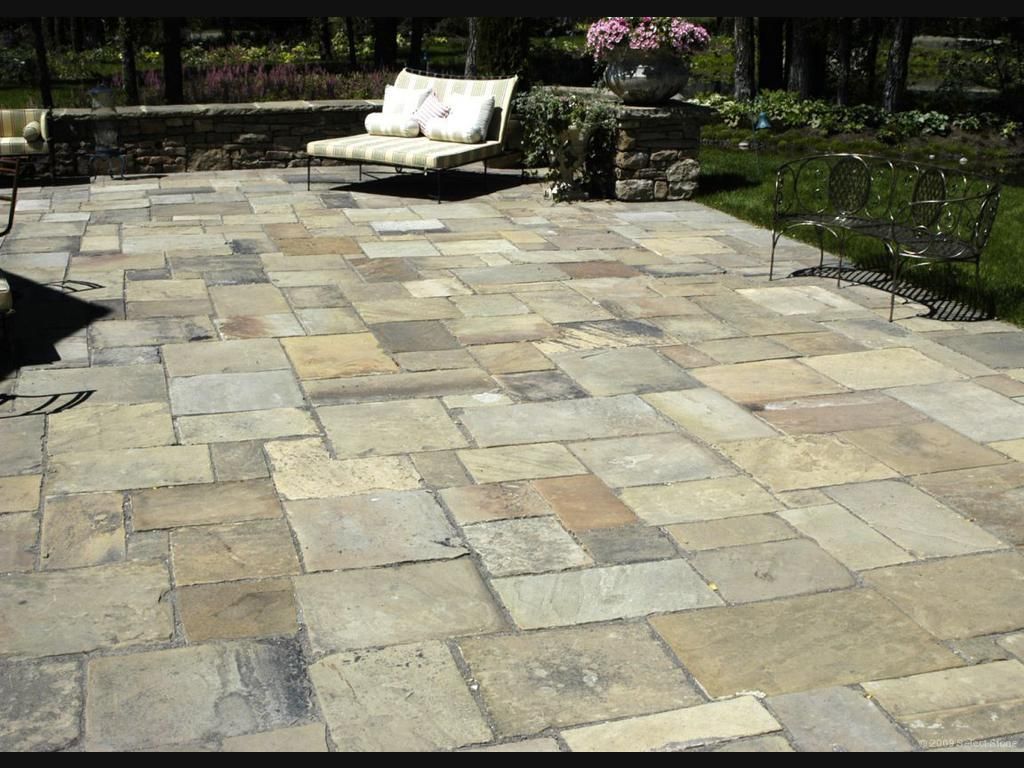 This flagstone patio design only involves flagstone. The flagstone itself is entirely self-sufficient to bring out the elegance of this patio. But this makes it quite simple, so you need to add a few more accessories to enhance the look of this patio.
Flagstone Patio with Light Colours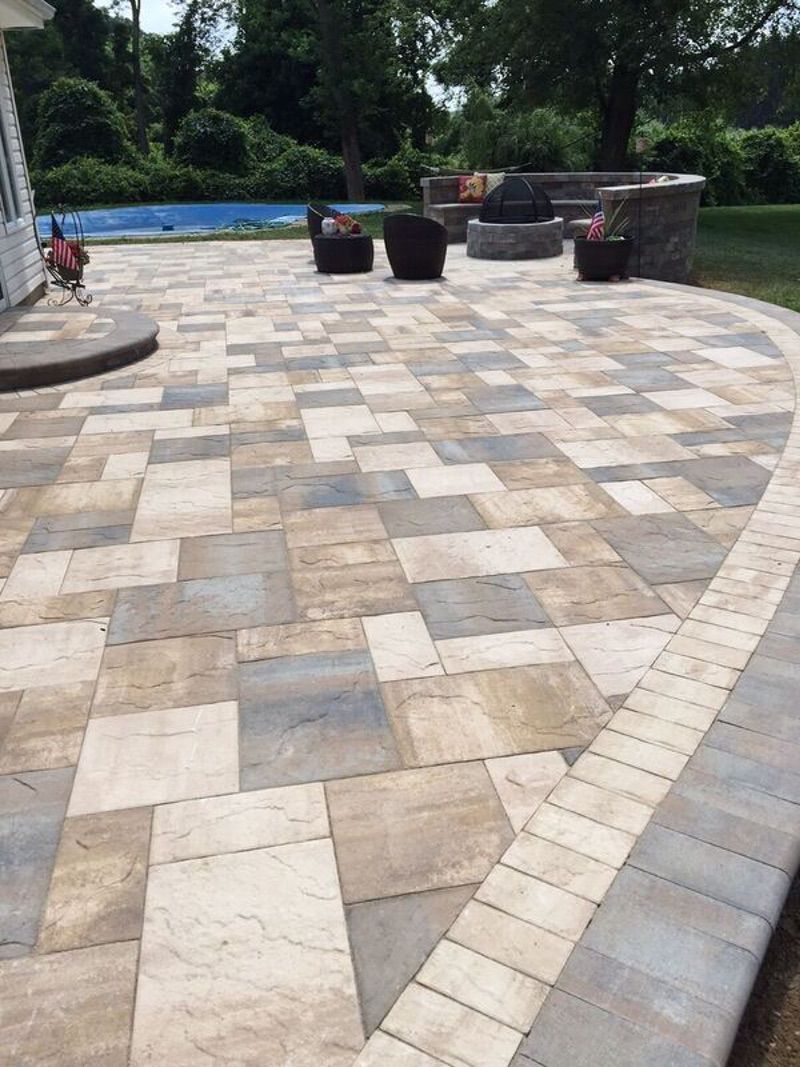 The only difference between the previous one is the color combination and the colors chosen. This is chosen when you need to highlight the background and give less importance to the flagstone.
Flagstone Patio with Unique Shapes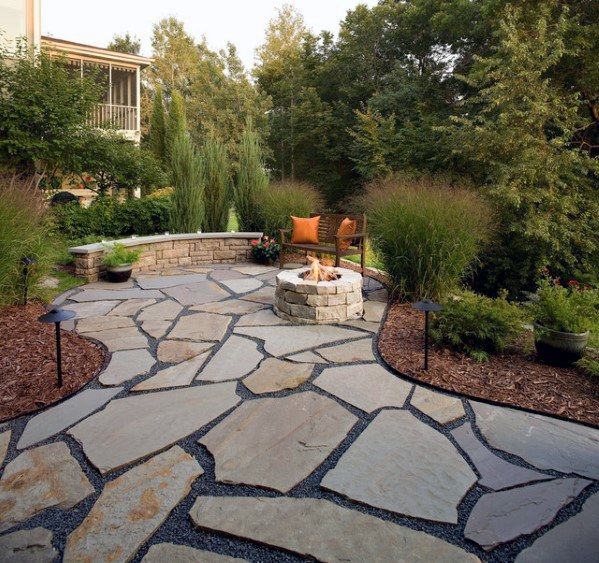 This flagstone patio design involves your creativity with different shapes and layouts of flagstone. This is usually done when you need to customize the flagstone patio according to one's taste. It can also get you applause in the social gatherings held at this venue itself.
Flagstone Patio with Natural Grass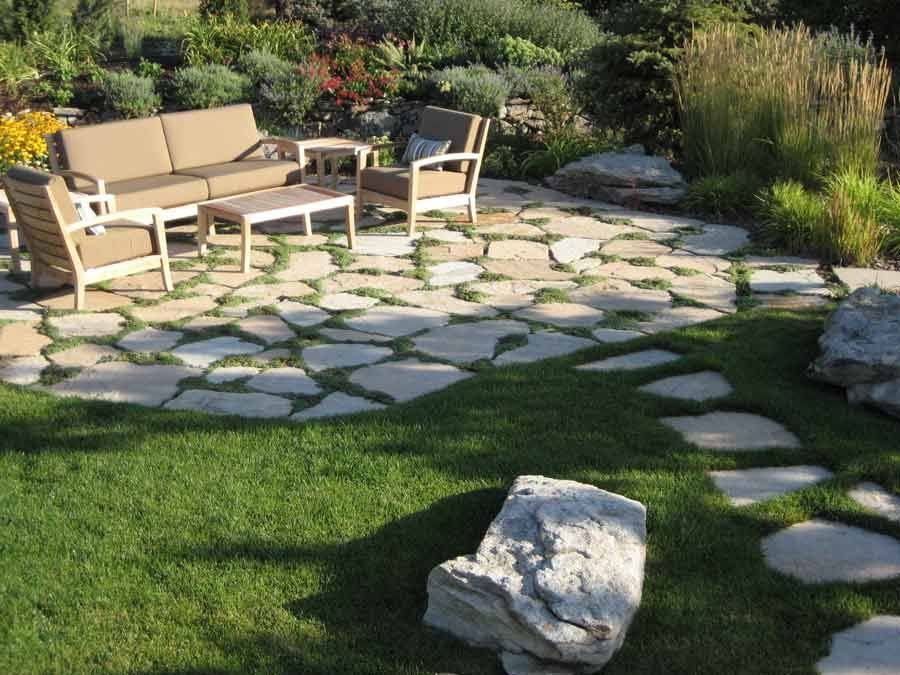 When you choose the simple flagstone patio design, if the flagstone is large and flat, the space between two such flagstones helps in the natural growth of grass. Use light colors for flagstone for a better aesthetic pleasure.
Some other flagstone patio ideas you can try are Raised flagstone patio, celebratory flagstone patio, cozy92020288
night flagstone patio with woodwork, tranquil flagstone patio set-up, and mismatch (of color combination, structure, polish, and shape) magic flagstone patio, polished flagstone patio set-up.
Conclusion
Choosing a patio is not an arduous task if you know your requirements, needs, resources, and necessities.
All these options involve flagstone with other accessories like furniture, potted plants, etc.
Go through and analyze these options and understand their feasibility accordingly. We hope that you were successfully guided and inspired by the above options. Thank you!