Jumping on a pile of leaves rather than on 12 ft trampoline with your lover seems romantic only in movies. It is not as heart-warming to soak in some sunshine and fall back upon those leaves to spend time with your family.
Raking leaves is just inconvenient and extra tedious work unless it is a cold winter morning and you want to go out for a walk and fill out the feeder with squirrel food. Leaf raking is not something you will enjoy doing, and it will only seem like an additional burden if not done in creative ways.
This article will discuss many innovative and genius ways to rake leaves to make the chore much faster and efficient.
Why Do You Need to Rake Leaves?
Have you ever wondered what would happen to the flowers in your garden if they were covered with a thick pile of leaves? They would die! Same with your lawn grass.
If you do not rake the leaves before winter sets in, the grass can get quickly smothered. The soil in your lawn might also suffer from water and nutrient deficiency due to the thick barrier of leaves. Also, it might turn into quite a cozy spot for snakes.
Leaf Raking Tools You Can Keep Handy
Before you discover the genius way to rake leaves that works for you, invest in a quality rake. Make sure that the rake is light so that you do not strain yourself a lot.
It is always better if the handle is long enough not to have to bend a lot. Always buy the rake with a broader end so that you can rake more volume of leaves at once.
Yangbaga Rakes for Lawns Leaf Rake, 30.7"-50"Adjustable Garden Rake 8.7" Wide Lightweight Steel Handle,Plastic Head, for Gardeners,Kids Leaf Rake,Camp Rake Garden Digging Gloves (Green)
SAY NO TO CHEAP PLASTIC-According to customer's suggestion,the 4 tubes of the rake are made of durable high-quality stainless steel, while the 11-tooth lawn rake is made of aluminum, so garden rake is super sturdy, resistant to rust .
ADJUSTABLE-The total length of the rake can be adjusted to three different sizes:78cm/30.7",102cm/40",130cm/50". The width of the 10 tines rake is 22cm/8.7".Long handle design(130cm), efficiently collects the leaf without bending over and over again.
EASY TO INSTALL AND CARRY-Snap buckle design, after adjusting the rake, turn it in the opposite direction to fix the rake,When you need to use rakes for outdoor camping activities,our collapsible garden rake can be abridged and you can carry it in your car trunk or cycle rack.
GIFT-Garden gloves with fingertips claws for digging Planting genie garden gloves, best gardening gifts for women and men.
MULTIFUNCTIONAL-Its adjustable height and11 tines remove debris without damaging plant feeder roots, easy to go under bushes and between flowers or in a vegetable garden. Perfect for gardens, leaves, lawn, artificial grass and weed raking.It's also works great for picking up leaves and pine cones.
Martha Stewart MTS-TELR Shrub Rake with Comfort Grip Handle
MARTHA STEWART + SUN JOE: Two great brands, one powerful mission: to make the very best tools for your home, yard and garden.
AUTHENTIC: Old-world style craftsmanship meets precision yard + garden equipment
DURABLE: Designed for a lifetime of use in the lawn + garden
COMPACT: 5.4-inch compact spring tines maneuver easily between plants
TELESCOPIC: Pole extends up to 35-inches to reduce bending and back-strain
ORIENTOOLS Garden Rake, Adjustable Lightweight Steel Poly Shrub Rake, Plastic Head, 22 Tines, 42 to 60 Inches (Silver Handle)
Adjustable Handle: The rake can adjust overall length from 43 to 66 inches by twisting the handle clockwise, and you just turn in the opposite direction to fix length.
Multifunctional: The rake is easy to go under bushes and between flowers or in a vegetable garden, and you would never have to lean over the yard again.
Lightweight and Compact: This leaf rake is very light and maneuverable around your garden and in between your car and curb where leaves tend to collect, and the 26 tines are solid and close enough that leaves don't get stuck.
Long Reach: The long 66'' handle will save your back when you clean up your yard, and create the healthiest environment for your lawn, your grass and soil need to breathe and receive water.
Easy to Storage: When not in use, the handle can be abridged and you can hang it up to save space.
TRG GK102R The Groundskeeper II Rake, yellow
Not your average rake
Removes leaves from bushes by allowing green stems to pass between tines without harm & can move sticks, twigs, grinder chips, bark, mulch and even gravel
The round and stiff tines of the Groundskeeper work differently than the flat, flexible tines of other rakes
28 steel tines, 55-inch yellow fiberglass handle, 21-inch head (tines & handle can be purchased separately)
Made in the USA
Here Are Some Clever Hacks and Genius Way to Rake Leaves:
Use A Tarp to Protect Your Back
The main reason why most people hate leaf raking is back pain. Leak raking can feel exhausting and take a toll on your arms and shoulders.
This chore involves bending too many times that can cause strain in your body. If you use a tarp, you no longer need to drag all the leaves to a specific spot for bagging.
Only law down a canvas tarp or a plastic to collect all the leaves on its surface. Later you can roll it up and dump the leaves. A tarp with rope can be even more convenient and comfortable.
Make Mulch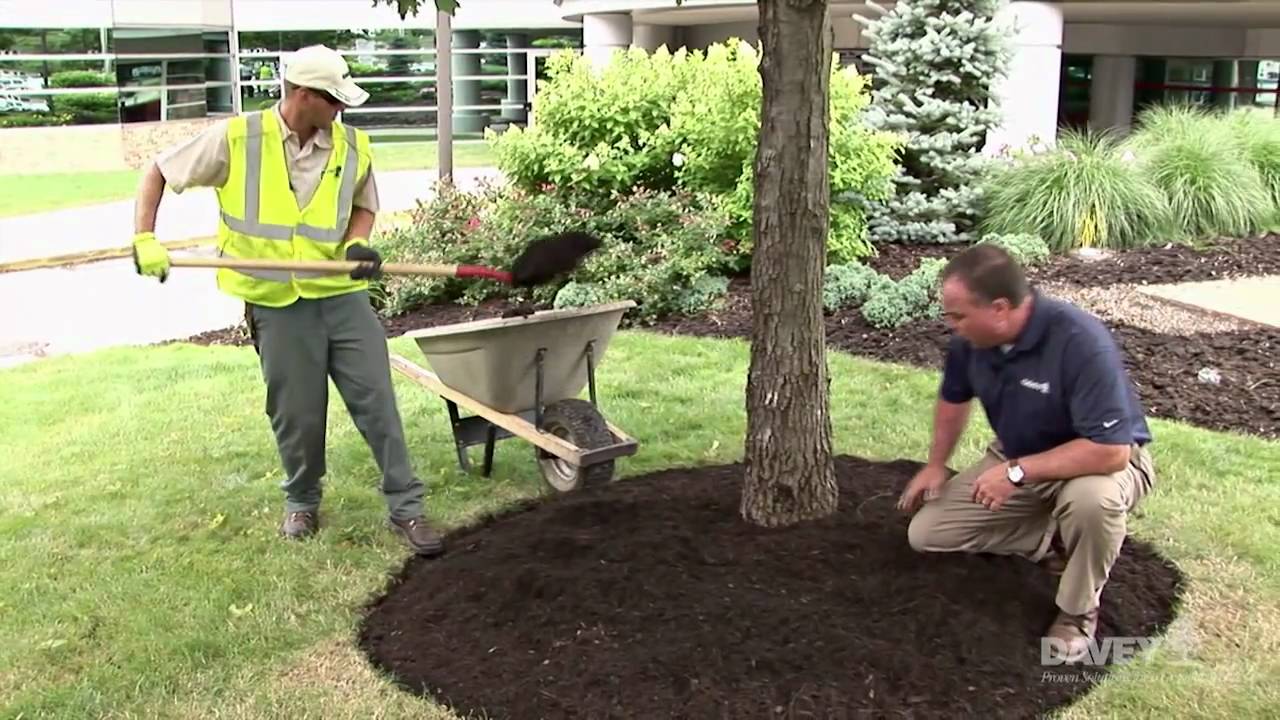 If you are looking for a genius way to rake leaves, there cannot be a better way than mulching. It is a process by which the leaves break down into organic matter, which you can later use as composting material.
You can also produce fertilizer from your leaves with this hack. Later, you can either vacuum these leaves or let them be.
Dry Off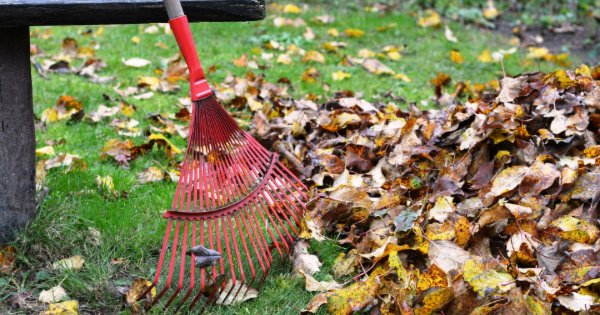 The worst leaf raking mistake you can commit is raking right after heavy rainfall. Wet leaves are heavy, sticky, and comparatively challenging to rake.
Do not make a mess! Always start the raking hours after the rainstorm so that the leaves are at least moderately dry, or it can be a complete nuisance and take a lot of time.
Multitool
One of the creative and genius ways to rake leaves is using a snow shovel. They are broader compared to ordinary shovels and can hold quite a large number of leaves at a time. Almost all of us have swept dirt on the dustpan with the help of a broom.
This process is precisely similar. You can easily rake the leaves on the shovel surface and collect them in your bag. This hack is relatively a lot simpler than the other hacks.
Sale
Harness Nature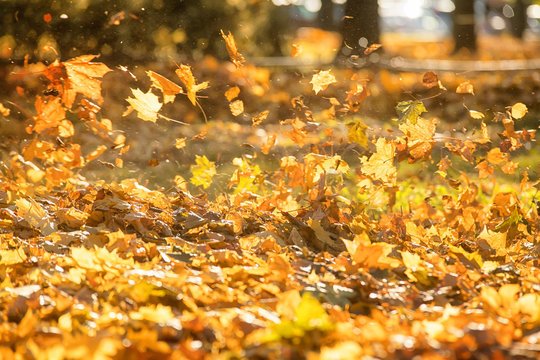 Leaf raking is a natural process, and nothing better than taking help from nature itself. Notice the direction in which the wind is blowing and rake the leaves in the same direction. Raking is a fall activity, and some natural wind can always help.
We bet if you follow this trick, you will take a lot less time, and the process will feel a lot easier. Don't believe us? Check with a stopwatch yourself. Also, if you live uphill, try to rake downwards.
Be Handy
Putting on a pair of gloves quickly before raking is always convenient and a genius way to rake leaves. First, if your rake has a metal handle, your hands will not feel cold, and there will be no discomfort.
Even if it is not a metal handle, but the weather is cold outside, gloves are suitable. Also, if you are raking for hours in quite a large space, the gloves can save your palm from blisters.
Gloves are essential for maintaining hygiene. Picking up anything dirty and unsanitary is something you wouldn't prefer a lot.
Sale
Vgo 3-Pairs Synthetic Leather Work Gloves, Multi-Purpose Light Duty Work Gloves, Breathable & High Dexterity, Touchscreen (Size XXL, 3 Color, NB7581)
VERSATILE APPLICATIONS - Perfect for all types of light-duty work, gardening, driving, and multi-purpose work in construction, logistic, warehousing, mechanics, etc.
ABRASION RESISTANT - Synthetic leather palm filled with 5MM foam padding for abrasion
LIGHTWEIGHT & DEXTEROUS - EN420 dexterity level 5. Stretch spandex and synthetic leather for dexterous & breathable
TOUCHSCREEN COMPATIBLE & 3D PRE-CURVED FINGER DESIGN- Touchscreen capable thumb & index fingertips for smartphone control.3D pre-curved finger & 45° angle cutting for better fit & comfort
MACHINE WASHABLE - Machine washable for easy cleaning & maintenance
Be Careful with Your Feet
Not just hands, your feet also require some amount of protection before you go for leaf raking. Always put on a pair of toe-enclosing shoes so that you do not end up causing injuries to your feet as you drag through your lawn with the leaves.
Also, insects will probably be hiding under the blanket of leaves, and without protective shoes, you can get insect bites on your feet. The right pair of work boots is all you need.
CLC Custom Leathercraft Rain Wear R23008 Over The Sock Black PVC Men's Rain Boot, Size 8
PVC polyblend injection molded construction is seamless and 100% waterproof but flexible for greater comfort; resistant to degradation from agricultural chemicals, fertilizers and animal waste
CT (Comfort Technology) offers a unique scalloped top-line for easy flexing; guide along shaft allows for customized height; reinforced at critical stress points for longer wear
Lightweight FOOT FORM contour cushion insole provides arch and heel support, and is removable, washable and replaceable
Deep angle cleated outsole prevents slips and falls on slippery surfaces; contoured heel cup reduces heel slippage; electrical hazard rated outsole; ASTM F2413-11 EH
Recommended use: food processing, custodial, farm, general purpose
Rake in Rows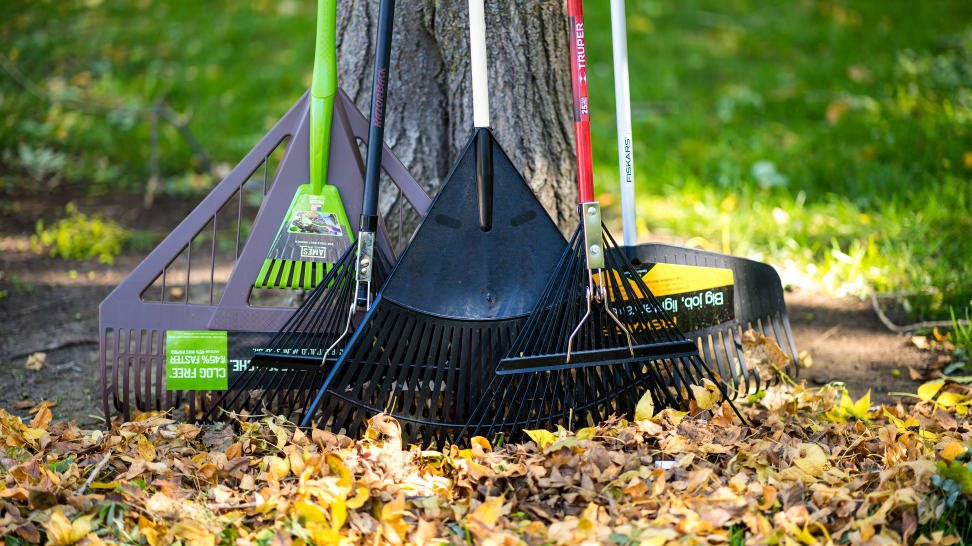 If you are trying to gather all the leaves spread throughout the lawn at a single spot, all you will be doing is moving back and forth again and again on your time.
This will take more time, and you will get tired quickly. One of the smartest and genius ways to rake leaves without spending too much energy is dividing the lawn into four quadrants.
Try to rake the leaves in each quadrant into rows by working from one end of the quadrant to another.
By forming such grids, you will have to spend less time moving around, and the lawn will be cleaned in no time.
Invest in A Yard Vacuum
If you want to create an easily manageable and well-streamlined process of raking leaves, spending some bucks on a yard vacuum might not be a bad idea at all. Just make sure that the vacuum has a built-in shredder.
You can quickly run it over the pile of leaves in your yard so that all of them are sucked up by the vacuum and shredded into small pieces by the shredder. The shredding makes the raking process even more convenient since you can collect a huge volume of leaves only in a few bags.
Also, there are many hidden spots like between bushes, the thick shrubs, the surface of the stone mulch, etc., from where collecting leaves manually is quite a tough job. A vacuum can be of great help in such situations.
ENZOO Cordless Leaf Blower and Dust Vacuum 2-in-1 Designed for Light Yard Work and Hard Surface Sweeping Variable Speed MAX 20V Includes 2.0Ah Lithium-Ion Battery and Charger (Green)
Flexible Versatility - 3 variable air speed, with max up to 130 MPH, designed for sweeping small work areas and hard surfaces such as small yards, patios, driveways, decks, garages, sidewalks, garages, etc. It is recommended for cleaning light objects, such as dry leaves, debris, dust, etc.
Multi-Functionality - Incorporates both vacuum and blower into one with an ON lock trigger for continuous operation. please note that vacuuming leaves is not recommended.
Ergonomically Portable - At only 3.5 pounds, it maximizes one-arm maneuverability and minimizes bodily stress. It is lightweight and highly recommend for children, women,people with weaker bones or elderly people.
Design to Accessorize - Removable chute or nozzle extender to increase reach and blower efficiency; detachable bag with an easy release for dust and small debris collection. The volume of the leaf blower is very small,you can pack it for storage or take it to travel.
Tips:The mini leaf blower includes a 2.0Ah battery (After fully charged, its working time is about 15-25 minutes). It is compatible with Makita battery BL1820,if you are not satisfied with the original battery, you can also buy an additional battery yourself.
Use A Leaf Blower
This device can come in handy while leaf raking and can be pretty much useful and a genius way to rake leaves if used correctly. You can use the grid mentioned above technique to work the blower in definite patterns without taking much time.
All you must do is go back and forth in rows. Make sure that you don't blow the leaves from a minimal distance. Keep the leaf blower always at an arm's length from the leaves, or else you will end up blowing up the leaves in all directions and create a mess.
Bag in Smaller Piles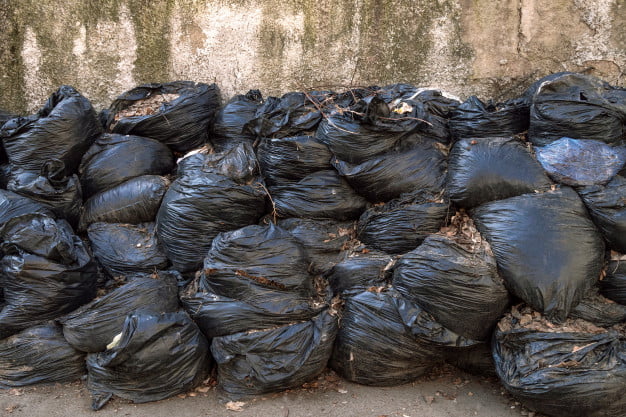 Do not keep on raking leaves until a massive mountain of leaves is created at a single spot. A slight autumn wind can ruin all your hard work, and you will hate yourself for it.
Unless leaf raking is your physical fitness activity and you are ready to do it over and again, be smart and go on collecting leaves in small piles.
Use as many bags as possible, and do not wait till the end of cleanup to put all the leaves in a single bag.
Do not Over-Stress Yourself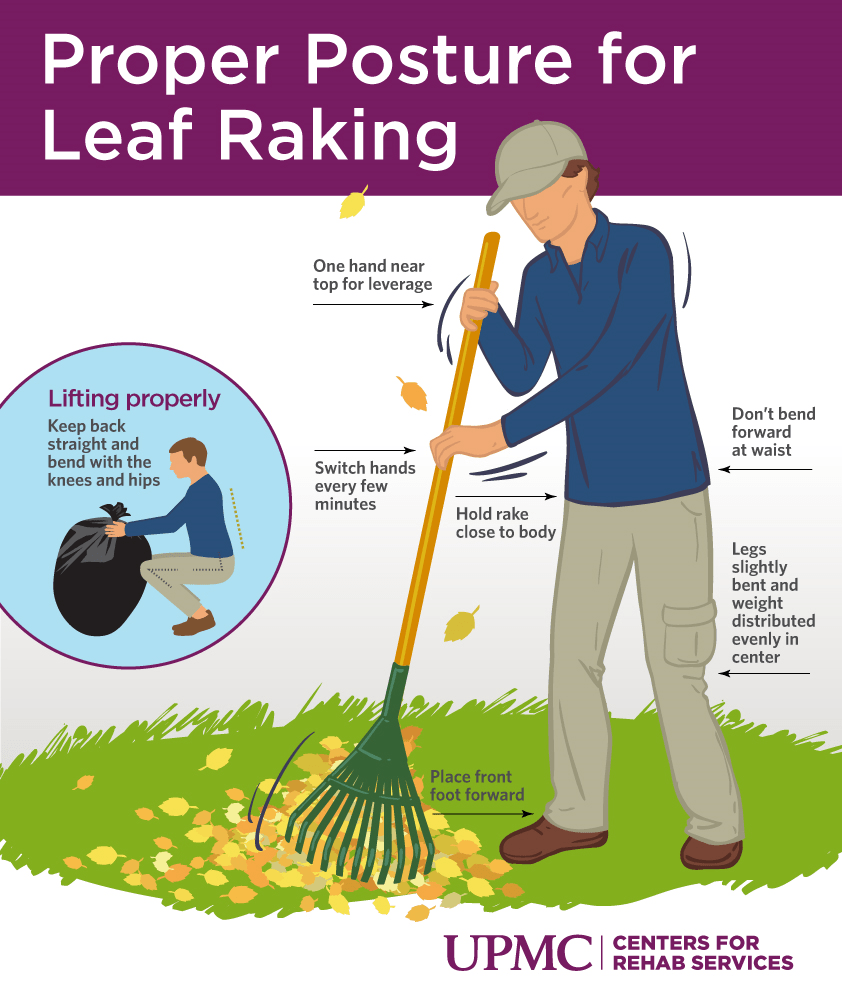 Do not rake leaves until your body gives up, or else you will not be motivated left to do it the next time.
The process can get exhausting if you do not take enough breaks. Especially if you have a too big yard, a five to seven-minute break after every half an hour is a must since it will take longer, but avoid taking too many breaks and keeping yourself hydrated.
Invest in Comfort.
You will thank yourself later if you buy a rake with cushion grips since the grip will be much firmer without causing any bruises.
Also, wooden handles are better than metal handles since they will not slip again and again from your sweaty palms.
DIY Retool
One of the most creative and genius ways to rake leaves can be using an old lawnmower. Trust us on this, and a lawnmower is an unexpectedly useful piece of equipment for leaf raking. You can also easily convert it into a lawn and leaf vacuum.
Greenworks 24V 13 inch Lawn Mower, 4Ah USB Battery and Charger Included MO24B410
Greenworks 24V Lithium-Ion battery provides 20% more power and run-time, and delivers fade-free power with no memory loss after charging
Up To 35 Minutes Run-Time With Fully Charged 4Ah Battery. Run-Time Varies Based on Grass Condition and Operator Technique
13 in. rust-resistant lightweight deck designed for easy maneuverability. 2-In-1 feature provides mulching and rear bagging capabilities
USB port in battery charges all portable electronic devices, including phones and tablets. USB Battery Portable Power Station (24000 mAh Power Bank)
3 Year Tool / Battery Protects Your Investment