Whether you want to host a house party to chill with your friends or a small family get-together in your enclosed patio, backyards can serve as the perfect hosting spot.
They are huge, open, and nature-friendly, and with little creativity, you can revamp it into your little party spot.
Even if your backyard is not that big, with specific statement furniture and designing tips, you can still make it look gorgeous.
Recreate
Don't stuff your yard with baseless things! You can turn your yard into your comfort space where you can relax, unwind with your hot cup of coffee and favorite music just with the perfect view.
Do not believe us? Here some easy yet innovative backyard entertainment tips so that you can renovate the space for entertaining your guests.
Easy Yet Innovative Backyard Entertainment Tips
Always Keep in Mind the Functionality of The Space Before Designing
Your outdoor design, no matter how stunning if it lacks certain elements, is still incomplete. Since we are trying to renovate our yard into a backyard entertainment space, you can consider adding things like an outdoor kitchen or a BBQ grill and drinks bar.
Of course, you would not need these things if you only had to spend some "me-time" in your backyard. But an entertaining party needs to be ample space to chill out. You can also arrange for disco lights and music for the feel.
Add Some Greenery to Space
It does not matter if your backyard is not that lavish or spacious. Greenery always works. You can mix some native trees, vines, shrubs, brazilian rain tree, and even some of the other perennial plants, whatever suits.
Who would not love the feel of that trip to their favorite hilly vacation? You can even get some wall gardens from home stores that can be placed even in shady areas.
Choose the ones with colorful plants to create a funky vibe. You can also plant narrow rows of Thuja occidentalis trees to create a living fence.
You can even use arbors and trellises for a more natural-looking wall.
Minimalistic Yet Cozy Furniture Never Hurts
Even if your backyard is spacious, too much furniture is never a good idea. Minimalistic furniture will create a statement look, yet there will be a lot of space left in your backyard.
Slim profile metal pieces like benches without a back or a hollow chair look fantastic in open spaces like a backyard.
Since you are trying to create a backyard entertainment space, make sure the seats are deep and cushiony.
Adding a hammock or placing the seats under umbrellas can give a fantastic comforting experience to your guests.
Also, to save more space, you can use your walkways, retaining walls, and other architectural pieces of your landscape as seating areas. This will enhance the view even more.
Make Your Deck or Patio Look and Feel Warmer and Inviting
Just a concrete slab or few furniture pieces will not do. It would help if you made your space more admirable and inviting for the guests.
They should feel that warmth every time they visit your backyard to get together. Place a lot of pillows and cushions with vibrant fabric on the seats for comfort.
You can even place some potted plants here and there or decorate the space with brick, wood chips, or gravel.
Some sophisticated European style garden relics or French vintage garden rear can make your space even more elegant and charming.
Light Up Your Space to Make It Look Prettier
Everyone loves the beautiful ambiance of gorgeous lighting at night. Resort-style lighting to add a subtle glow can make your space look like the fanciest party spot and worthy of Instagram pics.
Try to illuminate your backyard entertainment space with soft lighting such as some string lights, floor lamps, table lamps, or even hanging fixtures and up lights.
Want to add a sense of romance to your space for the couples attending your party. You can place some rose petals with scented candles and LED lights on the seating.
No wonder nothing can beat the magic of stunning fairy lights.
Stimulate the Senses of Your Guests with Some Intoxicating Fragrances
We bet that anyone would love a lovely, soft, humming fragrance all over the party space. Try adding some lavender, lemongrass, catnip, basil, eucalyptus, or even mint as a natural air freshener to make your guests feel good every time they walk past them.
These plants will also add a nice hint of shades that will make your space even more appealing to the eyes.
How about planting some flowering lilac or honeysuckle vines surrounding your dining space and outdoor seating? They smell incredibly soothing and intoxicating in the evenings and can make your space feel better.
Accessorize Not Just Your Outfit but Also Your Backyard
The same rules that you apply while accessorizing your outfit apply here as well. "Don't overdo it!" Create a statement with as minimalistic accessories as possible.
How about a nice doormat with a friendly print or a furry and colorful hand-made rug? You can add a homely feeling to your outdoor space with these elements.
Even some wall hanging pretty decors would work. If you don't want to spend much on accessories, you can also DIY with some recycled materials. You get brownie points for being eco-friendly.
All you need to be is a little fun and creative with the things that already exist in your indoors. If your backyard entertainment space is a sunny spot, also considering adding overhead shades.
Make Sure Even the Kids Love the Space and Do not Feel Bored.
You're mistaken if you think you need a huge backyard to make space for your kids to play. It would help if you were innovative.
A small swing set or a frame tent can be a lovely place for your kids to hang out and enjoy. Kids cannot get over a tiny storybook reading space or a small castle or spaceship, where they can do all their fun adventures and mischiefs.
Even a cute treehouse or a hideaway with trellis or canopy can be an exciting sport for your kid's game sessions.
A Particular "Theme" Can Bring in The Party Vibes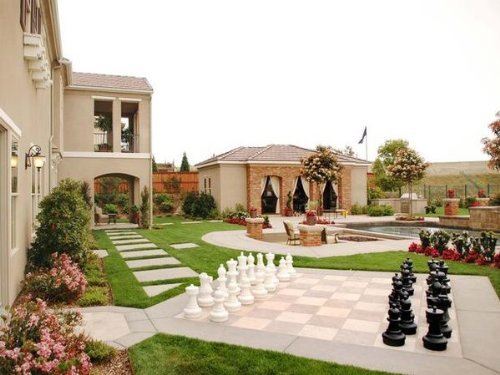 Parties are never complete without themes. Be it a particular color theme or a design theme, always work on the aesthetics to make your spot more Instagram-worthy for your guest.
Try to play around with some contrasting and bold hues, textures, and patterns, or stick with the classic neutral and matching shades and textures.
From the furniture and accessories to the plants, make sure everything in your backyard entertainment space follows a specific color scheme.
You can tone down the shades like blush pink or nude and add a splash of brightness here and there for your candle-lit garden party setup.
You can add louder shades for your Hawaiian themed tropical party or a modern glam sophisticated get together.
Bright pastel palettes with complementing glassware or a classic floral-themed brunch can also look breathtakingly ravishing.
Add More Comforting Elements for Your Guests to Feel More Relaxed
Do not worry if your backyard does not have a beautiful pool! You can still add some artificial water sources to make your backyard feel more unwinding for your guests.
How about adding a wading pool or a garden fountain to your backyard entertainment space? Even a garden pond or a koi pond, or a birdbath can feel relaxing for both the sight and the ears.
The sound of running water feels calming to the mind and soul and is therapeutic.
You can even leave some goldfishes in the water for adding some visual interest. Garden umbrellas are your savior anytime.
You can recreate the feel of a posh resort or beach with some essential accessories like gazebos or awnings and pergolas.
Even an overhead growing vine can do wonders. Try to make your backyard as shady and comfortable as possible to filter the mid-day sun for your afternoon parties.
No products found.
Add A Fire Pit and Some Natural Elements for Privacy
Who does not love the idea of a bonfire in a backyard space party with guitarists stringing their favorite tune? Your entire backyard will instantly be ten times more attractive as soon as you add a chiminea or fireplace to your yard.
Warm up the spring evenings and autumn nights for your guests to create a comforting and happy vibe. You can either install it directly or DIY, depending on your budget. Serve a mug of hot chocolates to your friends as they cuddle next to the fire and enjoy the view of the flame.
Privacy is another essential element for any house party, especially in an open place like a backyard.
Why not go the extra mile and even arrange a movie night by adding a screen in your backyard entertainment space for your guests?
So, you can add some weather-resisting arbors and overhead roofs and place screens, fences, and walls in your backyard to make the space more enclosed and private.
We hope you loved the ideas and tips for creating an entertaining backyard space for your guests. Make sure to try some of these in your next house party or family dinner.