With the trend for organic and healthy food on the rise, many people are choosing to opt for home-grown vegetables. However, when it comes to urban cities not everyone has the privilege of a huge Garden.
Garden requires space and the one thing that urban cities cannot offer you is sufficient space for gardening. But just because you do not have the required space for a full-fledged garden it does not mean your dreams of growing your own vegetables will remain a dream.
DIY tower gardens are gaining popularity with each passing day. They offer you the perfect solution for the lack of space. After all, they do not require much space and can cater to all your needs with no compromise.
Hence if you are looking for DIY tower garden ideas, we have a perfect list for you. Read till the end to check out all the 15 amazing ideas for vertical vegetable gardens.
15 Brilliant Ideas for Vertical Gardens
Here is a list of 15 vertical garden ideas you need to check out:
1. Wooden Shelves on Fence
If you do not want to invest much in building the perfect vertical vegetable garden, then building shelves on a pre-existing fence is a great idea. All that you need to do is get some wooden racks fitted against the fence and place the plant pots.
This idea will not only add a splash of luscious green to your garden but will also help you save a lot of money. If you do not want to use pots, then build moderate-sized compartments on the shelves to put in the soil and plant the seeds directly in it. If you are looking for an easy Idea, then this is the right choice for you.
2. A Vertical Potholder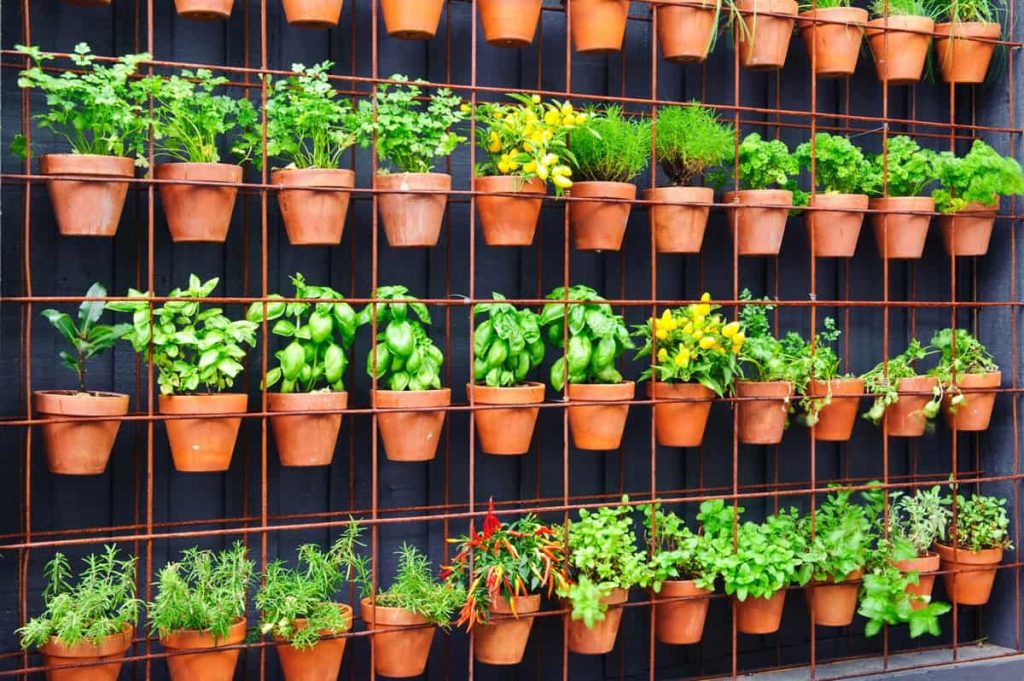 Pots are one of the easiest ways to plant a vegetable. The reason behind this is that they offer a compact place to put in the soil without creating a mess. However, they are only suitable for planting smaller vegetables like onions, lettuce, kale, and beans. If you are looking forward to planting any of these vegetables, then a vertical potholder is the right choice for you.
Depending on your requirement, you can buy a potholder that can hold as many as 40 pots together just like this one. Another huge advantage of using a potholder is that they take less space. This will come in very handy for you if you live in a small apartment or house.
3. Hanging Baskets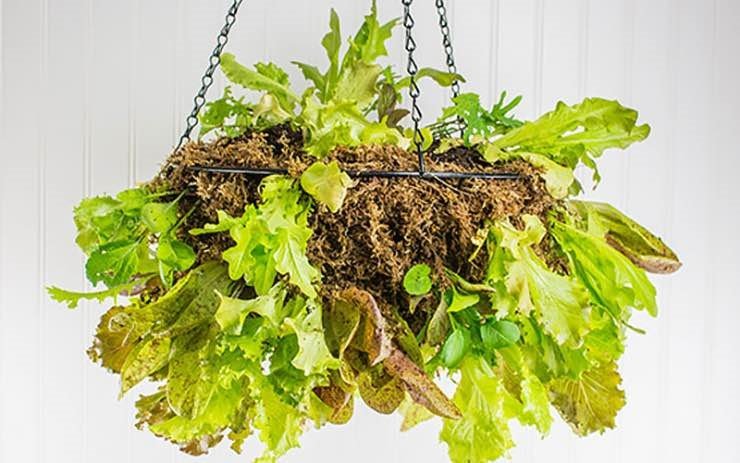 If you are not looking for large-scale vegetable production, hanging baskets are a great choice. They not only add to the aesthetic beauty of your house but also provide an easy way to plant vegetables. Again, hanging baskets are especially suitable for lightweight plants like onion, radish, lettuce, and chili pepper.
For your convenience, it is always better to opt for baskets that are opaque. This will ensure that you do not have to use an extra layer to hold the soil together. Another factor that makes hanging baskets so popular is that they are affordable. Since these baskets would be mostly placed outdoors, make sure you only opt for baskets that are weather-resistant and immune to corrosion. This will ensure that your investment is cost-effective in the long run.
4. Staircase Stand for Pots and Vegetables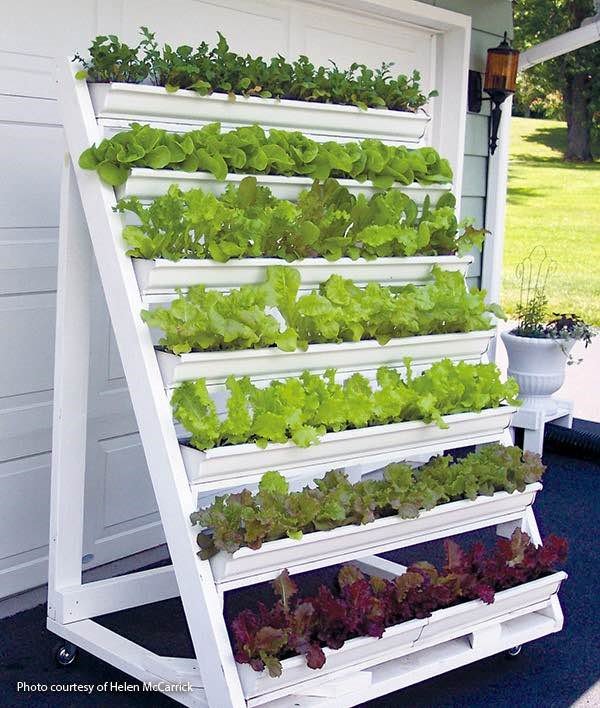 Here is another easy way to grow vegetables in your garden through a vertical gardening infrastructure. This staircase holder can be used in two ways.  You make sure the compartments in each row are big enough to fit in pots. Then you can place the plants in the pot. This ensures that the plants make less of a mess. Or you can put the soil directly in the compartments and sow the seeds. Whichever option you choose, this staircase stand will come in very handy to organize your garden into a neat stack.
5. Vertical Garden Made of PVC Pipes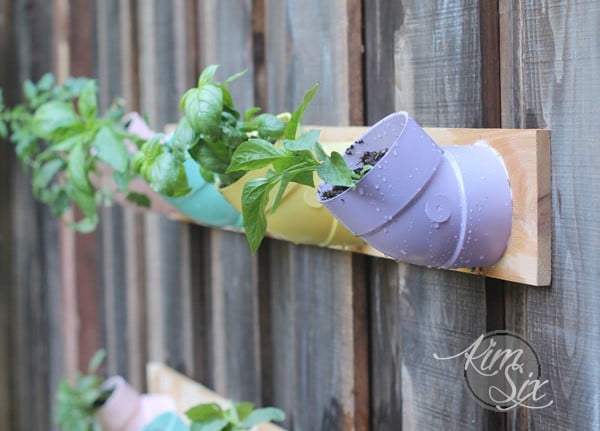 This is surely one of the most unique ways of putting up a vertical garden in your house. We all know the use of PVC pipes in our house's plumbing connections. However, they can also be used in your garden.
Designed as shown in the picture above, a vertical garden made of PVC pipes is appropriate for small herbs and vegetables like carrots and radishes.  Although they might not be able to accommodate a big plant, they compensate for that by taking way less space. Also, if you are running on a tight budget then this is what exactly you need right now.
6. Quirky and Colorful Crates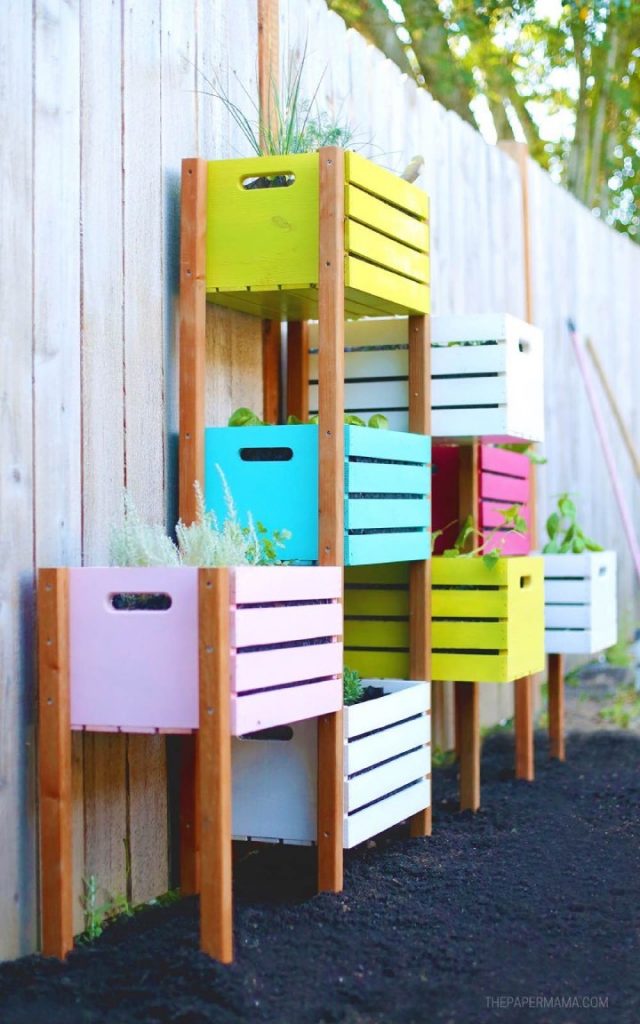 Apart from growing vegetables, gardens also act as a medium of therapy. Hence adding little vibrant colors will only do good. If you are looking forward to having a colorful and bright vertical garden, this idea is for you. Fairly easy to build, this group of wooden crates in bright paint has sufficient space for big plants.
As you might have noticed, all the ideas mentioned above were most suitable for smaller plants. But it might happen that you are looking forward to growing bigger vegetables like cauliflower and cabbage. In a situation like that, these crates will prove to be very useful.  Also, if you are getting it made by a carpenter from scratch, you can choose to customize it in terms of design and size.
7. DIY Garden Towers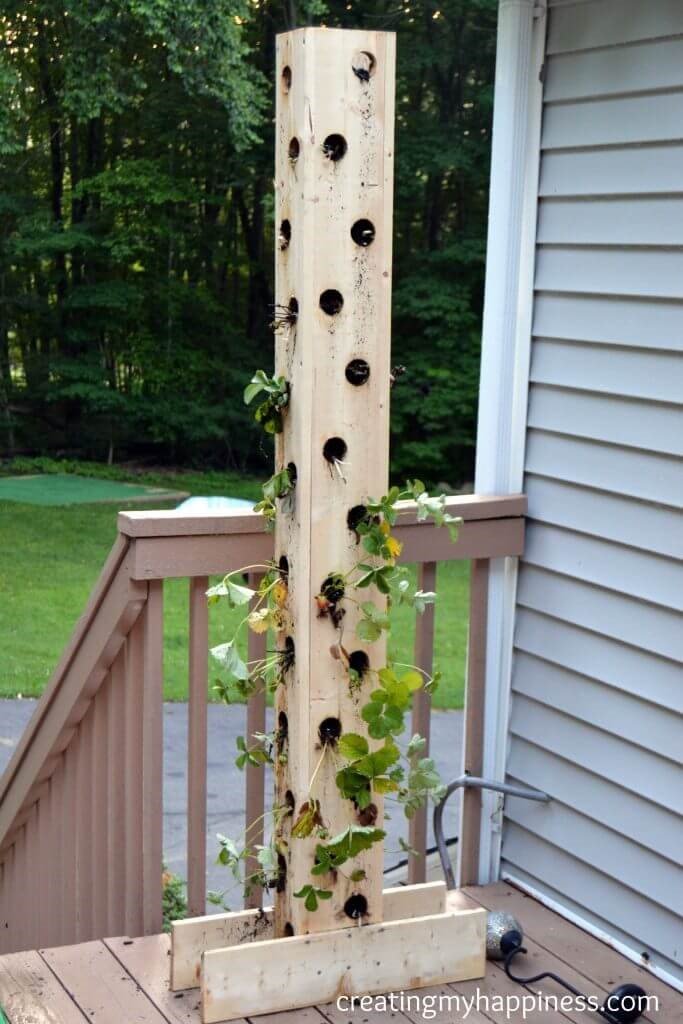 As you can see, these vertical gardens get their name from their appearance. They look like long and slender towers and are suitable for growing smaller vegetables and fruits like strawberries. The best part about garden towers is that they occupy less space. In fact, of all the ideas that you will come across for vertical gardens, tower gardens occupy the least amount of space.
Other benefits of using a garden tower include faster growth for your plants, lesser use of water, and negligible troubles with pests and insects.
8. Trellises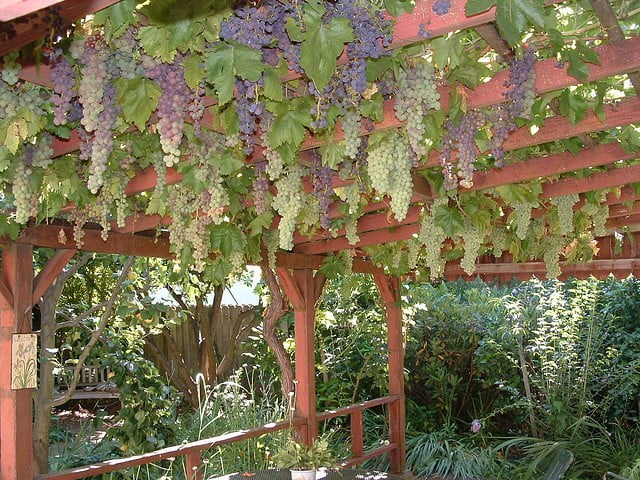 Trellises are one of the oldest methods used in vertical gardening. They are mainly used for vegetables and fruits that grow as climbers. Popular climbers that grow on Trellises include capsicum and grapes. Trellises not only just provide enough support to the climber but also add to the beauty of your garden.
Climbers wrap themselves around the Trellises, so they occupy much less space. Otherwise, if you plan to grow climbers without a proper support system, not only will it stunt their growth, but your garden patch will look super messy. A lot of people choose to build trellises around patios. If constructed on a wider frame these trellises with climbers will not only serve as vertical gardens but also provide shade over your patios.
9. Hanging Crate Stand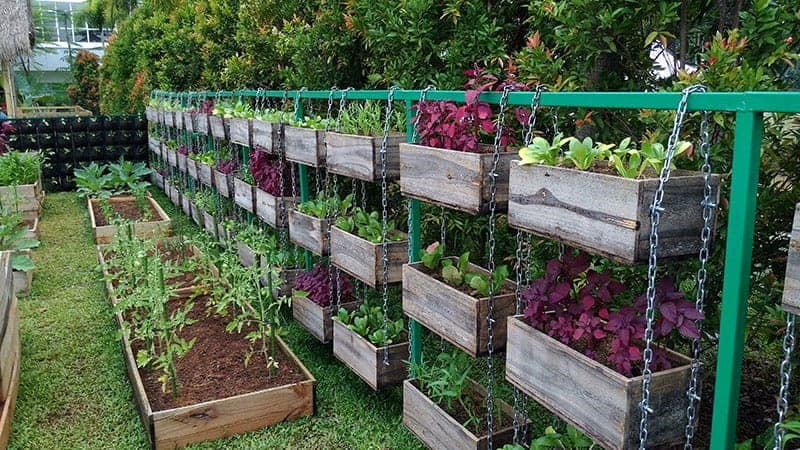 Hanging crate stands offer an excellent solution for gardeners who are looking for large-scale vegetable production. Especially if you are planning to grow larger vegetables then using pots and hanging baskets will not provide sufficient space. What you need is something that has a higher volume like a crate.
Crates have enough space to smoothly accommodate larger plants like cauliflower and offer them a healthy growing environment. As you can see in the picture above, these crates have been arranged in clusters. So that together they can help you in the large-scale production of the vegetables. The only downside of using this model is that it will take up a lot of space.
10. PVC Pipes for Higher Production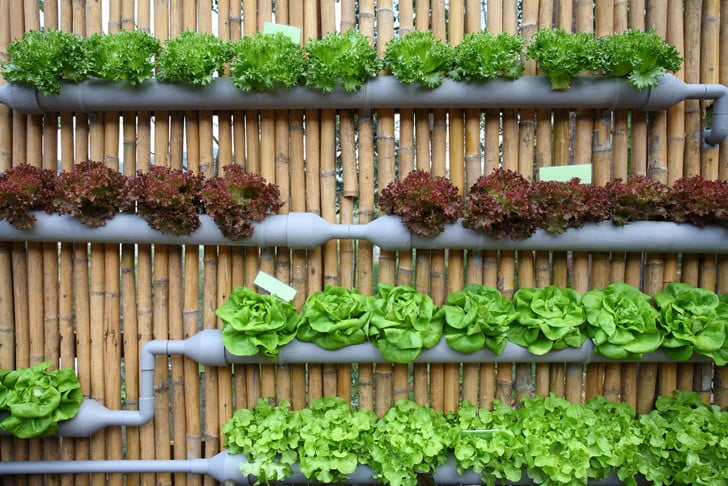 Yes, we know that we have already discussed a vertical garden using PVC pipes. However, the model that was discussed previously offers very little space for your plants to grow. On the other hand, this model does not just provide more space but also allows you to grow more plants together.
As you can see in the picture above, you can place all the plants side by side and they will grow out perfectly well. This model is also one of the best ideas for recycled vertical gardens. Instead of throwing away the old PVC pipes, you can put them to some good use and save a few bucks.
11. Pre-Designed Garden Towers
You do not always need to build a garden tower from scratch. There are plenty of websites and manufacturers that sell pre-designed garden towers. While the previous garden tower was made of wood and was slightly unattractive (yet cheaper), this garden tower being polished and vibrant will bring an extra charm to your garden. As you can see in the picture above, the garden tower has enough room for all your little plants and is also portable.
12. DIY Gutter Gardens
Recycling and reusing are the two best ways to save money and is also a sustainable and eco-friendly practice. Converting old gutters into a vertical garden is a growingly popular practice. All that you need to do is add a few layers of soil to the old rain gutters and sow the seeds. The best part of having a gutter garden is that it takes minimal space in your garden. Being super narrow and attached to your fence, you do not have to make any additional investment in them.
However, once again, they are only suitable for smaller vegetables. After all, these delicate gutters are not suitable for taking heavyweight or accommodate bigger plants.
13. Vertical Bottle Gardens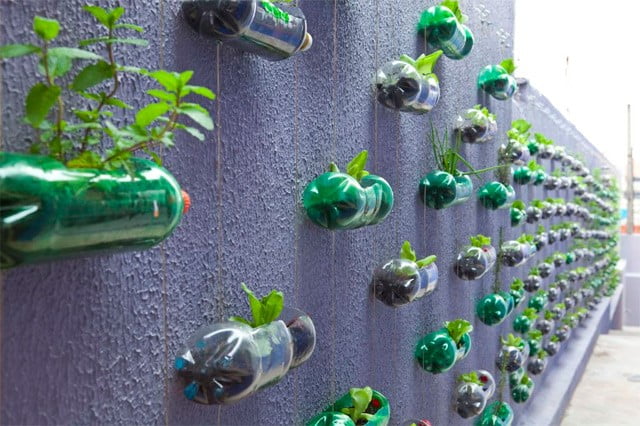 Here is another amazing eco-friendly idea for vertical gardens. Instead of throwing away old plastic bottles and adding them to the trash, you can convert them into pots. Just how it is done in the picture above. This method will also help you save a lot on your investment to pull off a vertical garden. After all, some models for vertical gardens and tower gardens are super expensive.
Here, all that you need to do is fill up the bottles with soil, sow the seeds and hang them from a holder or a simple bar. They are only suitable for plants that grow up to be slender enough to pass through the mouth of the bottle or the hole you cut out. If you do not pay attention to this, there is a high chance your plant will get trapped inside and suffocate to death.
14. Stair Step Vertical Gardens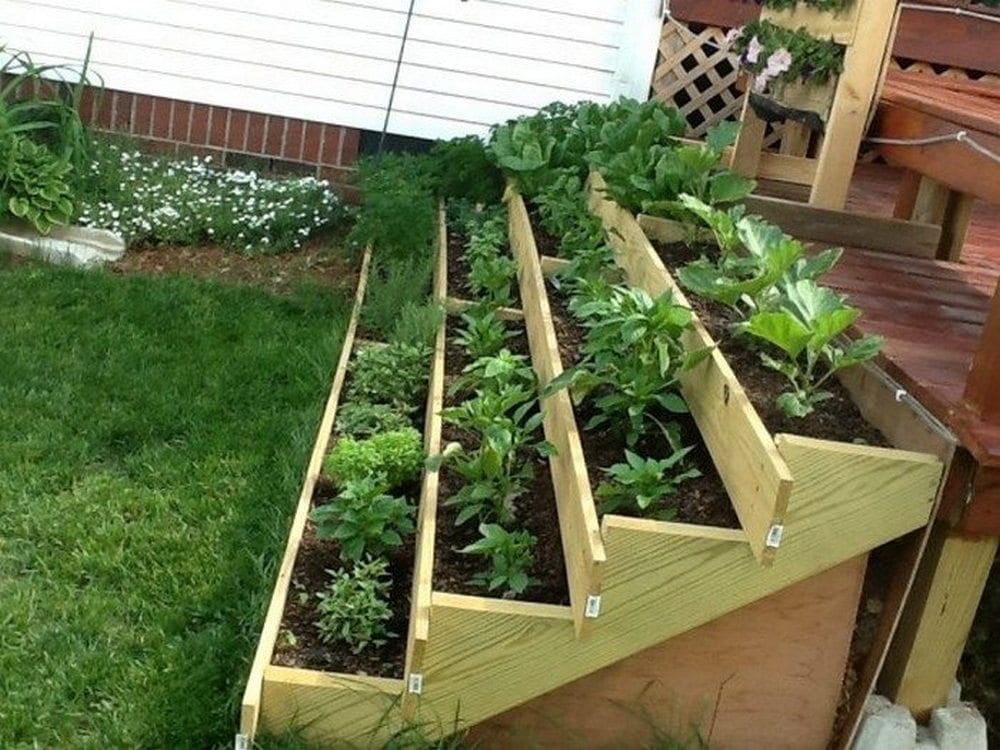 This is another super creative way to plant your seeds without crowding up your garden. Stair-step gardens take up much less space and provide a perfectly healthy growing environment. There are two types of stair-step vertical gardens. The one we mentioned above was movable. This one will be attached to your porch.
While the previous model does have the advantage of being portable, this model has a much sleeker design. And it caters to your needs equally well without compromising your plant's health.
15. Bucket Holder for a Vertical Garden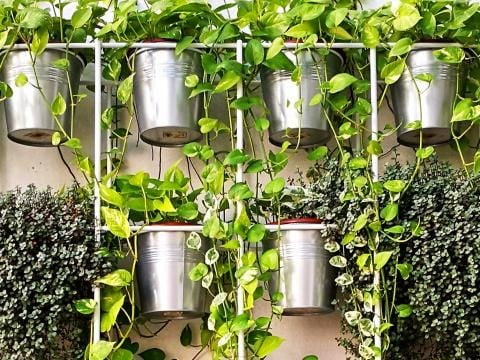 If you are looking for an easy-to-implement vertical garden idea, then this one is for you. All that you need to do is set up the thing frame against a wall or fence. Then you can take specially designed buckets with hooks and fill them up with soil and sow the seeds. The biggest benefit of this model is that it offers enough for all types of plants. Also, being made of metal they are also suitable for bearing the weight of all the types of vegetables that you decide to grow.
Final Thoughts
So, these were the top 15 ideas for a vertical garden that you can try out at your place. Most of these ideas are super affordable and eco-friendly. While some of these ideas will require a little extra space, they all take up less space than a traditional garden which is perfect for small houses.
While DIY garden towers might be a little complicated for amateur gardeners, in the beginning, you will slowly get the hang of it with time. Otherwise, you can always opt for the other options that are simple to use.
We hope this article was helpful and all your doubts were cleared. In case you have any more queries, feel free to reach out to us in the comment section below.