While walking down the road, you might have noticed that many houses have these cute little plants hung out on balconies or fences lined with little pots and colorful blooms.
Well, you can have that too, right around your house. It will help you highlight the beauty of each season by keep changing the displays accordingly.
Any container that has the capability to hold soil can work as a fence planter box, and if you know how to play with creativity around them, it will work even better for you.
keep in mind that there is enough room for water evaporation to avoid soggy roots because that might be harmful to your plants.
Listed below are some gorgeous fence planter ideas that you can refer to while decorating your fence, garden, or yard.
1. Splash of Colors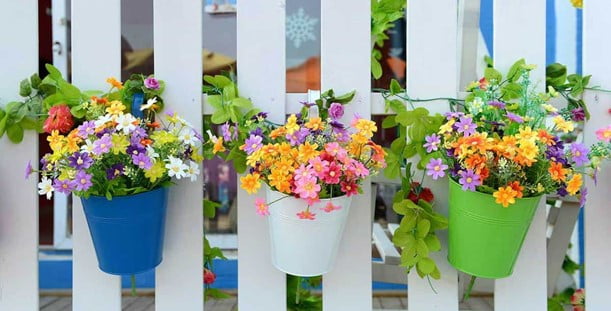 Who does not like flaunting a bunch of colors around their home? When you combine colorful flowers with colorful baskets, you get a beautiful basket full of colors. This combination will add an element of freshness to your surroundings.
Depending upon your choice, you can try different color combinations to find out what suits you the best. As a fun activity, each family member can execute their patterns while changing the displays for every season. 
2. Hang them on the Top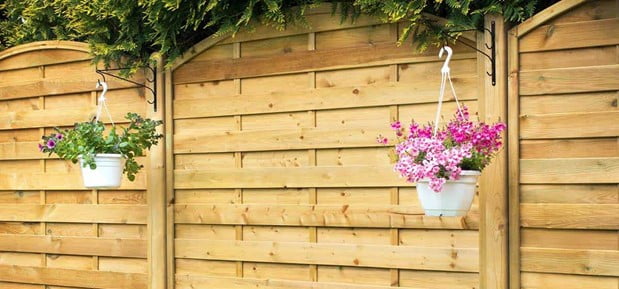 Fencers are one of the beautiful spots to hangout out with the planters. When you hang your planters around your fence, it converts your fence into a picturesque backdrop. These give an extended exclusivity to your garden and uplifts the fence as well.
To utilize this idea, all you must do is get hanging plant brackets. There are multiple options that you can choose from when it comes to planting brackets.
3. Rail Planters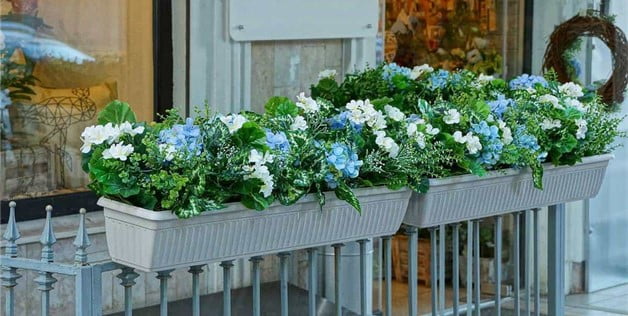 Rail planters is one of a unique way to enhance the look of your fence. It is advisable to use cool colors while railing the box planters to get a subtle look for your fence. This setup fits perfectly for balconies as it converts your balcony vibe into a garden, and you can choose this if you have a small fence area.
A typical rail might not look that attractive. That is why it is always better to invest in a fully luscious rail planter. You can either get a plain one or a fancy depending upon your choice.
4. Denser the Foliage, Brighter the Blooms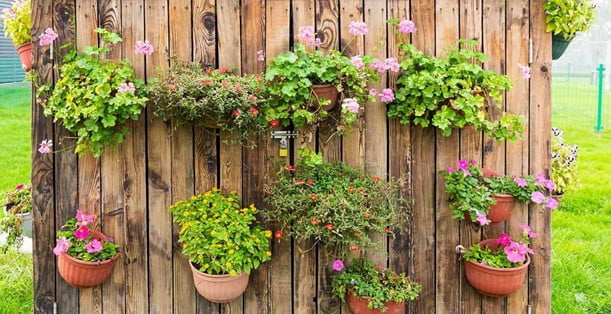 The concept is knitted around having a rustic wooden fence that will consist of various planters in different sizes and colors. This diverse arrangement gives an inspiring edge to your yard and highlights the fence very well. It adds an element of décor to your backyard with a hint of uniqueness.
If you want the same look, you can get it easily by getting creative around resin wall planters. This setup is fair as it gets the job done with just a few materials.
5. Charm it by Shade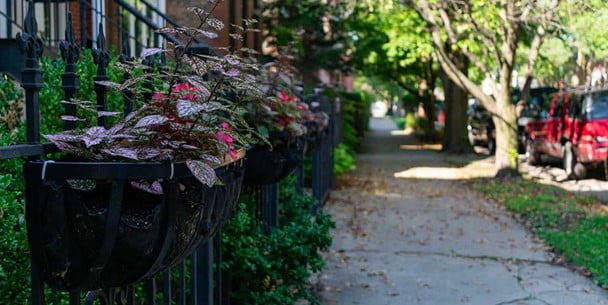 Were you thinking of dropping the idea of fence planters due to lack of sunlight? Then we are here to introduce you to shade-loving beauties that will outshine without the sunshine. There are plenty of plants that do not demand much sunlight. You can use these plants to create your beautiful fence planter setup.
The planter in the above picture makes it possible to put multiple plants in one space. This will add a variety to your décor and adds a touch of elegance.
6. Use a Wicker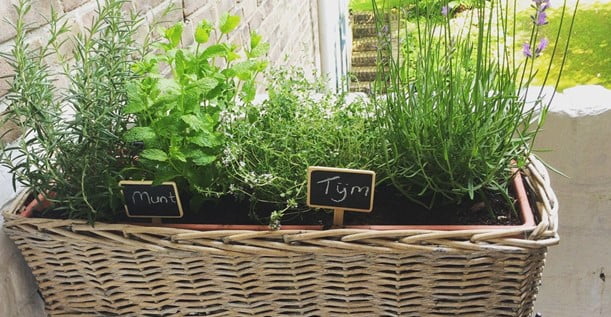 Baskets have always been used in olden times to pick up flowers and berries. Wicker is also a beautiful, styled basket that will add a flavor of authenticity to your fence. The window-like box gives a gentle edge to your décor and makes you feel like you are hanging around the countryside all along.
So, what are you waiting for? Go ahead and add this piece of beauty to your fence to make it look even better.
7. Terra Cotta Pots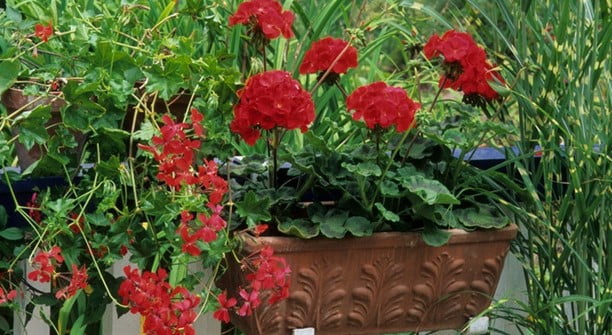 Terra cotta pots is an old-school concept becoming a trend again because of how eco-friendly it is. These earthen pots are now available in the fence planter box too. Yes, you heard it right. You can get these clay pots to decorate your fence, and if you happen to be a nature enthusiast, it is a great pick for you.
This is a brilliant pick if you like vintage-styled gardens used to surround pots to create a natural fence.
You can mount these terra cotta fence planters either under your window or on the fence as displayed above.
8. Stack the Greenery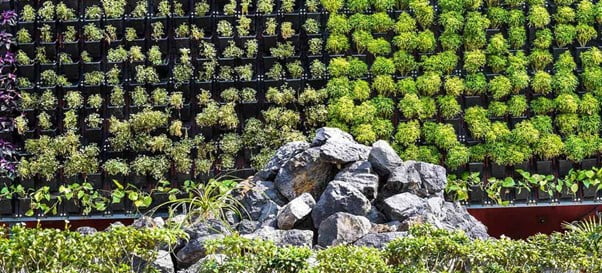 Fence planters have a possibility to go all out. The concept of placing greenery over greenery utilizes all the space and showcases vibrant greenery. There are endless options when looking for more under this concept.
You can go all experimental with this concept. Color block, going all green or trying on different combinations, you can try whatever works for you.
If you think this will get difficult to maintain, then you can go ahead and get yourself a self-watering vertical wall hanging planter that will put ease to watering and maintenance.
9. Circular Wall Vase Planter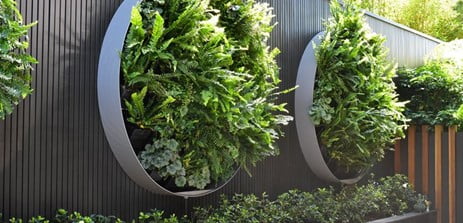 Circular vertical patterns do not only look stunning but also give a unique identity to your fence. Circular shape has always been able to create charm, and when combined with the beauty of plants, it creates a different aura around your space.
If you happen to be someone who likes it when they are unique, then this concept is for you. You can make it look as royal or as rookie depending on your preference.
The round planters can be displayed in many ways. So go ahead and create your own creative display today.
10. Fence Top Planter Buckets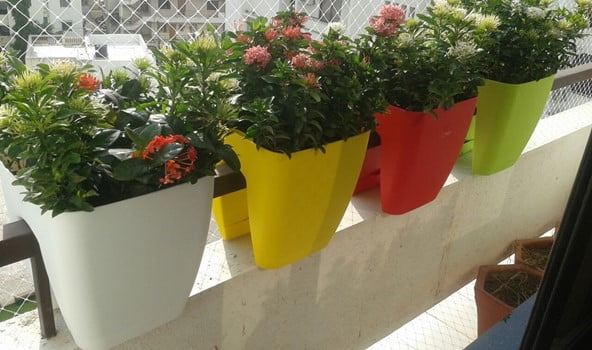 Top planter buckets are unique as a concept because they look similar from both sides. For instance, if you place them above a fence, they will look similar on both front and back sides. Therefore, these are popularly used in balconies to keep up with nature as well as décor.
Depending upon your style and vision, you can either line them up as apart or as close as you want them to be.
Get some bright colors for your balcony and share the happiness with your neighbors and people walking down the street.
DIY Fence Planter Ideas
DIY is getting very trendy, and so we thought of getting it combined with fence planters too. You might have already scrolled a lot of DIY fence planters on Instagram and Pinterest. But to make it easier we have mentioned some of them for you.
We hope this helps motivate you to utilize everything you have and create a gorgeous fence planter for your fence or yard. Also, what makes DIY so special is that you can do it with your loved ones in your free time.
Here are some DIY fence planter ideas that might help you –
1. Go Vintage with Washtub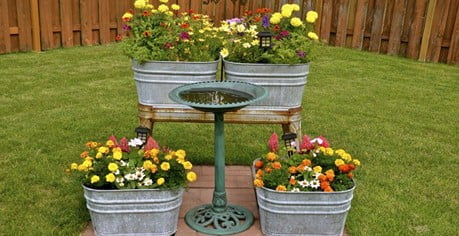 Washtub has been used for ages to serve different purposes, and now there is one more option added to the list. You can visit any vintage shop and look for an old metal washtub to place your plants in it. This will give a natural edge to your garden, and when placed on a fence, you can flaunt the antiqueness.
Leave the worries about soil condition behind when planting in a washtub. Just make sure that you do not pour extra water.
If your specifics include country garden, then the winner must be vintage washtub fence planters.
2. How About a Wheelbarrow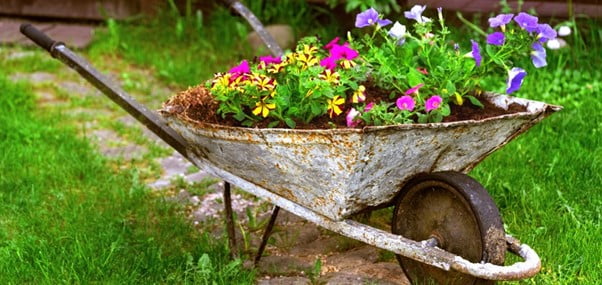 This might sound a little old-fashioned, but it can still make an outstanding fence planter box. It is mostly preferred when you want a cottage-style garden right next to your patio. You can easily find one in junk or sometimes buried in your storeroom. Maybe it's time to utilize the same and enjoy the best possible outcome.
A wheelbarrow comes with a bonus. You can easily move it at your convenience because it comes with wheels. If you do not have an old one you can always shop for a new one.
3. Repurpose the Old Palettes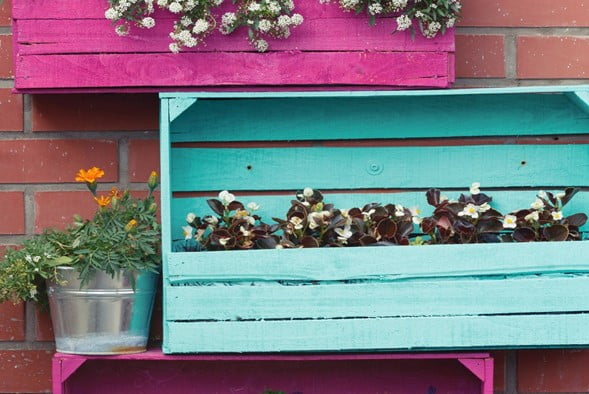 Remember the palettes that you received in gift hampers or the ones you bought to decorate your workplace, and now they are all lying in some corner. Well, now is the right time to utilize them for creating a fence planter box.
You can easily reuse them by either painting them or redecorating them in your own unique way. These palettes have enough room for water drainage and can be a perfect fit for your fence or yard.
You can either lay them one after the other to create a vertical wall of planters, or you can lay them horizontally depending upon the space you have.
4. Recycle Old Tires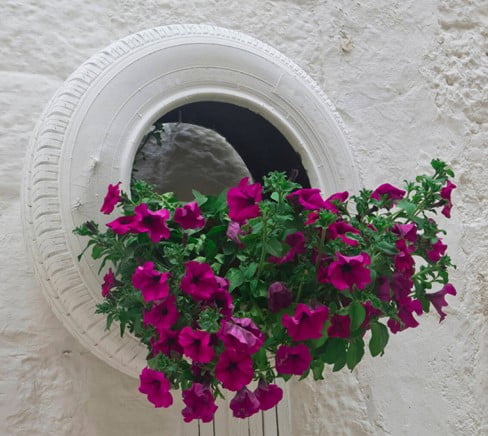 Recycling is the need of the hour, and what better than recycling old tires? You can pick up any old tire and convert it into a fence planter. The inside structure of the tire gives a perfect atmosphere to the soil by keeping it cradled and secure.
If You are someone who always wanted to do something for mother earth, then this is your chance. By executing this concept, you are helping in cutting down the waste.
You can also paint them to add an element of creativity just like the one in the picture above.
5. Tree Trunk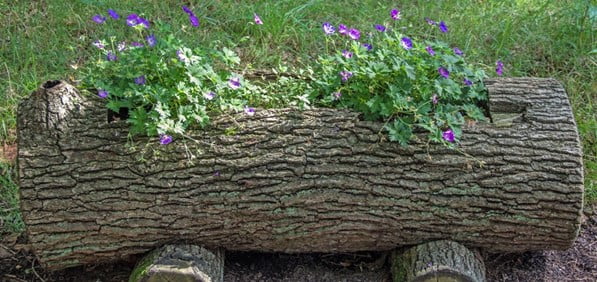 Why not invest nature's waste into nature itself? A tree trunk that has a section hollowed out makes a rustic but perfect fence planter. It is estimated to give a cottage garden vibe with vibrant flowers. So, next time if you see a trunk-like these lying around, just bring it home and utilize it for creating fence planters.
Once you get this in your backyard or fence, it will uplift everything around. However, this might invite few insects, so stay aware of them.
Conclusion
Fence planters are one of the most affordable ways to stay connected to nature. Also, it brightens up your backyard with a splash of fresh colors, or you can tone it down with dark-shaded plants.
It gives you a feeling of freshness while you are sitting and sipping coffee. Appropriate watering, little sunlight, and regular pruning will keep you surrounded by healthy and gorgeous plants.
Do let us know about your fence planters in the comment section below so that everyone else gets motivated to do the same with their fence or backyard.