Your bedroom should be a place of peace and tranquility. However, with the lack of organization and presence of clutter, you might not be able to fully enjoy the benefits of your bedroom.
With clutters lying around your desk and floor, your room might look too crowded, not allowing you to relax. Ideally, it would be great if you could make the room to be clutter-free. However, it may be difficult to throw away your things, especially if you regularly use them. Needless to worry though, as there are plenty of small bedroom storage ideas you could use for your bedroom as listed below:
1. Change Your Bed Frame
Often times, the biggest surface that occupies your room is your bed along with its bed frame. With this in mind, it would be great if you could make the bed frame functional to make up for the room space it takes up.
Fortunately, there are bed frames with bottom parts that serves as a storage, making it an innovative solution to save space. This bottom-part storage allows you to place extra things of your preference and helps you reduce clutter. Moreover, there are plenty of stores you can see on the market which gives you more innovative options for space-saving. You can specifically find a good production of bed frames from Australia. Just remember to look for one that fits your needs perfectly. For instance, you can choose RJ Living's bed frames in Australia or whichever you're in, if you're unable to get it from there.
Functionality and purpose are important factors when you're looking for a bed frame, especially when you're conserving your room's space. Hence, it's best to match it to your bedroom's interior and let your room look flawless even with huge storage space.
2. Include Floating Shelves
While most people add wall shelves to add decorations, you can use your floating shelves for additional storage space. This will help you organize your stuffs and minimize clutter. In addition, you should consider placing your items inside a coordinated box container so you can have more space without sacrificing the tidiness of the room.
For your wall shelves, place them in a sturdy wall to prevent them from falling off when you add your things. However, you need to be careful and avoid adding heavy items as it can cause accidents.
You can also add plant shelves to any areas you'd like. If you'd like to maximize the space available, you should consider having a corner shelf for an added surface. Not only you'd be able to store more, but it could add more beauty inside the room.
3. Store Your Clothing Properly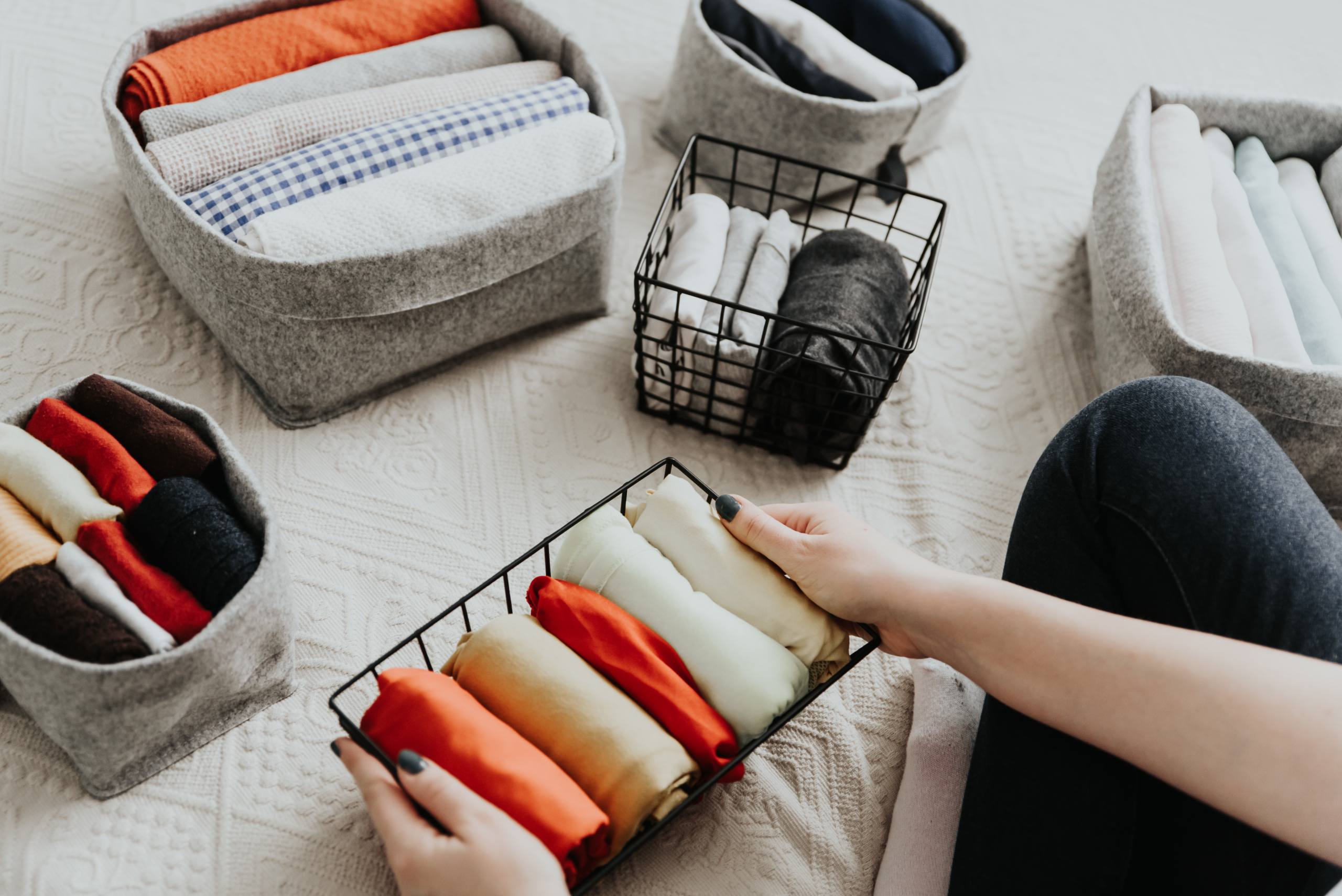 To achieve extra space for cabinets and drawers, you should learn how to fold them in the smallest size possible. In this way, you can make extra room for new clothing that you might add to your collection. For items which you can't fold due to fabric requirements and care instruction, you should consider switching to a thinner hanger to maximize your cabinet space.
Moreover, you may purchase a clothes organizer and drawer, to better arrange your clothing according to color, style, and purpose. You could also include another layer to avoid your clothes from piling up with one another.
4. Take Advantage of Containers
Organize your things through the use of containers. In this way, not only can you keep the clutter away from eyesight, but you also wouldn't have any problems with finding the things you need. With easier access and identification, you wouldn't have to rampage your containers, causing bigger clutter which may find too much to return to their containers.
You can use containers for your pens, paper, art supplies, makeup, hygienic products, and more. Ideally, you should place similar items together and set them in an area where you're most likely to use them. You could put your art, paper, and pen supplies on your work table and your makeup and hygienic products on your vanity. In this way, you can save time and allow your room to look organized.
5. Declutter Your Bedroom
One way you can truly organize your bedroom is freeing your space with everything you don't need. Doing so can make room for important things and helps you attain proper organization of your room. It can also give you a clearer space of your area to work around your room better.
One better way of decluttering is donating your unused stuffs to charity. Not only you'd be able to have an additional space, but donating your old and extra stuffs will also help other people in need.
It's sometimes inevitable to experience dilemma while decluttering. This is mainly because of the fact that it's hard to let of some valuable things albeit being unused. To avoid this kind of conundrum over what's to keep and let go, you may consider storing them on your bed storage or place them under your bed frame to keep them out of sight. This goes for the things you'd like to keep for sentimental reasons,
Conclusion
Organizing your room will take more than a day to finish, especially if you have a messy room. But with hard work, you can turn your room to be a place for true relaxation and comfort with the absence of clutter and more space. For better results, you may implement the process to the other part of your house as well.