The slimy-skinned, croaking creature hunts water pools to rest. Not only will this be a nuisance for pool owners, but it is a gigantic task to chase them away, particularly in heated summers.
Not only will frogs hang around pool decks and edges, but one might even find dead ones in the water. Additionally, frog eggs might hatch on low chlorine, and a frog family may interrupt your swim. Hence, you may want ways on how to get rid of frogs.
(Frog's dive into your pools if the chlorine levels go down, and can start a family in no time ©Pinterest)
Frogs hide from their predators in tall weeds and grass. Hence trimming them down and mowing your lawns will do the trick.
One should avoid plants like water lilies, ferns, and wildflowers that attract frogs. Naturally, growing water algae and sprouts tend to provide shade and shelter to frogs and need removal.
Additionally, there are some plants and grasses that will help to get rid of frogs naturally.
Lemongrass (Cymbopogon Nardus)
Lemongrass is also known as fiver grass, barbed wire grass, Malabar grass, and silky heads. This tropical island grass contains citronella, a natural repellent. One can plant them in pots, on porches, and even on the pool peripheries.
One can even club them with flowering, bug-attracting plants to help repel frogs naturally. The feather to the cap is that they require low maintenance and can also function as fillers, to fill the gaps between trees and plants.
Citronella grass (Cymbopogon winterianus)
These clump-forming perennial grass-blades produce a pungent smell. Their smell, disliked by most frogs, also repels bugs that are the natural food of frogs.
Though they are a dramatic addition to planters, they grow fast, and hence they require pruning and maintenance. This grass can be a great companion plant. Its robust, lemony scent makes the frog anxious and thus helps to get rid of it.
Basil (Ocimum Basilicum)
Basil is yet another herb that works wonders to get rid of unwanted pests naturally. The poignant smell of approximately all species of basil keeps frogs at a distance.
However, this herb likes moisture, but requires good drainage, enjoys sun but hates a lot of direct light, and requires good potting mixes. Along a pool deck, basil can be planted in containers or with other plants if both tend to have similar specifications.
Lavender (Lavendula)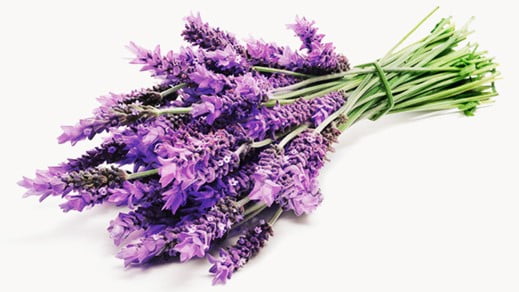 Hard to believe! But this highly aromatic flower helps to repel frogs. Apart from providing fragrance to humans, essential oils found on the leaves of the plant stress out the frog completely.
Thus, it prefers to stay away from it. This sturdy and drought-resistant plant only requires good drainage and sunlight. It can be grown in patches, paired with other plants, and can even grow in pots for pool landscapes.
(Lavenders paired with other plants to compliment a pool landscape ©Pinterest)
Succulent plants
Logistically, succulents deprive a frog of its love for moisture and hence, possess a natural hatred from frogs.
Moreover, some species have soft thorns that disturb the delicate skin of a frog and stress it. They are super easy to grow, adapt to surroundings, and enforce a contemporary outlook on the existing pools.
They can complement rock gardens along pool sides or merely rest on pool decks. Succulents are also available in a variety of shades and colors that can go well with theme-based pools.
Moreover, owing to their small size, the line of vision for poolside vistas and views remains uninterrupted. Thus, they are a great addition to infinity pool decks, too.
Conclusion
Although some plants help to get rid of the frogs, it is crucial to note that this depends on several poolside conditions.
Easy plants like basil will do without maintenance. But, if citronella goes unpruned, it will not be that effective.
You can club the above plants with the plants that frogs love and keep them out of the pool. In addition to this, techniques like fencing and moats with sand granules will protect additionally.