Above-ground pools, although inexpensive and quick to install, have a bad reputation when it comes to aesthetic appeal. They often lack the sleek neatness of an inground pool.
However, with a little bit of smart strategizing, the pool can be designed to have the finished look of its inground counterpart.
If you are looking for above ground pool ideas to transform the appearance of your pool, this is where your search ends. Here are eight ways in which you can give a built-in look to your above-ground swimming pool.
Deck It Up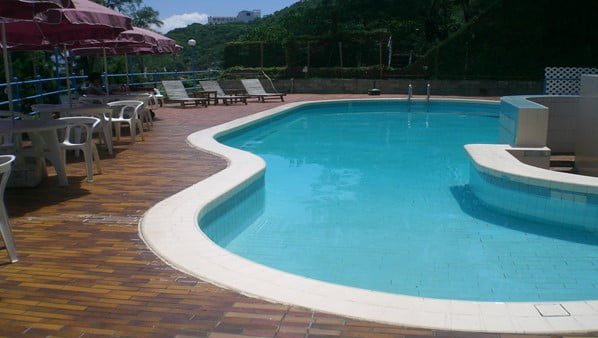 Adding a nice deck next to or around the pool can greatly alter the appearance of your yard. The best part about decking is that there is immense scope for creativity. The space around the pool can be tweaked to suit fun activities such as barbecuing. Traditional, wooden decks are a popular choice as well, especially when the pool area is primarily going to be used for relaxation.
Sink It
You can sink the pool low, either partially or fully, into the ground. This allows for reducing the elevation of the pool. If you want to bring the pool in level with the rest of the garden's landscape, this is a good alternative. Partial sinking is a safer option, structurally speaking. It must be noted that the burying of an above-ground pool affects its lifespan.
Shade It Down
This one is particularly useful if you live in a perpetually sunny neighborhood. Building a cozy shelter area such as a pergola can elevate the aesthetic appeal of your pool significantly. These structures provide relief from the harsh sun and add a nice form to the landscape of the area and integrate the pool into it.
Light Up the Mood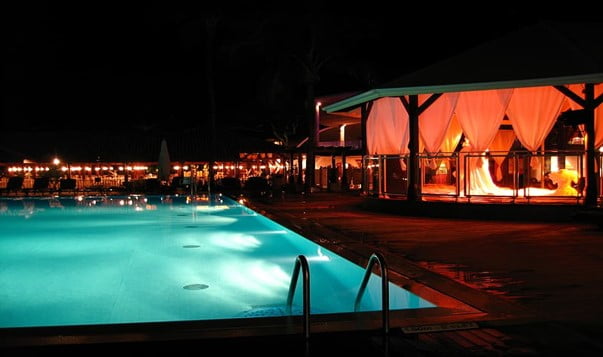 Lighting is a simple element that can magically set up an exciting mood. Besides the regular pool lights, there are numerous alternatives such as colorful lighting, fairy lights, or systems enabled with laser light shows installed on the deck near the pool. Such lighting has a tremendous effect on the outdoor decor of a house. When done right, the lighting can make the above-ground pool look just as stunning, if not more, than a fine inground one.
Hardscape It Up
Hardscaping is a good alternative if you are willing to spend with a flexible budget. If your patio is above the ground level, you can build a concrete platform around the pool to give it a lavish look. The hardscaping may either encase the pool partially or fully. When dressed up with a stone veneer that matches with the patio, the hardscaping levels the pool's look up a notch. Although a bit expensive, this alternative offers strong durability.
Conjure Up A Landscape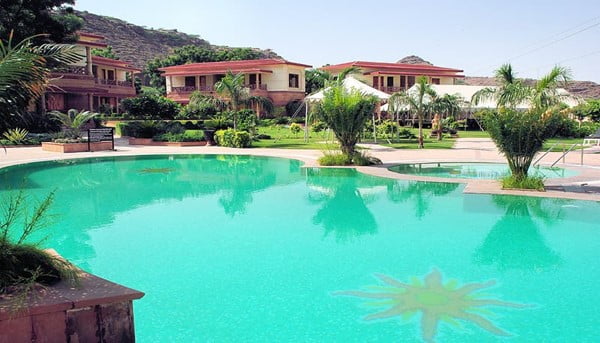 Taking ample time to think over and design the landscape goes a long way when it comes to outdoor decor. The right combination of plants, if placed properly, can complement the water feature beautifully. There are countless options to explore- types of trees, flowering plants, succulents, the kind of pots they would go in, and so on. A lush green landscape pairs extremely well with an outdoor pool, bringing a pleasant uniformity to the outdoor scene.
Laze It Up
If there is anything better than swimming on a hot day, it is lounging about near a pool. If you value relaxing time, you can create a lazy lounge space next to your pool. There is a huge assortment of decor items you can choose to doll up space and make it not only comfy but also extremely pretty to look at. Consider elements such as throw pillows, cushions of various sizes, shapes, and colors, accent tables, accent rugs, quirky lamps, so on and so forth.
Highlight the Pool
Instead of making the above-ground pool look like an inground one, use its features to make the pool the highlight of your landscape. Pair it with a bubbling fountain to draw attention to the water feature. If your style is minimalistic, you can pair the pool with wood paneling and a couple of smartly placed lights and call it a day.
Thus, there are several ways to level up the appearance of an above-ground pool without compromising on its lifespan. Creatively designing the space around can magically integrate the pool into the outdoor landscape.