Pools have always been a great thing to spend time in. It keeps our mind and body relaxed and gives us immense pleasure as well. Imagine a rough day and then going to the pool to relax, isn't it beautiful?
Of course, it will be a great experience and a mood changer as well. Therefore, if you would ask anyone what they would like to have in their lawn or garden, their answer will be pooled. You will also say the same word if someone asked you the same question.
We are here with some great ideas that you can use on your lawn to make your pool. As in-ground pool can be a bit expensive, we have some great above ground pool ideas. In-ground pool has been like jewelry for the lawn and backyards of many people.
People are using the pool in their lawn and backyard for a long time but, as we are becoming more and more advanced, we are going towards more and more comfortable and cheaper ways.
In this article, we will give you some attractive looking above ground pools that will surely be going to add up an extra bit of beauty, not only for your lawn or backyard but also for making your house look more beautiful and elegant.
So, go through this article, and we are sure that you will love them all and be ready to make up your decision as you will go through a tough time selecting the best one among the bests.
Best Above Ground Pool Ideas
1. Rocky Faced Pool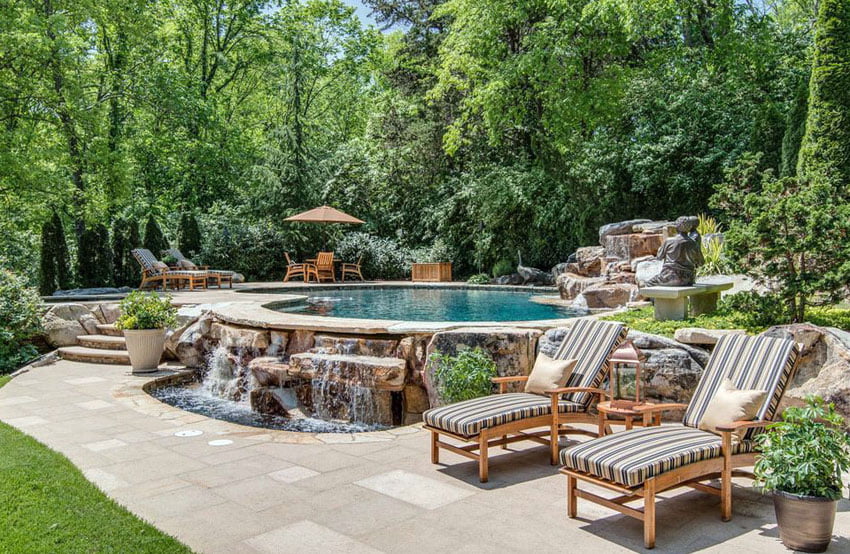 A traditional looking ground pool. Right behind your house, this above ground pool is going to enhance the beauty of your house.
If your house is made up of concrete or has a wall made up of stone, this will match perfectly. Besides looking traditional, it will also be going to give your pool a natural look. You can also make a bridge-like path from your house's patio to this pool just for convenience.
To make It look more beautiful, you can make its interior from small marbles like an ordinary swimming pool.
2. Portable Above Ground Pool with Small Deck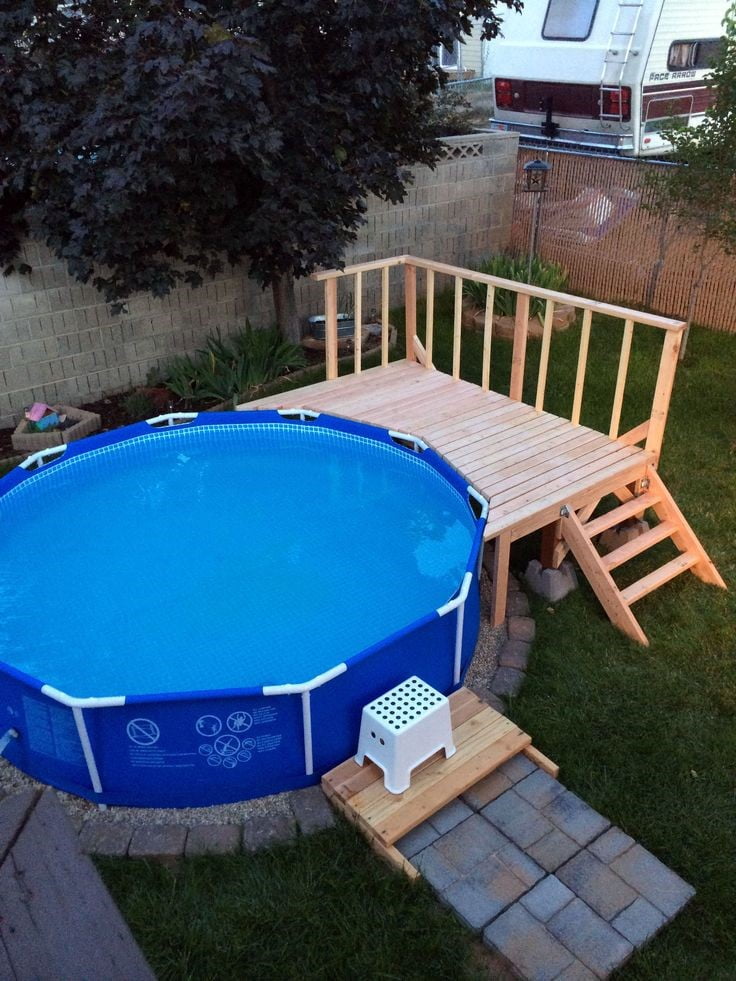 A pool with a deck is undoubtedly enough to have. But, talking about this one then it looks quite exciting and neat both together. While it is easy to clean this pool, you can also take a sunbath at this deck while lying comfortably with some refreshing drink.
You can adjust its height according to your need, and this is one of the best things about this above ground pool.
3. Geometric Patterned Pool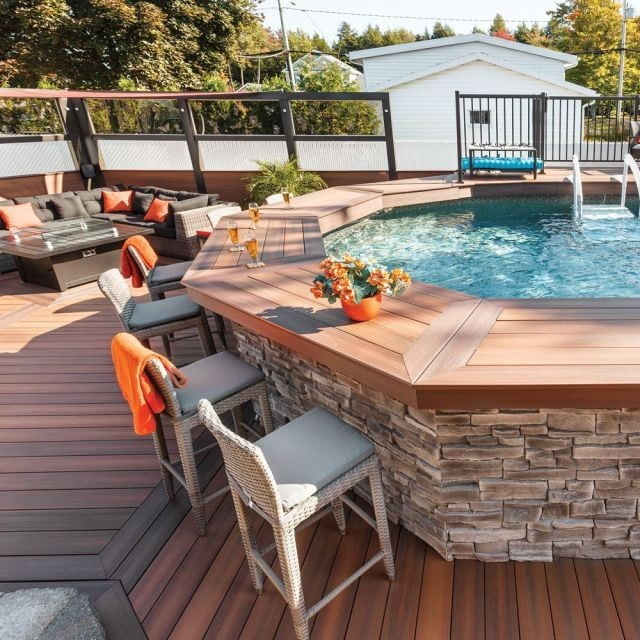 Another rocky above ground pool is here. Its geometrical shape gives it a perfect look, and along with platform features, it looks more elegant. The boundary is made up Of bricks having a rocky appearance that is quite mesmerizing to look for.
Its installment in front of your house may not look as beautiful as it will look when installed in the backyard. You can also make one at the corner of your lawn as its geometrical shape is going to fit anywhere.
4. Embedded Above Ground Pool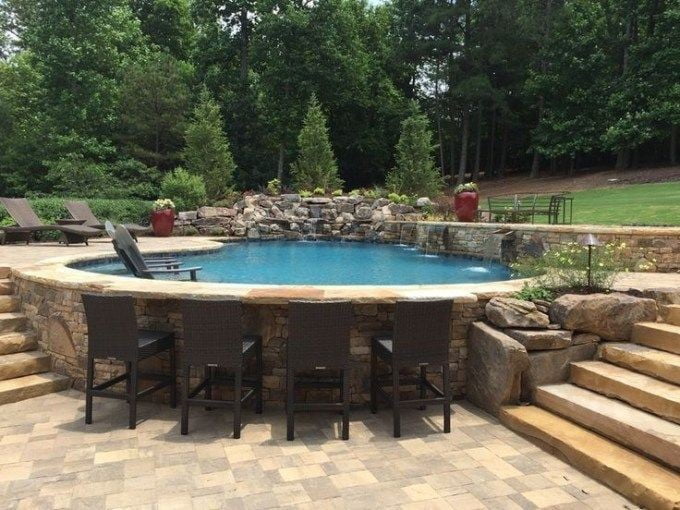 This is going to give you the feel of an inground pool. These above ground pools are going to suit you if your house is made above the ground.
According to the size of your house, you can adjust the circumference of your pool. To give it an extra edge, you can make a small staircase made up of stones and some greenery.
5. Above Ground Pool for Corner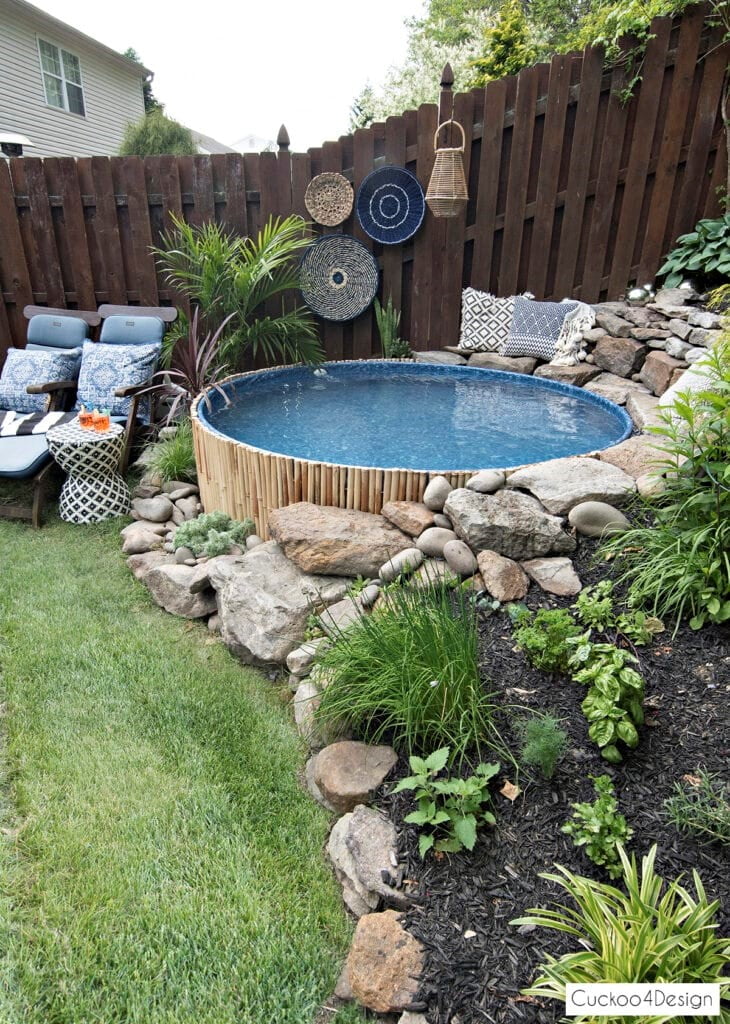 A pool at the corner of the house looks evenly and uniquely impressive. This small above ground pool looks way more attractive than the others. This one right here has a wooden outing, and around it, stones are used to give it a traditional look. We all have greenery in corners, so you do not have to do much to accompany this above ground pool.
If you want to make it your hanging place, then add some furniture as well so that you can have your time there.
6. Wooden Above Ground Pool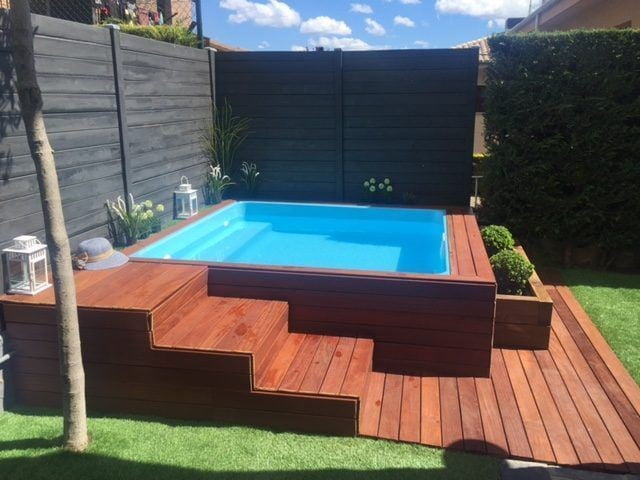 This all wooden ground pool looks lovely and attractive. This looks more like a luxurious hot tub than just an ln ordinary pool. Stairs inside, along with additional space for greenery, makes it a perfect eye-catching thing to have.
Wooden texture plays an important role here. You can change the wood texture here to give it your twist, but changing it ultimately may not be a good idea. A corner of your front lawn will be an ideal place to have this.
7. Fountain Associated Pool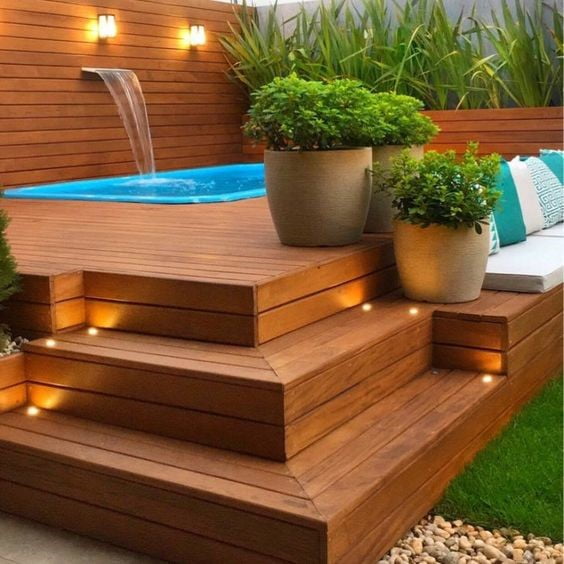 Another wooden structure of a gorgeous above ground pool. If you are worried about the rotting of wood, then do not worry as the woods of these types of usage comes with water.
This pool is getting filled by a mesmerizing water fountain coming out of a wall. In front, you have a small bench where you can relax and sit, enjoying your favorite book, sipping a refreshing drink. Lights will make it look more soothing at night.
8. Simpler Above Ground Pool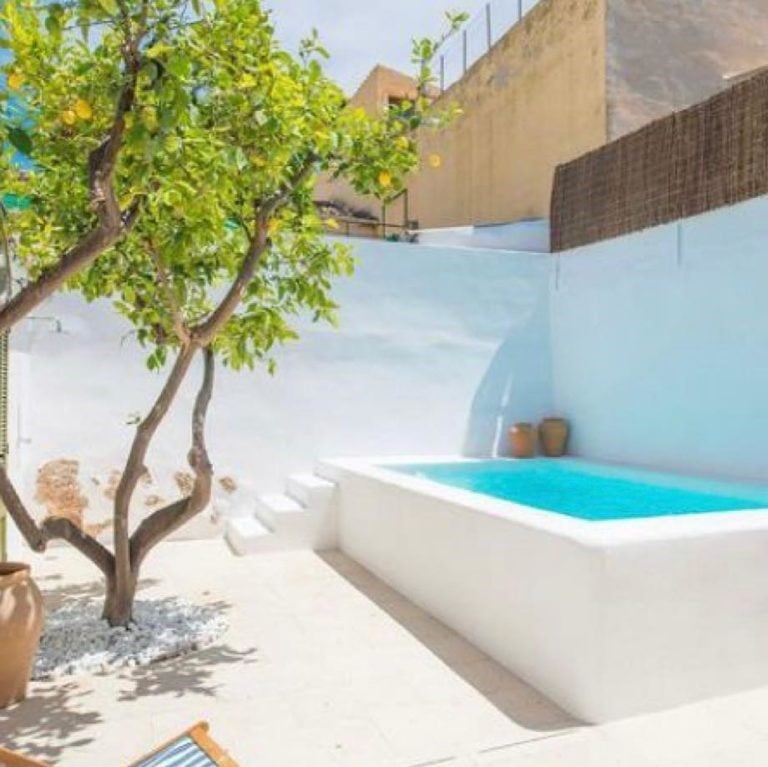 A white sparky and bright above ground pool idea for you. This more straightforward design is what attracts us, and we all know that beauty lies in simplicity.
Therefore, this will surely add up the delicate texture to your house, and if used in front of your lawn, this will also there without any worry.
9. Container Pool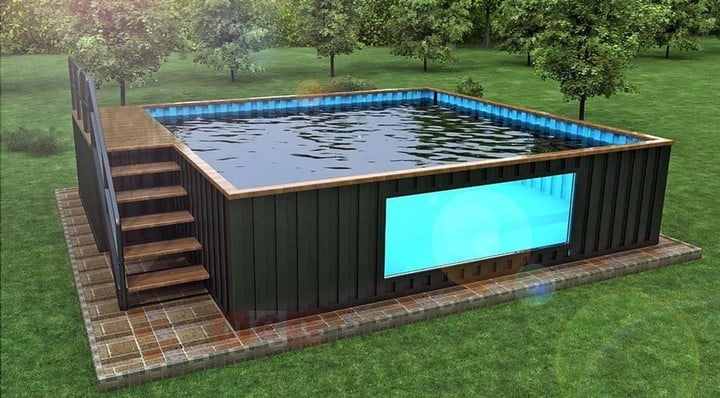 DIY is ruling over the world. People worldwide are using old things and making them new again by putting some effort, which is eventually worth a lot. This pool is another great example of it. An above-ground pool made up of containers is very authentic.
It will look beautiful irrespective of the place of installation. Whether it is your lawn, garden, backyard, patio, or at the corner, it will make every place worthy of it.
10. Pool for Backyard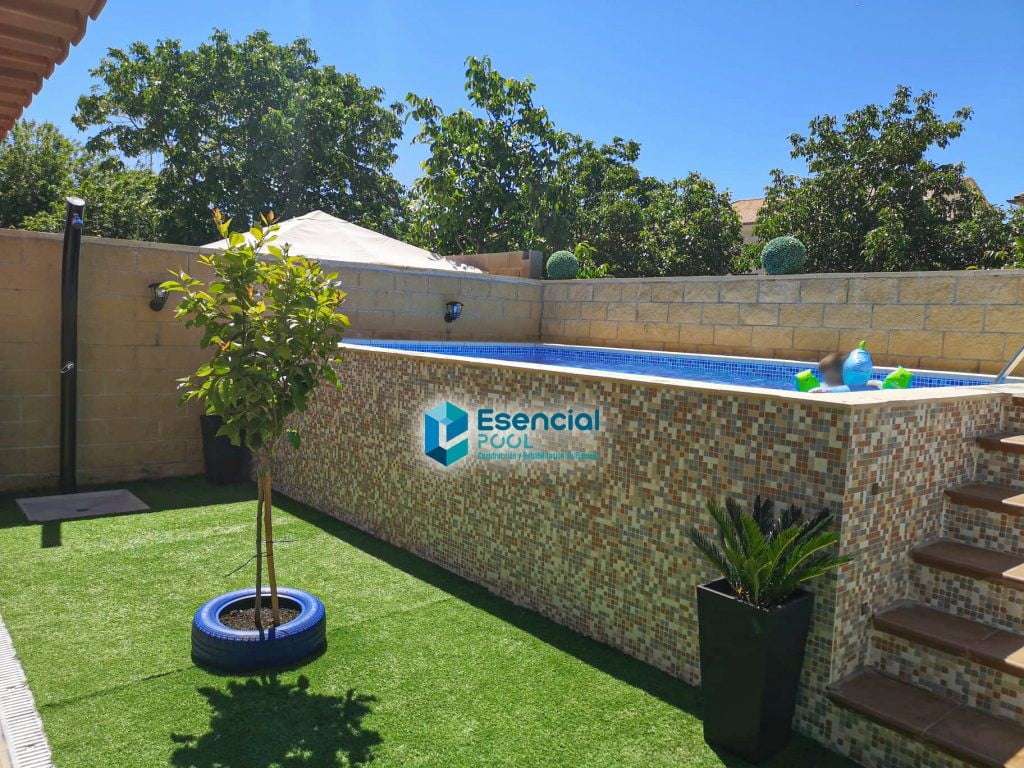 If you are not a lawn admirer or want an above ground pool in front of your house, then a backyard will be a great choice. Having an above ground pool in your backyard have a lot of benefits. You can enjoy your privacy, and your pool will also be not as much as open as it will be in front of your house.
This long above ground pool has stairs, which together makes a perfect design. Marbled tiles are planted at the boundary and on stairs as well. For the top face of the pool, you can use different shades as well.
11. City Life Above Ground Pool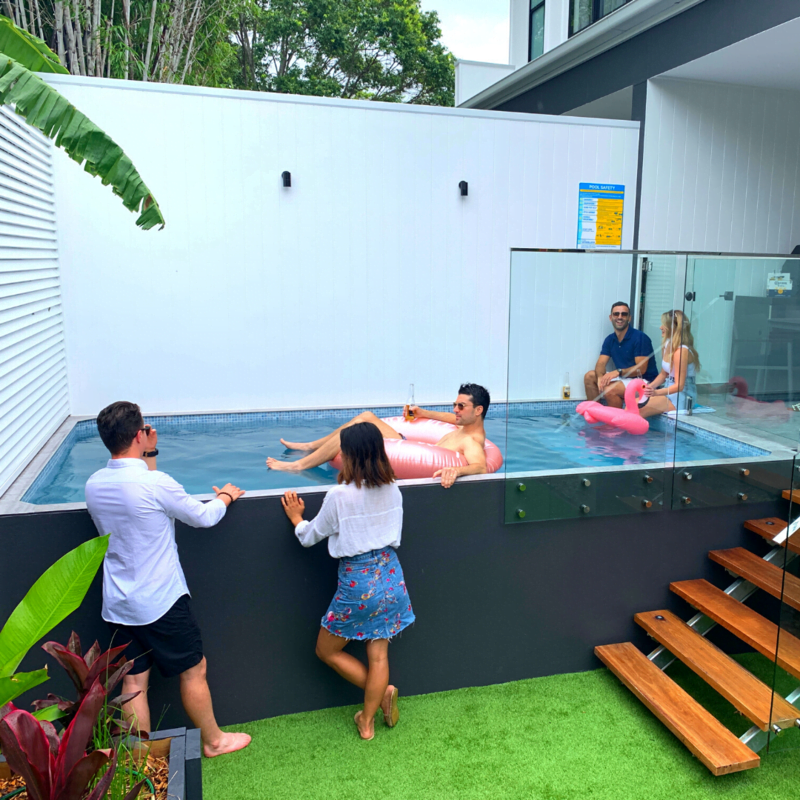 Most people avoid the plan of having a pool for themselves due to the lack of space. Especially when you are living in a city. But you do not have to worry now as this above ground pool idea is a perfect example of having a great pool even in less space.
You can use a container as well to give this shape as this will cost you less. Making a structure will be more adjustable, and you can make it according to you, but in the case of a container, this is not going to happen at all. So, choose accordingly.
12. Texture Rich Pool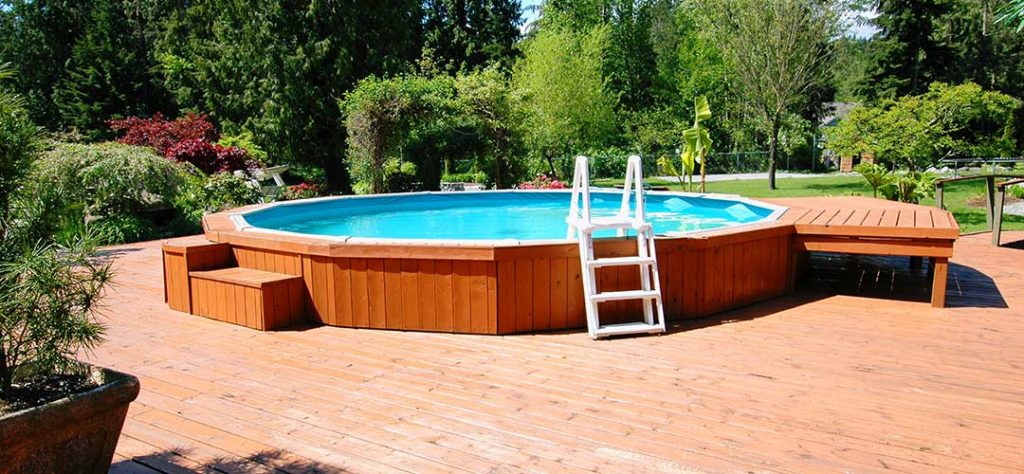 Nothing matches better with greenery than woods. It harmonizes very differently, creating a beautiful aura. This one right here tells you all about this.
A wider pool is having a comprehensive platform covering a rectangular pool. To come out quickly out of the pool, there is a stair as well. This adds a bit of perfection more. If you plan to make it in the corner, then use stone and plants to decorate it. But if you want it for your lawn, then a patch of sand will look charming around this above ground pool.
13. Lights Equipped Above Ground Pool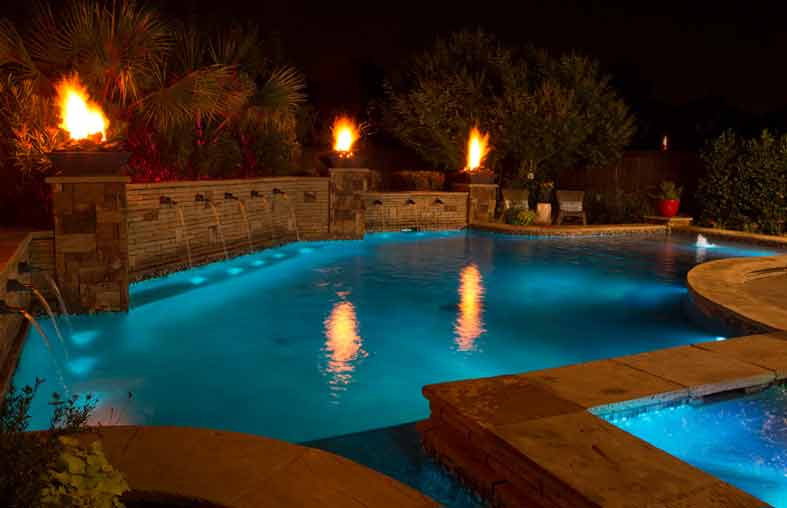 In this world where everyone is living a hectic life, people usually have time at night to relax. This small above ground pool at the side of your house is all that you will need at night to relax and come out of the state of rush.
Platform boundary will be a great spot to put your glass on. You can also put your hands on it while lying inside the pool and other poses as well. Besides relaxing, you will also get a perfect spot for taking pictures for Instagram, and now you may be started liking it more.
14. Bed like Pool for Patios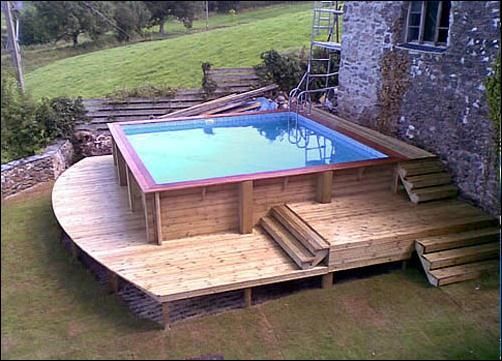 We have seen many options for an above ground pool for lawn, garden, and even for the backyard, but this one right here is going to be for your patios. Its structure is more like a bed, and that is why it will suit your patio.
To enhance it more, you can add sleeping tables, chairs, and other relaxing furniture.
15. Staircase Above Ground Pool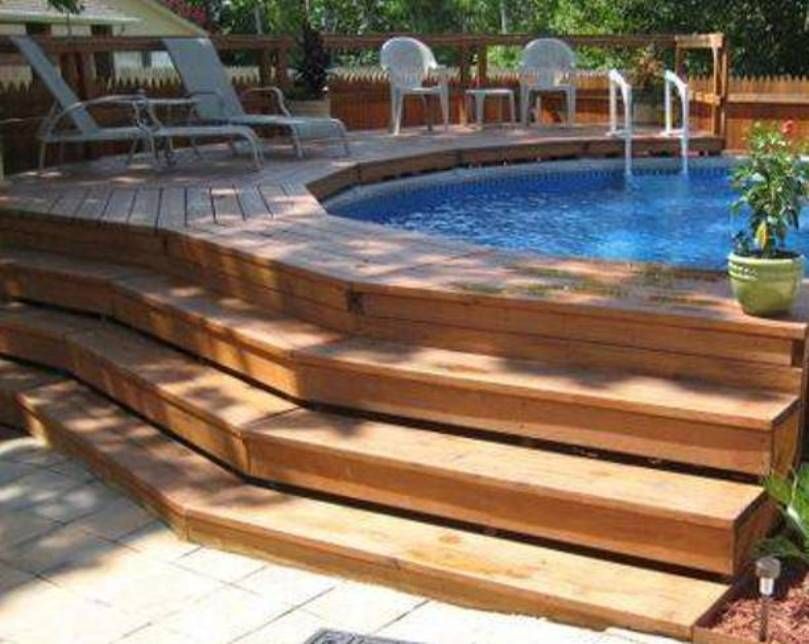 Another staircase associated above the ground pool is here. You do not have to use it as it is; instead, you can change it according to your taste and choice. A stair inside of the pool looks fancy, so you should add this.
The middle of the lawn will be a better option for installation. A pool surrounded by flowerpots will make your pool more decent.
Conclusion
These were some of the best above ground pool ideas you can have for yourself. You do not have to use it exactly like it is. You should use your creativity and give your work your style to make it look more unique and stylish.
Along with the pools, you will have to spend some money on regular medication and the maintenance of your pool. Once built, it can more than five years. So, invest carefully and do not fall for the cheaper product; instead, go for the trusted ones.