An enclosed patio is an extended area covered using some outdoor elements. It is popularly used for lounging and entertainment purpose. There are several types of enclosed patios such as three/four season rooms, solarium, and screened porches.
An enclosed patio can be built according to your customizations. Any individual with an outdoor existing patio or porches area can opt for enclosures, followed by designing them with some amazing furniture.
Is It Expensive To Build an Enclosed Patio?
So basically, many factors that influence the fluctuating prices to build an enclosed patio. What are these factors? Let's have a quick look.
Location and taxes based on different countries.
If you are planning to build a small patio, it can be made affordable, but if you are willing to build a medium-size or large patio, then its prices can hike.
It also depends that what type of furniture you are using to make your patio look lavish, comfortable, and easily accessible.
Depending upon the choice of your screen, prices can fluctuate. Because each kind of screen has different prices. Fiberglass can be the cheapest option but not of great quality.
Costing for Enclosed Patios
The average estimated cost is around $70/Sqft. The choice is yours whether you want a fully enclosed patio or a partially enclosed patio. Both of them have different advantages and disadvantages accordingly. The total cost can be estimated as low as $180 to as high as $45,000. The price also depends on which type of patio roof and frame you choose to build. Let's look at different types of patio roofs and frames with their pricing.
Steel Patio Gazebo Enclosure
This type of roofing is fundamental and low cost. It is made up of steel frames, which allows you to hang curtains. This type is not a very good option because it won't withstand the rainy and windy season. Using shade cloth on this patio can cut out 70% of the sunlight. The average cost for this one can range between $180-$330.
Pre-Built Patio Enclosure Kit
This type of roofing is a detachable awning created with aluminum posts and fiberglass screens. It consists of a maximum of one or two doors with screens to keep unwanted creatures out. It is also very flexible as it can be put away during winters. The average cost for this one starts from more than $900.
Wood and Hardware Patio Enclosures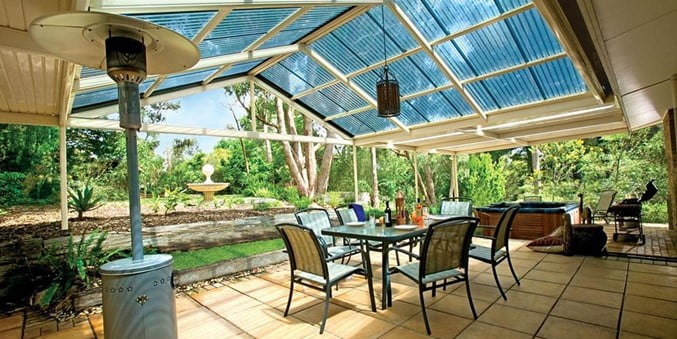 Wood can be a good option and the most cost-effective option for your patio, but the thing is that wood gets rotten easily, and termite can damage it completely, which then should be replaced after few years.
So, to avoid these complications, individuals opt for composite metal frames, which can delay the wood damage. If you are a creative head and like to customize, then you can go for customized woods. It does not have a fixed cost. It can vary according to your choices. If its customer's built, then its ranging can start from $8,000.
Aluminium and Metal Patio Enclosures Cost
This is a great option because aluminum and metal do not get damaged easily. It remains strong in all the seasons may it be snow or summer. The average cost for this one ranges between $4,800-$6,000.
Conclusion
Enclosed patios are a great idea. But always check with at least five contractors. The one who matches your idea and choice goes with that one keeping in mind the productivity and cost. Let the contractors take perfect measurements of your patio not to create any problem in the future.
Also, building a patio will increase your quality of life. It's even a great choice for seasons like snow and winter. It's the best area to relax and for entertainment. It will also add value to your home and have an amazing impression on your guests, and it will protect them from insects or bugs.
We hope you are all set to build your patio as soon as possible.