If you have decided to get a swimming pool, you will need to plan and explore carefully. The first dilemma you will face will be that of the above-ground pool vs inground pool.
There are a variety of factors that play a role in the decision. In this article, we will be exploring the pros and cons of an above-ground and in-ground pool. We will also investigate some above-ground and in-ground pool ideas. Let us start.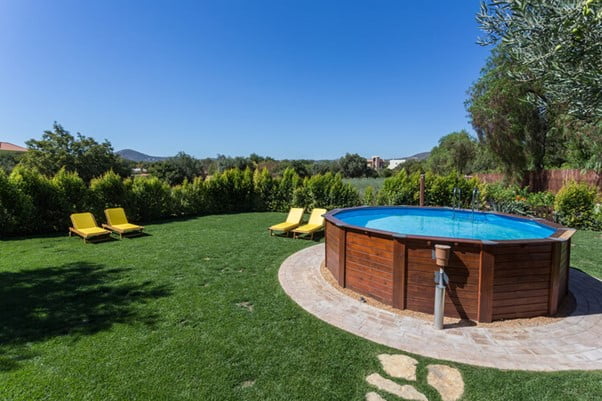 Above Ground Pool vs In-ground Pool: Factors Affecting the Decision.
Cost
We must consider the cost of not just the pool, but also other necessary accessories. The treatment of pool apron, plumbing and electrical charges, landscaping and pool filter add to the total cost. Considering this, it can be concluded that the in-ground pool is comparatively expensive.
It costs around an average of $30,000. This includes the cost of a cover, fence, and concrete apron. If you are buying a fiberglass pool, the cost will increase even further. So, if your budget is limited, you should prefer an above-ground vinyl liner pool.
If you are a DIYer, you will love installing an above-ground pool kit which will also save a lot of money (they cost only about $1500). You can also add pool decking to your above-ground pool which will cost between $4 to $24 per square foot.
Installation time
Installing an in-ground pool can take several weeks depending on the type, so it should be done by a professional. Getting permits and complying with safety laws also needs to be taken care of. First, they will dig a space and install the pool.
A vinyl or fiberglass pool can take a week less since they are just placed into a hole in the ground. Other types take longer because they have more complicated installations. Glass or ceramic tiles are then added for finishing touches.
Above-ground pools are easier to install because they can be put together using a kit. Some local shops install these pools as a part of the purchase.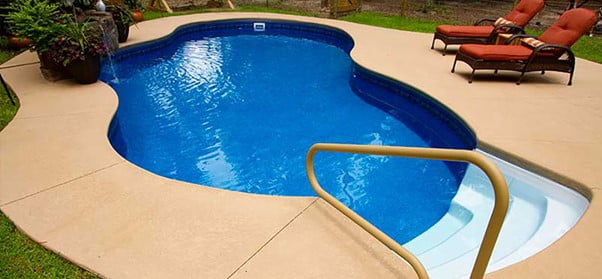 Space
The space you have decided for your pool may not affect the in-ground vs above-ground pool debate, but it will affect the shape and size of the pool.
Inground pools are more creative in terms of shape. The shape can be customized to any shape and can be as large or as small as you want it. There are small cocktail pools and lap pools for limited spaces.
Safety
Safety is always a concern with swimming pools, especially if you have a child at home. Above-ground pools are generally considered safer than the inground ones. It is because in-ground pools do not have a surrounding pool deck. So, more drownings occur in inground pools.
With above-ground pools, there is a natural barrier of the pool wall and the possibility of removing the ladder when the pool is not in use. However, both types of pools can be made safer by installing a four-sided safety fence with self-closing locks and pool alarms.
Maintenance
Above-ground pools are easier to maintain because of their smaller size and less water volume. And because they are elevated, they have less chance of dirt or insects getting into the water. However, cleaning the water regularly is needed for both types of pools. It also depends on the equipment that you use to maintain the pool.
Pool Features
An in-ground pool can add value to your landscape by providing a water feature that creates a beautiful view. You will be dazzled by all the in-ground pool ideas available as you shop. Some in-ground pool ideas include customization of the shape of the pool, the material for liner or walls, the decking or paving materials surrounding the pool and toys like slides, waterfalls and diving boards that can be added.
In-Ground Pools
PROs
Better variety and more features.
More Attractive.
Longer Lasting.
Less Likely to be Damaged.
CONs
Difficult installation
Expensive
Requires more maintenance.
Above Ground Pools 
PROs
Easier and faster installation
Cheaper
Requires less maintenance.
Safe
CONs
Limited in size, shape, and depth
Damages more easily
Does not last as long.
Fewer added features available